Football law seminar - player transfers, agents, and politics videos now live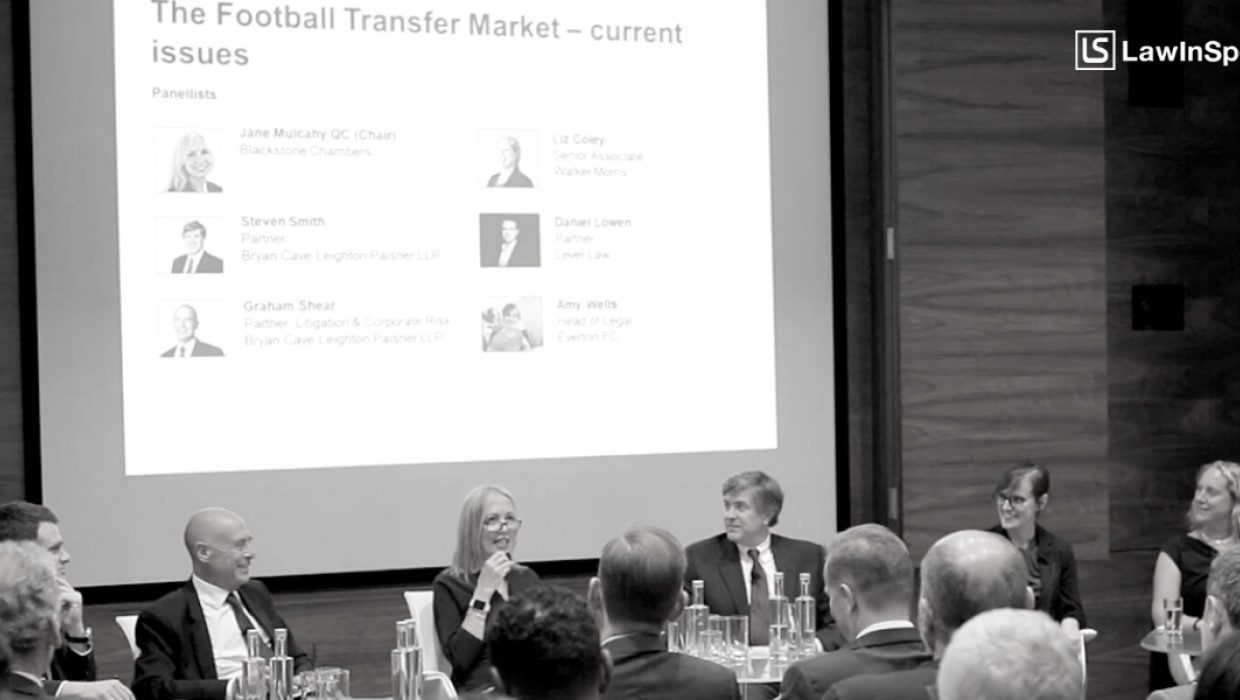 On the 23 May 2018, LawInSport hosted a half-day seminar on legal issues in football and a book launch of 'Football and the Law (Bloomsbury, May 2018)'. The seminar was held in partnership with Blackstone Chambers, the British Association for Sport and Law and Bryan Cave Leighton Paisner LLP.
The seminar covered the latest legal developments in football relating to:
player transfers
regulating intermediaries and
football politics and discrimination
The videos are now available to LawInSport Plus and will be of interest to:
In-house counsel
Sports executives and administrators
Agents
Current and former players
Private practice lawyers
Academics
Students
Topics and Speakers
The Football Transfer Market – current issues (incl. training compensation, player registration & transfer of minors):
Jane Mulcahy QC (Chair) - (Blackstone Chambers and co-author of chapter on football transfers)
Steven Smith, Partner, Bryan Cave Leighton Paisner LLP
Graham Shear, Partner, Litigation & Corporate Risk, Bryan Cave Leighton Paisner LLP (Co-author of chapter on Taxation)
Liz Coley, Senior Associate, Walker Morris (Co-author of chapters on Player Contracts and Transfers)
Daniel Lowen, Partner, Level Law (Co-author of chapter on Intermediaries)
Amy Wells, Head of Legal, Everton FC
Regulating Intermediaries – what does the future look like for football agents?
Nick De Marco QC (Chair) – (Blackstone Chambers, Editor of book/co-author of chapter on Intermediaries)
Chris Duffy, Legal Counsel - Celtic Football Club
Udo Onwere, Partner, Bray & Krais Solicitors, Premier League Match Delegate, and former professional football player (Fulham FC)
Bobby Barnes Dr. Sc., President, FIFPro Division Europe and Deputy Chief Executive, Professional Footballers Association
Liz Ellen, Partner and Head of Sport or Stefania Lobina, Associate - Mishcon de Reya LLP
Mike Miller, Chairman, Association of Football Agents (AFA)
Football, politics and discrimination
Lydia Banerjee (Chair) - Barrister, Littleton Chambers
Chris Anderson, Head of Legal and Commercial, Brighton & Hove Albion (formerly Head of Legal, Everton FC)
Ian Mill QC, Blackstone Chambers (co-author of chapter on Arbitration in Football)
Paul Gilroy QC, Littleton Chambers and 9 St John Street Chambers (co-author of the chapter on Managers' Contracts)
Adam Lewis QC, Barrister, Blackstone Chambers
Ifeanyi Odogwu, Barrister, Garden Court Chambers and The Football Association Anti-Discrimination Panel
Hits
1305