Sports Law Yearbook 2017/18 – UK, Ireland & Europe available from April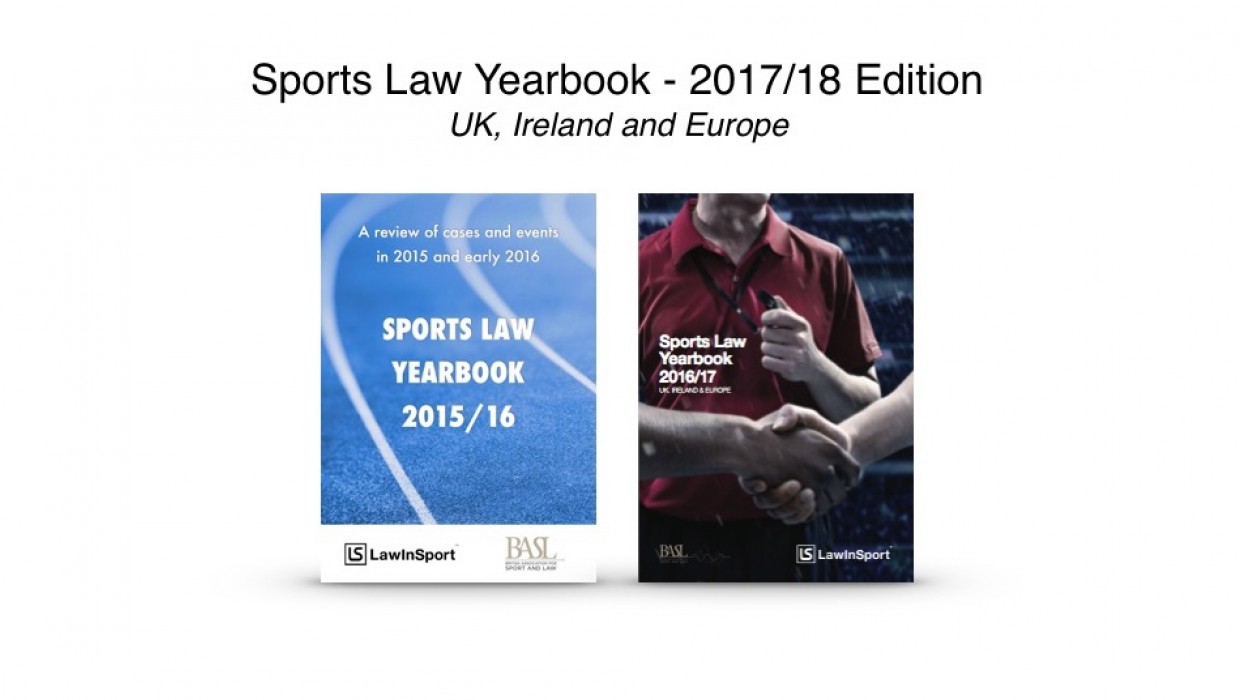 We are pleased to announce that the third edition of the 'Sports Law Yearbook 2017/18 - UK, Ireland and EU' by LawInSport and the British Association for Sport and Law (BASL) will be available to purchase in electronic and hard copy at https://sportslawyearbook.uk/.
Building on the success of the previous two editions, the Yearbook contains legal commentary and analysis from over 30 leading sports lawyers from the UK, Ireland and Europe across 10 different chapters on:
Governance
EU Law
Commercial Rights
Employment Law
Discrimination and Equality
Media Rights
Financial Corruption
Anti-Doping
Disciplinary Procedures
Participation and Safety
The Sports Law Yearbook identifies and reviews developing trends in the sports law markets of the UK, Ireland and Europe. To this end, the tone of the Yearbook is such to ensure that it is accessible to people from all backgrounds without sacrificing the accuracy or depth of the information.
Accessing The Yearbook
LawInSport Plus members with an annual subscription & BASL members are eligible to:
Access the digital version of the Yearbook for free;

Purchase a hard copy print versions of the Yearbook at the reduced price of £60 (50% off) for a limited period; and,

Receive a complimentary digital copies of last year's and this year's Sports Law Yearbooks.
Note: LawInSport Plus members with an annual subscription are also entitled to discounted tickets to LawInSport networking events and receive £100+ off the full ticket price for our annual conference which will take place in London on the 13 & 14 September 2018.
The Yearbook can also be purchased by members without a yearly membership in digital form for £90 or purchase a hard copy for £120 here.
Inquiries
If you would like to know more about our plus yearly membership and/or purchasing the Sports Law Yearbook 2016/2017, please contact us at This email address is being protected from spambots. You need JavaScript enabled to view it..
We would like to sincerely thank all of our authors who contributed towards this Yearbook for their enthusiasm, energy, expertise and professionalism in working with us throughout the process.
Contributing Authors
Chapter 1 - Governance
1.1 Rod Findlay - The year in review
1.2 Jack Anderson - Making the case for a sports Ombudsman in the UK
1.3 Sean Cottrell & Kevin Carpenter - IAAF Governance Reforms
1.5 Simon Pental - The effects of the Criminal Finances Act on sports bodies
Chapter 2 – EU/Competition
2.1 Angelique Bret - The year in review
2.2 Benoit Keane - Formula 1: Liberty Media's race across the regulatory finish line
2.3 Hazaar El-Chamaa - What Brexit may mean for domestic sport
2.4 Tom Barnard - How the GDPR will apply to UK SGBs and what they need to do to prepare

Chapter 3 – Commercial/IP
3.1 Jon Walters/Paul Shapiro - The year in review
3.2 W. Phelops, A. Gilchrist - The legal implications for big data, sports analytics and player metrics under the GDPR
3.3 Rhys Linnel - eSports and UK tax: key tips for player, teams and events organizers
3.4 Sean Corbett - An IP case review
Chapter 4 - Employment
4.1 Andrew Smith - The year in review
4.2 Phil Bonner - Are England's current home grown player requirements sufficient to produce an elite national team? (Phil to redesign as a more generic piece)
4.3 James Hill - The Denny Soloman transfer: Why did Castleford settle and does the case set a new precedent?
4.4 Nicola Parkinson - The legality of employment benefit trusts: The Supreme Court's decision in Rangers FC / Murray Group

Chapter 5 – Discrimination and Equality
5.1 Lydia Banerjee - The year in review
5.2 Richard Yates - UK Athletics' creation of a new Athletics Commission
5.3 Graham Gilbert - Sexism in football and the independence of disciplinary panels: Issues from the David Moyes case
5.4 Matt Kaiser - A guide to the World Players Association's Universal Declaration of Player Rights

Chapter 6 – Media Rights
6.1 Andrew Ryan - The year in review
6.2 Dylan Kerrigan - The latest on the Digital Single Market
6.3 Nick Fitzpatrick - Copyright protection & enforcement
6.4 Alex Slade - A "view on the market"
Chapter 7 – Financial Corruption
7.1 Adam Brickell - The year in review
7.2 Michael Savva - An update on Financial Fair Play: The Neymar Case
7.3 Nick de Marco - Betting and football's ticking time bomb: Joey Barton v The FA
7.4 Louise Millington-Roberts - Ticket fraud: A review of the UK's legislative developments to regulate the secondary ticket market
7.5 Louis Weston, Gemma White - Why sports needs a unified approach to sanctions for corruption offences
7.6 Ross Singer, Jamie Brown - Can suspicious betting alerts prove match fixing? The case of KS Skënderbeu v UEFA
Chapter 8 – Anti-Doping
8.1 Rupert Beloff & Phil Hutchinson - The year in review inc. key changes to WADAs 2018 Prohibited List
8.2 Paul Greene, Tomislav Kasalo - Key challenges facing athletes in contaminated supplement cases: a review of the Arijan Ademi decision
8.3 Zane Shahib, James Thorndke - How to recover prize money from doping athletes: lessons from the Shobukhova case
8.4 Markus Manninen - Unless 'fairness requires otherwise' – exceptions to retroactive disqualification of competitive results for doping offences
8.5 Andrew Smith - "Speak up"! WADA's recent reforms to its whistleblowing policies, procedures and systems
Chapter 9 – Disciplinary Procedures
9.1 Mark Hovell - The year in review
9.2 John Mehrzad - Who has jurisdiction over international transfer disputes?
9.3 Graham Gilbert - Should cross code conduct be considered in mitigation in Rugby disciplinary cases? The Sonny Bill Williams decision
9.4 Lloyd Thomas - Transfer of minors: The legality of buy-out clauses in Spanish football contracts (Barcelona/Real Madrid cases)
Chapter 10 – Sport and Safety
10.1 Mark James - The year in review
10.2 Christopher Hurlston - An overview of the current investigations into abuse in UK football
10.3 Jon Shea - Six key lessons for clubs on the protection of minors from FC Barcelona & Real Madrid appeals
10.4 Nina Goolamali - Bulling and harassment in sport and the Protection from Harassment Act 2007
Editors
Chris Bond
Sean Cottrell
Manali Kulkarni
Hits
6479
Related Articles