Update from the British Association for Sport and Law ("BASL") 21st Annual Sports Conference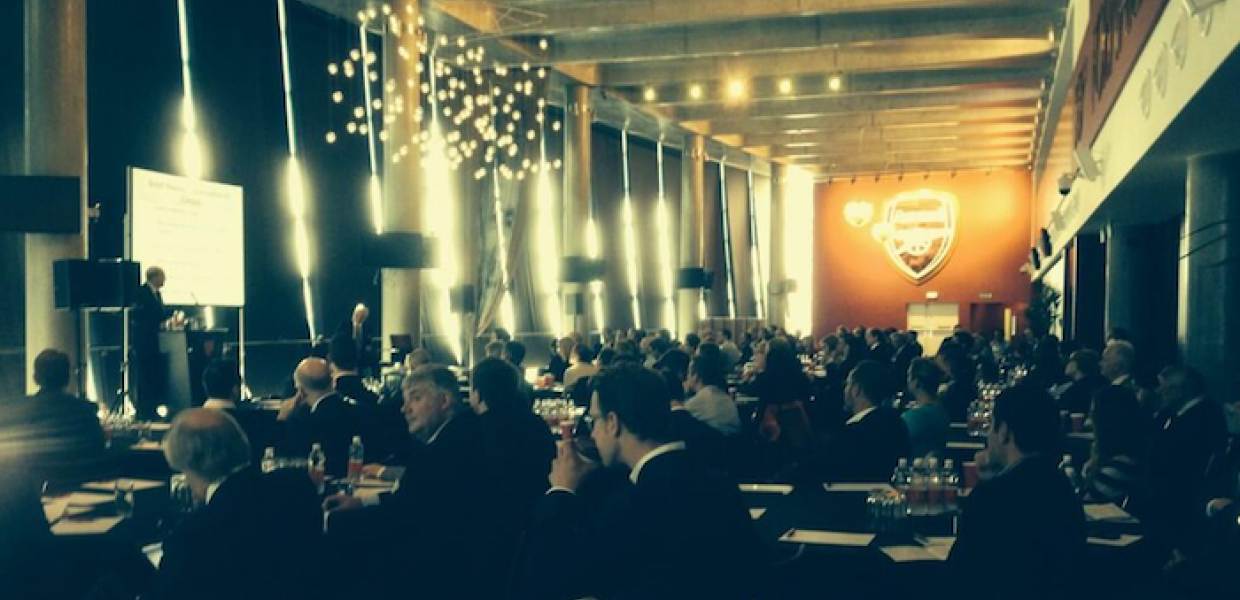 Print

Published 22 October 2013 | Authored by: Simon Pentol, Jason Saiban

17th October 2013, The Emirates Stadium, Arsenal Football Club

Leaving until last, the best of this year's current spate of sports related conferences, the star-studded all day event held by BASL attracted 150 sports legal luminaries and a glittering array of platform speakers from home and abroad that included (among others):
Sir Ronnie Flanagan [Keynote speaker] (Chairman of the ICC Anti-Corruption & Security Unit);
Katherine Grainger CBE [Keynote speaker] (GB's most successful ever female rower and gold medal Olympian at London 2012);
Rick Parry (former CEO of the Premier League and Liverpool FC);
Trevor Birch (former CEO of Chelsea, Leeds United & Everton football clubs, administrator of Portsmouth FC and partner with BDO LLP);
Jane Purdon (Director of Governance at the Premier League); and
Paula Radcliffe MBE (no introduction needed).
The day was divided into four panel sessions (two either side of lunch), each with three renowned panelists and each chaired by separate BASL directors with expertise and experience in the relevant topic. Questions were taken at the end of each session.
Keynote speakers Sir Ronnie Flanagan and Katherine Grainger CBE kicked off the morning and afternoon sessions respectively, both with great aplomb. Each subsequent panel session covered a relevant and current sports law topic in an informative and authoritative manner, sparking much lively debate from the floor.
In a convivial atmosphere, an action-packed day was enjoyed by all.
If the measure for any all-day conference is the number of delegates that remain in attendance throughout the entirety of the day - this was a spectacular success.
A delegate list packed with solicitors and barristers that read like a 'who's who' of sports lawyers and sports related professionals, presents a knowledgeable and challenging audience that intrinsically demands thought-provoking discussion from accomplished speakers. The delegates were not disappointed.
Introduction and First Keynote
Having swiftly concluded the BASL AGM, our Chairman Adrian Barr-Smith (Dentons Solicitors) delivered a heartfelt welcome and a vote of thanks / presentation to former BASL Chairman Nick Bitel (Kerman & Cº, CEO London Marathon, Chairman Sport England and Chairman Sports Rights Owners Coalition) who was stepping down after two decades of outstanding service as a BASL director.
Our first keynote speaker was Sir Ronnie Flanagan. In his own inimitable fashion, he presented a thorough critique of the challenges to modern sport created by the ever-increasing perils of corruption. This led perfectly into our first panel session.
Session 1: Match Fixing
Chaired by BASL President Mel Goldberg (Mel Goldberg Law) with consummate appeal and control, a hugely informative session was underway. Expert panel contributions were made by Rick Parry [special advisor to the Culture, Media & Sport Select Committee re football governance], Paul Scotney [former Director of Integrity at the BHA] and the always excellent and impressive Ian Smith [Chief operating Officer, Federation of International Cricketers Association], from the contrasting perspectives of the administrator, compliance/enforcement and player/athlete representation respectively.
Session 2: Premier League Financial Regulation
Such a big topic demanded a chairman of equal status so Maurice Watkins CBE (Brabners LLP; Manchester United director of 28 years; Chairman of British Swimming and Chairman of Barnsley FC) took the reins. The impact of financial regulation in football domestically and internationally was examined in detail by a hugely knowledgeable and experienced panel of Jane Purdon [the Premier League], Trevor Birch [former CEO of Chelsea, Leeds United and Everton] and Don Fehr [Executive Director of the USA NHL Players Association and former driving force behind the Major League Baseball Players Association]. They were able to enlighten us from the competing perspectives of compliance, football club ownership and the US model, respectively. With contrasting views expressed by the panelists, a lively debate was enjoined by the delegates in the course of which, when dealing with the role of benefactor club owners, Trevor Birch coined the wonderful euphemism of "gift giving"
Second Keynote
Following on from a short VT of her gold medal winning performance at Eton Dorney last year, Katherine Grainger CBE picked up the baton (apologies for the mixed metaphor) immediately after lunch. She enchanted us with a brief summary of her legal and sporting career, culminating in her eventual Olympic gold medal winning performance at London 2012. Understated, self-effacing and alluring, Katherine held the audience spellbound in her "girl's own" story of "try, try and try again . . . "
Session 3: The collective selling of Media Rights
With barely a dry eye in the house, the task fell upon Morris Bentata (Sheridans Solicitors) to ride the wave of emotion (created by Katherine) and navigate us through the choppy waters (all puns intended) of the only 'hard law' topic of the day with his expert stewardship. A redoubtable panel of Ronit Kreisberger [barrister, Monckton Chambers] (who graciously stepped in with erudition and charm as a last minute replacement for the advertised Ian Ayre, MD Liverpool FC), Jeff Gewirtz [EVP Business Affairs and Chief Legal Officer, the Brooklyn Nets] and Francisco Roca Pérez [former CEO, La Liga] displayed their detailed knowledge to highlight both the legal and practical obstacles that exist within this lucrative and ever more important element of sports business.
Session 4: Hot Topic – The future of Anti-Doping
In keeping with the tradition of BASL Conferences of going out with a bang as opposed to a whimper, this session did not disappoint.

Daniel Saoul (barrister, 4 New Square) introduced the matter at by detailing the litany of high-profile sports doping exposés of recent months before going on to chair the day's most provocative discussion with a delightful lightness of touch. In keeping, a distinguished panel provided competing views and insights from very different perspectives. Paula Radcliffe MBE [who showed her true world champion marathon-winning grit and determination to fight-off severe bronchitis to be with us from her home in Monaco] explained why, as an elite athlete, she supports lifetime bans for drugs cheats. William Bock III [General Counsel, USADA and who acted as lead attorney in the Lance Armstrong / US Postal Service investigation] provided both expertise and an unrivalled insight into both "Armstrong-gate" and the mechanism of doping. The counter balance and most controversial contribution of the day came from Prof. Andy Miah [Author and Chair of Ethics & Emerging Technologies, Creative Futures Institute, University of the West of Scotland] who without notes but with immense articulacy and persuasion, made a compelling case for permitting controlled drug taking in sport.
The Aftermath
Such was the spirit and level of interest engendered by the day's events a large number of delegates and panelists remained to continue their discussion over a well-deserved drink (or three).
As is now our habit, arrangements were made for those who wished it, to attend a tour of our venue - the stadium of London's pre-eminent football club (notwithstanding the absence of a trophy for eight years).
And finally . . .
Very special thanks are owed to:
The BASL Conference Organizing Committee;
All BASL directors who either chaired panel sessions and or assisted in suggesting topics for discussion and or assisted in securing our panelists and speakers;
All our speakers and panelists who so willingly gave of their time and expertise, especially Paula Radcliffe MBE who made such a huge effort;
Our longstanding Conference Organizers: Joanna and Ben of Innovation Marketing Limited;
Sean Cottrell of LawInSport; and of course,
The delegates without whom . . .
Until next year,
Simon Pentol (BASL Director; barrister, 25 Bedford Row) and
Jason Saiban (BASL Company Secretary & Director; Partner, Charles Russell)
*Photo taken by Professor Andy Miah @andymiah - https://twitter.com/andymiah/status/390760625397575680/photo/1
Related Articles
About the Author

Simon is a leading London barrister in the Chambers of Paul Mendelle QC and George Carter-Stephenson QC at 25 Bedford Row. Having spent years leading in numerous high profile cases of serious and organised crime and revenue and corporate fraud, Simon has uniquely developed a parallel practice in the specialist field of Sports-related work.
This email address is being protected from spambots. You need JavaScript enabled to view it.

Jason is a commercial lawyer with particular expertise in sport and technology. He has substantial experience in sports marketing, event management, sponsorship, endorsement and merchandising, together with digital media and online legal issues. Jason helped to establish and led the Charles Russell's sports team into becoming one of the leading teams in the UK, advising many of the country's sporting bodies and numerous sporting organisations and individuals. He has also led the firm's TMT group.
This email address is being protected from spambots. You need JavaScript enabled to view it.