UEFA Financial Fair Play: an overview of the clubs' settlements
Print

Published 21 May 2015 | Authored by: Daniel Geey

The news recently that 10 clubs1 including a number of high profile teams had entered in to settlement agreements with UEFA over Financial Fair Play (FFP) break-even breaches, did not appear garner the same media interest as this time last year when high profile clubs like Manchester City and PSG were sanctioned.

The clubs in the FFP spotlight this time round were AS Monaco FC, AS Roma, Beşiktaş JK, FC Internazionale Milan, FC Krasnodar, FC Lokomotiv Moscow and Sporting Clube de Portugal, FC Rostov, Kardemir Karabükspor and PFC CSKA Sofia.

In February 2015, four other clubs (Hapoel Tel-Aviv, Hull City, Panathinaikos FC and Ruch Chorzów) also entered into settlement agreements with UEFA. There have therefore been 14 settlement decisions entered into this season coupled with nine clubs last season (Bursaspor, Rubin, PSG, Galatasary, Manchester City, Anzhi, Zenit, Sofia & Trabzonspor) meaning 23 settlement decisions to date. The details of each settlement agreement can be accessed here.2

For a detailed analysis of UEFA's settlement provisions, click here.3 In summary, UEFA's regulations give its Club Financial Control Body (CFBC) Investigatory Chamber the power to 'settle' its case with potentially offending clubs before the matter is referred to the CFCB Adjudicatory Chamber. This allows a degree of negotiation between UEFA and the relevant club as to their punishments and which has to date avoided any club being banned from playing in UEFA club competition. See my previous blog4 on the settlement sanctions imposed on, for example, Manchester City and PSG this time last year.
Sanction Summary
Below is a table setting out the salient sanctions imposed by UEFA on the relevant clubs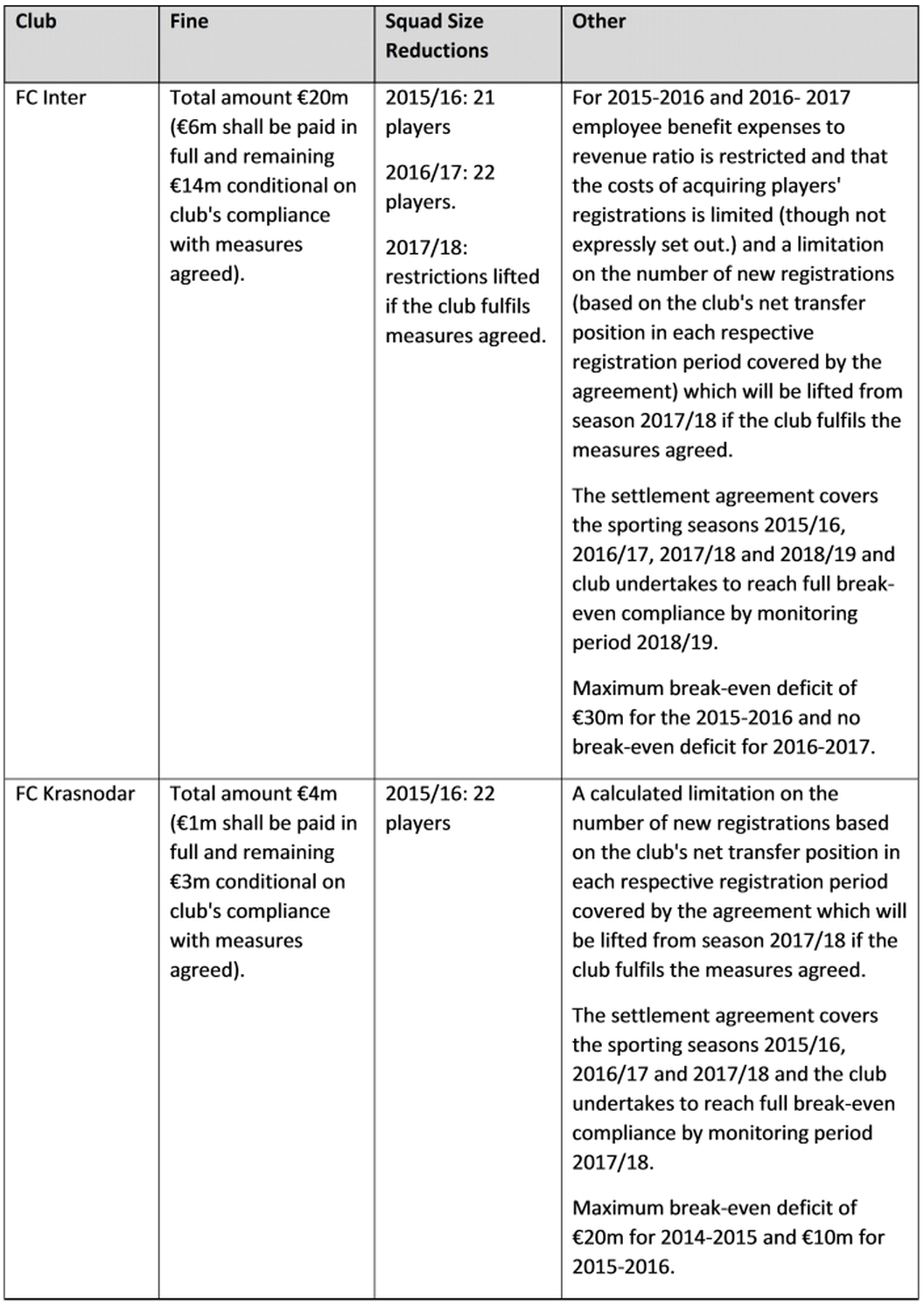 Comment
By way of initial analysis, there are 7 clubs in the latest settlement announcement whose squad size for participating in European competition will be reduced should they play in UEFA competition in the coming seasons. This relates to their A-List of originally 25 players which is required to contain 8 home-grown players. See my previous blog5 on the somewhat controversial restrictions on Manchester City's squad size and the subsequent home-grown player ratio reductions imposed by UEFA. It is not clear at present, whether a club who is sanctioned with, for example, a 21 man squad for next season will have their home-grown player list proportionally reduced accordingly. In their recent press release, UEFA has stated that it will communicate the details of the minimum number of home-grown players that must feature in the A-Lists of sanctioned clubs "in due course". In addition, UEFA will soon announce how the withheld prize money from the sanctioned clubs will be distributed to other participating clubs in UEFA competition.
Just as previously set out, the settlement agreements may be reviewed upon the request of a directly affected party within ten days. This in practice may be seen as difficult without the full sanctioning decision available and in part due to the high evidential threshold required to reopen a settlement decision. The detail of these practical difficulties is set out here.6
Below is a summary table showing the nationality of clubs that have entered into settlement agreements with UEFA to date. Turkey and Russia lead the way.
Although a number of clubs have settled with UEFA, if there are any other clubs whose case is referred to the CFCB Adjudicatory Chamber (i.e. where settlement is not possible), they will likely have their final UEFA decisions by June and any subsequent appeals by the Court of Arbitration for Sport (CAS) resolved by mid-August at the latest.
About the Author

Daniel is a Partner in the Sport Group.

Daniel's practice focuses on helping clients in the sports sector, including rights holders, leagues, governing bodies, clubs, agencies, athletes, sports technology companies, broadcasters and financial institutions.
This email address is being protected from spambots. You need JavaScript enabled to view it.