Why the Premier League's TV rights deal reduces the risk of disruption to the existing rights model
Print

Published 21 October 2015 | Authored by: Austin Houlihan

In this series of feature blogs, the Sports Business Group at Deloitte offers financial commentary on key activities in the global football industry. The sixth blog looks at the Premier League's TV rights deal, and why it reduces the risk of disruption to the existing rights model.
Substantial uplifts
The sheer size of the Premier League's new three-year £5.136 billion domestic live rights deals1 surprised many, focussing attention on the League's remarkable growth story. In 2016/17, the first year of the new deals, Sky and BT will pay a combined £1.7 billion a season, an increase of over £1.1 billion compared to just four years previously.
The Premier League is not the only sports competition to secure substantial rights fee uplifts. Rival 'big five' European leagues, the UEFA Champions League, and major US sports leagues, have all recently secured substantial double-digit percentage increases. In an increasingly fragmented media landscape, broadcasters recognise that premium sports content is unique in drawing live, loyal, social audiences.
Rights fee uplifts (%):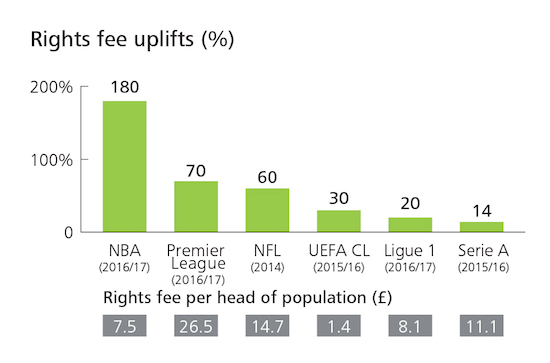 The Premier League has now exceeded £10m per game in domestic live rights fees, well above that of rival European leagues, which make all games available for live broadcast. Yet even this is dwarfed by the £18m per game generated by the NFL. The popularity of NFL in the US, the scale of the domestic market, and the limited number of matches (267), drives such a premium fee.
International appeal
It is its attractiveness in international markets that sets the Premier League apart from both other European and US leagues. The Premier League currently generates around £750m per season (c.€1 billion) from international (non-domestic) markets, substantially higher than the next highest European league, La Liga, at c.€200m per season.
In the new cycle, growth is expected in a number of markets. Securing over £1 billion a season (or €1.4 billion) is within sight, which could surpass the total broadcast revenue generated by the Champions League in its new cycle from 2015/16.
The benefit of the new deal for the wider domestic game is substantial, with the Premier League announcing that £1 billion will be redistributed to the wider game. For a club, the already substantial financial rewards are set to increase. Even in the current cycle, the lowest earning Premier League club (Cardiff City: £58m (2013/14)) earns more from central broadcast distributions, than all bar five European clubs – Real Madrid, FC Barcelona, Juventus, and the two Milan clubs – do from their corresponding domestic league deals. Under the new deals, the lowest earning club will likely earn over £85m (€120m), surpassing the total revenues earned from all sources by such storied European clubs as Ajax.
Will we see disruption to the current model in the future?
Commentators continue to speculate on whether technology companies such as Netflix, Apple, and Google will emerge as serious competitors for live rights. This threat has yet to emerge.
In Europe, relatively short term rights cycles, coupled with escalating rights fees mean a viable business model for live rights has perhaps yet to be identified for such players. Indeed, established pay platforms are embracing new technology through multi-platform delivery of content, whilst telco operators such as BT have emerged to compete for sports content as a means to drive their multi-platform services. In the US, leagues have tied themselves to lucrative long-term network deals. The NFL's core deals run to 2022, and the NBA's until 2025.
Yet such new media platforms play an increasingly important role, augmenting live coverage and distributing additional content, such as highlights and special features, as well as match coverage where a traditional broadcast partner is not available or desired. With established pay platforms or US networks paying ever increasing rights fees to secure premium sports content, there is no obvious sign of disruption to the existing rights model. Indeed, we see no sign of the premium live sports media rights market cooling.
Note: Season in brackets is first season of new rights cycle for each property. Source: Competition organisers; Deloitte analysis.
The Sports Business Group at Deloitte is a team of 20 people based in the UK, working exclusively on sports business projects with clients across all sports around the world. This article was first published in the Deloitte Annual Review of Football Finance (2015 edition). Further information is available at www.deloitte.co.uk/arff.
Related Articles
About the Author

Austin Houlihan is a Director in the Sports Business Group with over ten years of experience working in the sports business sector. He has considerable experience working on strategic, media and commercial development assignments with governing bodies, clubs, and other organisations in the UK and internationally across a number of sports. Austin is currently the Programme Director for the IRFU's bid to host the 2023 Rugby World Cup.
This email address is being protected from spambots. You need JavaScript enabled to view it.