Match-fixing update: Asian authorities in pre-World Cup enforcement action, and multiple arrests in UK
Weekly Media Recap 2-8 June 2014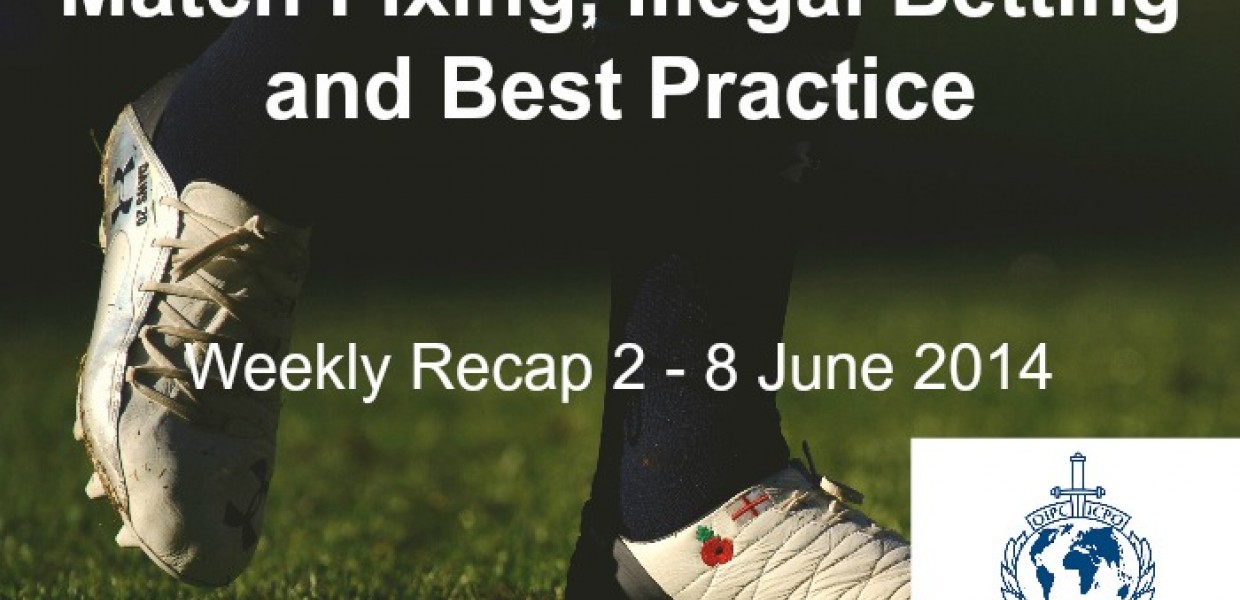 Print

Published 11 June 2014
Current Investigation
Guatemala
Sacachispas President Gerson Rodriguez denounced that days before his team lost the game for the second division of the National League, he received emails and calls requesting money to help the team in their next match at the Mateo Flores Stadium.
Rodriguez accused the referee Jonathan Polanco adding that even if his team had won, he will denounce Polanco. Rodriguez said that he had probes of the emails and calls from the referee requesting an amount of USD $4,500 for helping Sacachispas.
Nigeria
Despite being investigated for its possible role in fixing matches involving the Super Eagles, the Nigeria Football Federation, NFF, has refused to comment on the fresh allegations.Nigeria's friendly against Scotland last week, which ended 2-2, is under investigation for suspected fixing. The New York Times also published a report over the weekend that the friendly match between the Super Eagles and North Korea on the eve of the 2010 World Cup in South Africa was doctored. Nigeria won the friendly against the North Korean side by 3-1. Another friendly match between Nigeria and Argentina, officiated by controversial Nigerien referee, Ibrahim Chaibou, was also allegedly fixed. Nigeria won the match, played in Abuja, 4-1. When PREMIUM TIMES visited the NFF headquarters in Abuja on Monday, its General Secretary, Musa Amadu, said he would not comment on the fresh accusations. "Yes I saw the story and I have nothing to say to you about the issue on match-fixing, No comment," he snapped. The footballing body had earlier been mentioned by the unrepentant Singaporean match fixer, Wilson Raj Perusal, who claimed to have helped Nigeria qualify for the South Africa 2010 World Cup. The NFF denied that claim. Recently, a potential match fixer simply identified as Chukwuma Okoroji was caught on film suggesting he could arrange a yellow card for a World Cup game for more than £41,000 and a penalty for £81,000. The self-acclaimed football agent was caught telling an undercover reporter that he could fix games and organise certain outcomes during the World Cup which starts in Brazil in ten days time.
United Kingdom
A criminal investigation into match fixing allegations is due into allegations that a total of thirteen footballers have affected match outcomes or taken money illegally. The Daily Mail has reported that a further seven players have been arrested by the police in connection to the NCA's investigation. Six players from Preston North End and one from Barnsley were interviewed by police as part of an investigation into alleged bribery and money laundering. The Preston players are understood to be captain John Welsh, Keith Keane, Bailey Wright and David Buchanan, as well as Ben Davies and Graham Cummins, who are on loan at York City and Rochdale respectively. Barnsley midfielder Stephen Dawson is the seventh player. Others who have been implicated are Blackburns' DJ Campbell, Sam Sodje and Akpo Sodje among others. Although this is vehemently refuted by the family, with Efe Sodje insisting: 'Match-fixing slurs will not break my family'
United Kingdom
A Women's Super League game is one of 13 British football matches that have been identified as having been fixed. Notts County's fixture with Everton on 20 April was highlighted by Federbet, an organisation monitoring suspicious gambling patterns. Both clubs say they have "spoken to the Football Association" about the report, which went before the European Parliament on Tuesday. Ten Conference games were implicated. Two of those were in the Conference Premier, with the other eight in the tier below it. Two League of Wales games were also named. The report by the Brussels-based gaming anti-corruption organisation suggests more match-fixing took place in England than anywhere else. According to its general secretary Francesco Baranca, the Women's Super League fixture came to Federbet's attention after a large movement of money on Notts County to either draw or win the match. County eventually won the game 2-0. A County statement said: "We have spoken to the FA and will be working closely with them as they investigate this allegation. At this point, we will be making no further ecomment." Everton Ladies also issued a statement. It read: "The club is aware of the report and has spoken to the Football Association. We are awaiting more information." Federbet, which is based in Brussels, has also accused football's authorities of failing to do enough to tackle match-fixing.
Source
: "
Football match fixing: 13 British games fixed - claims
", 4 June 2014, BBC
https://www.bbc.com/sport/0/football/27706762
Good Practice
Spain
The LFP has invested €700,000 in the Integrity Department during this season. The objectives of the department are: to eradicate match-fixing, illegal betting (it is being monitored), piracy and the illegal broadcast of sporting events via the Internet, such as Rojadirecta.com. Javier Tebas, the president of LFP, and Manuel Quintanar, director of the Integrity Department, explained their working methods to tackle fraud during the International Day on match-fixing in football held in Barcelona.
Illegal Betting
China
Police from Macau, Hong Kong and mainland China are stepping up enforcement action against illegal football betting as the World Cup nears. Police from both Special Administrative Regions and from Guangdong province have launched a month-long crackdown on illegal football gambling, Hong Kong Standard newspaper reports. The 2014 FIFA World Cup in Brazil kicks off on June 12 with the final set for July 13. Illegal betting on World Cup matches usually surges across Asia during the tournament. The rewards of increased betting volume are attractive to the organisers, even though the risk of arrest is typically heightened.Police in Malaysia, Singapore, Indonesia, Philippines and China, including Macau and Hong Kong, arrested more than 5,000 people in the period of the 2010 World Cup tournament in South Africa, according to Interpol. Across the Asia Pacific region, police raided more than 800 illegal gambling operations, allegedly handling more than US$155 million in bets, the international policing agency said in a statement in July 2010.
Legislation
United Kingdom
Proven match-fixers are avoiding jail because of the Government's refusal to criminalise the offence, representatives of every major sport in the UK warned on Wednesday night. The police and Crown Prosecution Service have failed to pursue a number of fixing cases "despite very strong evidence", according to information released to Telegraph Sport by the Sport and Recreation Alliance. Speaking on behalf of more than 300 national governing bodies, the SRA accused authorities of showing a "lack of appetite" for prosecuting match-fixing, which it said required a separate law to combat effectively. To demonstrate the inadequacy of existing legislation, the SRA-operated Sports Betting Group – set up after a 2010 Government report into integrity in sport – sent Helen Grant, the sports minister, three case studies in which known fixers escaped criminal action. The three examples, from the highest levels of cricket, snooker and horse racing, involve offences which were sanctioned by the sports but which left the perpetrators free to continue their corrupt activities elsewhere.
Odds and Ends
European Parliament
Just days before the start of the 2014 FIFA World Cup, the European Parliament issued an anti-corruption warning. The regulatory body supervising online sports betting has highlighted some 460 potentially corrupt football matches in the recently finished European football championships. Marc Tarabella, a Belgian centre-left MEP is pleased with the outcome."In previous World Cups, such as the 2010 tournament, we have just revealed that there may have been some match fixing," he said. "I am extremely pleased that FIFA – thanks to the FederBet online betting foundation – will monitor all parties involved in the World Cup finals, in order to detect whether certain parties could be taking part in illicit bets." It is a contagious virus in the world of football. Fixed matches are suspected of taking place in the first and second division championships in Italy, France, Portugal and the Netherlands, to name a few. The preliminary stages of the Champions League are also under scrutiny.
Federbet
The number of fixed football matches in Europe rose sharply last year and sporting authorities must take action urgently, a top organisation of betting firms said on Tuesday. Federbet, which is based in Brussels, said there were 110 matches they believed to be fixed in 2013-2014 in Europe, while there were suspicions about a further 350. The total of 460 possibly fixed matches was up 20 percent from the previous year, the organisation said. They included matches in Britain, Italy, France and Greece, as well as many eastern European countries. "Every day all around the world there is an attempt at match-fixing. And this virus is getting bigger and bigger," Federbet general secretary Francesco Baranca told a press conference at the European parliament. With the World Cup looming in Brazil, Baranca warned: "It is not so impossible that when they have learned to fix the match during the domestic competition they are also going to fix the match in the international competition."
Switzerland
A secret FIFA report reveals details of widespread match-fixing in international friendlies before the 2010 World Cup in South Africa. The report states that at least 7 international matches were fixed by paying off referees. Five of the matches that were fixed involved 2010 World Cup host nation South Africa.Wilson Raj Perumal, a notorious Singaporean match-fixer is said to have orchestrated the fixing by using a front company to pay referees around $70,000 to make decisions favouring a certain team. The report revealed that referee Ibrahim Chaibou collected a $100,000 fee to fix the friendly between South Africa and Guatemala, giving 2 dubious penalty decisions for hand balls even though the ball was nowhere near the players' hands. Mr. Chaibou is native Nigerian and was employed by Perumal's front company Football 4 U International (F4U) which signed a deal in 2010 with the South African Football Association to supply referees for their matches.The FIFA report stated: "An investigation by FIFA Security has established that at least five and possibly far more international matches in the lead-up to Football World Cup (FWC) 2010 were "fixed" by a well-known match fixing criminal, Wilson Raj PERUMAL, using both a front company, "Football 4 U International" (F4U) and corrupted referees – at least one notoriously so, Mr Ibrahim CHAIBOU."FIFA confirmed that the investigation is still ongoing. Mr. Perumal is currently serving a two-year sentence in Norway and is waiting to be extradited to Singapore after being found guilty of match-fixing in 2012.
Sentences/Sanctions
Austria
The OFB has sanctioned two Austrian players for violating the integrity regulations of the OFB by unlawfully trying to influence the results of a number of matches of the Austrian championship. Dominique Taboga was sanctioned with a lifetime ban from all football-related activities, while Thomas Zundel was banned from all football-related activities for a period of 12 months. In Iran, the Disciplinary Committee of the IRIFF has sanctioned inter alia an Iranian official (coach), Mohammad Reza Molaei, and an Iranian match official (referee), Mohsen Ghahremani, with bans of six and eight months respectively after being charged with "interference in the corruption" and "unsporting behaviour and illegal relations" respectively. The two cases were related to a match of the Iran Pro League. In the above cases, the chairman of the FIFA Disciplinary Committee has decided to extend the sanctions to have worldwide effect in accordance with article 78 paragraph 1(c) and article 136ff of the FIFA Disciplinary Code. The decisions by the chairman have been duly notified to the respective member associations.
Turkey
Turkey's Sivasspor and Eskisehirspor have been added to UEFA's banned list for next season, both being denied entry to the Europa League for involvement in a domestic match-fixing scandal. Both clubs were judged to have deliberately thrown games against eventual champion Fenerbahçe late in the 2010-11 season. They can appeal the decisions at the Court of Arbitration for Sport (CAS) if they file within the next ten days. UEFA reached this decision on the basis of Articles 2(07)g, 2(08) and 2(09) of the Regulations of the UEFA Europa League, 2014/15 competition, regarding the admission criteria for participation in UEFA competitions. According to Article 2(07)g of the Regulations of the UEFA Europa League, to be eligible to participate in a competition a club must "not have been directly and/or indirectly involved, since the entry into force of Article 50(3) of the UEFA Statutes, i.e. 27 April 2007, in any activity aimed at arranging or influencing the outcome of a match at national or international level and must confirm this to the UEFA administration in writing". The day before the Turkish judgment, Serbian champions FK Crvena zvezda have been excluded from the 2014/15 UEFA Champions League for breaching UEFA Club Licensing and Financial Fair Play Regulations.
Related Articles