A view from inside the International Broadcast Centre (IBC) in Sochi
Print

Published 24 February 2014 | Authored by: Raj Koria

As I have mentioned before, my office is located in the International Broadcast Centre (IBC). The IBC is the beating heart of broadcast operations at big sports events.

The feeds from all 450+ cameras from the various venues are sent to the IBC to be accessed by broadcasters, a lot of whom have their main base of operations in the IBC. Many will have set up editing suites to edit their programming on-site before it goes on air. Some even have their main broadcast studio in the IBC. With all this activity, the IBC drinks vast amounts of power. It is arguably the most important building to keep powered. If there were a power cut at a venue, no-one would miss the action as it is likely to stop completely. If the IBC has a power cut, the sport would continue but the world's screens would go blank. Consequently, the IBC will have its own generators at least for its back-up power supply, and possibly even for its primary power source.

The building itself has 40,000 m2 of working space, allocated to over 80 broadcasters with around 3,200 personnel based there. Thousands of broadcast personnel are based at the IBC, and it is open 24 hours-a-day as some people will be working there day and night, almost living there. Accordingly, it provides extensive facilities for us including a laundry, gym, grocery store, newspaper kiosk, merchandise store, beauty salon, Internet cafe, bank, a room of massage chairs (which are very good and always in use), medical station, pharmacy, post office, two food courts, two restaurants, a McDonalds and a very decent bar. The food courts are not the best, it has to be said, while the restaurants are good but the service is so slow you usually need to set aside two hours for lunch if there is a big group of you. Consequently McDonalds has been frequented more than we would prefer - last week one colleague sheepishly admitted to having been four times in the preceding 24 hours. Needless to say, there have been many declarations of intent about the gym.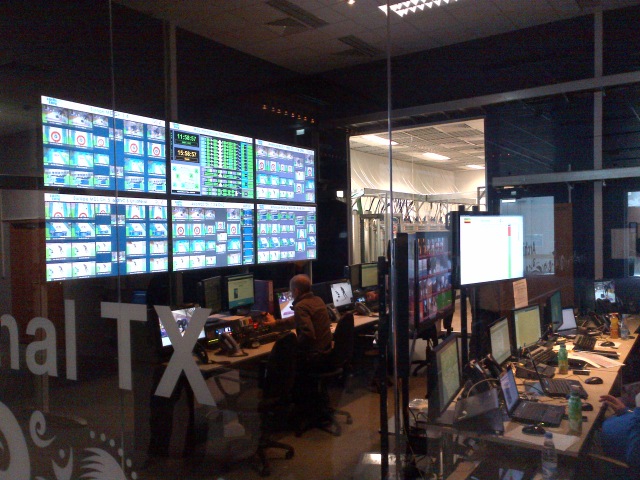 Broadcaster offices range from small units with a few desks and computers to the NBC facility, which practically has its own village within the IBC for many of its 2500 staff in Sochi. Rumour has it that they have their own staff restaurant and even a Starbucks for NBC, the only one anywhere near the Olympic Park. Unfortunately only NBC staff are allowed into their area so we have all been trying to befriend someone from NBC who can smuggle out coffees for us.
The BBC office is around the corner from ours and I have often seen the likes of Clare Balding and Jonathan Edwards there. The beeb were kind enough to allow us in to catch the six nations rugby and they even made tea for us. We thanked them with a box of Kinder Eggs from the grocery store, which firmly put us in their good books. The major currency in the IBC is pins. All broadcasters are permitted to have metal pins made featuring their logo, often as a part of a composite logo with the official Sochi emblem. These are very popular with the volunteers and IBC staff and we often get people knocking on our door asking if we have any. Although they have no intrinsic value, someone pointed out to me that since so few are made for each broadcaster they are effectively "limited edition" items. I have not collected any so far.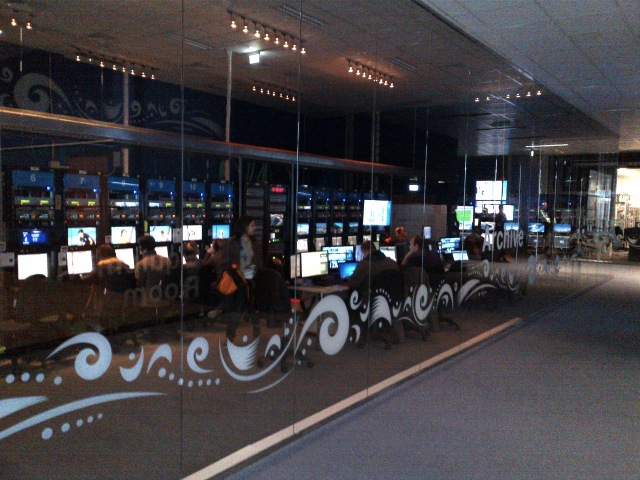 You may have heard about the infamous shopping trolley appropriated by the BBC team here. A couple of my colleagues were even interviewed by a BBC camera crew about it. I think I may have spotted it when I was in the IBC laundry a while ago. I had to queue for 45 minutes just to leave my clothes because there was a woman at the front dropping off an entire shopping trolley full of bags of clothes. Perhaps this is why the BBC took it!
Related Articles
About the Author

Raj Koria is an experienced and charismatic international sports business lawyer and adviser. Raj's experience includes media and television rights, sponsorship sales and servicing, product merchandising and retail distribution and on-site marketing operations. He is London based but services an international client base at Halebury, the alternative law firm.
This email address is being protected from spambots. You need JavaScript enabled to view it.