How can Suarez legally defend against a ban from football for his World Cup "bite"?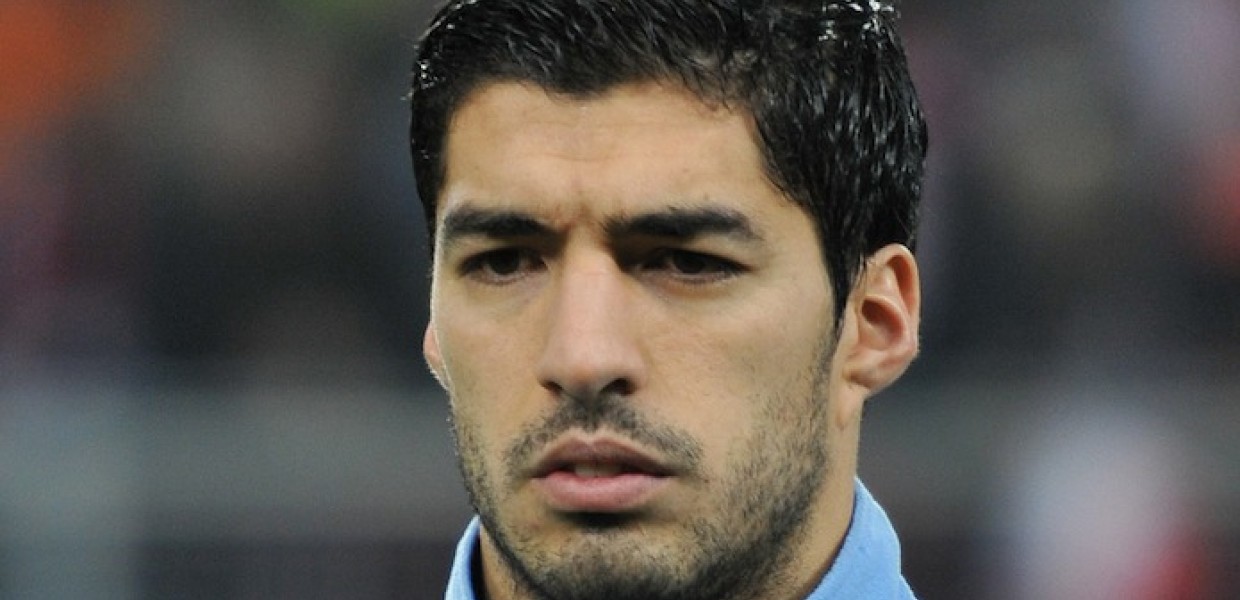 Print

Published 26 June 2014 | Authored by: Kevin Carpenter

On the evening of Tuesday 24 June a global TV audience, along with those in attendance at the stadium, looked on aghast at the actions of Luis Suarez during the match between Uruguay and Italy in the 2014 FIFA World Cup Brazil as in the 77th minute he appeared to bite an Italian defender on the shoulder. Both the media and the general public have been quick to castigate Mr Suarez and try to pre-judge the FIFA Disciplinary Committee who will hear the case. This blog looks at the approach a lawyer could take defending Mr Suarez before the FIFA Disciplinary Committee.

In the 77th minute d

uring the final Group D match between Uruguay and Italy in the 2014 FIFA World Cup Brazil the Uruguayan striker,

Luis Suarez,

appeared to bite the Italian defender, Giorgio Chiellini, on the shoulder, with Mr Chiellini running to the referee and pulling his shirt down to reveal what appeared to be a

bite mark

.

1

The match officials took no action at the time but given the amount of cameras in the stadiums for the World Cup it was of little surprise that the next morning

FIFA released a statement2

announcing they had opened disciplinary proceedings against Mr Suarez and charged him for an apparent breach of Articles 48 (Misconduct against opponents or persons other than match officials) and/or 57 (Offensive behaviour and fair play) of the

FIFA Disciplinary Code ('FDC')3

on the basis of the video replays of the incident. Both the media and the general public have been very quick to castigate Mr Suarez and try to pre-judge the

FIFA Disciplinary Committee4

who will hear the case by a latest of the morning of Thursday 26 June and have jumped to the conclusion that he is guilty, given he has committed the same offence twice previously in domestic football, and should be banned for a considerable period of time. However, lawyer Alejandro Balbi has been instructed by Mr Suarez and/or the Uruguayan Football Association ('UFA') to defend him in these proceedings so that he can continue to participate in the knock-out stages of the tournament for Uruguay.

5
How might Mr Balbi go about trying to defend Mr Suarez?
(Dis)Proving the offence
The charges against Mr Suarez have been brought under the FDC. Interestingly, in addition, Article 11 of the
Regulations 2014 FIFA World Cup Brazil
6
, which covers 'disciplinary matters' at sub-section 3, "
in addition [to the Disciplinary Code], the players agree in particular to; (a) respect the spirit of fair play [and] non-violence; (b) behave accordingly.
" This highlights the high importance FIFA quite rightly places on the reputation of its tournament in the global spotlight.
From the
video evidence
that has been seen around the world so far, it certainly seems that on what is referred to in the FDC as the Committee's "
personal convictions
" (Article 97(3)), a standard of proof said by CAS to equate to the unique sporting "
comfortable satisfaction
" standard
7
, that Mr Suarez did indeed bite Mr Chiellini. Therefore, as the lawyer defending Mr Suarez, you would have to look for clear video evidence from a different angle that he did not bite Mr Chiellini. This will require trawling through footage from the numerous cameras around the stadium that may provide a different and, hopefully, better viewing angle. Indeed, in the press release, FIFA make a point of mentioning that under Article 96 of the FDC "
any type of proof may be produced in particular are admissible…video recordings
".
The key evidence for this incident will, as already mentioned, be the video recordings in addition to the referee's report and any witness evidence put forward either on paper or orally by Mr Suarez or Mr Chiellini. Oral evidence is not automatic under Article 111(1) FDC but can be requested by one of the parties under Article 111(2). An interesting tactical decision in these cases is often whether, and to what extent, to allow the athlete charged to present any evidence, as it is not always particularly helpful. For example, in one of Mr Suarez's previous cases, where he was found guilty of racially abusing Patrice Evra when playing for Liverpool, the Regulatory Commission of the Football Association in England had this to say at paragraph 453: "Mr Suarez's evidence was unreliable in relation to matters of critical importance. It was, in part, inconsistent with the contemporaneous evidence, especially the video footage".8 This sub-paragraph (5) of the Reasons goes on to make further comments about Mr Suarez's unreliability as a witness before the FA Regulatory Commission.

Mr Suarez has already come out in the media and denied that he bit Mr Chiellini, and says that the media should not be making a big fuss out of it.9 However, given his past record, that statement is unlikely to count for a great deal, and therefore it is probably safe to assume that unless there is a camera angle which shows clear evidence that he did not bite Mr Chiellini, the charges under Articles 48 and/or 57 against Mr Suarez will be proven.
Level of sanction
Articles 10 and 11 FDC set out the sanctions available to the Disciplinary Committee. Two are likely to be relevant to this case:
c) match suspension (Article 19 FDC); and
f) ban on taking part in any football-related activity (Article 22 FDC)
When it comes to a match suspension, Article 19 says that the sanction cannot exceed 24 matches or 24 months. Article 48 (1) assists in this regard by setting out levels of mandatory bans for certain types of misconduct offences. Biting is not strictly covered but there are two possible arguments to be made by analogy to two of the categories mentioned. Some may say Article 48(1)(e) should apply where it says the Committee shall suspend the player for at least a six matches "for spitting at an opponent or a person other than a match official", as biting can be viewed as a similarly deplorable act. However, playing Devil's advocate and putting oneself in the shoes of Mr Suarez's legal representative, one would argue that biting is a form of assault "elbowing, punching, kicking etc" and therefore falls within Article 48(1)(d) which provides for a ban of at least two matches. Either way he is unlikely to play in this World Cup again.
Whatever length of ban is considered appropriate under Article 19, Article 38 (Carrying over match suspensions) states that the player will only be banned for international matches, not domestic club matches. However, this is where arguments about the Disciplinary Committee's jurisdiction and powers begin to become an issue. Especially when one considers that Mr Suarez is a recidivist offender, having been banned for 7 and 10 games by the Dutch and English FA's respectively for biting offences in their top domestic leagues.
Article 40 FDC allows for the Disciplinary Committee to increase a sanction if an infringement has been "
repeated
". However, Article 2 makes it clear that the FDC "
applies to every match and competition organised by FIFA
", therefore not domestic league discipline, responsibility for which is delegated to individual national member football associations [under Article 70]. Therefore, although Article 40 does not define what "
repeated infringements
" means, on a literal reading of the FDC, Mr Suarez's lawyer would be right to insist that the domestic bans should not be considered under Article 40 to lengthen any ban and any ban cannot be applied to club football due to Article 38 'Carrying over match suspensions'. Commercially, this is important for his club team Liverpool too. Only last Sunday, it was
reported that Mr Suarez's is ready to transfer
to one of the two major Spanish clubs for reportedly around £70 million.
10
If he was to receive a lengthy ban (say 15 games), and this also applied to domestic matches, then his sale price, and prospects of transfer at all, is sure to drop considerably.
FIFA may try and be creative and sanction him under Article 22 FDC instead. This is a draconian measure that is used for match-fixing and other integrity/corruption offences, with the ban often being extended to have worldwide effect using Articles 70 (General rule [on jurisdiction] and 136 (Request [to extend sanctions to have worldwide effect]). This combination has an effect similar to the sanctioning regime in rugby union under Regulation 17 of the
IRB Handbook
11
, where bans for any misconduct offence (categorised as "
foul play
") are applied not only to international competitions but also to domestic competitions and therefore have true worldwide effect (Regulation 17.1.1 'All Matches are equal'). Yet there has not been a case to date where FIFA has applied Article 22 FDC to serious on-field misconduct offences. Indeed, most recently, Croatian player
Josip Simunic was banned for 10 games
for a racially aggravated gesture after a play-off match for the tournament, but the ban still only applies to international fixtures.
12
Arguably, Mr Suarez's actions are not worse than this, despite being a repeat offender for biting (amongst other sporting crimes including racism).
Opportunity to appeal
If Mr Suarez is found guilty and is given a significant ban there is an opportunity for him to appeal under Article 118. This would be attractive given Article 121 makes the appeal a de novo hearing before the Appeals Committee (i.e. full review jurisdiction). It is reasonable to assume, despite the jurisdictional issues outlined above, that he will receive more than a three-match suspension, so it will be a "
contestable decision
" under Article 118. Any appeals process is complicated by the fact that Uruguay are due to play again the tournament in the knock-out stage on Saturday; therefore, with the decision likely to be made on Thursday 26 June, and the match taking place on Saturday 28 June, the appeal will have to be heard by the Appeal Committee on the Friday. This is further complicated by the fact that, in my experience, written decisions do not always come immediately after the oral decision is made by the Disciplinary Committee, meaning Mr Suarez could not be advised properly on the prospects of success of an appeal and therefore is restricted in formulating strong Grounds of Appeal. What FIFA will be very keen to avoid, despite the tight time scales, is having a situation where the appeal cannot be heard before Saturday's match, and therefore Mr Suarez is eligible to play, as happened to Australia captain
James Horwill in the second Test of 2013 British and Irish Lions rugby tour
.
13
Related Articles
About the Author

Kevin is a advisor and member of the editorial board for LawInSport, having previously acted as editor. In his day-to-day work he has two roles: as the Principal for his own consultancy business Captivate Legal & Sports Solutions, and Special Counsel for Sports Integrity at leading global sports technology and data company Genius Sports.
This email address is being protected from spambots. You need JavaScript enabled to view it.