The FIFA World Cup Inquiry: A landmark learning day for sports governance?
Print

Published 14 November 2014 | Authored by: Kevin Carpenter

In terms of sports governance, the 13 November 2014 was certainly a day to remember. The media became ablaze with widespread condemnation by various stakeholders in sport of FIFA's Summary1 (references to specific paragraphs in brackets) of the report of the enquiry into the 2018/2022 FIFA World Cup Bidding Process prepared by the Investigatory Chamber of the FIFA Ethics Committee ('FEC'), led by the Investigatory Chamber's Chairman Michael J. Garcia.

Yesterday's statement was in the form of a summary by the Chairman of the second tier of the FEC, the Adjudicatory Chamber, by its Chairman Hans-Joachim Eckert. Only a few hours later Mr Garcia came publicly out and said the summary contained "numerous materially incomplete and erroneous representations"2 and as a result he would be appealing to FIFA Appeal Committee.

This now very public falling out between Mr Garcia comes on the back of a number of high profile governance failures in world sport in recent times including the UCI with Lance Armstrong and doping and the NFL with various indiscretions by high profile players including Ray Rice (domestic violence) and Adrian Peterson (child abuse), to name but a few (see also volleyball3 and handball4 for instance). Following Mr Garcia's comments one has to discount, for the time being, the majority of Mr Eckert's 42 page summary. However, one ponders if there are any lessons that can be learnt for the governance of world sport from this high profile sporting drama that continues to unfold?
Independence of Inquiry
Ever since a review into the bidding processes for the two World Cups was launched, people have questioned how truly independent Mr Garcia would be given the review was paid for by FIFA, and their past history of proven misdemeanours, such as the infamous ISL scandal5. During the investigation, I have maintained throughout6 that being a high profile lawyer and partner in a global law firm Mr Garcia would be well aware of the impact that a failure to be truly independent and thorough in his investigations would have on his firm's and his own personal reputation. Indeed, this no doubt led him to very promptly come out and say he will challenge the statement by Mr Eckert, particularly as regards the factual findings within the over 400 page report he submitted to the Adjudicatory Chamber. This appears to be very much a case of biting the hand that feeds you, but it is very pleasing, and indeed important, to see that Mr Garcia is being strong and standing up for the integrity of his investigations and subsequent report.
From the beginning, a better course for FIFA to adopt in these circumstances would have been to employ a law firm or firm of consultants who are truly independent to carry out a thorough, robust and above all impartial review of the bidding process for, and alleged corruption surrounding, the 2018 and 2022 World Cups. I must stress this is no reflection on the work undertaken by Mr Garcia and his team in the Investigatory Chamber, it is just that perception is paramount when it comes to reviewing the governance of any organisation, especially when allegations of corrupt practices are part of the inquiry. Third party external reviews very rarely happen in practice in sport, which is a reflection of the fact that sport still lags someway behind the rest of the world when it comes to good governance.
Lobbying – Good Business Or "Inappropriate Conduct"
There are a number of elements of the Summary, notwithstanding the questionable factual conclusions drawn in Section 6, which are troubling, particularly in Section 8, starting with the quote, "From which point on lobbyism must be considered inappropriate conduct is, for example, not always clear." Well if you are the world leader in football, and looked to as an example by many other sports, you must take a strong stance against lobbying, it is not really a matter of fact and degree. Particularly when later on in the same paragraph it is said, "Corruption, however, is clearly under no circumstances permissible." Yet in a number of instances in the Summary Mr Eckert says that various practices took place which were highly questionable (i.e. contrary to the FIFA Code of Ethics7 and 'safeguards' in the bidding process) but they were not sufficient enough to taint the bidding process and voting as a whole, which is wholly contradictory. (para 8.1)
The Need For Transparency
Later in the same section Mr Eckert correctly states that the main challenge as regards alleged corruption is "proving it". This is made even more difficult when certain individuals and certain member associations are not transparent and do not provide information when requested. This is where sports' governing bodies have to be robust and confident in their own convictions. For such nations who are obtrusive and not fully transparent there must be a stringent range of sanctions available, and exercised, by independent disciplinary committees. In the majority of sports governing bodies regulations any allegations of misconduct are dealt with on the balance of probabilities standard. This gives them a significant advantage over any law enforcement agency. However, in FIFA's case they apply the higher 'comfortable satisfaction'8 standard derived from anti-doping law. This may have led to some of the reluctance by Mr Eckert to continue to investigate or draw conclusions as to the alleged corrupt activities of some of the people the subject of the investigation.
Working With Law Enforcement Agencies
However, despite not having the same extensive powers of law enforcement bodies, it does seem that the level of evidence Mr Eckert wanted to be provided suggests that in reality FIFA is looking to achieve a criminal standard in this particular investigation. This should simply not be the case as it frustrates the application of sporting justice in cases such as this when Mr Garcia found people or bodies evasive when it came to providing the evidence requested and had now power to compel them to do so. (para 5.1.3) These shortcomings in jurisdiction and powers are true of many sports, however, these can be overcome by working with law enforcement agencies, using the criminal law to obtain key evidence.
Characteristics of Good Governance
One of the tools I use to explain what characterises good governance is the United Nations 8 Characteristics of Good Governance9: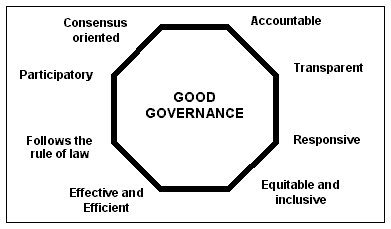 The current structure and governance of FIFA is deficient in material aspects on the majority of these factors, as first identified by Roger A. Pielke Jr. in this excellent paper10 and then Professor Mark Pieth, as head of the Independent Governance Committee, in the Committee's final report11 in April 2014. This is despite Mr Blatter being praised in the Summary at paragraph 6.10 by Mr Eckert as having implemented a number of "critical reforms". Well if this were to be the case then what would be the point of Section 7 of the Summary (which has been overlooked by many)?
Noteworthy Recommendations from "The Report"
It is here where Mr Eckert actually makes a number of good recommendations to the FIFA member associations to adopt to improve the governance of world football including:
Term limits for FIFA Executive Committee members (which was voted down at the most recent FIFA Congress) (para 7.2.2);
Declaring conflicts of interests (para 7.2.3);
Having a transparent rotation system for the World Cup (para 7.2.4);
Clear and objective bid evaluation criteria and ranking overseen by independent experts (para7.2.5);
Strict limits on visiting by Executive Committee members to bidding nations (para 7.2.6); and,
Having enhanced reporting requirements (para 7.2.7).
Independently Audited Bid Documents
A further good practical governance point put forward by Mr Eckert is the need for every bid document to be independently audited once it has been submitted. In the case of the 2018 and 2022 World Cup bids, most of which I have read, it seems that key aspects of those bid documents were ignored by the Executive Committee when it came to voting.
Given the number of scandals that FIFA has been through, and for an organisation who made an estimated $5billion turnover12 and $2.5billion profit13 from its last major event the 2014 World Cup in Brazil, it is truly amazing they don't have such processes in place. A comparable organisation in any other sector, such as a multi-national public corporation, would have to have such processes in place as a matter of regulatory compliance with heavy sanctions, both civil and criminal, for a failure to comply.
Final Thoughts
It is regrettable for world football, and indeed world sport, that what many people thought was a 'whitewash' report at the beginning of yesterday now appears to be the case following Mr Garcia's statement. It will be intriguing to see how FIFA deals with this unique situation with dissention in the ranks being made public. In my opinion, only concerted pressure from international governments and thinking of creative ways in which to pin down those suspected of alleged corrupt activities, such as those the United States employed14 regarding the Salt Lake City games voting scandal, is the only way in which to force this impenetrable organisation to reform. Integrity and good governance begins from the very top of the organisation, and therefore, it is difficult to see how things will improve in the near future.
Related Articles
About the Author

Kevin is a advisor and member of the editorial board for LawInSport, having previously acted as editor. In his day-to-day work he has two roles: as the Principal for his own consultancy business Captivate Legal & Sports Solutions, and Special Counsel for Sports Integrity at leading global sports technology and data company Genius Sports.
This email address is being protected from spambots. You need JavaScript enabled to view it.