Combating match-fixing in sport - a guide to the Council of Europe's Convention on the Manipulation of Sports Competitions
Published 06 October 2014 By: Kevin Carpenter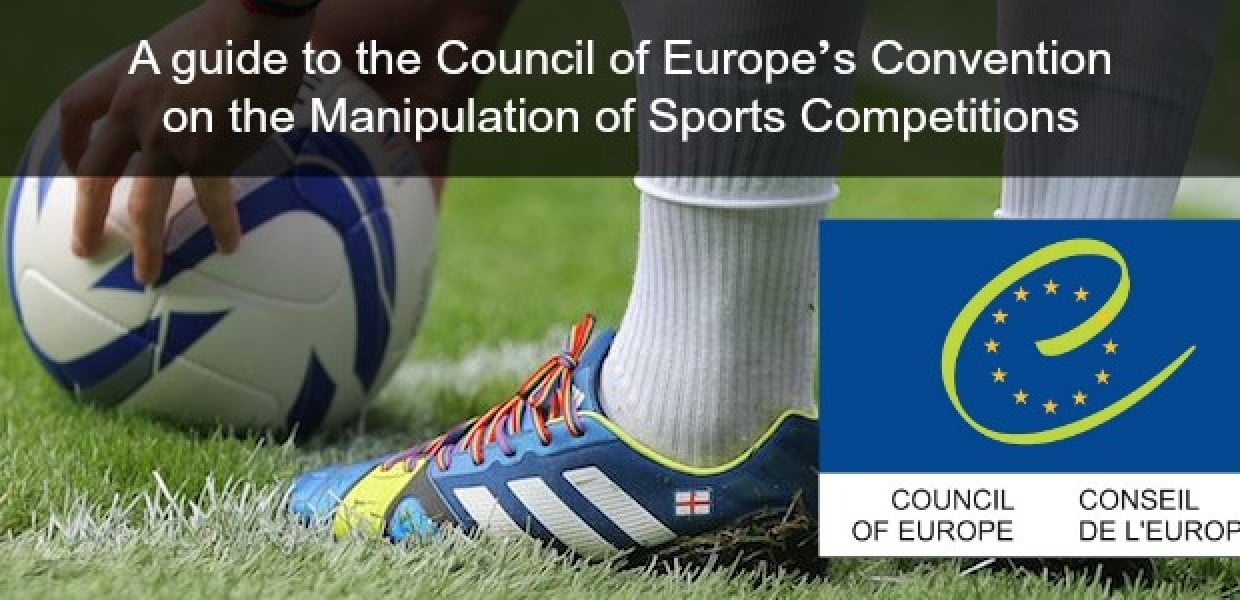 On 18 September 2014, the sports ministers of 15 of the member states of the Council of Europe ('the CoE') signed potentially the most significant legal instrument relating to match-fixing worldwide: Council of Europe Convention on the Manipulation of Sports Competitions ('the Convention').1 Adopted at the same time was an Explanatory Report on the Convention.2
The Convention has, quite rightly, received a significant amount of media coverage around the world. However, little has been written about the legal content within the Convention. This blog will look at the most legally significant elements of the Convention and the Explanatory Report.
History of the Convention3
The CoE first discussed match-fixing in 2008 at a ministerial meeting held in Athens. The CoE Committee of Ministers then adopted the 'Recommendation on promotion of the integrity of sport against manipulation of results, notably match-fixing' in 2011, which although not legally binding on Member States, had significant political weight and led to work beginning on the Convention in September 2012. The Convention had to go through a number of stages of the CoE's legislative process, which included input from a number of key stakeholders in sport, not just the member states themselves.4
The two year drafting and negotiating process was co-ordinated and led by the CoE's Enlarged Partial Agreement on Sport ('EPAS') which provides a platform for intergovernmental sports co-operation between the public authorities of its member states and encourages dialogue between public authorities, sports federations and non-governmental organisations.5
The Council of Europe
To begin with, for international readers it may be helpful to explain what the Council of Europe is; European readers may wish to skim over this section. First and foremost, the CoE is a separate organisation to the European Union ('the EU'), with the EU being a unique economic and political partnership between 28 European countries. In contrast, the CoE is the continent's leading human rights organisation, having 47 member states (all 28 members of the EU are also members of the CoE) and all CoE member states have signed up to the European Convention on Human Rights ('the ECHR'), a treaty designed to protect human rights, democracy and the rule of law after the Second World War.6
Council of Europe's policy on sport
The main thrust of the CoE's policy on sport, through EPAS, has been to uphold certain principles, including the independence and autonomy/self-regulation of sport, whilst at the same time seeking to prevent certain adverse phenomena in sport such as doping7, spectator violence8 and now match-fixing.
Despite being a European led instrument, the CoE are extremely mindful of the truly global nature and threat from match-fixing and are encouraging non-CoE member states and non-European countries to Register to it, which is why Australia, New Zealand, Canada, Japan and Morocco have been consulted during the negotiations and are expected to sign the Convention.9
The structure of The Convention
The Convention is a legally binding instrument structured by way of a Preamble with 9 Chapters made up of 41 Articles that cover in total: prevention, law enforcement, international co-operation measures and the exchange of information.
There are a number of important overriding principles and background set out in the Preamble, of note is that the CoE attribute the significant increase in the number of cases to two specific elements:
the proliferation of different types of betting; and,
the development of a large illegal betting market.
Furthermore, the threat to the rule of law is specifically mentioned due to the fact that, "The manipulation of sports competitions poses a challenge to the rule of law because it is linked to fraud, organised crime and corruption." (para 6, Explanatory Report).
Purpose, guiding principles, definitions
The definitions in Chapter I (Purpose, guiding principles, definitions) will no doubt have been the subject of much negotiation and legal amendment. The key definition is "manipulation of sports competitions"10, which I believe strikes a good balance between being clear and concise and yet sufficiently wide in scope. What is encouraging to see is that not only has "sports betting" been defined but so has "illegal", "irregular" and "suspicious sports betting" in Article 3:
"Sports betting" means any wagering of a stake of monetary value in the expectation of a prize of monetary value, subject to a future and uncertain occurrence related to a sports competition.
"Manipulation of sports competitions" means an intentional arrangement, act or omission aimed at an improper alteration of the result or the course of a sports competition in order to remove all or part of the unpredictable nature of the aforementioned sports competition with a view to obtaining an undue advantage for oneself or for others (Article 3.5)
"Illegal sports betting" means any sports betting activity whose type or operator is not allowed under the applicable law of the jurisdiction where the consumer is located (Article 3.5(a)).
"Irregular sports betting" shall mean any sports betting activity inconsistent with usual or anticipated patterns of the market in question or related to betting on a sports competition whose course has unusual characteristics (Article 3.5(b)).


"Suspicious sports betting" shall mean any sports betting activity which, according to reliable and consistent evidence, appears to be linked to a manipulation of the sports competition on which it is offered (Article 3.5(c)).
This is a key distinction for signatories to understand as when it comes to identifying and investigating potential betting-related match-fixing the latter two terms are often misunderstood. Betting on a particular sports competition can be "irregular", for a number of reasons, without being "suspicious".
Prevention, co-operation and other measures
Chapter II (Prevention, co-operation and other measures) places a number of obligations on stakeholders within a particular signatory state ('Party'). Of particular interest given previous posts I have written on the proportionality of sanctions for match manipulation11, 12 is that:
"Each Party shall encourage its sports organisations, and through them the international sports organisations to apply specific, effective, proportionate and dissuasive disciplinary sanctions and measures to infringements of their internal rules against the manipulation of sports competitions, in particular those referred to in paragraph 1 of this article, as well as to ensure mutual recognition and enforcement of sanctions imposed by other sports organisations, notably in other countries." (Article 7.3)
No doubt the requirement that governing bodies and their members comply with their contractual negotiations was driven by players representative bodies because late or non-payment of salaries is a major factor as to why people agree to manipulate sports competitions.13
Article 8 addresses the need for consideration to be given as to how governing bodies will be funded to combat "manipulation of sports competitions" as this is currently a major obstruction in the fight. Betting operators and regulators are covered in this Chapter and there are important provisions regarding: the exchange of information between key stakeholders, the tracing and blocking of financial flows from sports betting, preventing the misuse of inside information and the most suitable means, in accordance with the applicable law, to combat illegal betting operators.
Exchanging information
Chapter III deals exclusively with the 'Exchange of information' between all relevant stakeholders and places an obligation on Parties to:
"facilitate, at national and international levels and in accordance with its domestic law, exchanges of information between the relevant public authorities, sports organisations, competition organisers, sports betting operators and national platforms." (Article 12.1)
This is yet another significant hurdle holding back an effective fight against match manipulation, for instance in the UK with the uncertainty as to how to apply section 35 of the Data Protection Act 1998 to cases of match manipulation.14
Article 14 of Chapter III addresses the ever growing area of data protection as the processing of personal data is central to international co-operation in this field. The 'national platform' which must be identified by Parties to the Convention is a key central body which will "act as an information hub, collecting and disseminating information" to relevant stakeholders, echoing the effective role the Joint Assessment Unit played at London 2012 in dealing with the threat to the Olympic Games from betting manipulation.15,16,17
Criminal sanctions
The criminal element of match manipulation is addressed in Chapter IV. The harmonising of criminal laws across sovereign states is always contentious in whatever field and so it is of little surprise that a light-touch approach is taken in the Convention, "Each Party shall ensure that its domestic laws enable to criminally sanction manipulation of sports competitions when it involves either coercive, corrupt or fraudulent practices, as defined by its domestic law." (Article 15) Match manipulation, being often linked to organised crime, often involves some form of money laundering and the international legal instruments mentioned in Article 16 are one tool which can be used to quell match-fixing activity. An interesting provision that I have not come across previously is Article 18 on 'Corporate Liability' which recommends that Parties make businesses criminally liable for the offences committed by employees under Chapter IV, could cover sports clubs.
Jurisdiction and enforcement
Article 21 of the short Chapter V (Jurisdiction, criminal procedure and enforcement measures) encourages each Party to provide protection for people who have the bravery to provide and report information on match-fixing. The importance of this cannot be underestimated, due to both the stigma within sport against those who report sporting misconduct and potential criminality, and once again the menacing presence of organised crime. If effective protection can be provided for such people, and their identity protected throughout either the sporting and criminal process, then it will increase people's willingness to both provide valuable information but also to testify at a later date.
Sanctions and measures
Chapter VI (Sanctions and Measures) includes an article on the seizure and confiscation of assets illegally gained through match manipulation. Having laws which allow law enforcement to do this is an efficient way to fight organise crime. Regrettably Article 25 does not go as far as to suggest Parties to have a civil recovery mechanism which would be useful as securing criminal convictions for match manipulation is often very difficult.18
International co-operation
The final substantive Chapter VII is aimed at 'International co-operation in criminal matters' which is where both Europol and INTERPOL will have a crucial role to play. Indeed both organisations have already undertaken a significant amount of work in this field, for example, Europol recently signed a Memorandum of Understanding with UEFA (the administrative body for football in Europe) aimed at reinforcing the fight against match-fixing in European football19 and INTERPOL have their own Integrity in Sport which has a 10 year agreement to work in partnership with the world governing body FIFA to tackle the threat to football globally from match-fixing.20
More to be done
For somebody who has been working to combat match-fixing for some years it is very pleasing that the CoE has been able to come to a political consensus to establish the Convention and have it ready for signature. Yet, as with all such international legal instruments, it is only as effective as the extent to which:
the signatories implement and comply with the Articles of the Convention by passing laws and regulations in their own state; and
the CoE and other Parties police and enforce compliance through the auspicies of the "Convention Follow-up Committee" pursuant to Chapter VIII (Follow up).
The most immediate challenge is to convince the remaining 32 members of the CoE to Register to the Convention, including large states as the UK, France, Spain and Italy who are cautious following the wider than anticipated impact of the ECHR21, and then to convince as many non-CoE countries to sign the Convention and join the fight, in particular those countries that have large illegal betting markets which tend to fuel match-fixing activity (i.e. India, USA and much of Asia). The anti-match-fixing community will wait with baited breath.
Related Articles
Author

Kevin is a advisor and member of the editorial board for LawInSport, having previously acted as editor. In his day-to-day work he has two roles: as the Principal for his own consultancy business Captivate Legal & Sports Solutions, and Special Counsel for Sports Integrity at leading global sports technology and data company Genius Sports.
This email address is being protected from spambots. You need JavaScript enabled to view it.