Betting in football – Was The FA's decision on Joey Barton a fair one?
Published 17 May 2017 By: Philip Hutchinson, Tiran Gunawardena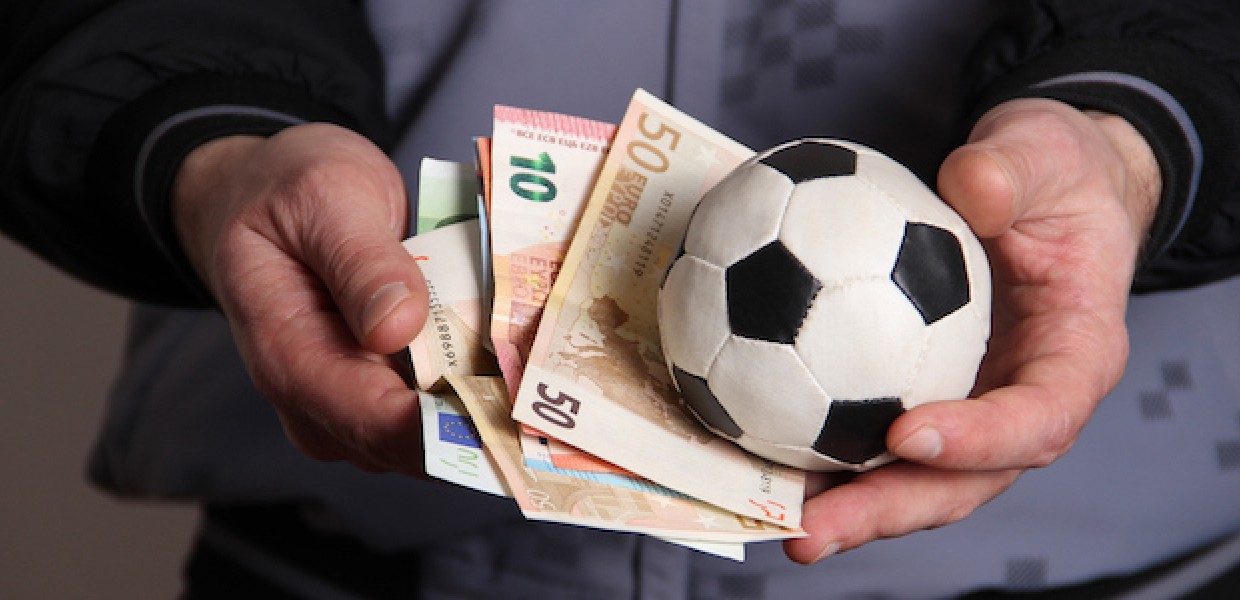 Burnley FC midfielder Joey Barton is the latest high profile footballer to be sanctioned by The Football Association ("The FA") under its Rules and Regulations ("FA Rules") relating to betting. Barton, who was charged with having placed 1,260 bets on football matches between March 2006 and May 2013, has been given an 18 month ban from all football activities by The FA and fined £30,000.[1]
This ban (subject to any successful appeal) means that Barton cannot play football (which includes training and appearing in reserve team matches) until he is 36 years old, casting doubts over whether his professional playing career is now at an end. Indeed, in a statement released by Mr Barton in the aftermath of The FA's decision, the player stated that the decision "effectively forces [him] into an early retirement from playing football." [2]
This article examines The FA's Rules on betting by football players and their application to Mr Barton's case. Was The FA's decision fair, too harsh, or too lenient? It also touches upon the uncomfortable interplay that exists between cases like Mr Barton's and the modern-day relationship that football has with betting companies. Specifically, it looks at:
The FA Rules on betting by players


Educational awareness on betting in football


The bets placed by Mr Barton


The length of ban for breaching The FA Rules – what is proportionate?


The Commission's approach to Mr Barton's sanction


Mr Barton's "personal circumstances"


Comparison to other similar cases


Comment
The FA Rules on betting by players
The FA Rules clearly set out the prohibition on betting in English football by players and also apply in certain circumstances to coaches, club employees and match officials alike.
Under Rule E.8(1) of The FA Rules, players are prohibited from betting (either directly or indirectly), or instructing, permitting, causing or enabling any person to bet on:
The result, progress, conduct or any other aspect of, or occurrence in, a football match or competition; or


Any other matter concerning or related to football anywhere in the world, including in respect of the transfer of players, the employment of managers, team selection or disciplinary matters.
The FA Rules also seek to address the issue of match-fixing, by setting out further prohibited conduct in section E.8(2). Under this section, players are prohibited from betting, instructing, permitting, causing or enabling any person to bet on:
Matches in which they are participating (or which they have participated)


Matches in which they have any influence; or


Any other matter concerning or relating to any club participating in a competition that the player in question is participating for (or has participated in during the season in question).
The FA Rules, which were introduced at the start of the 2014/15 season, are clear: any form of betting by a player on football matches (or indeed any form of football activity) is expressly forbidden. However, are The FA and football clubs providing enough education to players (and staff) on the FA Rules on betting, and are the sanctions appropriate? We explore these in more detail below.
Educational awareness on betting in football
When The FA Rules were introduced at the start of the 2014/15 season, The FA made it a priority to ensure that recognition and understanding was as widespread as possible throughout the footballing pyramid. The FA made a concerted effort to visit football clubs in the top 8 tiers throughout the country to talk to the players, coaches and other employees about the implementation of the new Rules and what exactly it meant for them.
Alex Horne, The FA General Secretary at the time, had a clear message:
"We want to keep our message as simple as possible- and it cannot be more simple that as a player you cannot bet at all on football."[3]
In addition to visiting clubs to reinforce this message, The FA invested significant funds in educational videos, leaflets and brochures in an attempt to ensure that The FA's strict stance on betting in football was as unambiguous and discernible as possible. In effect, such a widespread education and awareness drive made it virtually impossible for a player charged with betting offences to raise a defence that they were unaware of the rules.
The 18 month sanction handed down by The FA to Mr Barton is compelling evidence of this no-nonsense stance. This sanction, which threatens to end Mr Barton's career, sends a clear message to the footballing world that The FA will not tolerate gambling on any level.
The bets placed by Barton
The total amount, and quantum, of the bets placed by Mr Barton was summarised by the FA Regulatory Commission Panel as follows[4]:
"a. The total number of bets was 1,260.
b. They were placed over 10 years.
c. The total stake of those bets over that period was £205,172.79.
d. His winnings amounted to £88,196.72.
e. His return was £188,464.50.
f. Therefore, the Player made a loss of £16,708.29 from this gambling."
The bets ranged from £5 to over £900[5], but on average, Mr Barton placed over 2 bets a week on football over a 10 year period. Astonishingly, in his witness testimony, Mr Barton claimed to have placed "over 15000 bets on sports in the last 10 years"[6] – which averages out to be over 4 bets a day over 10 years. Moreover, Mr Barton stated:
"… I thought I actually loved watching football when it turns out that I actually enjoyed having a bet on football and other sports, more so that I did, er, out of love of those sports."[7]
Mr Barton's comments and the sheer number of bets alone (leaving aside the fact he actually lost more money than he won over that period, at least on football bets), would suggest to the authors that gambling was an addiction and a problem for him.
As Mr Barton himself candidly noted in his statement:
"I am not alone in football in having a problem with gambling. I grew up in an environment where betting was and still is part of the culture. From as early as I can remember my family let me have my own pools coupon, and older members of the family would place bets for me on big races like the Grand National. To this day, I rarely compete at anything without there being something at stake. Whether that's a round of golf with friends for a few pounds, or a game of darts in the training ground for who makes the tea, I love competing. I love winning. I am also addicted to that. It is also the case that professional football has long had a betting culture, and I have been in the sport all my adult life… Betting for me, is less about how much money I win or lose, and more about whether I can correctly predict the outcome of the game I'm watching. I hate losing more than I like winning, and this mindset has helped prevent me from placing big bets, for fear of losing big." [8]
The length of ban for breaching The FA Rules – what is proportionate?
The length of Barton's ban, when considered in the light of Barton's personal statement[9] in which he takes aim at The FA's alleged inappropriate utilisation of betting companies for commercial gain, has attracted significant criticism.
Every weekend, clubs across the country adopt aggressive advertising methods to promote betting companies. Billboards, hoardings and concourses are littered with gambling paraphernalia and supporters are encouraged from every angle to place a bet on thousands of betting markets, ranging from the first goal scorer of a match to the time of the first throw in. Indeed, 10 of the current 20 Premier League clubs (including Barton's own club, Burnley FC) have a betting company as their shirt sponsor.[10] With the significant commercial revenue to be gained from partnerships and deals with betting companies, football clubs are taking more steps now than ever before to exploit the betting market.
This naturally raises serious question marks over The FA's no nonsense stance on betting in football by players, coaches and employees alike when The FA is, in the same breath, effectively giving clubs free reign to work with and utilise betting companies as they wish, whilst at the same time profiting themselves. In fact, Mr Barton places great criticism on this imbalance in his personal statement by saying that[11]:
"Surely they [The FA] need to accept there is a huge clash between their rules and the culture that surrounds the modern game, where anyone who watches football on TV or in the stadia is bombarded by marketing, advertising and sponsorship by betting companies, and where much of the coverage now, on Sky for example, is intertwined with the broadcaster's own gambling interests."
Whilst this is a valid point, it does not detract from the wide discretion afforded to The FA under the FA Rules with respect to the severity of sanction that may be imposed. The Regulations for Football Association Disciplinary Action[12] ("FA Disciplinary Regulations") give the Regulatory Commission the power to order sanctions ranging from as light as a reprimand, to a lengthy suspension.
In respect of betting, clause 8.3(b) of The FA Disciplinary Regulations[13] states that The Regulatory Commission must however consider suspending a portion of the penalty to be imposed, where the player has assisted The FA and results in the establishment of a criminal offence or the breach of disciplinary rules by another person relating to betting or integrity. Furthermore, clause 8.3(c)[14] permits the Regulatory Commission (at its discretion) to suspend a portion of the penalty to be imposed in circumstances where the player has provided assistance to The FA's effort to eliminate corruption from sport.
As a starting point for any sanction however, The FA take into account the penalty guidelines (the "Guidelines") issued by The Football Regulatory Authority ("FRA") which is a division of The FA. The Guidelines set out a range of sanctions depending on the nature and severity of the betting offences. This table is set out below:
In Mr Barton's case, the Commission made clear that whilst the Guidelines do not override its discretion to impose such sanctions as it considers appropriate (as afforded by The FA Disciplinary Regulations), they should be taken account of when considering any penalty for betting offences.
The Commission's approach to Mr Barton's sanction
The Commission made clear that of the 1,260 bets placed by Mr Barton over 10 years, some were far more serious than others. For example, some bets were placed on his own team to lose. On that basis, the Commission said it was not possible to sanction individual elements of the misconduct (as The FA had done previously with other players), rather the sensible and fair approach was to impose a "single global sanction to reflect the totality of his [m]isconduct."[15]
In reaching the global sanction, the Commission went through the relevant factors as outlined above. The Commission placed weight on the fact that Mr Barton had bet on his own team and had placed 42 bets in 20 matches involving the team he was registered with at the time. Mr Barton only played in 2 of those 20 matches in which his team was involved. In accordance with the Guidelines, the Commission found that betting on one's own team to lose, as well as betting on one's own team generally, is a "serious aggravating factor."[16] The Guidelines suggest that for a single bet placed on a player's own team to lose, the appropriate sanction is a fine and suspension of 6 months to life; Mr Barton placed 15 bets on his own team to lose. Significant weight was also placed on the fact that Mr Barton played in 2 of the 20 matches in which he had bet on.[17]
Mr Barton stated in his testimony that "I am not a cheat, I have never tried to influence a game."[18] Indeed, in its submissions The FA did not suggest that he had ever done so, and the Commission "accepted that he had not and sanctioned him on that basis." [19]
The fact that Mr Barton is an established professional, having played in the top flight of football for the majority of his career also went against him. The FA considered that a player of his experience afforded no mitigation in this respect.[20]
In addition, the Commission placed great weight on Mr Barton's dismissive attitude towards The FA's Rules on betting. This stems from an exchange between the player and The FA in 2012 when the player continued betting after he was provided with the rules and a summary of them. Following this, Mr Barton was publically dismissive of the rules and of The FA on twitter.[21]
Mr Barton's "personal circumstances"
The Commission also considered Mr Barton's personal circumstances as part of determining the appropriate sanction, making it clear that there was "no issue" that Mr Barton had a gambling addiction.[22]
This is a highly significant point. A gambling addiction is a recognised medical condition. Medical evidence shows that it impairs cognitive ability and can affect the ability to rationally approach certain situations[23]. In fact, The FA have placed significant weight on gambling addiction being a recognised medical condition in a recent doping case involving an Irish football player, Craig Walsh, who was successful in arguing that his gambling addiction illness should justify a significant reduction in his sanction for an anti-doping rule violation. In that case, the Commission were convinced that the player's gambling addiction was "real and debilitating" and placed weight on the fact that the player's supporting medical evidence demonstrated that his medical illness "permeated his every day decisions."[24]
In Mr Barton's case however, the Commission's interpretation of the medical evidence presented by the Player was that his addiction did not "render him completely powerless at any point."[25] Whilst Mr Barton's expert medical witness had given evidence that Mr Barton's ability to make reasoned choices was impaired, it had not been "completely obliterated."[26] The Commission also took note of the fact that Mr Barton had stopped betting on football since the investigation started, and in the Commission's view, this demonstrated the player had some capacity to stop betting which is relevant in assessing to what extent his addiction was responsible for these repeated breaches.
Whilst the full expert medical evidence presented on Mr Barton's behalf does not form part of the Commission's written submissions (save as in summary form), a key factor the Commission considered was Mr Barton's ability to stop betting. This demonstrated a level (albeit an impaired level) of control. Had Mr Barton submitted medical evidence demonstrating a high level of cognitive impairment (and therefore higher level of addiction) which affected his everyday choices and indeed permeated his every day decisions, the Commission may well have looked to impose a lesser sanction.
Comparison to other similar cases
As set out above, the 18-month ban given to Mr Barton effectively ends his professional career, making it akin to a "life" ban.
However, he is not the first Premier League player to have been sanctioned by The FA:
A key factor in the provision of the seemingly lesser sanctions for these players is due to the fact that they were not charged with betting on their own team, or participating in a match they had bet on.
At the other end of the spectrum (as is the case with Mr Barton), bets relating to a player or manager's own team are dealt with more seriously by The FA when handing down sanctions.
It is particularly interesting to contrast Mr Barton's ban with a case from 2009, in which 5 players (4 of whom were Accrington players at the time and the other a Bury player) were banned from 5-12 months for betting on the outcome of a match between Accrington Stanley and Bury on 3 May 2008. The Commission in the case for 4 of those players had "serious concerns that the outcome of the match may have been fixed although none of the players were charged with these offences."[33] Whilst The FA had insufficient evidence to pursue match fixing charges against the players, significant sanctions were imposed (relative to the size of the bet placed).
Conversely, in Mr Barton's case, whilst he did bet on (and against) his own team, he was completely cleared of any suggestion of match fixing. The Commission could not have been any more explicit on this point when it stated that "[i]t is important to state, not least for [Mr Barton's] benefit… but also the wider public that there was no suggestion that [Mr Barton] was engaged in match fixing."[34] Despite that, and the express acknowledgement by the Commission of his gambling addiction, Mr Barton received a fine 6 months longer than the longest sanction any of the 5 Accrington/Bury players received.
Of the cases cited above, only Mr Bunyard (a manager betting against his own team – although his ban was reduced to 1 year on appeal), Mr Heys (14% of his bets were on his club to lose), and Mr Pilkington (33% of his bets were for his own team to lose) received longer bans than Mr Barton (1% of his total bets were on his team to lose – and he did not play in any of those games).
Mr Barton noted in his statement,
"[t]he only players to be banned for 12 months or longer bet against their own teams and played in the matches in which they placed those bets. Players who did not play in the matches they placed the bets in have never been banned for longer than 6 months."[35]
Comment
Whilst Mr Barton's ban seems excessive on face value given that it is akin to a lifetime ban based on his age and stage of his career, it may be argued that the Guidelines applied by The FA in his case have not been administered in an overly disproportionate manner.
Given that the suggested sanction under the Guidelines for a single bet placed on a player's own team to lose is 6 months to life, there is some merit in the suggestion that Mr Barton was treated in a somewhat lenient manner given that he placed such a bet 15 times (and not just on a single occasion as referenced in the Guidelines), yet only received an 18-month sanction.
Notwithstanding this, The Commission made clear in its Written Reasons that each member of the Commission was satisfied that the sanction was reasonable, proportionate and fair, having "stood back and reflected on the sanction"[36] which suggests that the Commission were undoubtedly aware of the potential lifetime nature of the 18-month ban imposed.
Irrespective of this, The FA has left itself open to criticism for the promotion it (and its clubs) gives to betting companies in the football industry, whilst at the same time handing out lengthy punishments to players who are in effect customers of such companies. The Commission alluded to this irony when it stated
"… one cannot miss the fact that a man with a gambling addiction is presently playing in a shirt which has emblazoned on its front a betting company's logo." [37]
As Mr Barton noted in his statement, "I think if the FA is truly serious about tackling the culture of gambling in football, it needs to look at its own dependence on the gambling companies."[38] On cue, The FA Chairman, Greg Clarke, has since admitted that The FA is considering ending its partnership with betting companies – although he stressed this not a result of Mr Barton's ban but was part of a broader investigation into whether The FA's commercial deals with alcohol and betting companies was appropriate.[39]
Whilst this is a welcome announcement by The FA, the authors submit that with gambling addictions being recognised medical conditions[40], it is also important that The FA does not lose sight of the level of impairment this condition can have on players. In the authors' humble opinions, greater weight could have been placed by the Commission on the impairment suffered by Mr Barton as a result of this illness. If The FA is willing to place great weight and compassion on the effect of gambling addictions in the anti-doping arena, it must undoubtedly follow this approach in the fight on corruption in football.
Mr Barton has already stated that he intends to appeal his 18-month ban[41], and it will be interesting to follow the progress of his appeal.
Related Articles
Author
I am a commercial litigation solicitor in the commercial disputes team based in Birmingham. My role involves providing legal advice to a wide variety of both public and private sector clients across the UK and abroad. This ranges from complex fraud investigation work to high value breach of contract claims and shareholder disputes. My ability to speak German also allows me to advise clients in German speaking countries on litigious matters.
This email address is being protected from spambots. You need JavaScript enabled to view it.
Tiran Gunawardena is a Senior Associate (Australian Qualified) in the London sports law team at Mills & Reeve LLP.
This email address is being protected from spambots. You need JavaScript enabled to view it.