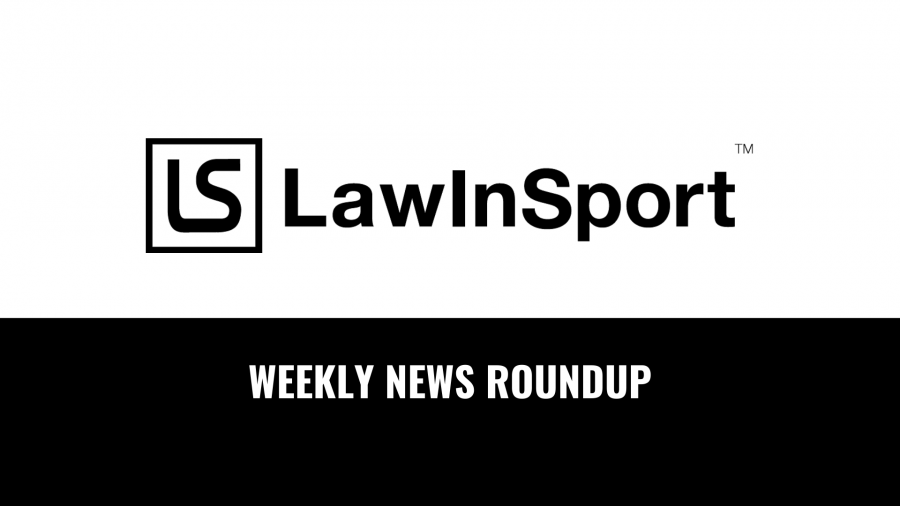 Welcome to LawInSport's weekly News Roundup. This recap highlights this week's news pieces from across the world of sport. For further updates, please visit our news section.
We hope you find this useful. If you have any related questions or feedback, please don't hesitate to contact us.
CAS Bulletin 2021/1
In this Olympic year, the Court of Arbitration for Sport (CAS) has opened two temporary offices in Japan for the Tokyo 2020 Olympic Games (the Games) which have been postponed due to the covid-19…read more
EFL Statement: Derby County
In response to ongoing media speculation, the EFL wishes to clarify that discussions with Derby County in respect of outstanding Profitability and Sustainability (P&S) matters are continuing…read more
EFL Statement: Swindon Town
In June 2021, Swindon Town Football Club, when under previous ownership, failed to pay their Players as per the contractual agreement and were charged under EFL Regulations. The Regulations permit...read more
IOC Restates Deepest Concerns To AIBA?
In a letter to the International Boxing Association (AIBA), the International Olympic Committee (IOC) expressed once again strong concerns with regard to the situation...read more
OFC Embrace Talks With FIFA Regarding International Match Calendars
The Oceania Football Confederation is welcoming discussions initiated by FIFA, regarding its participation in the consultation process around the review and development of a new...read more
WADA To Review Cannabis Rules
The World Anti-Doping Agency is set to review whether or not cannabis should remain a banned substance. Following a meeting of WADA's executive committee in Istanbul yesterday WADA announced that...read more
CAS Confirms The Four-Year Ban Imposed On Dr. Jeffrey Brown And Alberto Salazar For Anti-Doping Rule Violations
Lausanne, 16 September 2021 - The Court of Arbitration for Sport (CAS) has ruled that the physician and endocrinologist, Dr. Jeffrey Brown, and the former elite-level long distance runner...read more
CAS Confirms The Two-Year Period Of Ineligibility Imposed On Shayna Jack
The Court of Arbitration for Sport (CAS) has dismissed the appeals filed by Sports Integrity Australia (SIA) (formerly, the Australian Sports Anti-Doping Authority (ASADA))...read more
Five Reasons Why Romanian Football Needs To Be Fixed
FIFPRO is appalled by the employment situation of professional footballers in Romania and the lack of urgency shown by the country's football association (FRF) to find adequate solutions for...read more
IESF Continues To Unite The World Of Esports With Acceptance Of Three New Continental Federations
The International Esports Federation has announced the PanAmerican Esports Confederation (PAMESCO), the European Esports Federation (EEF) and the African Esports Association (AESA) as the latest…read more
"Independent Reviews And Investigations In Sport" Webinar Podcast Is Now Available
Thank you to everyone who joined us on Thursday 9th september 2021 for our webinar in association with Littleton Chambers. We hope you found it useful and informative. We have made...read more
Statement On Shayna Jack Decision
Sport Integrity Australia acknowledges the decision made by the Court of Arbitration for Sport to maintain the 2 year sanction imposed on Shayna Jack following an appeal process. Sport Integrity Australia...read more
The ITA Issues A Decision Sanctioning Dorin Balmus To A Lifetime Of Ineligibility For Tampering And Complicity
The International Testing Agency (ITA) reports that it has issued the decision to sanction Moldovan doctor Dorin Balmus to a lifetime period of ineligibility due to anti-doping rule violations (ADRV)...read more
WADA Contributes To OECD's Compendium Of International Organizations' Practices
The World Anti-Doping Agency (WADA) welcomes the publication by the Organization for Economic Co-operation and Development (OECD) of its 'Compendium of International Organizations' Practices', which...read more
CAS Dismisses The Appeal Of Ricardo Terra Teixeira
Lausanne, 14 September 2021 - The Court of Arbitration for Sport (CAS) has dismissed the appeal filed by Brazilian football official Ricardo Terra Teixeira against the decision taken by... read more
WADA Leadership Holds Talks With Russia's Sports Minister Regarding RUSADA's Requirements For Reinstatement
The World Anti-Doping Agency's (WADA's) President, Witold Bańka, Director General, Olivier Niggli, and other members of WADA Leadership met with the Sports Minister of the Russian Federation…read more
ICSS, CAF And UNITAR'S CIFAL Roll Out Internationally Certified Sport Safety And Security Training Programme For African Football
The Confederation of African Football (CAF), the International Centre for Sport Security (ICSS) and UNITAR's International Training Centre for Authorities and Leaders (CIFAL) jointly announced a…read more
FIFPRO Calls For Proper Negotiation On Reforms Of International Match Calendar
FIFPRO today stresses once again that any plans to change the men's or women's International Match Calendar must address the players' concerns such as an expanding workload at the top of the...read more
U.S. Cycling Athlete McAben Prince Receives Sanction For Anti-Doping Rule Violation
USADA announced today that McAben Prince, of Traveler's Rest, S.C., an athlete in the sport of cycling, has received a four-year suspension for an anti-doping rule violation. Prince was subject to...
Simone Biles To Testify Before Senate For Investigation Into Larry Nassar
Olympic gold medallist Simone Biles is set to testify with other gymnasts before the Senate Judiciary Committee for the investigation into former USA Gymnastics team doctor Larry Nassar who was...read more
FIBA Statement Regarding Independent Integrity Officer Report On Allegations Of Systemic Sexual Harassment Within The Mali Basketball Federation
Following several allegations of systemic sexual harassment within the Mali Basketball Federation (FMBB) received on June 10, the report of the independent Integrity Officer has been...read more
World Rugby Launches Tackle Ready To Educate Players On Safe Tackle Technique
New programme forms key head injury prevention initiative within World Rugby's six-point player welfare advancement strategy...read more
Media Statement By CAF President On Hosting The FIFA World Cup Every Two Years
The Confédération Africaine de Football (CAF) has been involved in the discussions that are taking place amongst FIFA, the Confederations, Member Associations, football players and other stakeholders...read more
FIFA And UNODC Celebrate Anniversary Of Partnership
FIFA and the United Nations Office on Drugs and Crime (UNODC) signed a Memorandum of Understanding (MoU) on 14 September 2020 The FIFA Global Integrity Programme (FGIP) has been delivered...read more
ITA Webinar – Integrity Of Competition – Cheating In Sport: Preventing Competition Manipulation And Doping
REGISTER HERE This month we will address the wider topic of integrity in sport with a focus on competition manipulation. Betting, match-fixing, sharing inside information and doping in sport are...read more
WADA Executive Committee Endorses Recommendations Of Non-Compliance Of Eight Anti-Doping Organizations
ExCo also approves enhanced compliance requirements starting in 2022 2022 List of Prohibited Substances and Methods adopted Review of cannabis status on the Prohibited List to be initiated while...read more
Vienna Marathon Winner Disqualified After Shoe Soles Break Rules
Ethiopian Derara Hurisa won the Vienna marathon over the weekend but was later disqualified when it was found that his shoe sole violated the rules by being 1cm too thick. Hurisa won the race with...read more
UKAD Report Highlights Need For 'Coach Clean' Education In Sports Curriculum
New research from UK Anti-Doping (UKAD) highlights a knowledge gap. While sports coaches are aware of the risks of doping, many are unsure of how to best support their athletes, and lack up-to-date...read more
AFC Statement On The International Match Calendar Consultations
Kuala Lumpur: The Asian Football Confederation (AFC) welcomes the extensive consultation process initiated and led by FIFA in examining the options to optimise the new International Match Calendar...read more
Riot Games Provides Annual Diversity And Inclusion Progress Report - August 2021
Since we started our D&I journey, we made a promise to keep you updated on our progress. We created this report to share that journey which includes both our accomplishments and the challenges...read more
New Covid-19 Strategy For Premiership Rugby
The Professional Game Board (PGB) has today announced a new Covid-19 strategy that will incentivise players and management from the elite game in England to be fully vaccinated…read more
Tokyo 2020: ITA Succeeded In Fully Implementing Anti-Doping Program For Olympic Games Despite Challenging COVID-19 Circumstances
A total of 6'200 collected samples from over 5'000 doping controls, more than one-third of the athlete population in Tokyo tested at least once – these are the final figures of ITA's anti-doping...read more
Proposal To Strengthen The Online Safety Bill
English football has proposed a set of recommendations to further strengthen the Online Safety Bill and ensure victims of online abuse are adequately protected...read more
PHF Announces COVID-19 Health & Safety Protocols
Full Vaccination Required for all PHF Members during 2021-22 Season September 10, 2021 (Brooklyn, N.Y.) – The Premier Hockey Federation has announced its COVID-19 Health & Safety Protocols for...read more
Rio Ferdinand Tells MPs Football Is 'Sliding Backwards' Because Of Racist Abuse Online
Former Manchester United and England defender Rio Ferdinand has told MPs that football is "sliding backwards" and racism is being normalised because of the frequent racist abuse online...read more
New Zealand, Iran Withdraw Teams
The New Zealand Ice Hockey Federation has withdrawn its men's U20 and women's U18 national teams from the events the teams were previously entered…read more
U.S. Weightlifting Athlete Andrew Butterworth Accepts Sanction For Second Anti-Doping Rule Violation
USADA announced today that Andrew Butterworth, of Indianapolis, Ind., an athlete in the sport of weightlifting, has accepted a seven-year suspension for his second anti-doping rule violation…read more
25 Clubs, 40 World-Renowned Experts, 19 Leading Politicians Launch New Vision For Our National Game
FAIR GAME, a group of 25 value-driven clubs supported by 40 world-renowned football expert, revealed their new vision for football at a prestigious launch at Plough Lane, the home of AFC Wimbledon...read more