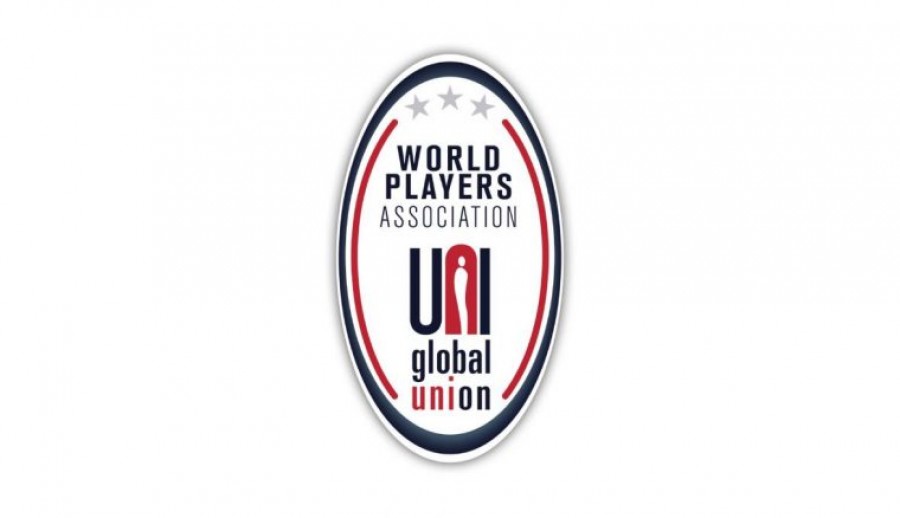 Press Release
28th April 2021
Belarus must immediately drop the politically motivated criminal charges against Ms Aliaksandra Herasimenia and Mr Aliaksandr Apeikin
Nyon, Switzerland, 28 April 2021 The World Players Association today called upon the Belarussian authorities to drop all charges brought against Ms Aliaksandra Herasimenia, Chairwomen of the Belarusian Sports Solidarity Fund (BSSF), and Mr Aliaksandr Apeikin, Executive Director of BSSF. World Players also urged global sports bodies, including the IOC, FIFA, IIHF and others, to exert sport's undoubted influence to ensure the protection of Herasimenia and Apeikin for their courageous work as human rights defenders in the name of the BSSF.
World Players' call follows the opening of bogus criminal cases by the Investigative Committee of the Republic of Belarus against both human rights defenders. The cases deliberately misrepresent their successful advocacy for athlete rights and the removal of major sports events from Belarus due to the current human rights situation in the country, as 'calls for actions aimed at causing harm to the national security'. The charges are punishable with up to five years imprisonment. Herasimenia and Apeikin have been placed on a wanted list, and their houses and places of other BSSF members have been searched.
The work of BSSF has been critical to protecting athletes targeted by Belarusian authorities and providing them with essential financial and legal support. Based on their visibility, athletes continue to face massive repercussions for their involvement in pro-democratic protests, ranging from dismissal to arbitrary detention and torture <https://bssf.team/en/#activity>. Besides their direct support for athletes, BSSF's advocacy has been essential in ensuring that Sports Governing Bodies comply with their responsibility to respect internationally recognised human rights and exercise their influence to ensure human rights in sport are protected. The BSSF has provided extensive evidence on the ongoing discrimination of athletes by Belarusian authorities and the involvement of representatives of the National Olympic Committee (NOC), leading to the adoption of sanctions against the NOC leadership by the International Olympic Committee (IOC).
Brendan Schwab, World Players Association Executive Director, said:
"World Players stands in deep solidarity with Aliaksandra and Aliaksandr and their families. We are determined to protect their freedom, health and safety, and that all charges against them are dropped."
The criminalisation of BSSF is part of a broader wave of action against human rights defenders <https://www.hrw.org/news/2021/03/18/joint-statement-belarus-end-reprisals-against-human-rights-defenders> and lawyers <https://www.icj.org/belarus-stop-politically-motivated-prosecution-and-disbarment-of-lawyers/> with the explicit purpose of discouraging civil protest and silencing critics.
The actions against Ms Herasimenia and Mr Apeikin come seven months after the horrific execution in Iran of champion wrestler, Navid Afkari, who participated in anti-government protests in 2018 and was targeted for his high profile and visibility in his community.
"We see globally a very concerning trend where courageous athletes who exercice their right to freedom of expression and who advocate for human rights are targeted because of their visibility and profile as athletes. After Navid's horrific execution, World Players called for five essential commitments <https://www.uniglobalunion.org/news/navid-afkari-how-sport-must-respond> from global sports, which include supporting athlete activism, embeding human and athletes rights in global sport and investigating the targeting of athlete activists for political purposes.
"So far, however, the IOC has not only failed to act upon those commitments but reaffirmed last week, based on a substantially flawed review process <https://www.uniglobalunion.org/news/we-stand-athletes-who-stand-human-rights-world-players-association>, to continue to prohibit athletes during the Olympic Games to freely exercise their fundamental human right to freedom of expression.
"The combination of sportswashing and the silencing of athletes places athletes in peril.
"The reality stands in stark contrast to the IOC's public commitment to respect and protect internationally recognised human rights, and the positions of other sports bodies. Instead of creating a safe space for athletes who wish to speak out, the IOC risks creating an environment where courageous expressions and demonstrations are condemned, vilified, repressed and even severely punished. We repeatedly alerted the IOC <https://www.uniglobalunion.org/sites/default/files/files/news/wp_ioc_president_bach_rule_50_17_feb_21.pdf> that this puts athletes in an extremely vulnerable position, particularly those from authoritarian countries, who are speaking out on issues like human rights, social and racial justice or democracy."
"The IOC and other International Federations now urgently need to demonstrate their power to help protect the internationally recognised human rights of Belarusian athletes and their advocates."