Delayed Entry: the FA's "highest calibre" standard for non-EU footballers
Print

Published 17 June 2014 | Authored by: Jake Cohen

Despite the increasingly globalised nature of football, many young footballers seeking to ply their trade in England will likely find it

increasingly difficult

to secure the necessary work permit to do so.

1

There is an independent panel that is specifically tasked with hearing work permit appeals from non-European footballers and the clubs desiring their services. The nature of the panel and the appeals process will be discussed in a later section of this article.

In order for a non-EU player to secure a work permit, the player must meet the following

two requirements

:

20
The player must have participated in at least 75 percent of his home country's senior competitive international matches where he was available for selection during the two years preceding the date of application; and
The player's National Association must be at or above 70th place in the official FIFA World Rankings when averaged over the two years preceding the date of application21
The FA defines
"senior competitive international
matches
" as World Cup
matches and qualifiers, continental tournaments and qualifiers (i.e. UEFA European Championships, CAF African Cup of Nations, CONMEBOL Copa America), and Confederations Cup matches.22
The "highest calibre" standard
Should a non-EU player that is sponsored by a football club fail to meet the initial FA requirements for endorsement of a work permit, the club may file an appeal under The FA appeals process.23
whether the player is of the highest calibre, and
whether the player is able to contribute significantly to the development of the game at the top level in England25
As a procedural matter, it must be noted that after the panel decides whether it will endorse the player's application for the work permit, the Home Office is still ultimately responsible for making the final determination on whether to issue said permit. One of the Home Office's requirements is an endorsement from the sport's domestic governing body. Here, the FA is the
relevant governing body
.
26
When the independent panel was initially formed, just prior to the start of the 1999-2000 season, both the panel composition and the rationale behind the decision were made public.27 Now, however, the panel's deliberations are confidential and the breakdown of the votes are not disclosed to the public, or even to the appellate club or among the panel itself.28 Only the final decision as to whether to endorse the player's work permit is made public.
From January 2000 through January 2008, 165 footballers were refused a work permit, an average of around twenty per year. However, in the four most recent years in which the data has been made available (2004-2007), there were only ten refusals in each year.29
In an attempt to provide a comprehensive overview of what the FA appeals panel considers to be a player of the "highest calibre," the author has compiled a table of
Premier League players who have been granted a work permit under the "highest calibre" standard since 2009.
30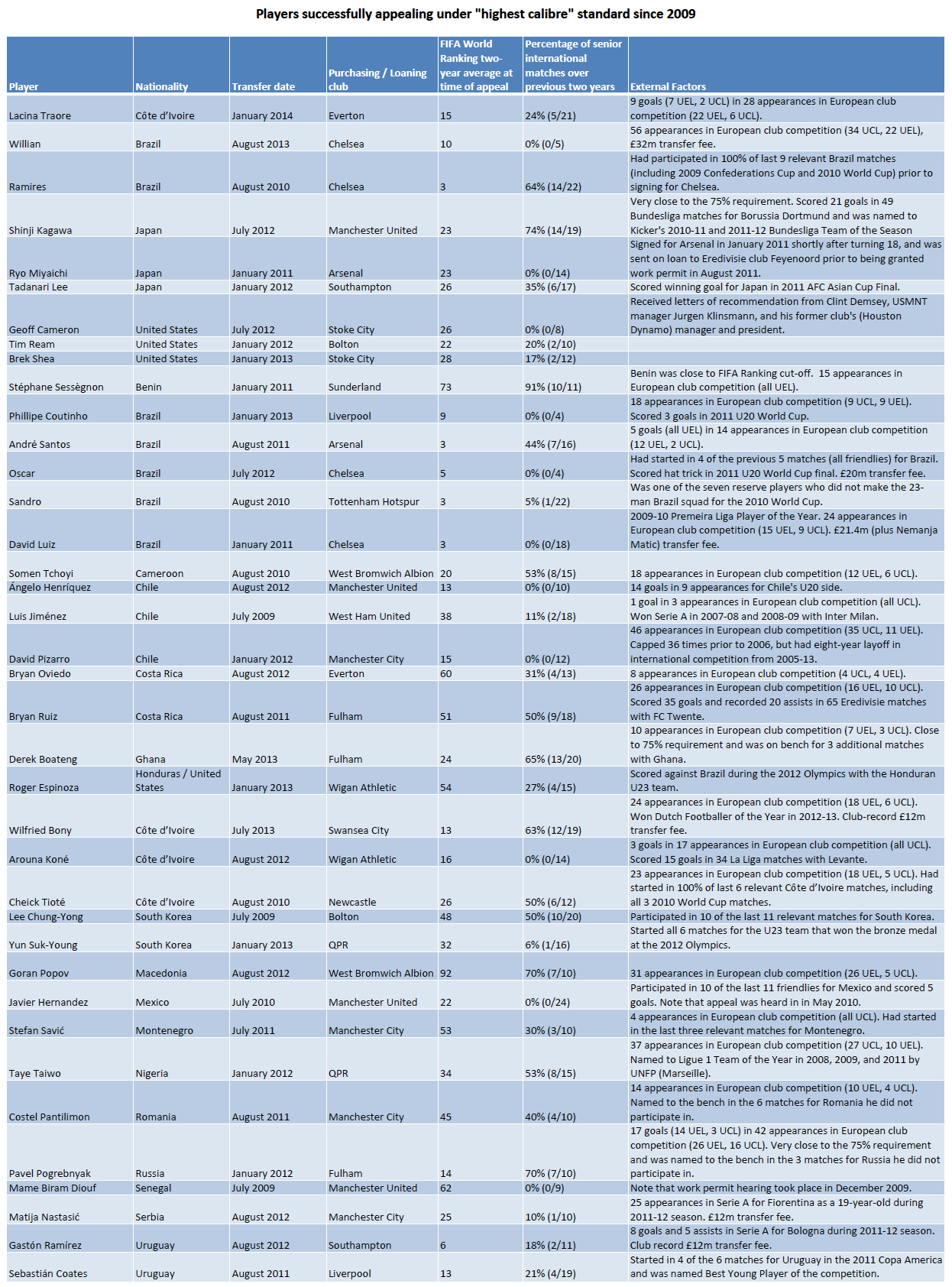 As the table illustrates, players from Brazil, in particular, have had great success in qualifying under the "highest calibre" standard, albeit for different reasons.
At most, there are fourteen players who can feature in each relevant international fixture. With Brazil's historically deep talent pool, the panel has likely recognised that it is unreasonable to place too much emphasis on a Brazilian player's international career when considering whether he is of the highest calibre.
However, curiously, Henrique and QPR were denied a work permit in January 2012. The young Brazilian striker won both the Golden Boot (top scorer) and Golden Ball (best player) in the 2011 U20 World Cup, no small feat considering he was sharing the pitch with teammates Oscar, Philippe Coutinho, and Danilo. On paper, his appeal could have compared favourably to the successful appeals of other young players without much senior international or European experience, such as Tandanari Lee, Roger Espinoza, Yun Suk-Young, Ángelo Henríquez, and Sebastián Coates. As a result, QPR elected not to sign Henrique.
The Henrique decision may raise questions as to whether the decisions are made not just on objective standards such as quantifiable experience, but also on the more subjective analysis of a player's quality and perceived ability to transition to English football.
31
This is the author's concern and the lack of a transparent process where detailed reasons for decisions are published does nothing to dissuade the author from this view. As such, whether a player is afforded the "
highest calibre
" designation is largely dependent on which members are sitting on the panel that day, as the nature of subjectivity naturally lends to differing opinions on the player's footballing talent. Indeed, The FA itself, in the previously referenced May 2014 report admitted: "
it is quite clear the current system is being abused.
"
32
The FA is currently reviewing the appeals process "
to look at what can be strengthened and guide appeal panel members' decision-making process.
"
33
Other recent examples of players failing to secure a work permit can be found in the following table.
The loan system
In contrast to QPR's decision not to sign Henrique, Stoke City signed Juan Agudelo in January 2014, despite failing to secure a work permit for the 20-year-old American striker. Stoke City immediately loaned Agudelo to Eredivisie club FC Utrecht. Similarly, Chelsea was unsuccessful in its numerous attempts to secure a work permit for Serbian defender Slobodan Rajkovic and he spent four seasons on loan in the Eredivisie. Rajkovic, who originally signed as a teenager, was eventually sold to Hamburg and never played a competitive match for Chelsea due to never being able to meet the "highest calibre" standard.
Premier League clubs are permitted to sign non-European Union players, but those players cannot be fielded in competition until the players are
endorsed by the FA
and receive a work permit from the Home Office.
34
As such, clubs will often utilise the loan system as a means for allowing the player to continue to develop with an eye towards eventually securing a work permit, while at the same time maintaining control over the player's rights.
35
Premier League clubs wishing to acquire young non-EU players likely recognise the potential work permit issues, and as such, will send that player on loan elsewhere in Europe and hope that the player will bolster his footballing CV enough to eventually secure an English work permit.
The average age of a Premier League player being sent on loan is 22.5 years old.36 It is exceptionally rare for a twenty-two year-old to have been firmly ingrained into his senior national team for two years, and as such, he will not meet the "75 per cent" requirement.
Examples of players who Premier League sides have signed and then subsequently sent on loan while said players attempted gain the requisite qualifications for a work permit include –
Joel Campbell, Samuel Galindo, Wellington Silva, Carlos Vela (Arsenal)
Christian Atsu, Cristian Cuevas, Ulises Dávila, Matej Delac, Kenneth Omeruo, Slobodan Rajkovic, Wallace (Chelsea)
Villyan Bijev (Liverpool)
Juan Agudelo (Stoke City)
Godsway Donyoh (Manchester City)37
In the Netherlands, for example, the KNVB38 (Dutch FA) and the UWV WERKbedrijf39 (Dutch governmental agency that issues work permits) have implemented comparatively lenient requirements. A non-EU player only has to meet one of the three requirements –
the country must be ranked in the top 40 of the FIFA World Ranking list at the moment the player applies for the permit, or
the player has played in a match for the national team, or
the player has played in a match of the Champions League or Europa league.40
One of the primary reasons Chelsea established a partnership with Dutch side Vitesse Arnhem is so the London club is able to exert a significant amount of control over their players' development while ensuring that they get the best possible opportunity to earn the first-team experience necessary to maximise that development.41
Further, in the era of financial fair play (FFP), wealthy clubs with European ambitions can no longer build their squads exclusively through the highly inflated transfer market. Clubs must now offset their costly purchases developing low-cost talent from within the club.
Accumulating young talent on loan is an ideal "low-risk, high reward" scenario. Staying with Chelsea as an example, I estimate that, as regards to FFP accounting practises, the cost of Chelsea's loanees for the 2013-14 season is £29.3m.42 Given the relatively small financial commitment required to field an army of loanees, Chelsea only needs to develop a few players with first-team potential for this strategy to be economically viable. The sale of Kevin de Bruyne and the development of Thibaut Courtois and Romelu Lukaku are examples of how this strategy has been successful. Even the players that don't work out, such as Jeffrey Bruma, can often still be sold for modest amounts that will cover most, if not all, of the club's costs associated with the player's development.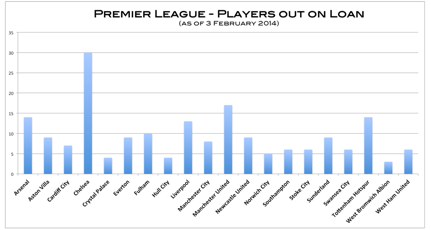 Conclusion
The FA has a vested interest in ensuring that young English players have the opportunity to thrive in the Premier League. The number of English players in the Premier League has dwindled from seventy-three percent during the 1992-93 season to thirty-two percent at the start of the 2013-14 season.43 Given that European footballers are afforded free movement, the FA has turned its attention on tightening restrictions on work permits for non-EU footballers. This mirrors the growing national sentiment on immigration.
The highest calibre standard is specifically tailored for granting older, established players work permits. This standard makes it difficult for clubs to bring in young non-EU players, and it will likely become even more difficult in the future.
The advent of the financial fair play era in European football has made it necessary for clubs to wean themselves from heavy reliance on making costly purchases in the transfer market. As a way to mitigate costs, clubs have a renewed focus on youth development, which is a much more cost-effective way of building a talented squad. Forward-thinking clubs have turned to the loan system as a way to bypass the work permit restrictions.
Premier League clubs will likely continue to accumulate young talent from all over the world at an increasing rate. It will be interesting to see the response from other national football bodies, as their clubs will be developing players from other countries owned by English clubs, rather than players from their own countries owned by their own clubs.
Content summary: This analysis is primarily focused on the "highest calibre" standard employed by the independent appellate panel when making its decision whether to grant a non-EU footballer a work permit, when said footballer does not meet the initial requirements. In addition, context is provided as to why the work permit regulations in England are far more restrictive in England than elsewhere in Europe. Lastly, this piece endeavours to show how Premier League clubs are sidestepping the work permit issues by utilising the European loan system.
Related Articles
About the Author

Jake is a Consultant Mills & Reeve and an attorney working on both sides of the pond.
He has worked in the sports team at Mills & Reeve, and also writes about legal, economic, and financial issues in European sport for the Wall Street Journal, ESPN, and other publications. He has been cited as an authority by media outlets all over the world.
At one time, he was a serviceable fly-half.
This email address is being protected from spambots. You need JavaScript enabled to view it.