Sports Law Bar Association of Ireland - Tim O'Connor and Robert McTernaghan - Episode 61

Published 02 March 2018 By: Sean Cottrell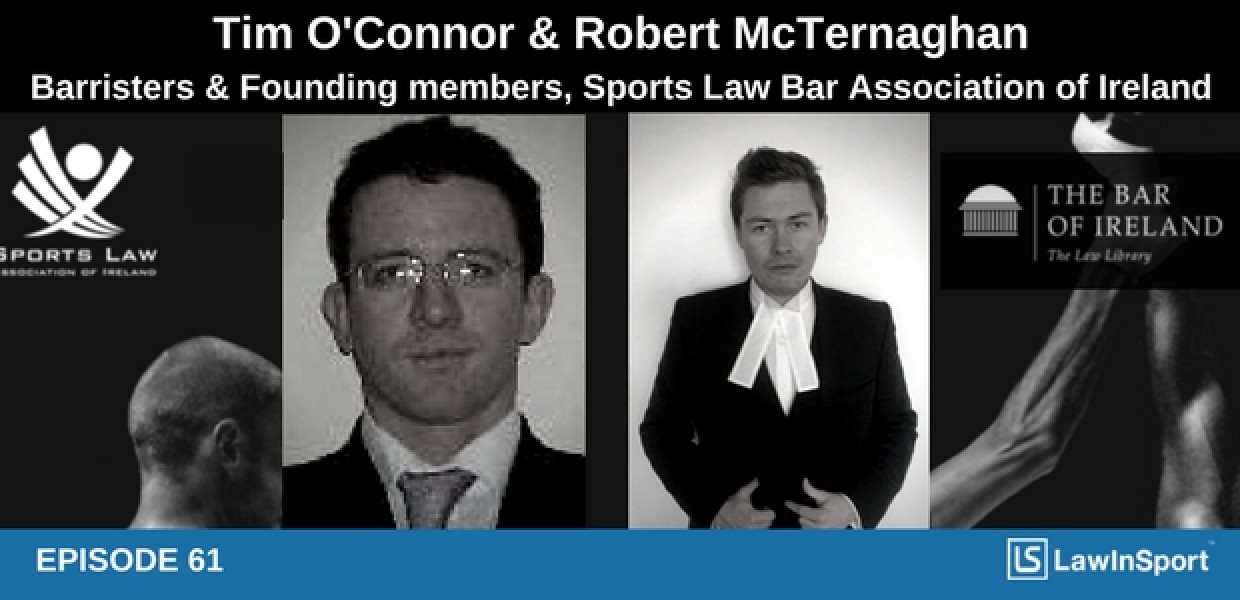 In this episode two founding members of the Sports Law Bar Association of Ireland Tim O'Connor and Robert McTernaghan talk about how the association was established and the topics of the inaugural conference on 23 February which included presentations on evidence-based changes to sports rules, concussion and anti-doping.
Tim O'Connor BL (@timoconnorbl ) and Robert McTernaghan (@nisportslaw) are both a practising barrister. Tim has a special interest in rugby and the law. He has published, spoken and blogged on concussion, liability, player eligibility issues and disciplinary challenges in rugby, as well as appearing for clients in rugby-related cases. Robert is a sports lawyer and sits as an arbitrator for the GAA and a part-time lecturer at the University of Ulster.
The Sports Law Bar Association of Ireland is an all-Ireland association of barristers with specialist sports law knowledge and practices. It aims to increase awareness of sports law and support barristers in providing the most up-to-date advice to sports law clients.
Conference Program
Chair: The Hon. Mr Justice David Barniville
Speakers:
Dr. Ross Tucker, Science and Research Consultant, World Rugby: Evidence-based changes in sports rules
Tim O'Connor BL: Irish sport and concussion liability
Louise Reilly BL: Developments in anti-doping law
For more sports law news, commentary and analysis go to LawInSport.com: https://www.lawinsport.com/

Upcoming Events: https://www.lawinsport.com/sports-law-events
LawInSport Recruitment: https://www.lawinsport.com/jobs
LawInSport Annual Conference: https://www.lawinsport.com/annual-conference
LawInSport Academy Mentoring Scheme: https://www.lawinsport.com/announcements
Follow us on Twitter @LawInSport and Sean at @spcott.
Listen to podcast on:
Views
2979
Related Articles
About the Author

Sean is the founder and CEO of LawInSport. Founded in 2010, LawInSport has become the "go to sports law website" for sports lawyers and sports executives across the world.
This email address is being protected from spambots. You need JavaScript enabled to view it.