Sports Agent Executive Program - ISDE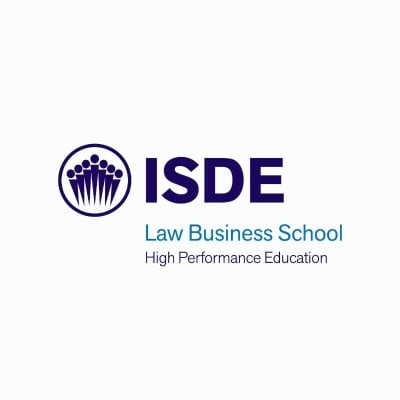 Introduction and Objectives
If you have the aspiration to become a top-level sports agent this Program is a unique opportunity in the market. For the first time, a group of experienced agents are willing to train new generations in the fundamentals of this competitive profession.
You will not find training of this level in any other program worldwide, here you will travel through a broad vision of the world of sports agents, with a look at how agents operate in the most relevant sports such as football, basketball, tennis, motor sports, the Olympics and in new trends in the management of e-sports, youtubers and influencers.
Starting with the general conditions of each sport, investigating what is necessary to obtain a license in each of the sports and which are the laws that apply to the transfers and contracts of the players.
Then, our journey will continue by explaining in detail the main tasks of an agent (talent detection, client recruitment, career management, client loyalty and client placement) and how they organize each of these fields.
During the course we will review and analyze several case studies of each sport, especially contrasting the points of view of all parties involved and giving a wide spectrum of information in different fields such as image rights, branding, taxation, legal and contractual aspects, negotiation skills and new market trends.
We will have special guests from each field, FIFA agents, NBA agents, clubs, brands, sports properties, marketing companies, and even the athletes themselves, in order to know carefully their points of view and needs. The experts will review their careers and outline the most emblematic moments and the most important learnings so that the program members are prepared to present the final project of the program and have a successful internship.
Structure, location and calendar
Due to the current situation with the covid-19 the classes of this Executive Program will be developed in streaming format. Where possible, tutorials will be done in person at the ISDE headquarters in Barcelona, ​​following the security measures recommended by the authorities at all times.
The duration of the Executive Program will be of three months of class and one month of preparation of the final project.
Likewise, the five best students will have the opportunity to put into practice the knowledge acquired through an internship program at the representation and marketing multinational agency, You First Sports.
Founded in 2002 and with offices in 12 countries on 4 continents, You First is according to FORBES Magazine the number 1 agency in Spain, reaching position number 17 worldwide. In the representation sector, they manage the career of more than 500 athletes globally in both soccer and basketball, as well as the representation of talents in the areas of e-sports, youtubers and influencers.
Career Opportunities
The Sports Agent Executive Program constitutes the best preparation to succeed as a sports agent in any of the multiple disciplines that the sector encompasses. Likewise, it provides value and knowledge to managers and executives of sports entities, sport properties as well as personal assistants who work with athletes in their different facets.
academic Programme
BLOCK 1: INTRODUCTION & GENERAL VIEW
Athlete's representation history
Sports agent's duties
Sports agent's markets
Who is who in the global sports agencies
BLOCK 2: SPORTS AGENT DUTIES
Talent detection: Scouting procedures
Client's acquisition: Recruitment procedures
Sales: Placement & Collection procedures
Client's retention: Loyalty & Service procedures
Client's marketing: Player's image rights
Legal & Taxation: Contracts & Collections & Taxes
BLOCK 3: SPORTS REGULATION FRAME & LAWS
Football regulation frame & laws
Basketball regulation frame & laws
Tennis regulation frame & laws
Motorsports regulation frame & laws
Olympic sports regulation frame & laws
Treatment and regulation of Esports
Social Media representation & Sports Content
Entertainment industry's representation
BLOCK 4: CASE STUDY & FINAL PROJECT
Fundamentals to build an athlete's career: Case Study
Negotiation skills and strategy
Future and trends in the big sports agencies
Jerry Maguire's case study and final project
Admission Process
Of an executive nature, this Programme has limited places.
Given the large volume of requests for information on this Program, candidates will enter a selection process and must submit the following documentation for evaluation by the admissions committee:
Curriculum vitae
Motivation letter (in which you express your reasons for wanting to do this master's degree)
In certain cases, a written test and/or a personal interview may also be required.
If you wish to begin the admission process, you can do so by sending us your documentation via the following link: ISDE ADMISSION PROCESS
Faculty
| | | |
| --- | --- | --- |
| Pere Gallego | You First Sport | NBA Agent |
| Josep Mª Figueras | You First Sports | Managing Director Marketing Barcelona |
| Antonio Maceiras | Los Angeles Lakers | International Consultant |
| Jordi Ardèvol | New Orleans Pelicans | International Scout |
| Edu Scott | Euroleague | Chief Operative Officer |
| Álvaro Torres | You First Sports | Managing Director Football Spain |
| David Aranda | You First Sports | Managing Director Football Barcelona |
| Pelayo García | You First Sports | Managing Director Football Madrid |
| Loren Del Pino | You First Sports | Senior Manager Football Spain |
| Marcos Motta | Bichara & Motta Advogados | Founding Partner |
| Juan de Dios Crespo | Ruiz-Huerta & Crespo | Director Departamento Deportivo |
| Kirk Berger | National Basketball Players Association | Associate Counsel |
| Guillermo Bermejo | You First Sports | Managing Director Basketball Europe |
| Gerard Raventós | You First Sports | FIBA Agent |
| Arturo Ortega | Wasserman | NBA Agent |
| Manel Troyano | Octagon | Commercial Manager |
| Marc Verdague | Dorna | Sponsoring Director |
| Mireia Vargas | Beko | Partnerships Project Leader |
| Rayde Baéz | AMT Comunicación | Integrated Marketing Solutions |
| Miquel Terrassa | Sports Tax Solutions | Founding Partner |
| Jordi Figueras | The Player Management | Media & Player Service Manager |
| Ona Carbonell | Olympic Sports | Medallista Olímpico |
| Regino Olivares | You First Sports | Founding Partner & Vice-Chairman |
| Guillermo López | You First Sports | Managing Director Legal |
| Luis Calvo | You First Sports | Managing Director Content |
| Jordi Robert | Nike | Football Pro Sports Marketing |
| Jelena Soce | Adidas | Senior Sports Marketing Manager |
| Óscar Perarnau | RCD Espanyol | Sports Director |
| Himar Ojeda | Alba Berlin | Sports Director |
| Saúl Craviotto | Olympic Sports | Medallista Olímpico |
| Susana Yáber | Fitness | Youtuber |
| Fidan Gutaj | E-sports | G:LOOT |
Address
Street: Av. del Tibidabo, 30
Postcode: 08022
City: Barcelona
Country: Spain
Contact
Telephone: (+34) 911 265 180
Fax: (+34) 915 762 021
E-Mail: This email address is being protected from spambots. You need JavaScript enabled to view it.