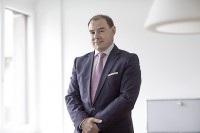 Dr. Lucien W. Valloni
Lucien is a highly experienced litigator in both international and domestic commercial and arbitration cases in the Swiss courts, up to the Swiss Federal Supreme Court level. Lucien is also one of the best-known sports lawyers in Switzerland, with extensive experience in sports litigation on various bodies of sports organisations as well as in sports arbitration at the Court of Arbitration for Sport in Lausanne.
Lucien has been a partner at our Zurich office since 2005. He has represented domestic and international clients in numerous high-profile cases in all fields and courts up to the Swiss Federal Supreme Court. He also advises clients on commercial, employment, entertainment and media, insurance, real estate, aviation and international enforcement matters, including the recovery and enforcement of state debts.
Lucien has published textbooks on litigation and sports law in Switzerland and lectures widely.
He obtained his law degree from the University of Zurich in 1990 and gained a PhD from the Faculty of Law of the University of Zurich in 1998 with a thesis on the jurisdiction of courts at the place of performance of an obligation under the Lugano and Brussels Conventions. (He graduated with the distinction summa cum laude and the Professor Walther Hug-Preis Schweiz, awarded for outstanding theses graded with the highest possible mark by a Swiss law school.) He has worked as a law clerk at the District Court of Zurich, the Court of Appeal of the Canton of Zurich and at the Court of Cassation of the Canton of Zurich. His working languages are German, English, Italian and French.
Lucien is a member of the Zurich Bar Association, the Swiss Bar Association and the Swiss Arbitration Association (ASA). He is vice-president of the International Sport Lawyers Association (ISLA), president of the Swiss Association of Football Players (SAFP), president of the Swiss Association of Icehockey Players (SAIP) and president of the World Association of Icehockey Players' Unions (WAIPU) as well as a Member of the Association Internationale des Avocats de Football (AIAF). He is also a member of the FIFPro-Doping-Committee, Employment Law Alliance, Associazione Internazionale Giuristi di Lingua Italiana (AIGLI) and Swiss-Italian Chamber of Commerce (Camera di Commercio Italiana per la Svizzera).
Lucien is a lecturer at the University of Zurich and also at the Paris-Sorbonne University in Abu Dhabi.
This email address is being protected from spambots. You need JavaScript enabled to view it.
---