FIFA arrests: it's all kicked off, but what's next? A legal perspective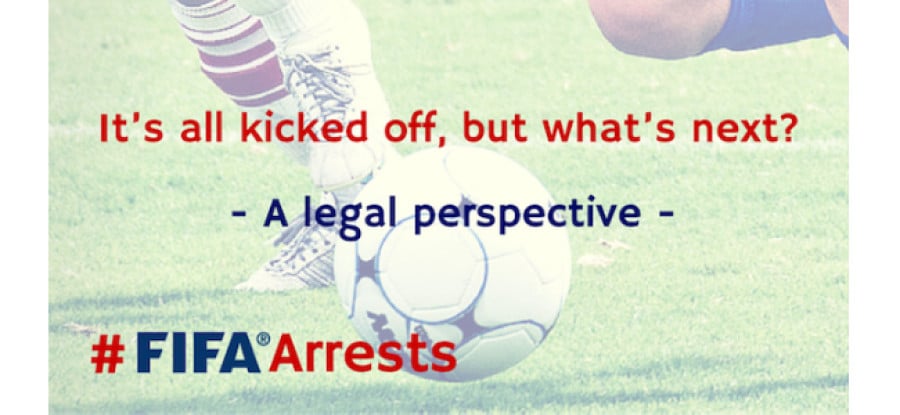 Thursday, 28 May 2015 By Michael O'Kane, Jasvinder Nakhwal

27 May 2015: a date that will now live in infamy for those in the footballing world. Following what appears to be a lengthy investigation, the US Department of Justice announced1 that nine FIFA Officials and five executives from sports marketing and broadcasting corporates have been indicted on charges for offences that include racketeering, wire fraud, and money laundering conspiracies in relation to the corrupt allocation of media, marketing and sponsorship rights for football (soccer) tournaments.

Seven of the FIFA officials were arrested in Switzerland by the Swiss authorities2 in the early hours of 27 May and detained pending extradition to the United States and simultaneously a search warrant was executed at the headquarters of CONCACAF in Miami, Florida. If all of that was not enough for the global football community, the Swiss authorities announced that they too had opened a separate set of criminal proceedings against individuals on suspicion of mismanagement and money laundering relating to the award of rights to host the 2018 and 2022 FIFA World Cups in Russia and Qatar.

Although this appears a bolt out of the blue for the media and those unconnected to the investigation, the DOJ revealed that four individuals and two corporate defendants had already pleaded guilty to various charges in the case, three of whom had entered guilty pleas as early as July 20133: clearly some have been able to engage with the DOJ behind the scenes for some time. Others have not been so fortunate and their arrests; the 27 May marked the start of an extensive international legal process, the results of which may have pervasive ramifications for the way in which football is marketed, sponsored and managed and may even challenge the legitimacy of the next two major global footballing tournaments.

What is going to happen next for those that have pleaded guilty?

For those who have pleaded guilty, the road will have been a long and turbulent one and is certainly not over yet. As part of their plea agreements with the DOJ, the corporate defendants face fines of $500,000 and one year of probation: the individual defendants have already forfeited millions of dollars between them (José Hawilla has agreed to forfeit over $151m) and have agreed to pay further amounts upon sentencing.4 It is likely that part of their plea bargain will be a reduced or lesser sentence and it appears that some of the individuals pleaded guilty to a reduced number of counts and/or lesser charges, compared to perhaps the individuals named on the 47 count indictment unsealed on 27 May. It is likely that some, if not all, of those who have pleaded guilty have provided significant information not only about their own conduct but also the conduct of others involved in the alleged conspiracy, which will probably mean that as part of their plea bargain they will have to cooperate fully with the investigation into and eventual trial of other individuals, if it were to get to that stage. Given that the DOJ has sought the arrest and extradition of such a significant number of senior officials and executives, it is highly likely that the DOJ is in an advanced – if not final – stage of its investigation, meaning that trials could commence within a matter of months following extradition of those individuals.
Already a member? Sign in
Get access to all of the expert analysis and commentary at LawInSport including articles, webinars, conference videos and podcast transcripts. Find out more here.
Related Articles
Written by
Michael O'Kane is a Partner and Head of the Peters and Peters Business Crime team. As a former senior prosecutor, he had responsibility for the prosecution of a number of high profile complex cases, including the Stansted Hijacking and the Paul Burrell, former butler to Princess Diana.
This email address is being protected from spambots. You need JavaScript enabled to view it.
Jasvinder Nakhwal is a partner specialising in all aspects of business crime, in particular extradition, mutual legal assistance and criminal cartel investigations.
This email address is being protected from spambots. You need JavaScript enabled to view it.