Interview with Günter Younger, Director of Intelligence & Investigations, WADA - Episode 71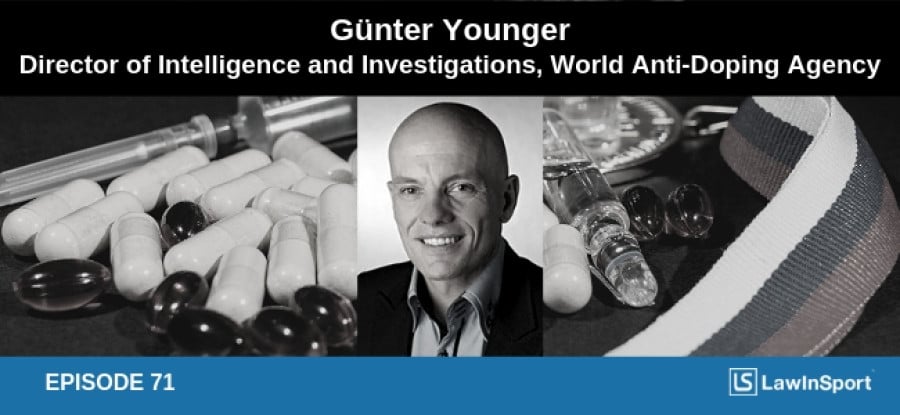 Friday, 14 December 2018

In this podcast Sean Cottrell, LawInSport CEO, interviews Günter Younger the Director of Intelligence and Investigations for the World Anti-Doping Agency (WADA) about his role, the work of his department, working with whistleblowers and the challenges of running investigations in international sport and anti-doing.

Mr. Younger was previously Head of the Cybercrime Division at the Bavarian Landeskriminalamt (BLKA) in Germany, which he created as the central point of contact for police, State departments and private companies in all cybercrime matters of Bavaria. While fulfilling this role, in 2015, Günter was seconded to WADA's three-person Independent Commission that investigated and exposed widespread doping in Russian athletics.

After graduating from Police Training School in Dachau and Kӧnigsbrunn in 1988, Mr. Younger joined the BLKA as an investigator. Over the years, Günter held numerous increasingly senior positions with a particular focus on international investigations; specifically, combating drug trafficking and organised crime.

After completing postgraduate studies at the Police College of Public Administration in Fürstenfeldbruck and at the National Police Staff College in Münster, Mr. Younger served as Deputy Head of the Organised Crime Division of the BLKA. In 2006, he was deployed to Europol as an Analyst for Serious Organised Crime.

In 2008, Mr. Younger was seconded to Interpol´s drug unit in Lyon/France where he was swiftly promoted to Team Leader/Coordinator. By the following year, he had assumed responsibility for the organization's Drugs and Criminal Intelligence Unit (DCIU) and the newly created Anti-Doping section.

Upon completion of his term at Interpol, in 2011, Mr. Younger returned to Germany to lead Bavaria's Counterfeit Currency Unit before joining BLKA.

We thoroughly enjoyed the interview and took a lot away from it. We hope you do the same.

The host is Sean Cottrell (@spcott), founder and CEO of LawInSport.

For more sports law news, commentary and analysis go to LawInSport.com www.lawinsport.com/

Upcoming Events: www.lawinsport.com/sports-law-events

LawInSport Recruitment: www.lawinsport.com/jobs

LawInSport Annual Conference: www.lawinsport.com/annual-conference

LawInSport Academy Mentoring Scheme: www.lawinsport.com/announcements

Follow us on Twitter @LawInSport and Sean at @spcott.

Listen to podcast on:

Soundcloud: @lawinsport

iTunes: itunes.apple.com/gb/podcast/lawin…id655761738?mt=2 or most Android podcast apps.