Sports: Law & Practice - Q&A with Adam Lewis QC & Jonathan Taylor QC, also featuring a conversation with Lord Sebastian Coe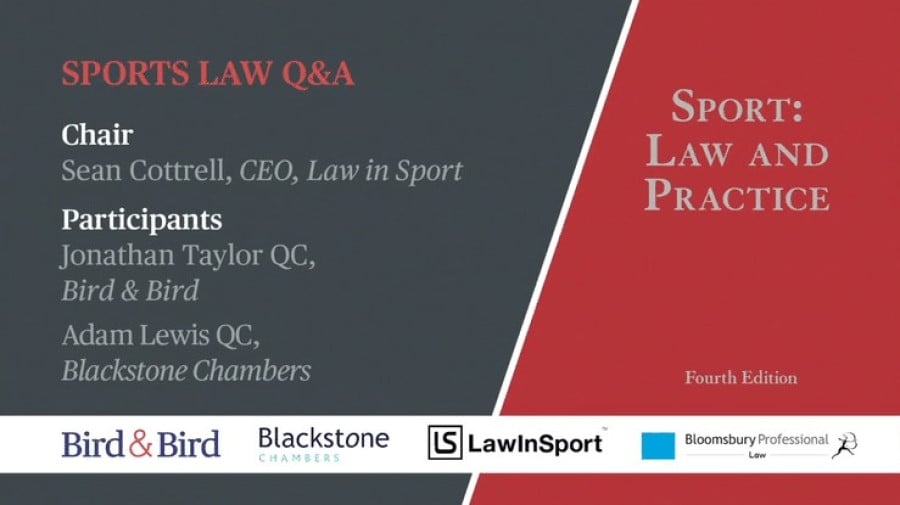 Thursday, 11 March 2021

Adam Lewis QC (Blackstone Chambers) and Jonathan Taylor QC (Bird & Bird) are two of the world's leading sports lawyers. They are also the co-editors, and co-authors with many other leading sports law practitioners, of what many in the industry consider to be the sports law bible: 'Sport: Law and Practice'. The fourth edition of the book was published by Bloomsbury today (11 March 2021). To mark the launch, I took the opportunity to run a Q&A session with both Lewis and Taylor on some of the content in the new book, as well as discussing current global issues and trends in sports law.

Key highlights:
a discussion of the updates featured in the new edition of the book, including explaining the reasons for introducing new chapters on topics such as data protection and sport, the commercial exploitation of sports data rights, the governance and commercial exploitation of esports;
summaries and discussions of significant recent key cases or matters (including several that either Lewis or Taylor has been involved in) – Saracens Rugby Club v Premiership Rugby, Blake Leeper v World Athletics, Semenya v World Athletics, The Independent Review of Integrity In Tennis, WADA v RUSADA, International Skating Union v Commission, Manchester City Football Club v UEFA, and the World Athletics & International Biathlon Union independent integrity units;
the growing impact of human rights considerations on sports governance and regulation;
the financial pressures the Covid-19 pandemic has caused, including spurring increasing private equity investment in the sector; and
commercial opportunities and integrity issues raised by sports betting.
Separately, Jonathan Tayor QC spoke with Lord Sebastian Coe (President, World Athletics), who wrote the foreword for the new book. They discussed Lord Coe's views on various important issues for sports lawyers, such as the benefits of introducing best practice into sports governance, why Lord Coe is happy to have championed the creation of the ground-breaking Athletics Integrity Unit, and why World Athletics has taken such a firm position in relation to eligibility to compete in the female category (Semenya) or while using prostheses (Leeper).
You can watch the videos by clicking through below:
Sean Cottrell