Global Master in International Sports Law - ISDE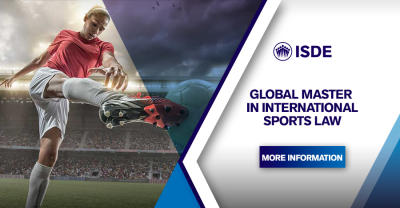 Introduction and Objectives
The Global Master in International Sports Law is aimed and focused for professionals that are not able to attend a full time, one year long program. Students of this Master come from Law, Business Administration, and Economics backgrounds, who want to acquire practical and work oriented knowledge in the field of International Sports Law and Sport Management.
ISDE's philosophy is not only to acquire the most up to date knowledge on Sports Law, but to acquire the skills that will help them to reach their professional goals, as well as a professional network within the industry.
To do so, our faculty is composed of the most relevant lecturers in the Sports Law and Management sector. Their commitment in making this program the best online master in sports law and management is the guarantee of its unparalleled excellence.
Why choose the Global Master in International Sports Law?
More than 20 years of experience in training in Sports Law
More than 200 offices, firms and sports organizations associated worldwide
Prestige and international recognition
The Master´s faculty is composed by the most relevant international Sports Law professionals
You will work on real sports law cases handled by other lawyers and professionals. Litigation, sports dispute resolution, ADR´s, arbitrations, mediations etc… The student will always have all the supporting documentation, claim, counterclaim, procedural strategy, writs, resources, sentences and awards, etc …
Over 1000 graduates are currently working in the Sports Law and Management Industry.
We offer a unique training methodology based on a combination of practical cases, master classes…
ISDE Alumni Employment Network and Networking with over 10,000 alumni, professors and program directors, made up of more than 200 professional firms from more than 30 countries.
Program Objectives
Due to the fact that this program will be offered to professionals with ongoing activities, the training will be carried out by correspondence and on an online basis. However, within the term of the program, three encounters will take place in Madrid for a period lasting three days during weekends.
Online learning can provide learning outcomes that are comparable or even superior to those of conventional educational formats, as it is proved that on executive programs the students, which already have professional experience, work better when self-directed, as they are shaped by the accumulation of authentic personal experiences. Given their goal-oriented approach to learning and an ever more crowded personal calendar, a self-paced asynchronous design has proven to be a most effective instructional approach for online course formats.
This means that given the right tools and with the teachers playing a key role, the online methodology complemented by the encounters taking place in Madrid will produce the perfect combination to provide the students with the knowledge and skills they aimed to reach when they joined the Master.
Each student will have a personal code with which they will access the classes on the website. The different classes are scheduled to be posted on-line every two weeks with the specific directions given by the lecturer, specifying the deadline for the students to send their parctical cases, essays or exams.

During the two weeks, the student will read the documents and prepare the practical case or any other requests made by the professor.

As indicated previously, within the terms of the master three encounters will take place in Madrid for a period not lasting more than three days during weekends.

The first one will take place at the beginning of the program. It will consist of a welcome ceremony as well as to explain the administrative instructions and an initial presentation on the first topic.
The second meeting will take place mid-way. It will cover the topic which will be studied in that particular month.
The third one will take place at the end of the program and will serve as a closing session.
Career Opportunities
National or international sports intermediary
Representation agencies
Law firms, audit firms and Big Fours
Federations, private and public institutions
National or international sports entities
Sports entertainment industry
E-Sports and videogames
Organization and management of sport events
Academic Program
1. CHOICE OF LAW AND CONFLICT OF LAWS IN SPORT-RELATED DISPUTES AND PROCEEDINGS
International laws, regulations of sport organizations, law of the seat of the arbitral or judicial panel, choice of law by the parties, restrictions on the choice of law due to public law principles, etc.
2. SWISS PRIVATE INTERNATIONAL LAW
Special focus on International Arbitration (Chapter 12 of the Swiss Civil Code).
3. THE FIGHT AGAINST DOPING, WITH A SPECIAL FOCUS ON THE LEGITIMACY OF THE WADA CODE
History, creation of WADA, purpose of the WADA Code, doping procedures in different sport organizations, the WADA Code in light of principles of criminal and disciplinary law and regulations, and as confronted with basic human rights and international conventions or directives regarding human rights.
4. CONFLICT OF JURISDICTION IN SPORT DISPUTES
The relation between proceedings brought before international courts or internal sport organization judicial bodies.
5. INTERNATIONALIZATION OF SPORT
With special focus on the relations between sport organizations which are mostly European entities subject to EU Law, however governing sport activities also in all parts of the world, not just subject to the EU Law and principles.
6. SPORT LAW IN THE U.S.A.
The structure of sport organizations in the U.S.A. and their relation to international sport organizations, focusing on different views and attitudes regarding the structure of sport activities, international transfers, special regulations, as well as special characteristics in the laws of the game, etc.
7. SPORT AND EU LAW
The impact and influence of EU Legislation on international sport-related issues.
8. SPORT FINANCING
Different attitudes towards spor t activities financing, private ownership as opposed to public ownership and the co-existence of both regulatory issues related to sport financing, etc.
9. CAS/TAS
History,functions,proceedingsandnewdevelopmentswitha special focus on matters of importance for practising lawyers representing and appearing in CAS/TAS.
10. EMPLOYMENT/LABOUR LAW IN THE FRAMEWORK OF SPORT
Basic principles of labour relations and their co-existence with sport organizations regulations, sportsmen as employees;The specificity of sport and its impact on the basic principles of labour relations.
11. THE DEFINITION OF 'SPORT' AND THE RECOGNITION OF AN ACTIVITY AS 'SPORT'
G.A.I.S.F. (General Association of International Sports Federations) The Olympic movement, with a special focus on those organizations, who is entitled to become a member and be recognized as 'Sport' or 'Olympic sport'?, etc.
12. 'LEX SPORTIVA'
Does it exist? Is there still a real debate on the question?
Faculty
Click here to view the faculty|closed
Dev Kumar Parmar
International Sports Lawyer
In addition to his work with ISDE, our academic director is an international sports lawyer and principal director at Parmars: Sports, which has bases in the UK and Spain. He was Called to the Bar by The Honorable Society of the Inner Temple, and has previous experience in Criminal Defence.
Working on all aspects of representation, management and legal advice, Dev assists top class athletes and coaches from the English Premier League down, and in other key countries. Dev's key role within the inaugural edition of the Indian Super League in 2014 also marks him as an important connection within the region.
His work ethic has been roundly praised by numerous peers and leaders alike, with his strong willed belief in passing practical knowledge to students at the earliest stages has impressed many across the globe. Dev remains a mentor to dozens of students and young professionals, working closely with several colleges and universities in this respect.
Dev has been invited to speak in Africa, Asia, Europe, Middle East and South America. In 2012 Dev was nominated for both the London Organising Committee for the Olympic and Paralympic Games 'Inspiring Person in the Community' Award, and as a Barclays 'Future Black Leader' for the Top 100 of 2013.
Dev is personally supportive of all ISDE students and is happy to assist students with developmental pathways to ensure that they take the best next steps in their respective careers.
| | |
| --- | --- |
| Jeffrey Mishkin / USA | Partner Skadden Arps NYC |
| Alasdair Bell / Switzerland | Director of Legal Affairs at UEFA |
| Jane Purdon / UK | CEO Women in Football |
| Christophe Bertrand / France | Lawyer BERTRAND & Associé |
| David Casserly / UK and Switzerland | Barrister |
| Marc Cavaliero / Switzerland | Partner at Kleiner & Cavaliero |
| Daniel Cravo / Brazil | Partner at Cravo, Pastl, Balbuena |
| Spyros Arsenis / USA | Special Counsel Meister Seelig & Fein LLP |
| Nasr El Din Azzam / Egypt | Partner & Attorney at Law Sport Makers |
| Pedro García Correia / Portugal | Partner at CSA Law Firm |
| James Kitching / Australia | Managing Director at Kitching Sports |
| Dirk-Reiner Martens / Germany | Managing Director of Martens Rechtsanwälte |
| Maheta Molango / Spain | CEO at Real Mallorca and Advisory Board member at Baker & McKenzie |
| Brent John Nowicki / Switzerland | Managing Counsel Court of Arbitration for Sport |
| Emin Ozkurt / Turkey | CAS Arbitrator and Managing Partner of Oskurt & Ozkan & Hasbek Law Office |
| Vijay Parbat / UK | Legal Counsel Sports Law & Governance |
| Ashley Ehlert / Switzerland | Legal Director of International Ice Hockey Federation |
| Alejandra Gómez Bruinewoud / Uruguay | Senior Legal Counsel FIFPro |
| Sarah Ochwada / Kenya | Football Arbitrator and Founding Partner of KIKAO Law |
| Krystle Fonyonga / UK | Barrister |
| Ricardo Oliveras/ Spain | Corporate Partner and Head of Sports of Ecija Abogados |
*The faculty is subject to modifications
Address
Street: C/ Serrano 208
Postcode: 28002
City: Madrid
Country: Spain
Contact
Telephone: (+34) 911 265 180
Fax: (+34) 915 762 021
E-Mail: This email address is being protected from spambots. You need JavaScript enabled to view it.