Master esports Business ISDE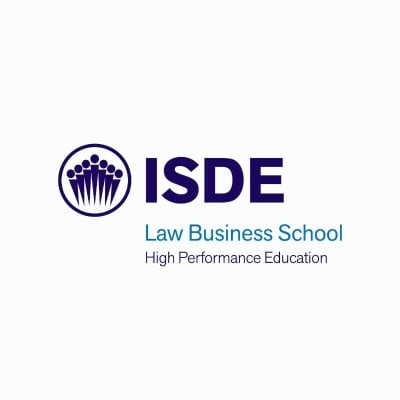 Introduction
The exponential growth of esports has highlighted the need to professionalize the sector. There are training courses in the creation and development of video games, but no program like this one that trains professionals to deal with all aspects of a business of such growth.

This Master does just that, allowing students to learn with some of the leading professionals in the industry, giving them a more realistic perspective of the market than any other program currently in existence.

It is therefore a matter of training the future professionals of the esports industry, a sector in which, as with so many other technology-related sectors, there is today a greater demand from the industry for graduates with the appropriate education and training to meet that demand.
Structure, Location and Calendar
CAMPUS: Barcelona
START: January 2022
STRUCTURE
Two phases:
Phase one: Classroom instruction:
Anacademic semester with classes from Monday to Thursday.
Second phase: Integration in practice:
Obligatory phase. Three to six months as a trainee in one of ISDE's partner companies, in the eSports sector.
Career Opportunities
The Master prepares students for one of the following roles in these two areas:
Sports Business
Sports project manager (team, league, tournament, event).
Responsible for production of sport events.
Responsible for production of leagues and tournaments.
Marketing manager of a sports organization.
Sales manager of a sports organization.
Sports expert in a marketing and communication agency
Sports expert in the Department of Marketing and Communication of a consumer brand
Entrepreneur in the sports industry.
Sports Media
Journalist specializing in sports.
Sports broadcasting caster.
Responsible for audiovisual production of leagues, tournaments and sport events.
Responsible for P.R. (Public Relations) of a sports team.
Responsible for communication of a sports team.
Communication manager of a sports league.
Academic Program
Esports Fundamentals
1. Esports Cultures and Competitions
History of Competitive gaming and esports
Evolution of play / a culture of mods
Genres and Games
Esports in media and Popular culture
What makes a game an esport
From LAN parties to stadiums
2. Esports in Society
Esports and Minors
Esports and Gender
Esports and Health
Esports and Education
3. Industry Overview
Market analysis
Key stakeholders and role players in the industry
Value chain and business models
Open system vs Closed system
4. Esports future and Trends
Mobile esports
Big data and Blockchain
AR/VR
Esports Global Expansion
5. Media in esports
History of esports shoutcasting
The rise of the Streamer
Esports media landscape
Audience analysis
Broadcasting to cord-cutters
6. Esports Law
Regulatory Landscape
IP License and Rights
Governing bodies and Rights
Transfer agreements
Dispute resolution mechanisms
Integrity and Compliance
Esports and Betting
Becoming an esports professional
7. Marketing
The five P's of esports
Authenticity and Credibility
Sponsorship rights
Broadcasting rights
Measuring ROI
Brands, brand management, IP rights
PR and press relations
8. Competition Management
Tournament formats
Online, LAN, and BYOC tournaments
Rules and regulations
Tournament software
Human resources
9. Media Production
A spectator sport
Storytelling and narratives
Engagement with players, viewers and fans
Live production and Project management
Content creation and distribution
10. Event Management
Typology of esports events
Business models
Marketing and Sponsorships
Logistics and Suppliers
Human Resources
Event planning
11. Team management
History of esports teams
Coaching a gamer
Financial direction
PR & Marketing
Players representation
Human resources
*The academic program is subject to modifications.
Admission Process
Carried out by the ISDE Admissions Committee, it is divided into 2 phases:

Evaluation of documents: the candidate must send the following documents to the admissions coordinator assigned to him/her:

Curriculum Vitae
Motivation letter (in which you express your reasons for wanting to do this master's degree)
University degree (if you already have one)
University transcript (list of subjects and grades)
At least one letter of recommendation



Presential tests: 3h approximately:

Written tests:
Psycho-technical test
Reasoning test
English level test
Interviews:

Personal interview with a member of the admissions office
Court. With members of the academic and general management.

* REMOTE ADMISSION PROCESS AVAILABLE (for cases that need it)

If you wish to start the admission process, you can do so by sending us your documentation through the following link: ISDE ADMISSION PROCESS
Faculty
Hessabi, Mike - NICECACTUS
Sebastien Ventura, Jean - Founder and CEO of 6 national and international TV channels
| | | |
| --- | --- | --- |
| Jean Sebastien | Ventura | NiceCactus |
| Oscar | Soriano | Play The Game |
| Max | Dalmau | You First Sports |
| Adam | Whyte | EDGE |
| Johnny | Kutnowski | Blinkfire Analytics |
| Alfonso | León | Ruiz-Huerta & Crespo Sports Lawyers |
| Mario | Pérez | LVP |
| Alberto | Martínez | Streamloots |
| Daniel | Vicente | D.V. Consulting |
| Pedro | Belaunzarán | MAD Lions E.C. |
| Federico | Winer | Consultant – Fedewiner.com |
| Ollie | Ring | Regulus Partners |
| Krystian | Jarozsynski | G2 Esports |
| Valeria | Belozertsova | AC Monaco |
| Tomi | Kovanen | Inmortals Gaming Club |
| Andrea | López | Team Heretics |
| Jordi | Roig | YearXero |
| Boris | Bergerot | STAKRN Group |
| Dmitriy | Karpenko | Mobalytics |
| Philip | Hubner | Challengermode |
| Fidan | Gutaj | Charge.gg |
Address
City: Barcelona
Country: Spain
Contact
Telephone: (+34) 911 265 180
Fax: (+34) 915 762 021
E-Mail: This email address is being protected from spambots. You need JavaScript enabled to view it.