Football Law 2019 - Player Transfers, Agents, Politics and the Business of Football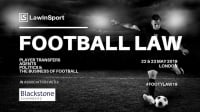 Following the success of our sold out 'Football Law - Player Transfers, Agents & Politics' seminar held in May 2018, LawInSport will be hosting a two day football law conference in London at the Royal College of Physicians on the 22nd & 23rd May 2019 in association with Blackstone Chambers.
The conference provides two days and evenings of networking opportunities, giving attendees the opportunity to meet and develop meaningful relationships with their colleagues working in the sector.
WHO SHOULD ATTEND
In-house counsel
Sports executives and administrators
Agents
Players
Coaches
Current and former players
Private practice lawyers
Academics
Students
AGENDA & Speakers
The agenda may be subject to change.
Day1
08:30-09.20 Registration & networking breakfast
09:20-09.30 Welcome speech
Sean Cottrell, CEO & Founder, LawInSport
09:30-09:50 - Moving players: Immigration & tax update
Stephen O'Flaherty, Associate, Lewis Silkin
Pete Hackleton, Head of Sports and Entertainment Group, Saffery Champness

10:00-11:00 - Are agents a necessity in modern football? (Debate)
Kendrah Potts, Barrister, 4 New Square (Chair)
Nick De Marco QC, Barrister, Blackstone Chambers
Roberto Branco Martins, EFAA General Manager, The European Football Agents Association ("EFAA")
John Mehrzad, Barrister, Littleton Chambers
Eniola Aluko, International Footballer, Juventus FC Women

11:00-12.00 - Governance & regional development of football
Yama Otung, Consultant, LawInSport & Trustee Palace for Life Foundation (Chair)
James Johnson, Senior VP of External Affairs, City Football Group
Adam Lewis QC, Barrister, Blackstone Chambers
Andrew Mercer, Deputy Legal Director, Legal Divisional Asian Football Confederation
Sarah Solémale, MA Governance Services Manager, FIFA

12.00-12.25 Coffee Break
12:25-13:25 - Creating inclusive football: what steps need to be taken?
Steven Flynn, Barrister, Kings Chambers (Chair)
Alexandra Gómez Bruinewoud, Senior Legal Counsel, FIFPro
Leon Mann, broadcaster and founder of the pioneering Sports People's Think Tank, the Black Collective of Media in Sport, and Football's Black List
Piara Powar, Executive Director, FARE Network
Jane Purdon, CEO, Women In Football
Kate Gallafent QC, Barrister, Blackstone Chambers
13:25-14:30 Lunch break
14:30-14:45 - Running and maintaining club & player foundations/charities
Genevieve Gordon, CEO, Tactic Connect
Gary Stannett MBE, Director, Tactic Connect & Founder of Active Communities Network

14:45-15:45 - Insurance: Liability for injury to players and loss of income to club
Tiran Gunawardena, Associate, Mills & Reeve (Chair)
Daan de Jong, Head of Sports Legal, European Club Association
Nick Cusack, Assistant Chief Executive, The PFA
Oonagh Webster, Solicitor, Healthcare and Sport, Keoghs
David Griffiths, Senior Advisor, Sport and Entertainment at Miller Insurance Services LLP

15:45-16:45 - How to build an in-house legal team within clubs
Liz Coley, Senior Associate, Walker Morris (Chair)
Tim Greenwell, Director of Legal & Risk, Southampton FC
Polly Handford, Director of Legal and Governance, The Football Association
Sabrina Buljubasic, General Manager, CEO, FK Sarajevo
Alvaro Garcia-Alaman de la Calle, Corporate Projects and Regulation Direction, Real Madrid C.F.

16:45-17:15 Refreshments

17:15-18.00 - Media rights: Cross comparison of buying, selling and distribution across for clubs, leagues and federations
Clodagh Curran, Senior Director Legal (Olympics) at Discovery Corporate Services Limited (Chair)
Georg Pangl, General Secretary, European Leagues
Mark Vinall, Barrister, Blackstone Chambers
18:00-18:05 Closing speech
18:05-22:00 Drinks reception

Day 2

08:30-09.20 Registration & networking breakfast
09:25-09.30 Welcome speech
Sean Cottrell, CEO & Founder, LawInSport

09:30-10:00 - Dispute Resolution: Football case law update
Michele Bernasconi, Partner, Rechtsanwalt, Attorney-at-law, LL.M. and Arbitrator at the Court of Arbitration for Sport
Mark Hovell, Partner, Mills & Reeve and Arbitrator at the Court of Arbitration for Sport

10:00-11:00 - Financing, buying and running football clubs
Jake Cohen, Sports Lawyer,& Commercial Consultant and Director, whampoo (Chair)
Dr Jan Råker, Legal Director, VfB Stuttgart 1893 AG
Pedro Henrique Mendonça, Partner at Camargos, Melo, Moraes e Mendonça Advogados,
Daniel Geey, Partner, Sheridans
Timothy Bridge, Director, Sports Business Group, Deloitte LLP

11:00-12.00 - Transfer of minors & safe sport - finding the right balance
Lydia Banerjee, Barrister, Littleton Chambers (Chair)
Emilio Garcia Silvero, Chief Legal Officer, FIFA
Enric Ripoll Gonzålez, Sports Lawyer, Ruiz-Huerta & Crespo
Paul Stewart, co-founder of SAVE Association, former professional football player & author of the book 'Damaged: My Story'
Dr Serhat Yilmaz PhD, LLM, School of Sport, Exercise and Health Sciences, Loughborough University

12.00-13.30 Lunch break
13:30-13:50 - Integrity Update: match-fixing & doping
Rick Liddell, Barrister, 4 New Square

13:50-14:50 - Developments in player & managers contracts
Jane Mulcahy QC, Blackstone Chambers (Chair)
Josep Vandellos Alamila, Principal, Vandellos Sports Law
Rebecca Todd, Legal Counsel, Fulham FC
Sébastien Ledure, Partner at CRESTA, boutique sports law firm - Founder of CRESTA TALENTS and footballparents.be
Erika Montemor, Head of Players' Status Department, FIFA
Daniel Lowen, Parnter, LEVEL Law

15:00:-16:00 - Stadium development: Planning for domestic and international requirements for stadium safety
Chris Bond, Editor, LawInSport (Chair)
Rob Elvin, Partner, Squire Patton Boggs
John Roberts, Director, AFLArchitects
Darren Whitehouse, Director of Sport and International Projects, The Sports Grounds Safety Authority

16:00-16:30 Refreshments Break
16:30-17.40 - Investigation Update
Celia Rooney, Barrister, Blackstone Chambers
16:30-17:30 - Sponsorship and developing a brand protection strategy
Jennifer O'Sullivan, Partner, Arent Fox
Sean Corbett, Brand Protection Consultant, Pit Stop Brand Consultancy
Martin Taylor, Senior Brand Protection Investigator, Carpinvest Group
17:40-17.45 Closing speech
18:00-22:00 Drinks reception
TICKETS
The Football Law 2018 conference is currently at 220 attendees. Tickets are on a first come first serve basis. If you are not able to purchase a ticket you will be able to apply to be on our waiting list.
TICKET TYPE

STANDARD

(£+VAT)

PLUS MEMBER

(£+VAT)

Private practice solicitors and barristers - Tier 1 (member discount added when logged in)

£700
£600

In-house lawyers, academics, sports agents, sports execs & administrators - Tier 2

Coupon codes for discount:

Standard & Non-Member FL19-INN2019-N (£350+VAT)
Plus Yearly member: FL19-INM2019 (£250+VAT)

£350
£250

Full time students - Tier 3* (SOLD OUT - email to be placed on the waiting list)

£250
£150

Athletes ** - Current and former professionals (this is not applicable to qualified lawyers and sports business professionals) - Tier 4

FREE
FREE
Athletes/Players (non lawyers, sports business professionals and agents), please email This email address is being protected from spambots. You need JavaScript enabled to view it. to enquire about attending for free.
* Please note that all tickets are nonrefundable.
* LawInSport events are designed to help build meaningful relationships with colleagues working in, or wishing to work in the sector. It is important that we create a welcoming, engaging and enjoyable environment for everyone wishing to, and attending our events. We encourage all attendees to networking and met other attendees. However, we ask all attendees to refrain from undertaking aggressive sales activities (emails, cold calls, in person sales, etc) that would undermine this. Should we be made aware of any attendees involvement in such practices we reserve our right to deny entry to this and future LawInSport events.
** This includes current and former players, Olympians and Paralympians. If you are a private practice lawyer and you will be required to purchase a ticket
For all over inquiries please email This email address is being protected from spambots. You need JavaScript enabled to view it..
Venue & Location
Royal College of Physicians, London,11 St Andrews Pl, London NW1 4LE (near Regents Park).
Sponsors
There are limited sponsorship opportunities.
If you would like to contact us about sponsorship opportunities please email This email address is being protected from spambots. You need JavaScript enabled to view it..
Professional Development
The conference offers 12 hours of self-accredited CPD.
Partners
ATTENDING COMPANIES
3 Hare Court Chambers
14 Sports Law
39 Essex Chambers
4 New Square
Alexiou Fisher Philipps
All India Football Federation
Anglia Ruskin University
Ararat - Armenia Football Club
Arent Fox
Arsenal FC
Asian Football Confederation
AVENS
Axia Sports and Media Group Limited
Bär & Karrer AG
BBC
BCL Solicitors LLP
Bird & Bird
Blackstone Chambers
BPP University
Brighton & Hove Albion Football Club
Camargos, Melo, Moraes e Mendonça Advogados
Centre for International Studies and Diplomacy, SOAS
Chelsea FC
City Football Group
Clintons Solicitors
CMB-Sociedade de Advogados, R.L.
Cooke, Young & Keidan LLP
Creative Artists Agency
Credit Suisse
Cresta
CRESTA TALENTS
Crystal Palace F.C.
CTP International
Dahl Law Firm
Davidson Chalmers LLP
Deloitte LLP
Dentons
Derby County FC
DFL Deutsche Fussball Liga GmbH
Discovery Corporate Services Limited
DLA Piper
DMU
ECA
ECIJA & ASOCIADOS ABOGADOS BARCELONA, S.L.
Edge Hill University
Effori Sports Law
English Football Association
EPFL
Ethisport
European Club Association
Everton Football Club
European Leagues
Farrer & Co
FC ALVERCA
FIFA
FIFPro
FK Sarajevo
Fletcher Day
Fletcher Sports Law
Football-Support
Freshfields Bruckhaus Deringer
Fulham Football Club
Furnival Chambers
Geldards
German Football Agents Association
Hoffmann Liebs
Howard Kennedy
Huddersfield Town Football Club
IMG
IPS Law LLP
Juventus FC Women
K&L Gates
K2 Intelligence
Kings Chambers
lafranchi meyer attorneys at law
LawInSport
Law Office Bolcar
Legia Warszawa SA
Legislab
LEVEL Law
Lewis Silkin LLP
Libra Law SA
Linklaters LLP
Lisbies Pro Finishing Workshop
Littleton Chambers
Lombardi Associates
Loughborough University
Luton Town FC
MACCABI TEL AVIV FC
MAQS Advokatbyrå
Manchester United Football Club
Miller Insurance Services LLP
Mills & Reeve
Mishcon de Reya LLP
Moraes e Mendonça Advogados
Morgan Sports Law
Muckle LLP
National Olympic Committee of Uzbekistan
Nicolaus Copernicus University
Norges Fotballforbund
Northern Cricket Union
Northridge
Norton Rose Fulbright LLP
Norwich City Football Club plc
NYU
Off Field Sports Consulting Ltd
OLYMPIACOS F.C.
omnisports
Onesportfootball.com
Onside Law
Osborne Clarke
Pit Stop Brand Consultancy
Pitch International
PLAUSUS UK LTD
Real Madrid C.F.
Reed Smith LLP
Rock Sports Management
RPC
Ruiz-Huerta & Crespo
Saffery Champness
Saudi Professional League
SB PROFESSIONISTI SRLS
Schweele Law Office
SEG (Sports Entertainment Group)
Serjeants Inn Chambers
Sheridans
Shoosmiths LLP
Silverbeck
Souloukou & Partners Law Firm
Southampton FC
Sports People's Think Tank
Squire Patton Boggs (UK)
Sydney Mitchell LLP
Tactic Connect
The European Football Agents Association ("EFAA")'
The Football Association of Norway
The Football Association of Wales
The Sporting Way
Triple S Sports Entertainment Group
Thomas Cooper LLP
Tufan Football Club
UCFB
Unicef UK
Unique Sports Management
University of Law
University of Northampton
University of Pretoria
University of Reading
University of Zurich
Uzbekistan Football Association
Vandellos Sports Law
Vassallo Group
VfB Stuttgart 1893 AG
VISCHER
Wasserman Media Group
Watford FC
Women In Football
whampoo