Football Law Experts Discuss The Challenges And Opportunities Of Sporting Succession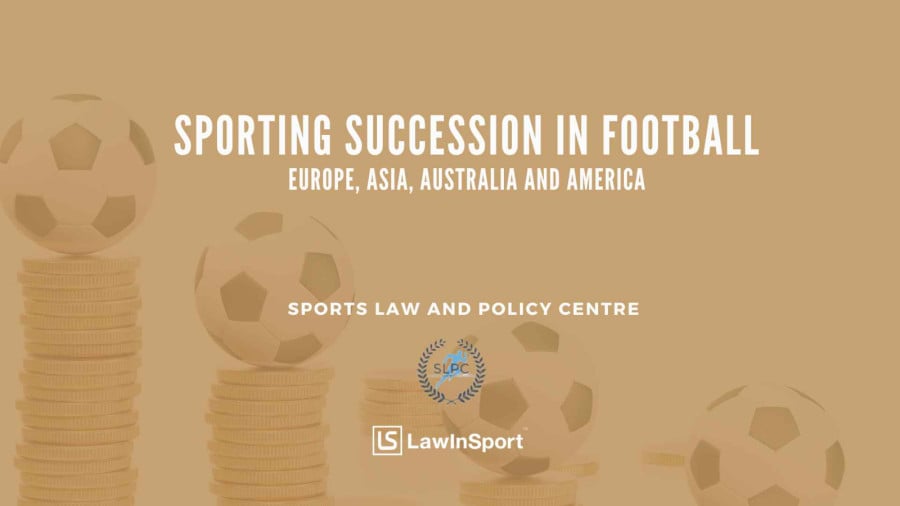 Wednesday, 15 February 2023 By Mary Coleman, Haley Zenenberg, Manan Agrawal

Following the launch of the Sports Law & Policy Centre's book 'Sporting Succession in Football', LawInSport and the Sports Law & Policy Centre organised an open access webinar with some of the authors and editors of the book to discuss the key developments and learnings on this increasingly important topic.
Speakers:
Mario Flores Chemor, Head of Sports Legal at the European Club Association (ECA)

Stefano Malvestio & Vitor Hugo Almeida, Sports lawyers from Bichara & Motta Advogados

Guo Cai, Partner at Jin Mao Law Firm

Susanah Ng, International Sports Lawyer

Adrian Stângaciu, Head of the Legal Department of the Romanian Football Federation

Zografenia Kallimani, Legal Counsel at AEK FC

Roy Vermeer, Legal Director at FIFPRO
Organizer + Editors
Michele Colucci, Member of the Dispute Resolution Chamber of the FIFA Football Tribunal

Josep F. Vandellós Alamilla, Founder and Principal at Vandellos Sports Law

Jaime Cambreleng Contreras, Partner at Cavaliero & Associates

Saksham Samarth, lawyer at Vandellos Sports Law
This article discusses some of the key points that were raised during the webinar which can be accessed here.
It looks at:
Already a member? Sign in
Get access to all of the expert analysis and commentary at LawInSport including articles, webinars, conference videos and podcast transcripts. Find out more here.
Related Articles
Written by
Mary is a law student earning my Juris Doctor at the University of Notre Dame Law School. She interned with LawInSport in 2022.
Haley Zenenberg is a 2024 J.D. Candidate at Brooklyn Law School. She is currently a staff editor on the Brooklyn Sports and Entertainment Law Blog for the Film and Television section and is undergoing an externship with LawInSport till April 2023. Additionally, she currently serves as the Film and Television Chair in the Brooklyn Law Entertainment and Sports Law Society. Before working at LawInSport, she worked at Sony Music Entertainment.

LawInSport
Manan is currently an Editor at LawInSport. Before joining LawInSport, Manan practiced law at a leading media and entertainment law firm in Mumbai, India. Manan has been a part of LawInSport's inaugural Academy Mentoring Scheme and was mentored by LawInSport CEO and Founder, Sean Cottrell.