The European Super League & the legal fallout - experts' views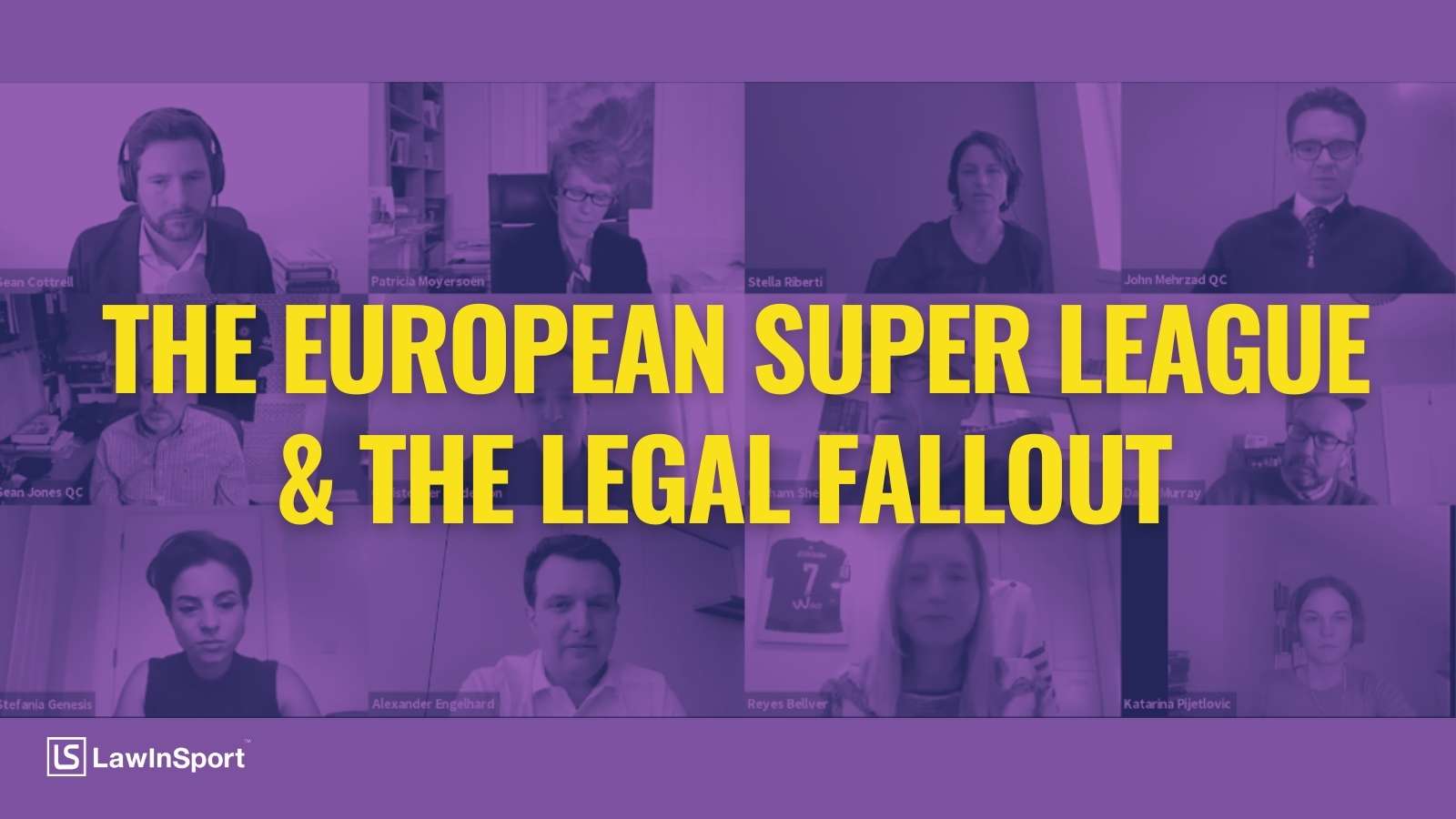 Thursday, 22 April 2021.

On Sunday, 18 April, the world woke to the news of the European Super League. Despite most of the clubs pulling out of the initiative, we believe that several pending legal and commercial issues remain with the failed breakaway.

On 21 April 2021, LawInSport brought together a collection of experts in an interactive webinar to discuss and explain the many complex legal, regulatory & commercial issues surrounding the project. The session attracted over 1,000 registered attendees with 650+ tuning into the live session with over 100 questions asked.

If you enjoy these session you may want to join LawInSport Football Law Conference in May and check out our Football Law Section here. Why not become a LawInSport Plus member and get access to over 200+ articles, videos and podcasts related to football law?
Speaker View
Gallery View
Speakers
Alexander Engelhard, Sports Lawyer, ARNECKE SIBETH DABELSTEIN (Germany) - practice covers dispute resolution and commercial lawyer with a focus on advising clients on contentious and non-contentious issues in sport. He regularly represents clients before judicial bodies of sport associations, the Court of Arbitration for Sport as well as state courts.

Reyes Bellver, Founder/Attorney, Reyes Bellver (Spain) - practice covers in National and International Sports Law, with a focus on Football (including contractual and disciplinary issues, litigation), Arbitration, Sport Management, Negotiation and Mediation, European Union Law and International Relations.

Stefania Genesis, Sports Lawyer, Livida Sport (England) - advises sports clients on a broad range of commercial matters, disputes and regulatory issues involving governing bodies, clubs and individual athletes, often in conjunction with their agents. Stefania has been ranked by Chambers and Partners as an 'Associate to Watch' in Sport and in the Legal 500 as a 'Rising Star' in Sport.

Stella Riberti, Sports Lawyer, Studio Legale Withers (Italy) - practice focuses on sports and media, advising athletes, agents, coaches, clubs, leagues and companies active in the sports industry on a wide range of sports law matters, including assisting on contractual and regulatory issues as well as representing in international sports arbitration proceedings.
Patricia Moyersoen, Sports Lawyer, Moyersoen Avocats (France) - advises major French football and rugby clubs, as well as sports federations and athletes both before ordinary courts and before national and international sports bodies (UEFA, FIFA, IRB, CAS). She is an Arbitrator at the Chamber of Sport Arbitration, under the aegis of the French National Olympic Committee. She was a member of the UEFA Appeals Body between 2011 and 2015. She is a member of the French Sports Lawyers Association and is s President of the International Association of Football Lawyers (AIAF).
Graham Shear, Partner and Co-Leader, Bryan Cave Leighton Paisner, Commercial Disputes Practice (Commercial, Finance & Disputes) - advises finance companies' extending finance to the sport sector, as well as provided specialist advice to football clubs and regulators regarding sport regulation and governance. He is recognised as a leader in commercial litigation, defamation, privacy and Sport Law in Chambers & Partners UK Guide 2017 and Commercial litigation, defamation, privacy, civil fraud and Sport law in Legal 500.

Katarina Pijetlovic, Reader in Sports Law, The Manchester Metropolitan University. Author: EU Sports Law and Breakaway Leagues in Football (Competition Law) - has worked at a number of academic institutions both in the UK and overseas. She was Senior Lecturer at Liverpool Hope University (2015-2019), served as a Sports Law Module Leader at Football Industries MBA Programme, University of Liverpool (2016-2019). She has lectured in Competititon Law at LL.M Programme in Contract and Commercial Law and in Sports Law at the University of Helsinki, Faculty of Law (2004-2015) where she conducted my doctoral research. In 2005-2015 I was a Lectuer in EU Law, EU Competition Law, and Sports Law at Tallinn Law School in Estonia. I spent 2014 as a Visitng Scholar at ISDE Master Programme in International Sports Law in New York. She also contributed chapters to several other books relating to sports law including a chapter on "European Model of Sport: Alternative Structures" in Jack Anderson, Richard Parrish and Borja Garcia's "Research Handbook on EU Sports Law and Policy" and "EU Competition Law and Organisational Rules in Sports" in Antoine Duval and Ben Van Rompuy's "The Legacy of Bosman: Re-visiting the Relationship between EU Law and Sport".

Sean Jones QC, Arbitrator & Barrister, 11KBW (Employment Law) - practices is focused on complex and high profile cases. He acts for both claimants and defendants in claims covering the a wide range of Employment, Commercial Employment and Sport-related disputes. In football he has advised and represented a number of football clubs in disputes with players, managers and staff including Aston Villa, Everton, Newcastle United and Nottingham Forest. He has also been instructed by the League Managers' Association and acted for former managers in actions against Fulham, Leeds United and the Football Association of Wales and for a former player against Tottenham Hotspur.

John Mehrzad QC, Barrister & Head of Sports Group, Littleton Chambers (Dispute Resolution, Restraint of Trade, Employment) - practises principally in sports law and business protection law. His sports law practice focuses, on the one hand, on financial disputes, including claims between clubs, managers, players and intermediaries/agents, and, on the other hand, regulatory issues, including disciplinaries, equalities and discrimination, selection, classification and doping charges. He is regularly appointed FA Rule K or EFL arbitrator (often on a sole basis), is a panelist at the Court of Arbitration for Sport (in English and French), Sport Resolutions and the League Managers Association. He was a selected advocate for the London 2012 Olympics/Paralympics and Glasgow 2014 Commonwealth Games. He is a mentor to the Tokyo 2020 Olympics/Paralympics legal service.

David Murray, Consultant and Former Head of Sports Rights at the BBC (Media Rights) - worked for over 25 years in the Sports and Media industry for PWC's Media Group, Hambros Bank Corporate Finance in Media and Telecoms M & A, and as Head of Rights for BBC Sport and a member of the BBC Sport Board. He his own sports business consultancy, Fozmuz and works as a Broadcast and Negotiation Consultant for Shoosmiths. He has concluded hundreds of media deals with the biggest sports federations, and also teaches negotiation at the University of Liverpool and Salford.

Christopher Anderson, Former General Counsel, Super League (Rugby), Former Legal Consultant, Man Utd, and Former Head of Legal, Everton (Commercial, Regulatory & Governance) - a highly experienced sports professional involved in elite sport for over 10 years, including Board level involvement at a Premier League football club. He has set up legal departments at two Premier League clubs and experience of managing non legal departments. He was the former Head of Legal and Commercial at Brighton & Hove Albion FC as well as the former Head of Legal & Company Secretary at Everton FC. Additionally he is the Appeals Chairman member of Scottish Football Association disciplinary panel, as well as winner of Leaders in Sport "Leaders under 40" award in the Legal and Governance Category. Outside of football Chris has worked as a consultant for the International Cricket Counsel and was more recently General Counsel, Super League (Rugby).
Hosted by
Sean Cottrell, Co-Founder and CEO, LawInSport
Sean Cottrell