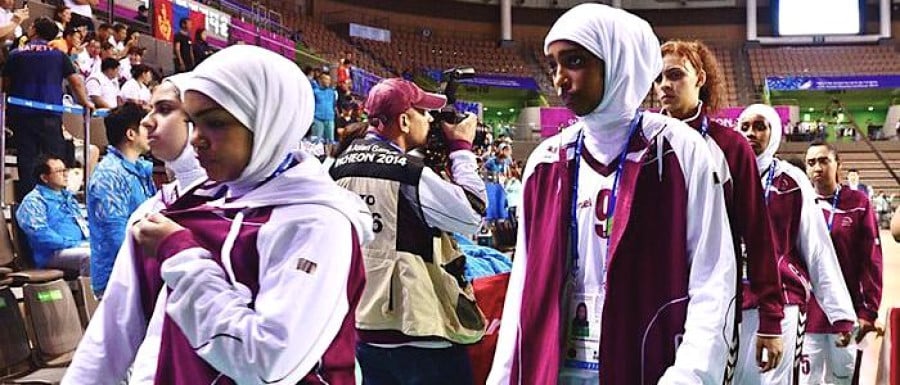 Unfortunately, due to a hijab ban, the Qatar women's basketball team has withdrawn1 from the 2014 Asian Games in Incheon, approximately a week after FIBA's decision to relax its "no-headgear" rule for national tournaments.2
The Qatari team forfeited their game against Mongolia after being banned from playing while wearing hijabs.3 The Qatari delegation chief, Khalil al-Jabir, stated that the team "was not likely to play [again]" if the ban remained in effect.
Pending a decision from FIBA on the ban, the team had planned to request a rematch against Mongolia.4 However, with no correspondence from FIBA forthcoming, the team decided to leave the tournament.5
Asian Games officials explained that they had not received any direction from FIBA regarding headgear exemptions at the Asian Games. The officials followed the controversial "no-headgear" rule (Article 4.4.2 of the FIBA Rules6) which extends to hijabs during play.7
FIBA later clarified that the relaxation8 of the "no-headgear" rule only applies to national tournaments; although they are yet to issue a public statement on the Qataris' withdrawal or say why the rule isn't being relaxed for international tournaments.
The Olympic Council of Asia issued a statement on Wednesday, saying: "the right of the athletes must be the highest priority."9
By withdrawing from a major international tournament, Qatar's women are looking for both change and definite answers from FIBA. It is hoped that FIBA will promptly address this issue with clear and substantial replies.
Update
As of September 26, FIBA clarified that the "no head gear" regulation is not a matter of discrimination toward any religion rather it is a matter of player safety on the court and applies at an international level.10
FIBA was responding to allegations that Article 4.4.2 is discriminatory against particular faith due to the manner it has been enforced.
Thus far FIBA has not yet revised its decision on hijabs or on the enforcement of the "no headgear" regulation.11
FIBA continues to state that these regulations are made for "reasons of safety and uniformity".12
References|closed
Team official: Qatar women withdraw from Asian Games basketball tournament over hijab ban', Star Tribune, September 25, 2014,

https://www.startribune.com/world/276895421.html

Manali Kulkarni, 'FIBA relaxes no headgear rule for a two year trial period' 24 September 2014, https://www.lawinsport.com/blog/item/fiba-relaxes-no-headgear-rule-for-a-two-year-trial-period?category_id=139
'Asian Games 2014: Qatar forfeits game in protest over hijab ruling', Today Online, September 24, 2014,

https://m.todayonline.com/sports/asian-games-2014-qatar-forfeits-game-protest-over-hijab-ruling

Ibid
Ibid at 1
FIBA Central Board, 'Official Basketball Rules 2014',fiba.com,February 2, 2014, https://www.fiba.com/downloads/Rules/2012/OfficialBasketballRules2012.pdf , pg.11. (Also effective in the new 2014
FIBA Rules, valid on October 1, 2014, https://www.fiba.com/downloads/Rules/2014/Official_Basketball_Rules_2014_Y.pdf )
PR N°56 - Key appointments headline first meeting of newly-elected Central Board', FIBA, September 16, 2014, https://www.fiba.com/news/pr-n56--key-appointments-headline-first-meeting-of-newly-elected-central-board Also see Ibid at 2.
'Asian Games: Qatar women's team pull out over hijab ban', BBCSport.com, 25 september 2014, https://www.bbc.com/sport/0/basketball/29342986
'FIBA defends decision on Qatar hijab ban', World Bulletin, September 26, 2014,https://www.worldbulletin.net/news/145228/fiba-defends-decision-on-qatar-hijab-row
Ibid
Ibid at 6