The European Super League & The Legal Fallout: Experts' Views - E106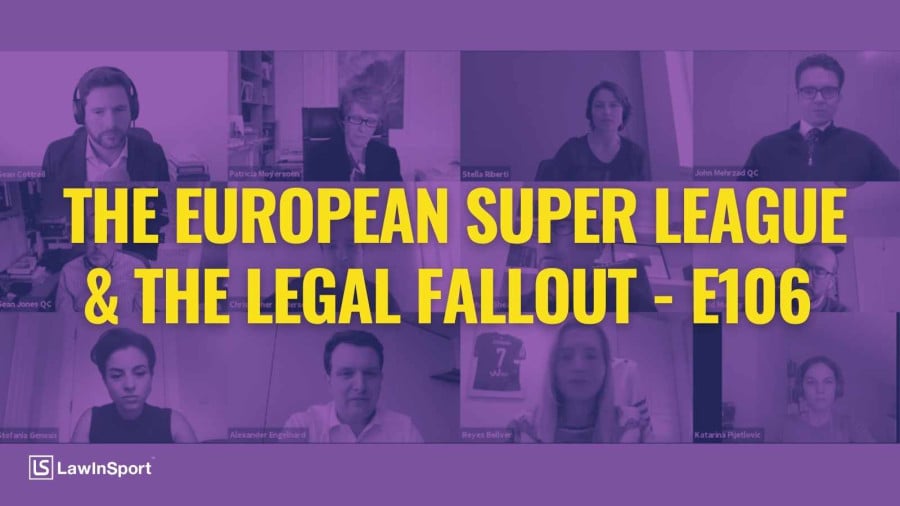 Friday, 23 April 2021

On Sunday, 18 April, the world woke to the news of the European Super League. Despite most of the clubs pulling out of the initiative, we believe that several pending legal and commercial issues remain with the failed breakaway.

On 21 April 2021, LawInSport brought together a collection of experts in an interactive webinar to discuss and explain the many complex legal, regulatory & commercial issues surrounding the project.

The session attracted over 1,000 registered attendees with 650+ tuning into the live session with over 100 questions asked.

Sean Cottrell, CEO of LawInSport, speaks to:

Country Focus:
Alexander Engelhard, Sports Lawyer, ARNECKE SIBETH DABELSTEIN (Germany)

Reyes Bellver, Founder/Attorney, Reyes Bellver (Spain)

Stefania Genesis, Sports Lawyer, Livida Sport (England)

Stella Riberti, Sports Lawyer, Studio Legale Withers (Italy)

Patricia Moyersoen, Sports Lawyer, Moyersoen Avocats (France)
Legal Focus:
Graham Shear, Partner and Co-Leader, Bryan Cave Leighton Paisner, Commercial Disputes Practice (Commercial, Finance & Disputes)

Katarina Pijetlovic, Reader in Sports Law, The Manchester Metropolitan University. Author: EU Sports Law and Breakaway Leagues in Football (Competition Law)

Sean Jones QC, Arbitrator & Barrister, 11KBW (Employment Law)

John Mehrzad QC, Barrister & Head of Sports Group, Littleton Chambers (Dispute Resolution, Restraint of Trade, Employment)

David Murray, Consultant and Former Head of Sports Rights at the BBC (Media Rights)

Christopher Anderson, Former General Counsel, Super League (Rugby), Former Legal Consultant, Man Utd, and Former Head of Legal, Everton (Commercial, Regulatory & Governance)
If you enjoyed the podcast, please don't forget to check out our upcoming Football Law Conference from 20th-26th May 2021 which will continue the discussion around the European Super League.
We thoroughly enjoyed the interview and took a lot away from it. We hope you do the same.
The host is Sean Cottrell (@spcott), founder and CEO of LawInSport.
For more sports law news, commentary and analysis go to LawInSport.com
Listen to podcast on:
LawInSport