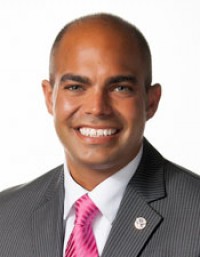 Joseph M. Hanna
Joseph Hanna is a partner of Goldberg Segalla and concentrates his practice in commercial litigation with a focus on sports and entertainment law and retail, hospitality, and development litigation. Joe represents sports franchises, professional athletes, and movie studios with various issues related to licensing, contracts, and day-to-day management.
He serves as Chair of Goldberg Segalla's Sports and Entertainment Law Practice Group and editor of the firm's Sports and Entertainment Law Insider
blog. In addition, Joe is the Chair of Goldberg Segalla's Diversity Task Force. He possesses an AV rating from Martindale-Hubbell.
In recognition of his work representing clients in the media and entertainment world and authoring some of the leading articles on high-profile issues making international headlines in these areas, including the first truly comprehensive examination of the legal issues in the National Football League concussion litigation controversy, Joe was named a Law360 Rising Star for 2014. This national honor ranks Joe among the top lawyers under age 40 practicing today. He is one of only five named in the Media and Entertainment category, and one of just over 160 lawyers in the entire country to receive a Law360 Rising Star award in 2014.
As Chair of Goldberg Segalla's Diversity Task Force, Joe's dedication to diversity is demonstrated in his leadership in various organizations and outreach programs — including his recent tenure as President of the Minority Bar Association of Western New York (MBAWNY) and his current role as President of the MBAWNY Foundation, Inc. — as well as the recognition he has received for his efforts, including the Minority Corporate Counsel Association George B. Vashon Innovator Award and the New York State Bar Association Diversity Trailblazer Award. Joe was recently selected for the 2014 Fellows program by the Leadership Council on Legal Diversity. He organizes and Chairs Success in the City, a diversity networking event geared toward bringing together business, corporate, and community leaders, as well as corporate counsel, local politicians, and members of minority bar associations to celebrate the successes and critical importance of diversity in Buffalo's developing community. Past Success in the City events have drawn more than 500 attendees, and the event serves as a model for other cities aiming to promote inclusive and diverse professional communities. Joe received the MBAWNY Community Service Award for his leadership in making diversity and inclusion in Western New York a focal point through Success in the City and working with inner city students to help better their lives.
Joe is also the Founder and President of Bunkers in Baghdad, Inc., a nonprofit that collects and ships new and used golf equipment for recreational purposes to our brave troops in Afghanistan and 22 other countries around the world. Bunkers also distributes equipment to wounded warriors throughout the United States and Europe to aid in their rehabilitation, including Walter Reed Army Medical Center, Fort Hood, Fort Drum, and VA hospitals across the country. The charity works with school children nationwide who pack each box with balls, cards, and letters they write to the soldiers. The "Bunkers Buddies" program is especially 2929195.1 rewarding for the soldiers, and for the students themselves. Bunkers in Baghdad has collected over 4.7 million golf balls and more than 150,000 golf clubs for our troops and veterans. In recognition of Bunkers in Baghdad's contributions, Joe has received numerous accolades, including a Daily Point of Light Award, a national recognition program created by the George H.W. Bush administration to honor individuals and groups for making meaningful change in their communities through voluntary action.
As a member of the American Bar Association (ABA), Joe was chosen to participate in the prestigious Young Lawyer Leadership Program (YLLP). He was named American Bar Association's Outstanding Chair of 2010 for his work on the ABA's Minority Trial Lawyer Committee. Also in 2010, Joe was awarded the New York State Bar Association Outstanding Young Lawyer Award for his efforts to enhance diversity in the legal profession and effective leadership in community activities. The award is presented annually to a young lawyer who has rendered outstanding service to both the community and the legal profession and has a distinguished record of commitment to the finest traditions of the New York State Bar through public service and professional activities. In addition, Joe has received the prestigious 40 Under 40 award given to Western New York's best and brightest future leaders in the community. In 2007, Joe was named DRI's Young Lawyer of the Year for Outstanding Service for his work on the organization's Young Lawyer Committee. He was awarded this distinction and honor for his commitment to diversity in organizing various minority bar programs throughout the country, authoring articles on minority attorney retention and spearheading the creation of a comprehensive database of over 500 minority law organizations which have been established throughout the U.S.
Joe graduated summa cum laude from the State University of New York at Buffalo and cum laude from its law school. He expects to receive his Master of Public Administration degree with a concentration on Public and Nonprofit Management from Syracuse University's Maxwell School of Citizenship and Public Affairs in 2014.
This email address is being protected from spambots. You need JavaScript enabled to view it.
---