New Jersey permits sports wagers; experts at Soccerex identify "significant global threat" to football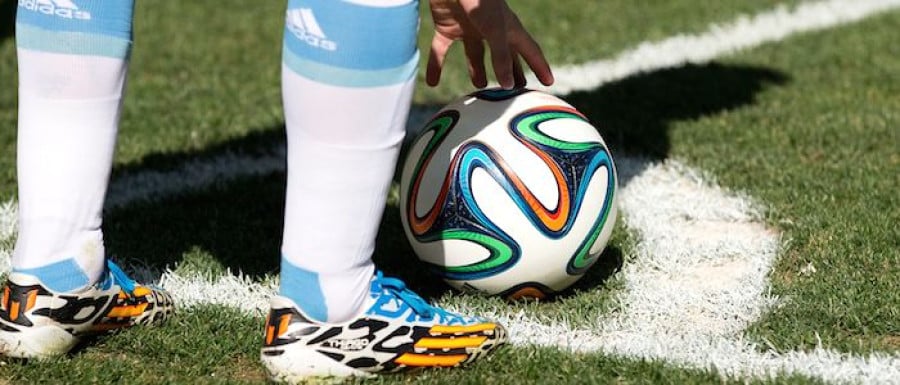 Wednesday, 10 September 2014

This week, the media has extensively covered the Soccerex Global Convention which took place between the 6-10 September in Manchester, United Kingdom. Mr. John Abbott, chairman of INTERPOL's Integrity in Sport Steering Group, was one of the experts invited to give a presentation. He revealed that on average, 60 to 80 countries a year have reported allegations of match-fixing in football over the last three years.

Also in the news, a player and a former referee have been convicted and sentenced for trying to fix a football match in 2010, following an investigation by Hungarian authorities. These are the first convictions since inquiries into corruption in football started in 2009, and which have led to some 50 people being charged, including Tan Seet Eng, alias Dan Tan.
CURRENT INVESTIGATION
Ghana
The Ghana Football Association (GFA) Ethics Committee has exonerated Kwesi Nyantakyi, President of the Association in the matter of the allegation of attempted match-fixing by some officials of the GFA. It followed articles published by UK newspaper The Telegraph between 22-24 June 2014 and the airing of the Dispatches programme "How to fix a football match" on Channel Four on 23 June 2014 that made claims of an alleged case of match manipulation linked to the organisation of international friendly matches involving Ghana's national team. The Ethics Committee, however, says it is necessary to conduct further investigations in the matter as it relates to Obed Nana Kwame Nketiah and Mr. Christopher Forsythe, two other people involved in the matter. According to the ruling, both Mr. Nketiah and Mr. Forsythe confirmed that they did not inform Mr. Nyantakyi about their meetings and discussions with UK based company, Diamond Capital Management (DCM), who were desirous of doing business with the GFA in the organization of International friendly matches for the Ghana National Team on a long term basis.
Source: "GFA boss cleared off match-fixing allegations", 9 September 2014, All Sports, https://allsports.com.gh/football/nyantakyi-cleared-gfa-boss-cleared-off-match-fixing-allegations-id3115948.html
Sweden
The Swedish Football Association (SvFF) has announced it has reported a case of "suspected bribery" to the police in relation to Jonkopings Sodra's match against Syrianska on August 25 which Jonkoping won 4-0. Alarm bells rang after the start of the game as large wagers were made on more than 3.5 goals being scored in the game. 10 minutes into the game, before any goals were scored, anti-match fixing organisation Federbet issued a warning and several bookmakers including Unibet stopped taking bets. After being told of the unusual betting patterns, SvFF reviewed footage of the game and said in a statement: "The SvFF is of the opinion that there is reason to believe that bribery may have been committed in connection with the match. The FA sees that no further investigative action by the association can determine if the crime was committed, and the hope is that a preliminary investigation (including the actions the police may take) can clear this up."
Source: "Swedish 'Syrians' under suspicion for match-fixing", 11 September 2014, Inside World Football, https://www.insideworldfootball.com/world-football/europe/15427-swedish-syrians-under-suspicion-for-match-fixing
GOOD PRACTICE
CONCACAF
CONCACAF (Confederation of North, Central American and Caribbean Association Football) and ESSA (European Sports Security Association), the regulated betting industry's integrity body, have today agreed to establish a betting integrity information sharing arrangement. The agreement builds on ESSA's already strong information sharing base with many of the world's major football authorities. It also aims to demonstrate the increasingly global focus of ESSA and its membership, which represents many of the leading regulated sports betting operators. "This partnership agreement with CONCACAF sends a clear and forceful message to match-fixers and further highlights the determination of ESSA's regulated operators and responsible sporting bodies such as CONCACAF to work together to address a common threat to both of our sectors," said Khalid Ali, Secretary General of ESSA. Dr. Laila Mintas, Director of Sports Integrity at CONCACAF said: "CONCACAF follows a multi-step approach in the fight against match-fixing in order to be able to prevent, detect, investigate, and respond to potential cases with zero tolerance. Cooperation and coordination with all other stakeholders is integral to CONCACAF's strategy. The sports betting industry is an important partner in that fight. Building an efficient partnership with the betting industry's integrity body is therefore very essential".
Source: "ESSA and CONCACAF agree betting integrity MoU", 9 September 2014, SBC News, https://www.sbcnews.co.uk/retail/2014/09/09/essa-and-concacaf-agree-betting-integrity-mou/#ixzz3D6pS1fzP
European Club Association
Europe's top football clubs have been asked to increase their commitment to prevent match-fixing. The European Club Association says it invited 214 members to sign a "Charter on Integrity in Football." The membership includes several clubs which have had officials or players convicted or sanctioned for involvement in fixing cases since the group was created in 2008. Clubs signing the charter promise to "include in their standard player contract a clause which explicitly refers to the prohibition to engage in match-fixing." The charter requires clubs to appoint a "reliable contact person" for staff and players to report attempts to corrupt matches. Club staff should also be educated about the risks of betting on games, the ECA says.
Source: "European clubs step uo match-fixing prevention", 9 September 2014, Associated Press, https://www.usatoday.com/story/sports/soccer/2014/09/09/european-clubs-step-up-match-fixing-prevention/15348843/
Already a member? Sign in
Get access to all of the expert analysis and commentary at LawInSport including articles, webinars, conference videos and podcast transcripts. Find out more here.
Related Articles