What does March Madness betting tell us about the integrity of US college basketball?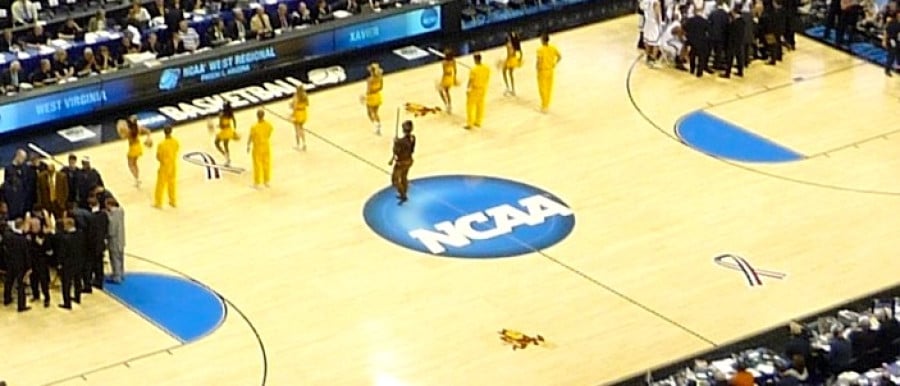 Monday, 06 April 2015

We are in the midst of one of the largest sports gambling events in the world, that wonderful "amateur" sports competition call March Madness, the National Collegiate Athletic Association's ("NCAA") annual championship basketball tournament that captures the attention of millions in the US and millions more around the globe during its three week run every March (and now into April). Through 63 games, 64 college basketball teams are reduced to a single champion, in a single elimination tournament format.


CBS and Turner paid $10.8 billion

The American Gaming Association also estimates that more than 70 million tournament brackets will be filled out by some 40 million people. More people in the US are filling out brackets this year than voted for President Obama in the last election. The average bet per bracket is $29, and more than $2 billion alone will come from individuals filling out brackets. But the real total is impossible to measure because no one in the US is monitoring, watching, or capturing it, and it is nearly all underground. According to another American Gaming Association report, Americans were expected to make $3.8 billion worth of illegal bets on 2015 Super Bowl between the New England Patriots and Seattle Seahawks. But only $100 million is bet legally on the Super Bowl annually, making the illegal market 38 times greater than the legal one.6

The $9-12.5 billion to be bet on this year's tournament amounts to more than double (and close to triple) what gamblers wagered on the 2015 Super Bowl, which was closer to $4 billion. The projected number of $240 million bet legally in Las Vegas on March Madness is also about one thirty-eighth that of the total bets estimated to be placed (but even more disproportionate if you accept the $12.5 billion estimate).7

It only takes a quick examination of the dynamics of the various participants in the system to realize that the system is ripe for a scandal. NCAA athletes are not paid, at least not yet, for their participation in the tournament and very few have a hope or a prayer to advance to a lucrative NBA career. Referees are paid a mere $2500 per game to officiate on a per game basis as independent contractors. College basketball coaches at top programs receive high base salaries that can be substantially enhanced with tournament wins. US college sports boosters have historically shown an inability to resist offering various financial and other temptations to athletes and coaches.

The NCAA even acknowledges on its website that "Athletes and others associated with teams are increasingly being contacted by outside sources — for instance, through social media — for inside information that can be used for betting purposes" and "Student-athletes are sometimes viewed by organized crime and professional gamblers as easy marks for obtaining inside information or affecting a game's outcome".8

But the NCAA, the direct beneficiary of the effects of all of this gambling activity, which benefit shows in the form of enhanced television rights, licensing, and sponsorship revenues, appears to ignore the issue. On its own website the NCAA states its policy simply as, "The NCAA opposes all forms of gambling — legal and illegal — on college sports and specifically prohibits coaches, administrators and student-athletes from gambling on any sports event or providing information to anyone gambling on sports."9 And to protect the integrity of the NCAA game the NCAA claims it merely conducts background checks on officials. Background checks will only show evidence of prior bad conduct, but they do not show uncaught bad conduct or current conduct, nor do they show that the organization is actively involved in policing things.

What is seriously missing in the United States are the healthy private-public and sport-betting establishment partnerships that exist in the U.K. and much of Europe in the world of sports betting.10 Sports governing bodies often work hand-in-hand with regulators and betting houses to ensure that the market for sport wagering is fair, and is not manipulated for gain, and when there are signs that is occurring they take steps to halt betting and investigate. And the sports governing bodies use this system to generate ancillary revenue in the form of sales of their game data to gambling houses (which need high quality data to ensure legitimate wagers are paid correctly and to avoid arbitraging) and accepting sponsorships from gambling institutions.

But the NCAA is not alone in its seeming head in the sand approach to the issue; the NFL, NBA, and NHL similarly act like none of this is a problem they should be concerned about, or even should consider capitalizing on or embrace. But let's not forget that the most significant match-fixing or gambling related scandals in the United States have happened in baseball (involving players in the early 20th century in particular11) and most recently in the NBA (involving a game referee12).

Many sports such as tennis and football, otherwise known as soccer in my home country, have this figured out. They embrace it, monitor it, address issues proactively, and make money from it using those funds to assist in funding the policing and monitoring. In my opinion it is high time the American Victorian ideal of gambling free sport give way to the reality spoken by the numbers; sports gambling in the United States is part of mainstream popular culture and none of the leagues or governing bodies are addressing it responsibly but should be. That's my two cents, and all I will bet on is this not being resolved any time soon.
References|closed
NCAA release, 'CBS Sports, Turner Broadcasting, NCAA Reach 14-Year Agreement', ncaa.org 12 January 2011, last viewed 3 April 2015, https://www.ncaa.com/news/basketball-men/2010-04-21/cbs-sports-turner-broadcasting-ncaa-reach-14-year-agreement
Kebin Chupka, 'March Madness: The $1.5b behind the NCAA tournament', yahoo.com, 26 March 2015, last viewed 3 April 2015, https://finance.yahoo.com/news/march-madness--the--1-5b-behind-the-ncaa-tournament-170957440.html
Chris Moyer, 'Americans To Bet $2 Billion on 70 Million March Madness Brackets This Year, Says New Research' Americangaming.org, 12 March 2015, last viewed 3 April 2015, https://www.americangaming.org/newsroom/press-releases/americans-to-bet-2-billion-on-70-million-march-madness-brackets-this-year
'How much is really bet on March Madness?' Bloomberg,com, 2 April 2015, last viewed 3 April 2015, https://www.bloomberg.com/graphics/2015-march-madness-gambling/
'Gambling on college sports', ncaa.org, last viewed 3 April 2015, https://www.ncaa.org/about/resources/media-center/gambling-college-sports
Ibid at 3.
'Sport wagering', Americangaming.org, last viewed 3 April 2015, https://www.americangaming.org/industry-resources/research/fact-sheets/sports-wagering
Ibid at 5
Ibid at 5
Kevin Carpenter, 'Tackling match-fixing: a look at the UK's new Anti-Corruption Plan', LawInSport.com, 13 February 2015, accessed 1 April 2015, https://www.lawinsport.com/blog/kevin-carpenter/item/tackling-match-fixing-a-look-at-the-uk-s-new-anti-corruption-plan
Douglas Linder, 'The Black Sox Trial: An Account', 2010, accessed 2 April 2015, https://law2.umkc.edu/faculty/projects/ftrials/blacksox/blacksoxaccount.html
Paul M. Banks, 'Tim Donaghy Details How NBA Officials, League Allegedly Fix Games (Exclusive Interview Part 3)', 26 June 2011, accessed 30 March 2015, ChicagoNow, https://www.chicagonow.com/chicago-sports-guru/2011/06/tim-donaghy-details-how-nba-officials-league-allegedly-fix-games-exclusive-interview-part-3/
Sean Cottrell