Football kit supplier deals – lessons for clubs on "matching rights" from the Sports Direct v Rangers FC case
Published 02 May 2019 By: Andrew Reid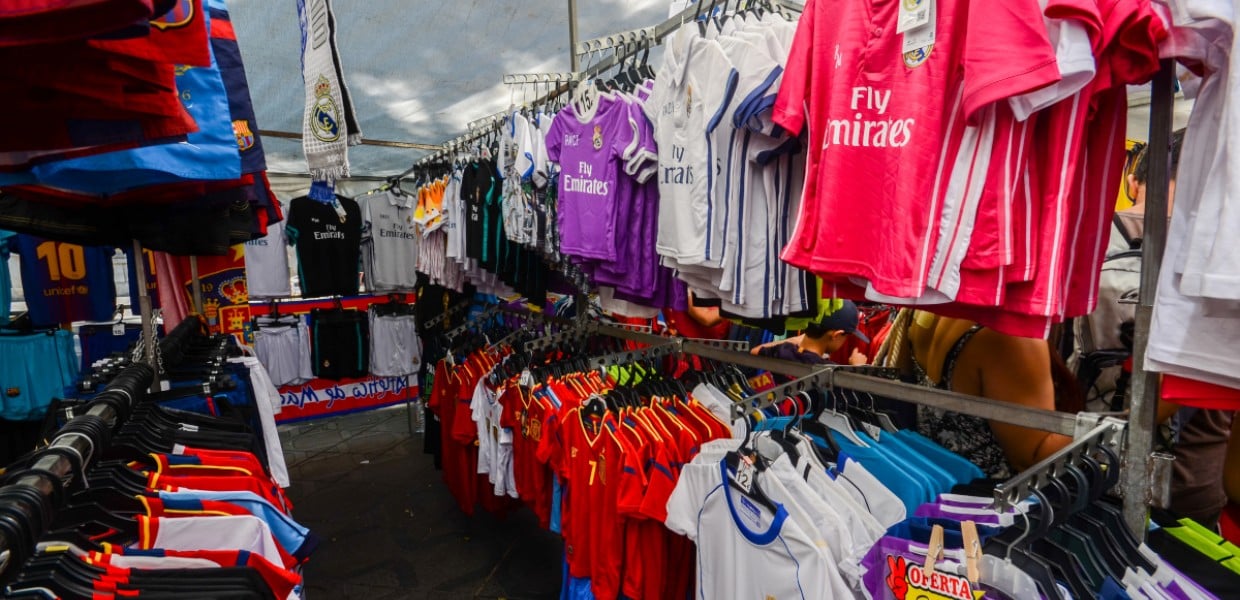 For the everyday fan, football kits are more than just a uniform worn by their team during a particular season. They represent part of their club's identity – its colours, its badge, its tradition. Despite the ever-increasing cost involved, fans still queue up to get their hands on their team's latest strip every year and the revenue generated by those sales represents big business for both the clubs and the kit suppliers. The supply of these replica kits is usually governed by a kit licencing agreement, designed to protect the respective interests of the club and kit supplier. The agreements and the mechanisms for their renewal can be very technical and, as Rangers FC found out last year, can lead to costly legal disputes.
This article examines the Rangers case1, scrutinising in particular the role that first right of refusal (or "matching right") clauses play in kit licencing agreements, before considering the broader implications of the High Court's judgment for both clubs and kit suppliers accordingly.
How kit deals are usually structured
With the top clubs able to boast worldwide followings, their brands represent a lucrative investment for kit manufacturers, suppliers and sponsors. During the 2016-17 season, the top 10 clubs by sales sold over 14 million replica jerseys across the globe, with Manchester United alone shifting 2.8 million of its iconic red shirts2. The income generated by shirt sales is a key part of every club's annual revenue and has even been said to influence transfer policies. Take Juventus' £100 million capture of Ronaldo last summer for example, which resulted in the club securing a world class player and pocketing a cool £48 million in replica shirt sales within the first 48 hours of his joining.3 Despite such obvious benefits for clubs, the way kit deals are structured often mean it is the suppliers who stand to reap the greatest rewards from healthy sales figures.
In contrast to traditional sponsorship deals, under which a sponsor might pay a flat fee to have their name featured on everything from the team coach to cuddly toys, kit deals are usually structured as licensing agreements. These agreements grant kit manufacturers and/or suppliers exclusive rights to use the club's brand on the apparel they produce. In return, the suppliers will pay the club an annual fee plus a percentage of the revenue generated from sales, usually thought to be around 10-15%.
In recent years, deals between clubs and kit suppliers have made almost as many headlines as marquee transfer signings. Manchester United set the bar in 2015 when it secured a ten-year deal with Adidas which stood to net the club £75 million annually, dwarfing both its existing deal with Nike (£23.5 million per annum) and the previous record of £31 million set by Adidas and Real Madrid. Since then, Nike has upped its game to pay Barcelona an annual fee of £100m until 2028, whilst Adidas itself has beaten its previous record by reportedly offering to pay Real Madrid £110m a year until 20304. And whilst these deals bring in hundreds of millions of pounds to the club coffers, they make the kit suppliers far more. Taking Manchester United's deal with Adidas as an example, Adidas CEO Herbert Hainer projected that the sportswear giant would earn £1.5 billion from that ten-year deal alone5.
How suppliers typically protect their investment – Exclusivity Clauses and Matching Rights
With such sums at stake, suppliers will insist that protections and assurances are in place. As such, most kit licence agreements will usually contain provisions that grant them a preference, or "first right", to negotiate a renewal of their deal either through a period of exclusivity in which to negotiate an extension or by way of a right of first refusal, otherwise known as a "matching right", which will entitle them to match any bid that the club receives from a third party. The provision of an exclusivity period is fairly straightforward and non-contentious, the parties simply decide how long the period should last and whether any conditions need to be met to trigger it.
Matching rights on the other hand can be fraught with difficulty as parties need to consider a range of factors, from the duration of the matching right and the amount of sensitive information the right holder will be entitled to receive, to the number of times the matching right can be exercised and the outcome if an offer is successfully matched. Parties may also wish to clarify the extent to which a third-party offer must be matched for a renewal obligation to be triggered, i.e. will all terms need to be matched or just those deemed fundamental to the licence such as price and the term of the new licence.
By way of an example, Nike's agreement with Manchester United, referenced above, included both an exclusivity period and a matching right clause. Although the sportswear giant chose not to exercise its renewal rights on the basis that doing so "did not represent good value for Nike's shareholders"6, if Nike had decided to extend the deal and was willing to meet Adidas's offer, there would have been very little that United, or Adidas, could have done to stop Nike renewing.
These clauses and their interpretation can pose considerable commercial and legal challenges. It's unsurprising therefore, that disputes regarding kit licensing often arise. Perhaps even less surprising is the fact that one such dispute recently arose between Sports Direct and Newcastle United owner, Mike Ashley and Glasgow club, Rangers FC, itself no stranger to a legal wrangle over the past few years...
Rangers v Mike Ashley – a foul by the Teddy Bears?
Mention strip sales to any Rangers fan and you're likely to provoke an angry response… In recent times, replica Rangers kits have been the subject of fan boycotts, premature releases and now High Court injunctions.
Facts
The issues stretch back to 2014, when the club struck a deal with then new investor Mike Ashley and his company SDI Retail, to sell replica Rangers kit and other branded merchandise through a joint venture company, Rangers Retail Limited (RRL). Under the deal, RRL was granted a licence to run the club's retail and merchandise operation, including its Ibrox Megastore for a period of 7 years 7, in return for which, the club reportedly pocketed 7 pence of every £1 generated by sales8. Although a 7% royalty is not wildly out of kilter with the going rate for deals of this type, that return was something that didn't sit too well with Rangers fans, who boycotted sales of the new kit and even released an "alternative" strip of their own after hearing reports that the club made only £2,000 from the deal during the first half of the 20149. "The People", as Rangers fans are affectionately known, had spoken and the club had to quell the unrest.
In May 2016, Rangers issued a statement on its official website purportedly terminating the agreement with RRL for an alleged repudiatory breach10. Litigation subsequently ensued and in June 2017 a settlement was reached with a new one-year deal, set to run until 31 July 2018, being agreed between Rangers and SDI Retail, reportedly all at a cost of £3m to the club11. This deal, Rangers reassured fans, would "deliver real value for Rangers and SDIR" and provide fans with "certainty that any money they spend on Rangers products will be hugely beneficial for the club."12
The licence agreement with SDI Retail
Under that new licence agreement (the Agreement), SDI Retail was granted an exclusive right to distribute all replica Rangers kit (and other branded products) from the club's Ibrox "Megastore" and on Rangers' website, together with non-exclusive rights to manufacture, sell and distribute Rangers-branded products throughout its 900 UK stores.
Similar to the deal between Nike and Manchester United, the Agreement granted SDI Retail a right of first refusal in the event that Rangers received a rival offer from a third party. This was referred to in the contract as "the matching right" and applied for two years beyond the date the Agreement expired (31 July 2018).
Under the relevant clause of the Agreement (paragraph 5 of Schedule 3), Rangers were allowed, at any point during the final six months of initial term, to
"approach, solicit, tender for or enter into negotiations with a third party in relation to that third party providing any of the Offered Rights" (defined to include each of the rights, whether exclusive or non-exclusive, granted to SDI Retail).
However, in the event that an offer was received from such a third party, Rangers were obliged to provide SDI Retail with "written notice of the terms of the third-party offer", which notice was to
"include whether the Third Party Offer is made for any of the Offered Rights or all or any combination of the Offered Rights… and full details of (1) any payments to be made by the third party to Rangers and (2) any revenue share or royalties to be paid between Rangers and the third party"13.
Once notified of such an offer, SDI Retail thereafter had 10 days in which to exercise its matching right and, if it did so, Rangers were not permitted to "approach, solicit, tender for, negotiate with or enter into any agreement with that third party or any other third party in respect of the Third Party Offer and/or any of the Offered Rights" and instead were obliged to enter into a further agreement with SDI Retail. Clause 5.9 further provided that "any new or amended offer or indication of interest from a third party in respect of any of the Offered Rights shall be a separate Third Party Offer and the terms of this paragraph 5 shall apply."14 In other words, a new or amended third party offer would trigger Rangers' obligation to notify SDI Retail of its terms. As will be seen below, this provision played a crucial role in the High Court's ruling.
In June 2018, Rangers received an offer from Elite Group, a company with ties to Rangers' latest strip manufacturer Hummel, to purchase kit licensing rights. In accordance with its obligations under the Agreement, Rangers formally notified SDI Retail of that offer and thus granted it an opportunity to match the bid. The subsequent negotiations between Rangers and SDI Retail stalled due to disagreements over the amount of information on Elite's bid that Rangers were obliged to provide. As the Agreement between Rangers and SDI Retail neared its expiry, SDI Retail, being aware of Rangers' eagerness to market its new kit before the new season began, requested formal undertakings from the club to the effect that they wouldn't enter into any agreement with a third party (i.e. Elite Group) without first having fully complied with the terms of the Agreement.
Rangers, who by this point (28 June 2018) were acutely aware of the prime marketing opportunity that the pre-season period represents for football clubs, denied that request and wrote to SDI Retail, warning them that "unless SDIR timeously exercises its matching right under the [Agreement], [Rangers'] intention is to accept the Third Party Offer". As Rangers later submitted in their witness statements, "being able to market a new football strip for the start of the season is essential to maximise impact and sales". Failing to do so, Rangers continued, would "impact upon the ability to bring in players in the transfer window in August and, hence, on on-field performance".
SDI Retail's application for an interim injunction
Against that backdrop and in light of Rangers' threat, SDI Retail applied for and were duly granted an interim injunction restraining Rangers from entering into an agreement with a third party, at least until the terms of the Agreement had been examined at trial.15 As it turned out, the Court didn't get a chance conduct such an examination after the parties reached an out-of-court settlement to continue negotiating a new deal. When considering costs however, Mr Justice Phillips found that Rangers had, by agreeing to continue negotiations, accepted SDI Retail's claim that it was entitled to match Elite's offer and duly ordered Rangers to pay SDI Retail's £350,000 legal bill, along with their own costs of around £180,000. He noted that negotiations for a new deal were ongoing and urged both parties to "make peace", a plea that seemingly fell on deaf ears in the Ibrox board room…
By mid-September, a new deal between Rangers and SDI Retail still hadn't materialised. Despite undertaking to continue negotiations, and with Phillips J's comments still ringing in their ears, Rangers proceeded to accept an improved offer from Elite (the Elite Agreement), without first notifying SDI Retail of the terms offered and thus denying it the opportunity to match it. Indeed, SDI Retail only learned of the Elite Agreement after seeing a statement on Rangers' website describing Elite as their "new, non-exclusive partners" and providing a link to purchase Rangers kit from a website hosted by Elite.
Once again, SDI Retail applied to the High Court for injunctive relief. As far as SDI Retail was concerned, Rangers had wrongfully denied it the right to match Elite's amended offer and argued that their "competitive position would be seriously undermined" if Rangers were permitted to retain the ability to grant further rights to a third party on more favourable terms16. Rangers on the other hand, argued that allowing SDI Retail to exercise their matching right on more than one occasion would enable SDI Retail to "block the grant of non-exclusive rights to third parties and thus exercise exclusivity over a right where it did not have exclusivity under the Retail Agreement"17. The question for the High Court hearing SDI Retail's application was whether the matching right could in fact be exercised on a repeated basis and if so, whether SDI Retail were entitled to injunctive relief restraining Rangers from future breaches and requiring them to undo their existing breach.
Decision
In his decision18, Mr Justice Teare found in SDI Retail's favour, granting a mandatory "undoing" injunction requiring Rangers to cancel the Elite Agreement and refrain from performing or assisting Elite to perform it, together with prohibitory injunctions restraining Rangers from future breaches of the Agreement. In doing, he so relied upon the wording of paragraph 5.9 (set out above), which he declared constituted an "express recognition that there can be multiple matching rights", and further noted that nothing in the Agreement excluded Rangers' duty to provide SDI Retail with notice of a third party's offer where SDI Retail had matched an earlier offer. Teare J concluded that the wording of paragraph 5.8 effectively enabled SDI Retail to "block negotiations with third parties and, as a result, render its matched right in practical terms exclusive", until "the mechanics of the further agreement required by clause 5.7 are gone through", and confirmed that the prohibition in paragraph 5.8 could come into effect again if a further offer is matched, seemingly with no limit on how many times such matching could occur.19
By entering into an agreement with Elite without first allowing SDI Retail to exercise its matching right, Rangers had failed to comply with their obligation to notify and had broken the prohibition on dealing with third parties imposed by paragraph 5.8. Rejecting any suggestion that the terms of the Agreement were unenforceable on commercial grounds, Teare J recognised that SDI Retail had obtained a "very beneficial right to match offers by third parties" and confirmed his unwillingness to accept the proposition that "the commercial consequences were so extreme" as to deny SDI Retail that right.20
Dismissing Rangers' plea that the undoing injunction was too harsh and would unfairly prejudice Elite, Teare J observed that "both Rangers and Elite [had] entered into that contract fully aware of the risk that Sports Direct would object to it" and remarked that the warranties contained in the Elite Agreement would "provide a clear mechanism for protecting Elite in these circumstances." Rangers were therefore forced to cancel the Elite Agreement and re-engage with SDI Retail accordingly.
Since those injunctions were granted in October last year, SDI Retail sought, and were granted, a further declaration from the Court that they had only ever been required to match the "material terms" of any third party offer Rangers received and had duly done so.
The final trial of the matter was heard by Judge Lionel Persey last month. Judgement on the issues of liability and final relief is expected to be handed down very soon.
Comment – a Post-Match Analysis
Whilst the substantive dispute is yet to be finally decided, the imposition and continuation of the interim and final injunctions has been a chastening result for Rangers. Not only was the club hit with an order to pay almost half a million pounds in combined legal costs, it also missed out on the opportunity to capitalise on fans' pre-season excitement by releasing sought after new kits. The much anticipated, if somewhat controversial, orange third strip only hit shelves in October last year, some three months after the season kicked off.
The decision of the High Court is a strong statement of intent regarding the interpretation of matching offers in licence agreements and is sure to make any other sports clubs think twice before entertaining third party bids where their existing agreements contain matching rights.
It should act as a stark warning to clubs to take great care when including matching right clauses in licence agreements. The wording proposed by SDI Retail and accepted by Rangers effectively resulted in the former being granted effective exclusivity over areas in which it only held non-exclusive rights and thus granted the supplier far greater power than Rangers had ever intended. This was something that didn't escape the attention of Teare J, who mused that Rangers may prefer "not to be as limited in their ability to deal with third parties as they are by paragraph 5" yet continued to enforce the terms agreed regardless. By not properly scrutinising the wording of the Agreement, Rangers unwittingly handed SDI Retail the keys to the kit licensing rights for years to come.
It should be noted at this point that while SDI Retail were permitted to retain the exclusivity they had obtained, there is a danger that in some situations a matching right could potentially infringe competition law. Whilst this wasn't deemed to be the case here, where the number of alternative kit suppliers and is so varied and extensive, where a supplier has significant market control in an industry and/or has obtained matching rights in contracts with a significant proportion of that industry's client base, the exclusivity those rights afford that supplier could potentially amount to a unfair restraint on free trade and be subject to scrutiny by the Competition and Markets Authority. This is something that large suppliers should bear in mind when negotiating any clauses granting them exclusivity.
The dispute also serves as a pertinent reminder of the unwillingness of the Courts to interfere where the wording of a contract is clear, even if that wording has unintended and unfavourable consequences for one party, a policy which was notably demonstrated by the Supreme Court in Arnold -v- Britton21 (a case which was in fact referred to in these proceedings22) when Lord Neuberger observed that "The mere fact that a contractual arrangement, if interpreted according to its natural language, has worked out badly, or even disastrously, for one of the parties is not a reason for departing from the natural language". The decision of Teare J demonstrates that parties will have to overcome a high hurdle if they are to persuade the Court to disregard the ordinary meaning of words and take a broader commercial approach when interpreting a contract. To use his words, the commercial consequences of a contract would need to be "extreme" for the ordinary meaning of the words used by the parties to be displaced by a more commercially favourable interpretation.
Finally, the case is another reminder of the costs involved in litigation and highlights the potential pitfalls of taking an aggressive legal stance. Had Rangers not threatened to contract with Elite and/or provided the undertakings sought by SDI Retail, they may have, at least, avoided the costs of the July 2018 injunction proceedings. Similarly, had Rangers notified SDI Retail of Elite's improved bid in September, rather than rushing off to agree terms, they may have been able to negotiate an almost identical deal with SDI Retail and avoided the legal proceedings which have ensued.
From a kit manufacturer's perspective, the case is an encouraging demonstration of how effective a well-worded and comprehensive matching right clause can be. Parties seeking to protect their (often substantial) investment should ensure that such clauses are included as standard, are sufficiently well drafted and are enforced as robustly as possible.
The tie currently stands at 2-0 to Mr Ashley. Can Rangers salvage anything from the situation? We'll soon find out…
Author

Solicitor, Stevens & Bolton
Andrew is an Associate in the Commercial Litigation team at Stevens & Bolton LLP, where he advises clients on a variety of contentious matters, ranging from High Court litigation to everyday contractual disputes. He is also a member of the firm's Sports Group.
Andrew qualified in Scotland in 2016, having trained at Shepherd + Wedderburn LLP and prior to undertaking his traineeship, read Law at the University of Edinburgh. He made the move south upon qualification, joining a commercial firm in north London before joining Stevens & Bolton in 2018.
Andrew is a keen tennis (Andy Murray) fan and, thanks to his father, is also a long-suffering Falkirk FC fan.
This email address is being protected from spambots. You need JavaScript enabled to view it.