MMA's first major "trade" – putting the UFC-One Championship deal for Askren & Johnson into context
Published 31 January 2019 By: Jacob Debets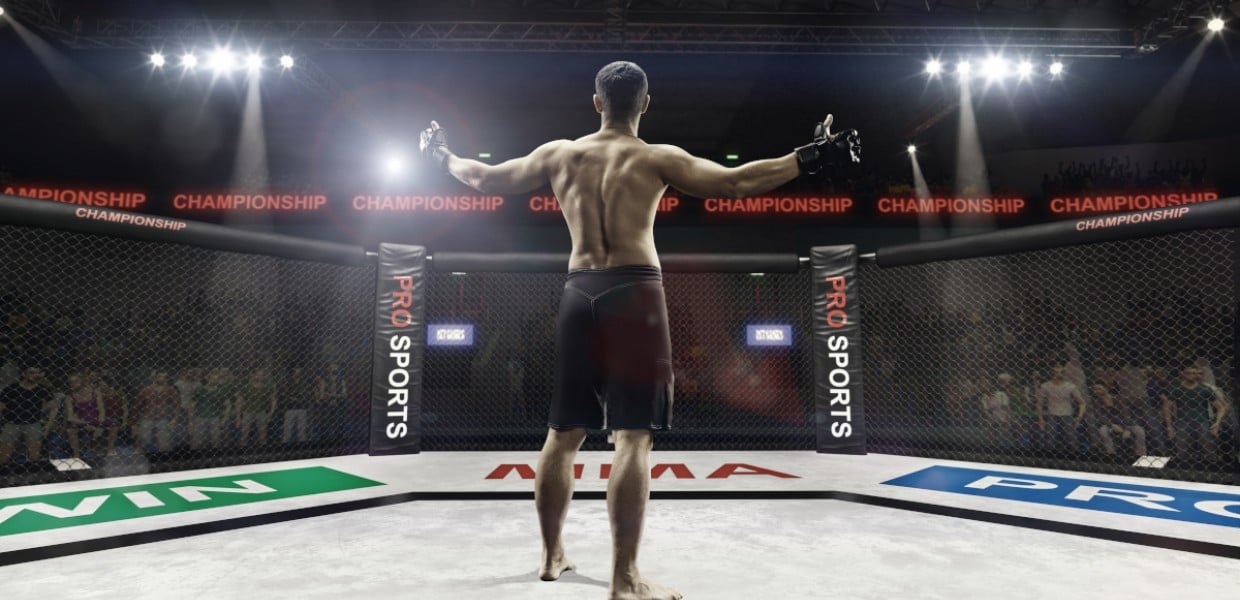 On 27 October 2018, an historic and unprecedented transaction involving the Ultimate Fighting Championship (UFC) and Singapore's One Championship was finalised1, with the UFC "trading" former flyweight champion and pound-for-pound great Demetrious Johnson for One Championship's retired welterweight champion Ben Askren.
This article aims to dissect this deal and the rich history of "trading" athletes in professional sports, before assessing what legal and cultural implications -- if any -- it may have for the MMA industry at large.
It first provides an overview and history of the trade "systems" that occur in league sports in the United States, underscoring that today, these trades are highly regulated by virtue of collective bargaining agreements, the relevant players association/unions and (historical) litigation brought against management (readers already familiar with this background may want to skip immediately to the next section).
It then briefly describes the major differences between single entity MMA "leagues" and their stick-and-ball counterparts, spotlighting the various legal and extra-legal tools that the UFC has traditionally used to restrict fighter mobility and depress fighter wages.
It finally provides an overview of the Johnson/Askren deal, highlighting its essentially ad hoc and fact-specific nature, before assessing the impact that this deal is likely to have on the MMA industry. It concludes that although it may lead some promotions and fighters to explore the "trade" route in limited circumstances, its overall impact will likely be negligible.
"WELL PAID SLAVES": A BRIEF HISTORY OF THE TRADE SYSTEMS IN UNITED STATES LEAGUE SPORTS
The practice of "trading" professional athletes was spearheaded by major league sports in the United States and was initially as simple as it sounded. Dating back as far as the late 19th century, the National Basketball Association (NBA), the National Hockey League (NHL), the National Football League (NFL) and Major League Baseball (MBL) exercised rigid control over their industry's labor market by virtue of reserve or option clauses and the player draft, 2 which allowed them to essentially treat players as commodities lacking basic economic freedoms, to be bought and sold according to the whims of teams' owners.3
BASEBALL'S RESERVE CLAUSE
Professional baseball's reserve clause, which was introduced in 1879 and eventually was emulated by the managers of professional basketball, football and hockey, provides an instructive example of how this "pure" trade system worked. The clause was included as a term of the standard players contract, and gave teams the ability to unilaterally renew a players contract in perpetuity, ultimately preventing them from becoming free agents and accepting bids from other teams (either within the MLB or in rival leagues), and only allowing players to move to different teams where their original team "traded" their contract. This was done under the veneer of maintaining competitive balance in the league, so as to prevent the wealthier teams from signing all the best players at a premium, but it doubled as a means of drastically restricting player mobility and labour costs. As explained by Foley:
[a]ll players must sign a Uniform Player Contract which provides inter alia that if a player does not sign a contract by the first of March with the club that he played for during the previous season, the club may unilaterally renew his contract and cut his salary no more than 20%. Any renewal contract will contain another renewal provision, thus binding the player perpetually. If the club so desires it may assign the player's contract to any of the other clubs . The teams have also agreed that no club may negotiate with a player reserved by another club. Finally any player who fails to report to his club is placed on a Restricted List, and if he violates his contract of "Reservation" he is placed on the Disqualified List.4
CURT FLOOD AND THE MLBPA
In perhaps the most infamous trade enabled by this system, St Louis Cardinals' veteran outfielder Curt Flood's contract was sold to the Philadelphia Eagles as part of larger "four [players] for four [players]" deal struck between the two teams in October 1969.5 Flood appealed to the MLB's Commissioner Bowie Kuhn, stating in a letter that the trade system treated him like a "piece of property to be bought and solid irrespective of [his] wishes" and violated his human rights.6
Kuhn declined to intervene and give Flood -- who had at that time played for the Cardinals for over a decade -- the opportunity to field offers from other teams. With the backing of the newly invigorated Major League Baseball Player's Association (MLBPA), Flood challenged the reserve clause (and, by extension, the oppressive trade system) in the United States Supreme Court, on the grounds that it was an restraint of trade in violation of the Sherman Antitrust Act.
Flood's antitrust lawsuit was unsuccessful, with the Supreme Court ultimately affirming that baseball was the subject of an aberrant antitrust exemption first created in a 1922 case and upheld in 1953.7 However, in presenting their defence to an inferior court, the owner's lawyers had represented the reserve clause as a "labor dispute over a mandatory collective bargaining issue",8 paving the way for it to be challenged by the increasingly organised and militant MLBPA in subsequent arbitration proceedings and collective bargaining negotiations.
This would ultimately pave the way for the elimination of baseball's "pure" trading system and the rise of less oppressive and more nuanced forms of inter-league player mobility that exist today.
COLLECTIVE BARGAINING, ANTITRUST AND THE RISE OF LIMITED FREE AGENCY IN LEAGUE SPORTS
Like in baseball, players and their associations in basketball, football and hockey challenged the respective reserve and options clauses in their contracts and by extension the trade system. Through various antitrust cases (it should be noted that unlike baseball, antitrust law applied to these sports just like other forms of "interstate commerce"), collective bargaining negotiations, strikes and lockouts, the players and their owners created complex sets of rules governing player mobility. These rules, implemented in the sport's respective collective bargaining agreements and uniform player contracts, purport to balance players' freedom to sell their services with teams' interests in maintaining a degree of continuity and stability in their rosters, whilst also maintaining competitive balance across the league.
At a high level, the major restraints that can be said to mediate player mobility within the MLB, NBA, NFL and NHL, and retain a diluted trade system, are as follows:9
The Draft: the draft is created to divide the rights of new players amongst the league's clubs, with a mind to allowing the less (competitively) successful teams the first "pick" of the prospects. Players have little choice over which team they will play for.
Uniform Player Contract: all new players must sign a uniform players contract, which grants the teams exclusive rights over the player for a set number of years (e.g. in the NFL it is five years for first round draft picks). Over this time, these players can be traded.
Free Agency: players become restricted or unrestricted free agents after playing out their initial uniform player contract (or a subsequent contract), allowing them to sell their services to other teams within the league. Where a free agent is "restricted", their original team may have the right to match any offer that the player receives. In other cases, teams who lose players may be entitled to forms of compensation, which may also impact player mobility.
THE MMA INDUSTRY AND THE "LEAGUE" MODEL
Whereas trading players amongst different club is a long-established practice in the team sports discussed above, in combat sports -- and in MMA specifically -- there is no such tradition. This state of affairs is attributable primarily to the fact that MMA is an individual sport, and promotions operate independently of one another without being subject to an overarching governance structure, as set out below.
MMA AS "THE WILD WILD WEST"
Although major MMA promotions like the UFC, Bellator and Combate Americas are often referred to as "leagues",10 the means by which these companies operate bears little resemblance to the traditional forms described above.
In "stick-and-ball" sports, players are signed to individual teams, which operate subject to the control and supervision of the overarching league which administers competitive architectures like the regular season and the play offs. The relevant players association/union represents, and intervenes to protect, players' interests, whereas collective bargaining agreements stipulate minimum pay and conditions and revenue sharing arrangements, whilst facilitating inter-league player mobility via trades or limited free agency.
By contrast, no central governing body exists in MMA, with fighters typically signing long-term exclusive contracts with a single MMA promotion without the benefit of union/association-negotiated minimum conditions11. Whilst state athletic commissions provide a degree of oversight with respect to fighters' health and safety,12 promotions exert virtually unmitigated control over matchmaking, titles and (to a lesser extent) fighter-rankings, often prioritizing fights that are unjustifiable on meritocratic grounds, but are the most financially lucrative.13
This "league" model was described as follows in a statement made by Bellator MMA to the United States Congress in 2017:
Under the MMA league system, each contracts with and promotes its own athletes, with titles being held and ultimately passed along within the league. Each league also has its own events, media distribution deals, partnerships and sponsors. Rarely, if ever, do the major MMA leagues share these relationships with other competitor leagues, resulting in each league independently operating in its own "silo" so to speak.14
THE UFC, COERCIVE CONTRACTS AND FIGHTER MOBILITY
The "league" model was popularized by the UFC, which is to date the largest and most successful MMA promotion in the world. The UFC achieved its dominant market share -- some estimates have the UFC receiving upwards of 90% of all revenue the industry generates15 -- by requiring its fighters to sign restrictive contracts and buying up competitor-promotions, most notably Japan's Pride FC (purchased in 2007) and the California-based Strikeforce (purchased in 2011).16
Until 2014, when the UFC was named as a defendant in an antitrust lawsuit filed by former fighters Jon Fitch, Cung Le and others (discussed below),17 the promotion used its dominance to apply a proverbial "chokehold" on the MMA labour market.18 Having bought out all major competitors by 2011, elite-level MMA fighters not already under contract with the UFC were effectively faced with the choice of signing with the market leader on the terms offered to them, or fading into relatively obscurity by fighting in regional promotions.19
Once competing the UFC's roster, a multitude of clauses in the UFC's standard form contract -- which became public record in 201320 – manifestly restricted fighters' economic freedoms and mobility, including the "champions clause" (which automatically extends a fighter's contract if they possess a title), the "retirement clause" (which allows the UFC to hold the rights of retired fighters in perpetuity), the "sponsorship clause" (which prevented fighters from displaying sponsors that are in conflict with the UFC's interests, and was a precursor to the much-maligned Reebok Partnership21), an ancillary rights clause (that gave the UFC the "unrestricted right" to exploit a fighter's name, image and likeness in perpetuity), and various "tolling provisions" that extended the duration of a fighter's contract where they were injured or otherwise unable to compete.22
The UFC also used "scorched earth"23 business tactics to undermine fighters' efforts to access the free agency market, including by pressuring them to sign contract extensions before their original agreement expired, and making reprisals against them where these extensions were not accepted. As Jon Fitch testified in the aforementioned antitrust suit, where a fighter made his or her intention to "fight out" their contract and accepts bids from other promotions, the UFC would retaliate by "freezing them out" (by refusing to offer them fights for the maximum permissible time under the contract), under-promoting their fights or matching them up unfavourably, effectively working to undermine their value before they tested free agency.24
Until recently then, fighters were placed in a position where (a) there was little in the way of a market for their services outside the UFC and (b) if they wanted to test that market, they put themselves at risk of reprisals from the promotion. This put fighters in a similar situation to baseball players under the reserve clause some 50 years ago -- though as discussed below, things are beginning to change.
A FREE(R) MARKET: THE RISE OF COMPETITOR PROMOTIONS
Since the antitrust lawsuit was filed in 2014, there has arguably been a softening of the UFC's approach to fighter relations.
Whilst the promotion has implemented oppressive measures, such as restricting fighters' ability to engage sponsors through its exclusive apparel partnership with Reebok and partnering with the United States Anti-Doping Authority to implement year-round random drug testing (both introduced in 2015), it has also taken a less aggressive approach25 to fighters seeking to leave the UFC for greener pastures.
This has allowed competing promotions, like the Viacom-owned Bellator MMA company, the Professional Fighters League and Japan's Rizin Fighting Federation, to expand their rosters, with high profile UFC fighters like Rory MacDonald (former welterweight title challenger) Chael Sonnen (former light heavyweight and middleweight title challenge), Benson Henderson (former lightweight champion), Kyoji Horiguchi (former flyweight title challenger) and Quinton "Rampage" Jackson (former light heavyweight champion) signing lucrative deals with these competitors.
This more relaxed approach has occurred as the UFC takes a more explicitly entertainment-centric approach to its operations, looking to extract maximum value out of known "draws" at the expense of maintaining its monopoly on talent.26
THE DEMETRIOUS JOHNSON / BEN ASKREN "TRADE"
The "Trade" Explained
Strictly speaking, a trade occurs when one athlete's contract is assigned from one team (or in this case promotion) to another.27 Although the UFC's standard form contract allows the promotion to assign a fighter's contract to a third party, the transaction that occurred between the UFC and One Championship, whereby the promotion "swapped" athletes, was not a trade in the conventional sense.
Rather the two promotions agreed to mutually release the two fights from their respective (exclusive) contracts, so they could sign new agreements with the other promotion. In this sense, rather than one contract having continuity across two separate entities (i.e. like in the NBA where a Chicago Bulls player is traded for a Los Angeles Lakers player, with the terms of their original contracts remaining in effect with the players' new teams), the agreement was for two contracts (Demetrious Johnson's UFC contract and Ben Askren's One Championship contract) to be terminated and replaced by new agreements.
The background behind the transaction is complex and has been covered in detail elsewhere28, but it's important to note that its catalyst was Johnson -- considered by many to be one of the great fighters in MMA's history -- losing his UFC flyweight championship to Henry Cejudo at UFC 227. After the loss, and having had an acrimonious relationship with UFC management29 for some years despite his unparalleled success in the octagon, Johnson approached his manager Malki Kawa and asked if he could inquire about being released so he could compete in One Championship, where his head coach works as an executive.
Kawa approached the UFC with idea to "trade" Johnson for Askren, One Championship's undefeated welterweight champion who had retired in November 2017 and was considered by many to be the best 170-pounders to have never competed in the UFC. Whilst initially resistant, the UFC eventually agreed to the idea, ostensibly using Johnson's departure as a proxy to close down the 125-pound division altogether, which it had been considering doing for some time due to its low profitability.30
Assessing the Implications: Trend Setting or Right Place, Right Time?
Whilst there has been some discussion31 about the potential for the Johnson/Aksren deal to set a new precedent in the industry and figures such as Bellator MMA's president Scott Coker have expressed interest in exploring the "trade" route in the right circumstances, so far there has been smoke rather than fire. Given the highly fact specific nature of this transaction, there is little to indicate it will become a common feature of these promotions' business -- much less a staple like in the league sports discussed earlier in this piece.
Rather, the Johnson/Askren deal is more of a symbol of the changing legal and cultural landscape of the MMA industry. Specifically:
The UFC changing its business practices in response to allegations of anticompetitive behaviour, in particular by taking a softer approach to fighters wishing to test the free agency market or, as in Johnson's case, wishing to leave the promotion;
The related rise of genuine competition for fighters amongst MMA promotions, particularly in Asia; and
The UFC taking a more profit-oriented approach to MMA as an entertainment product at the expense of maintaining its monopoly on talent, marking a deviation from its role as custodian/torch-bearer of the sport32.
Related Articles
Author
Jacob is a freelance writer and recent JD graduate from Melbourne Law School. He will be commencing as a trainee lawyer in 2019 for Arnold Bloch Leibler, in their Workplace Advisory team. In the interim, he is working on a book analysing the economic relationship between the UFC and its athletes, as well as academic papers on the influence of technology on legal education, and the labour dimensions of the "gig economy". You can view more of his writing at jacobdebets.com.
This email address is being protected from spambots. You need JavaScript enabled to view it.