Why WADA should reclassify cocaine as a "specified substance" - the inequitable case of José Paolo Guerrero
Published 19 December 2018 By: Paul J. Greene, Roy Vermeer
Since the first World Anti-Doping Agency (WADA) Prohibited List was published in March 2004,1 the presence of cocaine in an athlete's urine sample has been deemed a more serious offense than the presence of other substances of abuse like cannabinoids or narcotics. While cannabinoids and narcotics have always been classified as "specified substances", or ones less likely to be used as a performance enhancer, cocaine has always been classified as a "non-specified substance", or one more likely to be used as a performance enhancer.2 As a "non-specified substance", cocaine is in the same category as anabolic steroids, testosterone and Human Growth Hormone.3 Cocaine is categorized as a non-specified substance despite studies done on the potential effects of cocaine use by athletes have shown repeatedly that cocaine use does not improve performance4 and anecdotal evidence from the jurisprudence that suggests cocaine is not being used by athletes to improve performance. 5
The classification of cocaine as a non-specified substance has significant consequences. The minimum sanction for a "non-specified" substance, such as cocaine, is 12 months (save for the extremely rare instance where an athlete's period ineligibility is eliminated because the athlete establishes that he or she bears no fault for the presence of cocaine in their body (i.e. the case of tennis player Richard Gasquet who tested positive for cocaine by kissing a woman).6 The minimum 12-month sanction for a cocaine positive (under the No Significant Fault or Negligence provision under the WADA Code (WADC)) is in stark contrast to the minimum sanction for a cannabinoids or narcotics positive, which is a warning. Moreover, despite the above noted issues an athlete cannot challenge the classification of cocaine as a "non-specified substance". Article 4.3.3 of the WADC provides:
4.3.3 WADA's determination of the Prohibited Substances and Prohibited Methods that will be included on the Prohibited List, the classification of substances into categories on the Prohibited List, and the classification of a substance as prohibited at all times or In-Competition only, is final and shall not be subject to challenge by an Athlete or other Person based on an argument that the substance or method was not a masking agent or did not have the potential to enhance performance, represent a health risk or violate the spirit of sport.7 (emphasis added)
This article puts forward the authors' position that WADA should reclassify cocaine as a "specified substance". Specifically, with regards to the sport of football, it examines:
The case of José Paolo Guerrero;

Other Court of Arbitration for Sport (CAS) cases that have wrestled with the sanctioning of footballers with the presence of cocaine in their body (Jobson Leandro Pereira de Oliveira; Brian Fernández; José Enrique Angulo Caicedo; Adrian Mutu); and

Why WADA should introduce a new category of "substances of abuse" to deal with recreational drug use.
Get access to this article and all of the expert analysis and commentary at LawInSport
Already a member?
Articles, webinars, conference videos and podcast transcripts
Related Articles
Author
pgreene@globalsportsadvocates.com | @greenesportslaw
Paul J. Greene, Esq. is a U.S. based sports lawyer who protects the rights of athletes in disputes, including those charged in anti-doping proceedings. Paul has been recognized by Chambers USA and Super Lawyers as one of America's top sports lawyers.
This email address is being protected from spambots. You need JavaScript enabled to view it.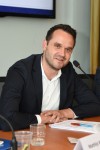 Lawyer, FIFPro
Roy Vermeer is working in the legal department of FIFPro, the World Footballers' Association and provides legal advice to the 66 national players' union affiliated to FIFPro. He is currently also a member of the FIFA Players' Status Committee and the FIFA Dispute Resolution Chamber.
This email address is being protected from spambots. You need JavaScript enabled to view it.