The future of African club football - CAF Club Licensing System and Stadiums Regulations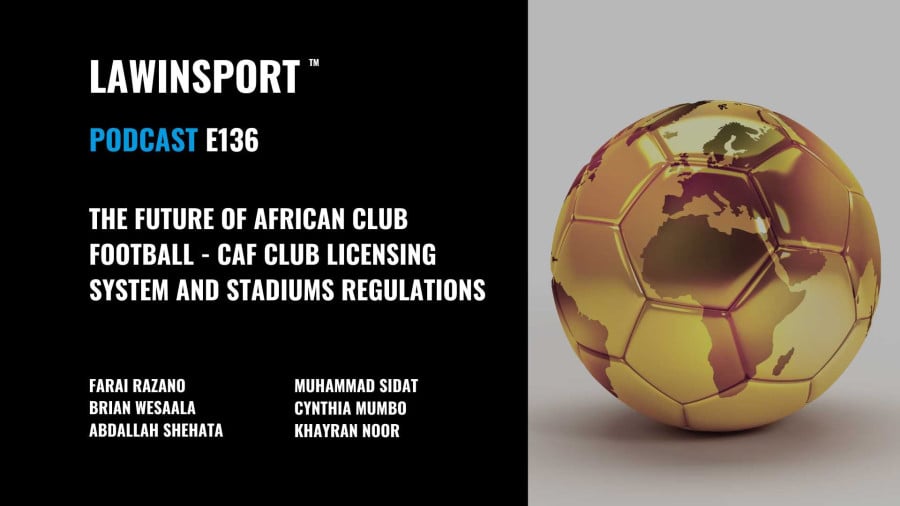 Monday, 12 December 2022

In July 2022, after a delay due the pandemic, the CAF Executive Committee adopted a new regulatory framework for the CAF Club Licensing System and Stadiums framework. The new regulations are the first major reform of CAF's club licensing system and stadiums since first introduced in 2012, which include regulations on men's club licensing, women's club licensing and stadium regulations.

We are joined by the following speakers:
Farai Razano, Attorney, Razano Attorneys

Brian Wesaala, Founder & Project Leader, Football Foundation for Africa

Abdallah Shehata, Attorney at Law, Sportiva Law

Muhammad Sidat, Head of Professional Football, Confederation of African Football

Cynthia Mumbo, Founder & CEO, Sports Connect Africa

Khayran Noor, Program Director, LawInSport

Sean Cottrell, CEO, LawInSport
The interview can also be viewed on our youtube channel here.
In this podcast, our expert panel of speakers discuss:
The major changes and reforms adopted

How CAF plans to manage and oversee the implementation of the regulations

Do clubs have the resources to comply with the regulations?

The impact on African football

Implementation strategies to be adopted by clubs
We thoroughly enjoyed the interview and took a lot away from it. We hope you do the same.
The host is Sean Cottrell (@spcott), founder and CEO of LawInSport.
For more sports law news, commentary and analysis go to LawInSport.com
Upcoming Events: www.lawinsport.com/sports-law-events
LawInSport Recruitment: https://www.lawinsport.com/careers/recruitment-services.
LawInSport Academy Mentoring Scheme: www.lawinsport.com/announcements
Follow us on Twitter @LawInSport and Sean at @spcott.
Listen to podcast on:
Soundcloud: https://soundcloud.com/lawinsport
iTunes: https://podcasts.apple.com/gb/podcast/lawlnsport-sports-law-podcast
Spotify: https://open.spotify.com/show/7zNCAlkXxL2XEfypDApye8?si=nViULnknQeSAKSdXKUL2kA
LawInSport