The impact of COVID-19 on procedures in Sport Disputes Resolution - First Report 12 June 2020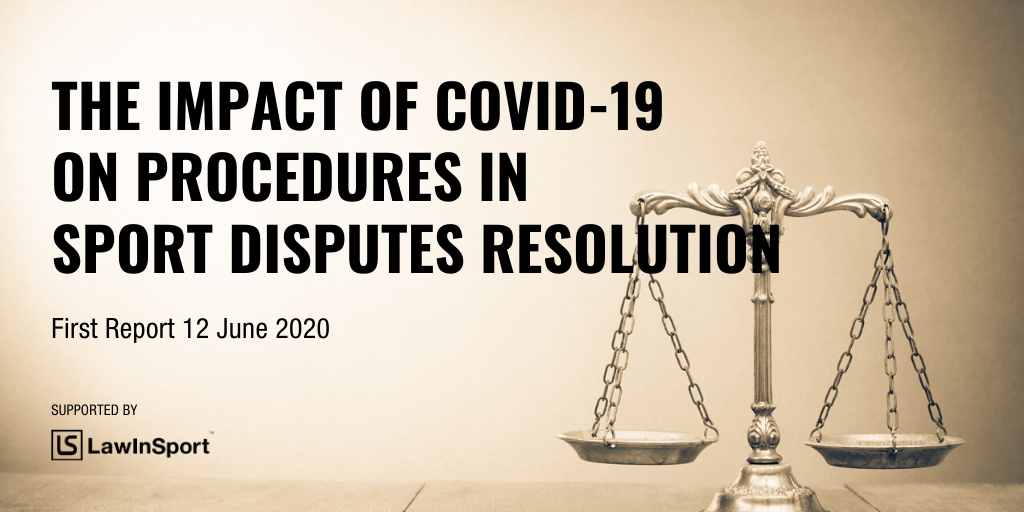 Friday, 12 June 2020.
(1) Introduction
An Ad Hoc Working Party of experts in Sport Disputes Resolution ("AWDRES-CV19") came together in early May 2020 to consider the impact of COVID-19 on Dispute Resolution in Sport as a matter of urgent priority. Centered on London but drawn internationally, it circulated an initial Consultation Paper on 7 May 2020 and, after receiving numerous written responses, convened a first video-conference attended by some 60 practitioners and association representatives on 19 May 2020.





The next AWDRES-CV19 video conference, to discuss the issues addressed in this Report, will take place on 26 June 2020 at 14:00-15:30.

Please click here if you wish to participate.




This first report (you download PDF here) - prepared with the support of LawInSport and on the basis of the consultation exercise so far involving those listed or to be listed as referred to in Appendices 1 and 2 - addresses problems of remote dispute resolution which have been thrown into sharp relief by the social isolation and other restrictions imposed as a result of the health crisis; canvasses different and international approaches to such problems; and seeks to provide some guidance as to best practice in the current conditions, in the form of draft protocols for remote hearings (whether arbitration or not) and mediation.


The working party elicited numerous, personal and unofficial views on and around its principal topics. There were considerable differences between the contributors but also important common ground. This first report seeks to consolidate a selection of contributions in a way which we hope will stimulate further thought and discussion. But it comes with this 'health warning': it does not provide a unanimous solution to the significant procedural issues which now squarely face sport disputes resolution.


The report therefore, cannot and does not seek to set a uniform blueprint for the resolution of sports disputes or propose a single solution for all the issues resulting from or highlighted by the pandemic. Different sports, countries and arbitration bodies have their own practices and procedures and many have issued recent guidance, to some of which we have referred to in Appendix 3.


The work done in compiling this report was allocated to and carried out by various individual members of the working group. No particular views expressed should be treated as unanimous nor should any be allocated to all or any particular members. All of the views expressed would benefit from further consideration and discussion and none can be regarded as hard-and-fast or precise statements of principle, practice or fixed preference.


However, we do share a belief that collaboration and the sharing of standards, values and information between those involved in the area should tend to improve the fairness and efficiency of the practices and procedures which are now necessary. We also believe that the sports community worldwide (including governing bodies, leagues, clubs and athletes) needs and deserves to understand, and to be able to prepare for and take a full part in, the disputes resolution processes which concern them, acknowledging the stresses and pressures which we face but also taking advantage of the experiences which experts in the field are gaining.
Table of Content
(3) Problems for sports dispute resolution 6
(4) Dispute Resolution - international comparisons 17
(6) The conduct of remote hearings 34
APPENDIX 1 - Members of the Working Party 44
APPENDIX 3 - Some of the Guidance issued during the COVID-19 pandemic 48
APPENDIX 4 - A draft DRS PROTOCOL 50
APPENDIX 5 - A draft Mediation Protocol 63
(2) Background
The COVID-19 health emergency, surfacing in late 2019, has had a massive effect on all areas of life, including sport and dispute resolution generally, since at least the middle of March 2020 if not earlier. Athletic competitions, the lifeblood of the sports industry, have almost all been suspended or cancelled and, while some may be cautiously resuming (albeit without live spectators and 'behind closed doors'), there remains considerable uncertainty about how sports can and will be conducted safely for the foreseeable future.


The severe financial impact of the pandemic on sport, and the contractual and regulatory issues arising from the postponement or cancellation of competitions, are also likely to cause an increase in sports disputes. Sports dispute resolution – by disciplinary proceedings, arbitration and mediation - is carrying on during the crisis and, as with other parts of life, is overwhelmingly likely to be conducted by 'remote' video hearings, which pose various challenges for all those taking part.


Practitioners in dispute resolution generally have, in response to the COVID-19 crisis, identified a number of points of broad interest, including the following:
The additional burdens on parties and lawyers without available human support or office facilities, and with responsibilities or problems (such as personal health and childcare) pose challenges to which tribunals must be sensitive and other alternative methods of resolution must be explored, especially mediation which has been proven in common law countries to be the most effective settlement method between consenting parties.


Feedback so far suggests that the concentration required for a remote hearing means that it can be more tiring for those participating than a traditional in-person hearing. Parties, and even counsel, suffer additional stress from being alone in an unfamiliar remote or "virtual" setting. Therefore, it is important, among other things, to arrange advanced guidance and test sessions with the equipment to be used to conduct the hearings before they take place.


The usual rhythm of simultaneously absorbing and analysing information can be displaced, so that analysis and consideration is key both before and after the hearing. The experience of perceiving the 'pieces falling into place' during a live hearing is not so obvious in a 'remote' hearing. The benefits of other staged resolution processes, in particular mediation, have become very obvious, and the parties value their control over the settlement of their dispute even more.


In arbitration, there also needs to be pro-active flexibility and active management by tribunals in consulting with parties and counsel regarding directions - pleadings, witness statements, document bundles and arguments, all of which need to be well-organised so that the hearings and deliberations go as fairly and smoothly as possible. Confidentiality and security of the means of communication are especially important and parties and tribunals often need to communicate with each other remotely but privately, both while conducting a hearing (for example, lawyers with clients, or panel member with panel Chair) and before and after the evidentiary hearing. The GDPR and other relevant confidentiality and privacy legislation may have a bearing on how this confidentiality is assessed and must proceed.
Some of the procedural issues having to be addressed now existed well before the pandemic; and some lessons being learnt may be of use after it has receded. To uncover and elucidate these issues and the range of possible solutions to them, the working party used three main methodologies.
First, it gathered as much by way of experience and anecdote as might assist from arbitrators, mediators, practitioners and others involved in dispute resolution, not only during the crisis but also as regards to the technologies and methods already in use and which could be expanded and refined in current conditions.


Secondly, it researched and analysed rules and guidelines issued by associations and institutions around the world, in particular, to consider common ground and assess the differences, whether those organisations were sports organisations or commercial dispute resolution organisations.


Thirdly, it sought, using the knowledge above gained, to formulate and debate basic draft protocol guidelines to be published, disseminated, and available widely for consideration by parties, associations and individuals, and arbitrators in discussing and deciding on the appropriate procedure for any particular dispute or proceeding which may arise.
(3) Problems for sports dispute resolution
Our consultation identified a number of general problems caused or highlighted by the COVID-19 pandemic so far. These related to:
attitudes to formal dispute resolution among sports participants
how the various rules should be treated and enforced at such a critical and difficult time
the implications for current and possible processes, including mediation
the psychology of parties and lawyers, and
the need to educate the sports public as to how things can and should work.
The initial consultation process: We began by considering distinct stages in sports dispute arbitrations including disciplinary and governance-related (not commercial) proceedings
generally and before the issue of proceedings
urgent cases and applications
preparations and directions
evidence, documents and witnesses, and
the conduct of remote hearings.
Examples of some of the initial questions and views regarding each stage were broadly distributed to spark reactions and comments included the following:
Should sports tribunals place greater emphasis on legal certainty and settlements, and what is the best way to do that?
If possible high-level principles to encourage mediation and settlement should be encouraged to avoid the risk of an adverse or unfair advantage as a result of COVID-19 or to generally encourage cost-effective and efficient resolution of disputes in a timely manner.


To what extent should mediation become compulsory and/or should an ability to demonstrate good faith efforts to resolve matters without recourse to the tribunal be a precondition of the tribunal accepting a case for hearing (or at least, to what extent should a refusal to mediate potentially attract sanction) given the financial constraints facing all aspects of nearly all sports?
Mediation is under-used in sports cases, and there is still a perception that it may not work well in many sporting scenarios. Indeed, (a) some consultees either had no experience of mediation in a sporting context at all, or no positive experience, and (b) it became apparent that in many jurisdictions the concept of mediation, as understood in common law jurisdictions, was alien. This requires education – it does not delay or add to expense in most cases. It may make sense to ask parties to indicate what efforts have been made, without making it a jurisdictional hurdle.


How do you deal with parties who are not equally resourced when it comes to preparing and presenting their cases?
Fundamental concepts such as access to justice, the right to a fair hearing and how to achieve these in current times need to be considered. Tribunals will need to tailor e-directions, and conduct of video hearings, to the problems which one side or the other or both, may be facing in these conditions. For example, instead of ordering the parties jointly to submit something (e.g. the hyperlinked e-bundle), tribunals should consider the resources each party has and decide whether to order the party with better resources to prepare the bundle before submitting it to the other for agreement.


Does social distancing make it easier or harder to achieve proactive case management?
Without any in-person meetings, parties may need more time for particular or all steps, e.g. proofing witnesses, searching for documents, organising the interpreters, consulting with lawyers or experts etc. The key thing is for the tribunal to communicate, understand the specifics and then monitor and supervise.


When CV-19 is relied upon as an excuse for failing to comply with a direction must explanations be taken at face value? Should there be a standard approach to dealing with applications for adjournments or delays/non-compliance with directions as a result of on CV-19 excuses?
Each situation is likely to depend on its own circumstances, and needs to be addressed with appropriate understanding and/or firmness. Tribunals need to be appropriately sympathetic to the difficulties created by the present crisis, but also, alive to the danger of them being used as a pretext. In assessing the validity of any purported excuse, the tribunal will need to have in mind that it may be asking parties or their representatives to disclose matters that are highly sensitive and intensely personal and that such information should only be required where the tribunal is satisfied that it is reasonably necessary and proportionate to do so.


Do/should sports tribunals have the power to grant substantive interim relief, such as restraining a party from breaching a contract or requiring a party to pay a salary on time and if so, what procedures are there/should there be for applying for interim relief?
This depends on the rules of the various bodies conferring jurisdiction, which should (but do not always) expressly make provision for these powers. If possible a single arbitrator, able to determine the claim or some particular relief within a few weeks if not days, should be appointed by a neutral body. A tribunal may be invited to rule on its own jurisdiction; where it rules it has no jurisdiction to determine the application, this might remove a hurdle to the parties from applying to the court which should however always be a last resort.


Should sports tribunals be more prepared to deal with matters on "fast tracks" and perhaps without the need for a hearing?
Yes, in appropriate cases – the tribunal should have an early procedural conference with the parties to work out what is needed and a determination on the papers should not always be seen as the exception.


Does sport need a common "platform" for remote hearings?
Should pragmatic issues be shared in dealing with video hearings so there is a common practice and consistency to ensure parties are given a fair remote hearing (especially where there is remote witness evidence)? Each sports body may have its own reasons for choosing a particular video hearing platform but the sharing of information and experiences is to be encouraged – eventually one platform may emerge as the leader.


Where the hearing is conducted electronically, how is confidentiality for parties maintained and should it be listed for longer than a traditional in person hearing?
Email groups and other ways of separating out parties to communications need to be considered and there will likely be at least some delays relating to technological malfunction.


What do video hearings lose, as compared with in-person hearings?
The sense of contact, support from those on "your side", perceiving the whole room and picking up the nuances, have all been regarded as important in achieving the right result in the most efficient and effective way. The artificial remote environment causes particular strain - the degree of concentration required may be greater and that needs to be taken into account in setting the length of and sitting periods in the day. Parties and tribunals have to adjust to what they say and assess in order to still reach a fair and correct result.


Where CV-19 related legal issues are determined in the course of considering a live dispute, should the tribunal consider a change of practice in relation to the extent to which and the speed with which such determinations are publicised?
It would be useful if points of principle determined in live cases could be publicised promptly although thought will have to be given to how confidentiality of other aspects of the proceedings is preserved.


Will COVID-19 lead to a more inquisitorial approach?
It may do. All dispute-resolution methods need to adapt to the current circumstances and this may include a greater tendency towards mediation and then independent inquiry instead of or before traditional arbitration.


Will some of these changes be permanent and will we learn how to do things better?
There are likely to be useful experiences, e.g. the discipline needed in remote hearings, cutting down on the rounds of evidence and submission.
The views then expressed in written feedback and at the videoconference on 19 May 2020 were diverse. A recording of that first videoconference is being made accessible online and a further videoconference is being convened for consideration and debate in respect of this First Report.


One overarching point made at the first videoconference related to the strong interest in cases proceeding quickly and efficiently. Parties often want a resolution and do not want litigation "hanging over them"; but the ultimate objective is not merely reaching a swift or cheap outcome, but also, ensuring that an outcome is reached after a fair and accessible process. The diversity of different procedures in sports proceedings around the world meant that sports participants who might become involved if different disputes, domestic and international, within a particular federation or not, might not have the same understanding and expectations of the various procedures.


Bearing in mind that what is the appropriate course in any particular proceeding must always be determined in light of the need to ensure due and fair process requirements are met and, if appropriate, that a final and binding settlement or award issues. The members of AWDRES-CV19 generally believe that it would assist the sports community at large to have available an illustrative draft Protocol for Dispute Resolution in Sport with explanatory notes based on our consultation (a "DRS Protocol") which we have therefore appended (at Appendix 4 to this Report).


This draft DRS Protocol seeks to draw the attention of sports parties and lawyers to concepts and factors which may be taken into account in order to facilitate the sports dispute resolution process. It must be emphasised that the guidelines it encapsulates are not intended as prescriptive nor of course to change or oust in any way the particular rules of different institutions or associations which govern their proceedings. Similarly, how a case should be managed, and the decision of the tribunal should be based on the individual aspects of the case presented.


However, it is considered that, in the light of the social isolation, technological demands and other aspects of the current COVID-19 crisis, and their impacts in the future, consideration of these protocols may assist parties, mediators and tribunals to take the more flexible and cooperative approach which will best serve for the final and binding resolution of sports disputes.


Among other points deserving emphasis, are questions of whether the dispute can and should be settled between the parties, separately from any proceedings, with the assistance of a neutral trusted mediator. Historically, this is a far more familiar and successful method in common law than in civil law jurisdictions, and is discussed in a separate section of this report below.


Procedural highlights Two aspects to highlight in legal proceedings relate to (a) the availability of fast track and interim procedures and (b) whether a virtual hearing in arbitrations and disciplinary proceedings is necessary and appropriate in the case. This latter question might include considering this non-exhaustive list:
The nature of the claims (for example in fraud claims the evaluation of the evidence is often likely to be key)
Whether the case involves multiple parties (which can make running a virtual hearing more complicated, particularly if there is cross-examination by multiple parties), many witnesses and/or expert evidence) and a need for much translation/interpreting
The volume of documents and electronic or 'E-Bundles' and whether the parties have the resources (i) to prepare electronic bundles and (ii) to use them at a hearing (bearing in mind that this requires access to more than one computer or screen);
The availability of parties, advocates and the tribunal to have access to necessary equipment (e.g., sufficient computers/screens, a quiet space from which to attend, and competence and comfort in operating the selected online platform).
Whether any party, counsel or tribunal members are in at-risk groups for catching the COVID-19 virus or have a valid concern about conducting a hearing in person.
These aspects during the time of COVID-19 have already been identified by courts in many jurisdictions as raising equality and diversity issues, given widespread factors such as lack of childcare or other care responsibilities. They also raise practical concerns - for example, families with children at home may not have a quiet space available and younger members of the legal profession may be sharing accommodation with others.


If a party considers that a remote hearing is unworkable and may be prejudicial, then this should be raised with the tribunal without delay. This might be done either when invited to make representations on directions or by way of an application for an adjournment if a hearing is already listed. Parties and tribunals will need to be conscious that such applications and/or representations should provide sufficient information to enable the tribunal to understand the difficulties (and ensure parties do not unreasonably seek to delay), but that parties should not be forced to put in evidence explaining, for example, the details of their childcare arrangements in order to justify extensions.


The same considerations will apply if parties seek an extension of time. In both cases, a fair balance will need to be struck and rigidity avoided. However, a basis for seeking a delay in the proceedings to accommodate an in-person hearing when legal rules of social distancing, travel and separation might ease, cannot simply be that proceeding remotely or in the time of pandemic is hard. This is a difficult situation for all concerned and there must be something specific to a particular case or party that makes proceeding particularly prejudicial, to demonstrate an appropriate basis for a hearing continuance or a guarantee of an in-person hearing and so to delay proceedings until such time as in-person hearings are permissible given the nature of the case.


Thus, for example, some participants - tribunal members and counsel, may be able to meet without quarantine at a certain location earlier than others, as hearing locations relax travel and social distancing requirements at different times - but the problems in "hybrid' hearings – where some participants can assemble together in a room, but not others, are obvious and such a system has not yet been properly tested.


As for the linked question regarding the need for fast track procedures and interim orders, any system of alternative dispute resolution should genuinely offer these procedures, in the way which courts can, if it is to be fair and effective, especially in generally difficult times. That is particularly the case in sport because sport is, by its nature, an area of activity which often requires speedy resolutions and determinations.


As a result of the COVID-19 crisis there may well be more issues arising that will require interim relief remedies. Obvious examples are players not being paid on time or at all, or people ripping up contracts or walking out of contracts where to wait for the full normal procedures under a sports body's governing rules to get to a hearing would not provide the parties with a sufficient or appropriate remedy.


As always, the particular sports governing body's rules are the first port of call. Most provide for provisional measures and expedited directions, but usually (for example the CAS and The FA) there must first be a pending substantive filing. Basically, what is needed is a procedure whereby parties can get on before a single arbitrator appointed by a neutral identified body. If a particular sport does not have those types of procedures, it should consider looking at bringing them in or as a last resort making sure the parties can have the alternative of going to court to get it. Sport should always try not to require its participants to go to court but unless it offers an alternative, they need somewhere to obtain this relief.


Many small commercial claims in sport are worth less than the parties' joint costs of having to fight through lengthy proceedings, so we should be looking for some kind of across-sports fast track procedure whereby caps on compensation and costs might be appropriate. It can be single-arbitrator, appointed quickly and perhaps with cost-capping, and the parties can choose whether to use this procedure. Paper-only hearings may be appropriate for some of those fast-track claims.


In this context, it is important to recognise the different needs for different sports. There is a huge difference between a multi-million dollar or pound arbitration and a regulatory dispute not worth a lot of money. It is impossible to impose a 'one size fits all' set of guidelines. Nevertheless, we can have some basic procedural guidelines on how to do things by video and how to implement cost-effective paper determinations or mediations so long as the parties agree to them. COVID-19 is teaching us how quickly these can be arranged so that emergency applications, for example before a deadline for transfers or competition entries, can be more fairly and efficiently handled.


Mental wellbeing Behind all this, the COVID-19 health crisis has created a number of challenges from a psychological perspective. COVID-19 is a global issue and a new and additional source of stress and uncertainty for everyone. There is a clear and significant risk that it will compound the adverse effects on mental health already experienced by those engaged in sports disputes and proceedings. The psychological impact on mental health of the pandemic and the consequent self-isolation ranges from a sense of helplessness to one of anxiety, fear, anger and frustration.


There is perceived by some to have been an immediate culture-shift causing people to merge their "normal" working environment into the environment normally reserved for their home and family. This has resulted in external pressures on space, time and normal family dynamics and promoting conflict and a lack of social interaction. Athletes are finding this time particularly confusing because they are now often in a truly isolated state, something which many will never have experienced before.


For athletes, National Governing Bodies, sports associations and other institutions, attending hearings prior to this pandemic would have naturally brought them a degree of anxiety and fear. COVID-19 may lead to a sense of heightened reactions at least for athletes, not only because of the artificial remote proceedings environment, but also due to over-thinking as a result of more time without the welcomed distraction of training, competition, team empowerment and work. For many athletes their identity is strongly linked with their performance, hence, when the ability to compete and participate in their normal regime is taken away their mental health suffers.}


Of course some parties may adapt to the specific demands of online hearings, but for others the lack of support physically in the room can provide challenges. In particular, concentration and focus can become difficult in online hearings with the need to take regular breaks throughout proceedings.


The need to ensure equal treatment and fairness for all parties is essential. Specific and careful consideration must be given to the support that can be provided for athletes (whether or not they have legal representation) generally but especially for those with physical, intellectual or emotional difficulties, to ensure that online hearings do not subject them to substantial disadvantage. We believe that equality and diversity training and guidance needs to be at the forefront of the minds of those involved in managing proceedings.


All parties involved must be able to access mental health advice and support as part of a duty of care and safeguarding. Consistent advice is paramount throughout the virtual process, and of course, in pre-case activity to deliberately offset the challenges that such proceedings can bring, regardless of whether you are a seasoned professional or not. Early consideration of these issues is important so that reasonable adjustments can be made to proceedings to ensure the hearings are fair and any necessary steps can be taken to clarify communication with athletes or witnesses to ensure their full understanding and effective participation in the proceedings.


Any decisions made by an arbitration tribunal relating to the conduct of the proceedings, should take into consideration the psychological impact of the proceedings on the parties and be consistent at all times so as to act fairly and impartially. As a result, the parties' rights to have a reasonable opportunity to put their respective cases must be respected given the special current conditions, to avoid unnecessary anxiety, fear, delay or expense so as to provide a fair and efficient means of resolving the dispute.


Education Education should also be in the spotlight – and not only for what it can achieve on-line, but also for everything that it cannot. Remote ADR does not have to follow all the old conventions. Legal and sports governance structures can encourage effective use of remote processes. The opportunities to benefit from the efficient use of technological and expert resources in lockdown is at the core of the AWDRES-CV19 project.


It is vital to set proper expectations for all parties involved prior to hearings to familiarise them with the process and endorse best practice whilst alleviating fear, stress and anxiety. Knowledge is power, and education is the key to ensuring that all parties are treated equally and are properly supported, thus enabling informed decisions and fair and efficient resolution. Parties should have a clear understanding of what is required of them throughout the proceedings and not just after the start: "legalese" is likely to be a barrier to engagement and clear communication is essential.


Simple steps can be taken to offer a smooth transition into a world that may be unfamiliar to non-lawyers regarding dispute resolution and the preparation of cases. Fair and equal treatment must be addressed within the process and neutral ground found wherever possible. Of course, a possible advantage of remote processes is that the power of location is diminished. For example, it would seem unsatisfactory if one party was based in the same location as a tribunal but another party had to join the hearing remotely from a separate location.


Mediation, in particular, has been proven to be an efficient solution to innumerable disputes but so far appears under-used in sport. Education, raising awareness and promoting mediation may help to alleviate concerns and ultimately benefit all participants. While not without its challenges in COVID-times, it is an even more valuable tool for dispute resolution when legal proceedings would in themselves cause unfair costs, risks and other damage. To assist in its use, we append a draft Mediation Protocol (in Appendix 5).


It might be thought that emerging sports with little commercial backing, might require additional support to offer appropriate ADR methods. However, they might also be more receptive to progressive practices as they may have fewer stakeholders and less societal impact, and lack any bias in the current sports arena. Be that as it may, we offer some proposals as to how educational needs can be tackled, towards the end of this first report.
(4) Dispute Resolution - international comparisons
The effect of the COVID-19 outbreak around the world has been work and process-changing, no less so in sport than in any other industry. Disputes have moved online where possible or have been postponed in other cases. In addition, the anti-doping testing laboratories have been subject to lockdowns and social distancing orders, as have other businesses, so samples are not being tested with the speed they had been before (in some cases, the B samples have yet to be tested); there has also been a downturn in sample collection, though the numerical effect will not be observable for some time.


There has been little or no sport activity of significance during this period. At this stage, AWDRES-CV19 has endeavoured to survey a sample of different countries and legal regimes around the world as a way of obtaining a window into those countries with the aim of hopefully providing some general observations. This sampling method, limited as it is, invites perspectives from other countries or regions for future discussion and report.


Australia The Australian National Sports Tribunal (NST) commenced operations on 19 March 2020 – at the same time that major social restrictions were implemented across Australia, resulting in the suspension of all sporting competitions. This obviously was a great challenge as a new organisation was created and was forced to develop its case management practice and procedure for 'business as usual'; while quickly pivoting to previously non-traditional remote working arrangements and alternate, virtual service delivery for dispute resolution during the pandemic. Of note is that there appears to be a strong demand for conciliation, as opposed to both mediation and arbitration.


There have been some setbacks in using virtual platforms for delivering services remotely, but for the most part these are technical, and have been overcome. The most significant change has been the elevated role of the NST Registry and its case managers in providing support to the parties and the allocated NST Member – providing advice on navigating the processes remotely, conducting test runs, and troubleshooting technical issues prior to formal hearings or sessions.


As in traditional commercial practice, they have found that their 'Preliminary Conferences' – a central part of their regular service design for all methods of dispute resolution – have been extremely useful in setting the scene, managing expectations, and building trust and confidence in the process. Ultimately, CODVID-19 has provided the environment necessary to accelerate update of remote service delivery, and while this was always intended as part of their cost-effective service design, they anticipate that where appropriate, or necessary (given Australian geography) virtual service delivery may be more prominent, and effective post-COVID-19 with the lessons learned through this period.


Brazil The Brazilian Dispute Resolution Chamber (part of the CBF/CNRD) perspective on COVID-19-related effects is that this has influenced its case management efforts and its procedure in several ways. Although 100% online from its inception, making an in-person hearing an exception rather than a rule, the CNRD opted to stop serving new cases for two months during the early days of confinement, taking guidance after conferring with its community as furloughing burned through Brazilian soccer generally.


The CNRD Secretariat resumed its case service after thorough consultation with its stakeholders and the market, and after observing a steady flow of new cases - which remained unchanged compared to pre COVID-19 data throughout this period (+20 new cases each month). When it comes to the parties' stance, the CNRD has noted a surge in requests for conciliation hearings (which are more mediation/arbitration-like in lieu of a detached procedure) as well as consent awards, though its procedure offers conciliation possibilities in each hearing and its usual consent award/decision ratio is ¼.


When it comes to its procedure, the CNRD faced two overarching issues - addressing deadline extensions and sanctions. On deadline extensions, it decided for a "case by case" method given Brazil's geographic size and differing realities. As for sanctions, that is yet to be decided – again, case by case. In other words, on both issues no "one size fits all" measure or guideline would be efficient or effective. In this sense, the CNRD relied on its digital procedure to ensure access to its dispute resolution system while focusing on direct communication with its community in order to tailor its procedure according to the needs of these tough times.


Italy In Italy, the highest sports justice body is the "Collegio di Garanzia dello Sport" or "CGS" (literally, the Sports Guarantee Panel"), instituted by the Italian National Olympic Committee as a sort of supreme court of Italian sports law, except for doping issues. It is divided into different chambers and a Grand Chamber, and has jurisdiction on appeals from the last instance justice bodies of the various Italian sports federations.


However, its scope of review is limited to issues of law and legal interpretation. In accordance with an Italian Constitutional Court's judgment, most of its rulings are not reviewable by any state court. The CGS also administers arbitrations on disputes between agents and athletes or clubs. On 9 and 13 March 2020, upon the pandemic's eruption in Italy, its president issued two presidential orders deferring all hearings until after 31 May 2020 (on dates to be decided) and ordering that, in any event, all cases be decided only on the basis of written submissions; however, it allowed parties to file reasoned motions asking for a video hearing. In practice, only a few arbitration hearings have been held by video in the context of the agents' dispute settlement procedure.


The CGS president issued a further order on 29 May 2020, applicable from 1 June to 31 July 2020, by which all hearings have been resumed in video format, unless the parties agree on having a decision only on the basis of written submissions. Hearings must be held with "means that safeguard the parties' right to be heard and counsel's effective participation and real-time intervention during the hearing"; any panel president can decide to hold in-person hearings provided that governmental rules on distancing are complied with.


As for mediation and conciliation in Italy, in general (without being able to access any statistics in sport), there has been a surge in the mediation and conciliation during COVID-19 of about 20% more than last year in the same period. It seems that parties and lawyers may be much more inclined than before to resort to professional mediators and conciliators to settle litigation. The reasons are not clear, it may be that risk-taking in legal proceedings is taking more of a back seat.


With regard to the Italian NADO, the National Anti-doping Prosecution Office kept conducting its investigations only by video interviews, whereas all hearings before the Tribunal Nazionale Antidoping or "TNA" (National Anti-doping Tribunal) were deferred. An order issued by the Italian NADO on 27 May 2020 instructed that all proceedings may resume but hearings may be held only by video conference until further notice.


Within sports federations, the situation is similar, with cases often decided only upon written submissions and hearings only held by video conference. No precise information is available yet on whether this situation has encouraged parties to use private mediation or court supervised conciliation, but it does not seem so.


Switzerland Following the COVID outbreak, the Court of Arbitration for Sport (CAS) in Lausanne issued a set of "Emergency Guidelines" complementing its arbitration rules. The guidelines are valid until the end of June 2020 and aim to loosen up some rules while still ensuring legal certainty and formality of the proceedings. In particular, the CAS may grant a party an extension of up to two weeks without the need to consult with the other party, or the parties may agree to suspend the proceedings until a certain date. Even though electronic filing (and filing of the exhibits via email) was available prior to these Emergency Guidelines becoming effective, some CAS panels have opted to request that the parties submit e-bundles in order to facilitate quicker and easier access and navigation to documents during online hearings.


The parties may opt for an online CAS hearing via Cisco-Webex or other software, decide to postpone the hearing, or opt for the resolution of the matter based on written submissions only. Prior to the hearing (if one is conducted remotely), CAS will usually organise a test hearing with all parties involved and send the parties a "Cisco Webex Protocol" including information on the use of the software during the hearing. Accordingly, participants in any online hearing must also provide a phone number in case the connection is lost. Generally, the hearing continues even if the connection is lost for some individuals, provided that all arbitrators and at least one representative of each party is connected.


According to the Emergency Guidelines, witnesses are placed in a separate meeting room until they are called to testify, and they must be ready to provide a proof of identity. It is possible to share documents with all video participants. The parties are not allowed to record the hearing, which is recorded only by CAS. A problem may arise when the parties cannot agree as to the holding of an online hearing, in which case the panel should decide the method and procedure, based on the totality of circumstances.


According to the Basketball Arbitration Tribunal ("BAT") Rules, Art. 0.3, and FIFA DRC/PSC practice, disputes are generally resolved on the papers only. While there is no particular difference with respect to the conduct of the proceedings before BAT and the FIFA DRC/PSC during the COVID pandemic, both FIFA and BAT issued temporary Guidelines encouraging the use of amicable settlements and negotiations and provide for some criteria for the resolution of contractual disputes between players and their clubs.


United States The United States has had two main providers of dispute resolution services for Olympic-related disputes, the American Arbitration Association ("AAA") and JAMS Inc.. The AAA governs selections and doping disputes and JAMS governs safeguarding disputes. Both AAA and JAMS handle commercial cases in the sports industry. While sports activities in the US have been completely shut down since early March 2020, there have been related activities that have suffered as well.


To date, there have been no hearings held during the pandemic in doping, selection, or safeguarding disputes. Both institutions have long had rules that allow for such hearings to occur remotely or in person, and both offer technology options for doing so. While the precise data for the AAA is not available, JAMS has held, across its entire line of commercial cases, thousands of mediations and arbitrations remotely during this time, and JAMS supports using the Zoom platform for such hearings (support means having dedicated staff to assist hearing operations and to provide training free of charge to parties on using Zoom for hearings prior to the hearing occurring).


In doping cases in the US, there have been some complicating factors, some of which are similar to those in other nations. The anti-doping laboratories have been subject to social distancing restrictions such that operations have been disrupted, so providing the ability to witness B sample testing, or even to provide A sample testing, have been impaired.


In addition, one of the two US laboratories (according to public reports in late May) was decertified by WADA, at least for certain testing, since December 2019, further impairing services. Although this was recently lifted, it is likely when the resulting backlog of cases comes forward there will be a press of new filings in the coming months and form in which these disputes are resolved will be up to the decisions of the arbitrators and the parties, because the relevant rules and US law permit a wide range of alternatives in determining exactly what constitutes a hearing.


The National Collegiate Athletic Association ("NCAA"), the overseer of much of collegiate sports activity in the US (which activity is substantial both in terms of participation and revenue) has also paused investigations of new infractions cases because of restraints on travel and in person meetings.


With lockdowns now lifting across much of the US, these constraints are likely to be slowly removed, and disputes will be resolved, whether in person, or by continuing remote methods, or by a hybrid approach. One of the key points to keep in mind is that disputing parties or their lawyers, or the fact-finders/arbitrator/mediators, may themselves be in a risk category (or categories) for the virus, which will affect the form of hearing offered or conducted. On the other hand, mediation of sports commercial cases has continued aplenty, and parties, and mediators, generally report satisfaction with using a remote format.


Generally The effects of the pandemic have been felt differently across different jurisdictions and similarly, they have been addressed differently. But there is much to be learned from a comparative lens being used to see how others have dealt with similar situations differently. The COVID-19 crisis is no exception to this principle - it offers an intense, refined view of sports dispute resolution internationally and perhaps sport practitioners will learn from this experience. There is no reason why some of the positive aspects of how proceedings worldwide are conducted of necessity during this pandemic, cannot be used in a post-COVID-19 world to ensure that institutions, arbitrators, mediators, and counsel in sports cases continue to deliver the most efficient and effective service, hopefully after the threats to health and life have reduced.
(5) Mediation
Aside from litigation in courts and private arbitration, there are a variety of alternative methods by which parties can attempt to resolve their disputes. Early neutral evaluation, conciliation and mediation are some of the most common. In this section we focus on mediation, a term which can have different meanings in different legal systems but which has most successfully developed in recent years in common law jurisdictions such as the United States, Canada, the UK and Australia.


In our view mediation is particularly relevant to sport under the impact of COVID-19. As the current circumstances impose unique stresses and strains on more established methods of dispute resolution in all contexts, early mediation has become a more and more prominent method. Many disputes – especially where, as a result of the pandemic, it may have become impossible or too difficult for parties to comply with their contractual obligations through no fault of their own, are likely to benefit by early settlement rather than litigating them in a forum which is socially uncomfortable, causes a win-lose dichotomy and expends unhealthy costs, energy and emotion.


Many have become more familiar with video-conferencing during lock-downs, but the relative informality of mediation should not prevent basic safeguards being put in place for the integrity and security of the settlement process. The parties always have to be remotely present and mediators should check what resources they have to ensure this; and privacy (both virtually and where the parties are physically located) is crucial. The availability of one side to confer separately and confidentially in video "break-out rooms" or as a last resort by telephone, should be covered.


Two-factor authentication (by way of both a meeting ID and passcode) is a minimum for data security and the parties may need reassurance that no recording is taking place or allowed in the mediation session(s). Although Zoom has attracted adverse publicity for its security, and is not used by many law firms for that reason, it appears to be the most popular platform with the public and the mediator should explain any other platform recommended and his or her reasons.


What we mean by mediation At the risk of annoying the more sophisticated practitioners, it is worth summarising some of the basics. Mediation is a non-adversarial process in which a neutral, specially-trained professional guides and assists the parties to reach a durable private settlement of their dispute. Throughout the process, and ultimately decide whether the dispute will be settled and if so, on what terms. The mediator is there to help the parties and their advisers remain in complete control of the outcome by building a relationship of trust with all sides, which enables them each to discuss their own interests and objectives and through the mediator to find common ground with even the most bitter adversary.


The process is entirely private and confidential and everything discussed (between the parties and with the mediator) is privileged. Not only does the fact of the dispute remain private, but the parties can speak freely during the mediation process; nothing said or done by the parties or the mediator during the mediation process can be used for any other purpose, whether publicly or in any arbitration or litigation.


The inclusion of a trusted neutral in the negotiations has been shown vastly to increase the prospects of settlement. He or she builds a rapport which can reflect back what each side has suffered and/or wants and enables them then to respect or at least accommodate the other side's position. Over the past 20 years or so, organisations providing mediation services and individual mediators report that the success rates' statistics are at about 80%, even where negotiations directly between parties have already been attempted and failed.


Mediation can take place at any time after a dispute has arisen. It is often attempted before any adversarial process – arbitration or litigation – is commenced, thereby avoiding the expense, time and deep divisions that inevitably accompany those processes. We anticipate that the obstacles created for other dispute resolution mechanisms in the times of COVID-19 are likely to mean an increase in early mediations as parties attempt to resolve their differences more speedily and creatively, although mediation is commonly also undertaken while a legal proceeding is ongoing – for example, after an exchange of documents or an exchange of written evidence has taken place – in parallel with that proceeding. It can break deadlock at any time.


The mediator is selected, appointed and paid for by the parties jointly. In all cases he or she will be neutral and independent of the parties. The parties will select a mediator with the expertise, experience and skills needed to assist them to attempt to reach a negotiated resolution of the dispute and there are a number of well-recognised dispute resolution centres around the globe that can help identify suitable candidates.


The background and skillset for the right mediator often varies according to the nature of the dispute. For example, while many mediators are legally qualified, many also have experience and expertise in particular fields away from the law, thereby ensuring a good understanding of the subject matter of the dispute; in sports disputes an individual with a background in the sport itself or professional sport more generally may be particularly appropriate especially if admired by both sides. In addition, it is important that the mediator has had proper training and experience in the specific skills required; simply being counsel or arbitrator is not sufficient as the skills involved in persuading the parties to agree on a resolution are very different from arguing a case or adjudicating a dispute.


The mediator is not judgmental – he or she is not there to decide substantive issues or even to express a view on the parties' positions unless the parties wish him or her to do so, sometimes as a last resort. Every mediation process is flexible and a procedure will be agreed for each mediation by the parties. However, there are generally two phases to a mediation – the preparation phase prior to the mediation, and the mediation session or sessions themselves. During the preparation phase the parties agree and appoint a mediator, sign a mediation agreement setting out the process and the terms upon which the mediation is to take place, and provide (to the mediator and to each other) copies of documents relevant to the dispute and a written explanation of the dispute and their position in relation to the dispute. The mediator will frequently engage with each party during this phase in order to ensure that he/she properly understands the dispute and each party's position prior to the start of the mediation session.


The mediation session or sessions usually start with attendance by all parties and often with a plenary chaired by the mediator (who will have prepared each side beforehand) to enable each to state face-to-face their wish to settle and other constructive opening points. The parties will usually then stay in separate rooms, with the mediator shuttling between them to discuss available options in confidence, to help build a co-operative atmosphere in which a solution to the dispute might be found, to discuss proposals and to promote progress towards a settlement. The mediator cannot and will not disclose the content or nature of such discussions to the other party unless expressly authorised to do so. If further joint sessions, attended by all or some parties, are considered beneficial, the mediator can arrange and moderate those sessions. As a settlement emerges, the mediator can help to fine-tune it to maximise its effectiveness.


The preparation phase of a mediation lasts as long as the parties choose; a mediation can be arranged within hours if the parties have the desire and a suitable mediator can be found. The mediation itself rarely lasts more than 1 day, and often only a few hours. Newcomers to mediation are frequently surprised by how much is achieved in a short time in comparison to arbitration or litigation.


In the event that at the mediation the parties agree terms to settle their dispute, the settlement will be documented in a form which will become binding and legally enforceable. Nothing is binding until the settlement agreement is concluded and documented. If a mediation is unsuccessful, the subject matter of the dispute remains unresolved and the parties remain free to engage in whatever adversarial process – arbitration or litigation – is appropriate to resolve their dispute.


However, most mediators will maintain contact with the parties even after the end of an unsuccessful mediation to continue to explore with the parties whether a settlement might be possible; attitudes to settlement change with time – even after a single night's sleep at the end of an unsuccessful mediation – and a failure to achieve settlement on the day of the mediation does not mean that settlement will never be reached. Mediation is a process, not a final stop, save for when the final stop is resolution.


If no settlement is ever reached, and the dispute proceeds to arbitration or litigation, the mediator will not be a member of any arbitral or judicial panel that might be appointed to determine, nor will the mediator have any contact with that arbitral or judicial panel, unless the parties specifically agree (med/arb). Nothing said during the mediation process can be disclosed to the arbitral or judicial panel; indeed. In many cases even the fact that the parties attempted mediation will be kept from the arbitral or judicial panel and legal privilege often applies to the mediation proceedings and what is disclosed.


The choice of mediation The advantages of mediation are obvious to those familiar with its workings:
(a) cost – the process of mediation is far cheaper than arbitration or litigation
(b) speed – a mediation can be arranged, conducted and concluded far more quickly than arbitration or litigation
(c) preservation or repair of relationships - something that is of obvious importance where the parties are likely to have to continue to work together in the future
(d) privacy - nothing said during the process can ever be used against any party in any forum and even the fact that mediation has been undertaken can be kept confidential
(e) flexibility – the parties are free to agree their own procedures and timetable
(f) range of outcomes – a mediation can result in any outcome on which the parties agree, regardless of formal claims, and more creative solutions than those achievable in adversarial legal proceedings.
This is not to say that there are no disputes which cannot be resolved by mediation. Some disputes (such as serious alleged disciplinary breaches) require a decision to be reached and for the process and result to be available for public scrutiny. There is no guarantee of an outcome - a mediation can end without a settlement being achieved. Cooperation and compromise are needed and on some occasions one or both parties' views are so entrenched that no settlement is possible, although experience shows that while frequently one party perceives that to be the case with the other party, it is not correct.


Certain NGBs and regulators already require mediation of disputes (whether with a participant, or by participants) to be undertaken by participants prior to any arbitration process being commenced, and others will inevitably make changes to rules and regulations in order to follow. Many sporting frameworks already make provisions for arbitral panels to impose costs sanctions on parties who fail to attempt mediation, making 'success' a pyrrhic victory.


Apart from its well-known arbitration rules, the Court of Arbitration for Sport based in Lausanne (CAS) also has a set of lesser-known mediation rules that aim at institutionalising the use of mediation in sports disputes at the international level. Mediation of a sports-related dispute under the CAS Mediation Rules is possible for all parties who are willing to do so. CAS also systematically sends a letter to the parties that have already submitted their dispute before the – ordinary or appeal – CAS arbitration division and recommend the use of CAS mediation, during which the arbitration procedure will be suspended.


The CAS Mediation Rules offer merely a general framework within which mediation may be administered and conducted. While the definitions given in the Mediation Rules are in line with the general definitions seen above, the rules have some particularities, including the obligation of the parties to opt for a mediator from the CAS list of mediators (Art. 5-6) and the impossibility of mediating disciplinary disputes such as doping, match-fixing or corruption (Art. 1).


Mediation in sports disputes Notwithstanding the above, mediation seems far less common in sports disputes, especially international sports disputes. The relative lack of popularity is difficult fully to analyse, understand and rectify without more investigation. Perhaps its lack of use simply stems from an anecdotal belief that it does not work in sports disputes. Similar things used to be said in the entertainment, media and culture field. Many practising in the field of sports law seem to have a story about how they tried mediation once and it was a failure.


Some have suggested that the rules-based public culture in civil law jurisdictions does not naturally favour a dispute resolution method which is not supervised or monitored by an institution, such as an arbitration body or sports association. The reputed figures are stark: CAS, a civil law based institution, has only a handful of cases each year compared with more than 700 filed arbitrations; whereas JAMS, a common law based institution, handles more than 10,000 mediations per year compared with 6,000 arbitrations.


Others point to the fact that many sports disputes – for example disciplinary cases - need an adjudication. But neither of these, nor other points raised against mediation, take away from its effectiveness at bringing disputing parties to a settlement. Even disciplinary cases benefit from that. Sometimes, issues are narrowed for a tribunal. Sometimes the parties can jointly ask for a compromise result to be confirmed and formalised by the institution concerned assuming that (as it should) it complies with required rules.


Currently, CAS does not generally use a specific tool for remote mediations (as the SDRCC in Canada has) but the parties and the mediator are free to agree on any adequate software platform to this end. In view of the confidential character of CAS mediation, it is not possible to obtain detailed statistical data as to the success rate or cases particularly well suited for mediation. Notwithstanding that issue, the most important factor for the success of any sports mediation seems to be the participation of all parties involved (i.e. not only the parties' counsel) in the meeting and process more generally.


Mediation has particular advantages in sports disputes in the current times of pandemic and social isolation. The direct benefits of mediation over other adversarial processes to resolve commercial disputes in a sports context – cost, speed, flexibility - are obvious. However, sports disputes also often involve a uniquely personal element – such as an established and valuable relationship between broadcaster and sport, between club and player, between selector and athlete, between governing body and participant.


Where such relationships exist and need to be preserved or repaired, mediation offers a means of doing so that is unavailable in any other process. A swift, negotiated resolution, to achieve an outcome which both parties can accept, minimises the damage to relationships, provides a route to repair damage already done, avoids the stress and psychological harm that inevitably results from lengthy adversarial proceedings and minimises adverse impact on performance.


In various jurisdictions and in other fields of dispute resolution – such as commercial disputes – initial scepticism about the effectiveness of the process has been replaced with a willingness to engage in mediation and ultimately an enthusiasm for the process, but only as years have passed, as mediation has become the norm in such disputes and as parties and their representatives have been able to see for themselves the advantages and effectiveness provided by the process. There is a risk that, unless those involved in sports disputes encourage mediation, an obligation to undertake it before legal proceedings may in the future be more widely imposed – and that can bring with it abuses and other problems, including deliberate delay.


A possible watershed moment for the adoption of mediation throughout sports disputes worldwide, it has been suggested, is the imminent entry into force in September 2020 of the Singapore Convention, so far signed by 52 countries, under which mediated agreements will become just as enforceable as arbitration awards under the long-standing New York Convention. Whether this will change attitudes or is mainly "brand promotion" remains to be seen.


The impact of COVID-19 There may be issues in remote mediation when compared to in person mediation, arising from the parties and the mediator not being able to be physically present together in a single location. This may lessen the benefits of 'rapport' or body language which mediators are trained to develop and use. It may lessen or skew the message being conveyed to parties in the mediation by the mediator. Resolving any dispute in the times of COVID-19 means that parties and their representatives must adapt. It is harder, if not impossible, for now, to meet for any prolonged period indoors face-to-face, and securing documents and reliable witness evidence is more difficult.


It is usually imperative that decision-makers attend mediations. When momentum builds it is damaging to wait for someone who has to be separately informed and advised before a deal or a step toward a deal is agreed, and it removes control from those who are caught up in the progress of the mediation and the influence of the mediator.


How can this work if a mediation has to be conducted remotely or without that personal contact? Parties are sometimes wary of the quality of remote processes. But experience with virtual mediation suggests that the online format proceeds just as flexibly and easily as the in-person format. There are ample technology solutions for the in-person mediation sessions, permitting consolidated sessions of all parties and counsel and private caucuses with separate parties and counsel and even just with counsel; all permutations of mediator meetings with the relevant individuals are possible with the right online platform. But in COVID-19 times, the benefits of mediation over legal proceedings to resolve disputes – in particular, speed of resolution, the repairing rather than destruction of relationships, and the flexibility of outcome in difficult times – seem even more obvious.


A good, experienced mediator will adapt the process to cope with the difficulties of remoteness. How he or she does so will vary from mediation to mediation. Remote mediations can seem artificial and are draining - there is very little down-time because everyone is continually engaged remotely. Fatigue and tension are counter-productive. It is easier to 'click out' of a remote mediation than it is to physically walk out of a face-to-face mediation.


The remote process should therefore seek to mimic an in-person process, with joint sessions, break-out sessions and the like. The mediation can include telephone calls if necessary although generally, seeing the other participants is considered better. But it is important to understand that remote mediation is a process, just like in-person mediation, and it is not defined by a single session or period of time specifically but can be ongoing. Online and telephonic solutions make this possible.


Important elements include: a reliable video-conferencing system that all can operate in trust and which enables a party and his representatives, and the mediator if required, to engage in private discussions without fear of those discussions being accessed by others; maximisation of the parties' engagement before the mediation session takes place – by e.g. a preparation "meeting" online, assignation of tasks and regular 'checking in' with parties and their representatives online; and the patience and courtesy which is vital where the rapport which can be gained in live meetings is unavailable.


Our common belief in the value of mediation in sport dispute resolution has been reinforced and increased during the pandemic. We have therefore drafted a Mediation Protocol, attached in Appendix 5, in the hope that more sports participants, especially associations, and lawyers, promote mediation as forcefully as possible. We emphasise that lawyers and officials do not lose control or influence in the mediation process. It is a key part of mediators' training to engage with and respect the parties' representatives, and the rules which govern the parties' relationships and to give these aspects and the advice which the parties are receiving the utmost deference. Nonetheless, we consider it helpful to include a number of specific suggestions in the draft Mediation Protocol to assist in a safer and smoother remote procedure.


There is a considerable difference in style between the draft DRS and Mediation Protocols. Because of the inherent adaptability of mediation, less needs to be proscribed for it to be well-utilised in current times subject to explaining and maintaining the basics. But the social drawbacks in not having face-to-face contact and the risks in relying on remote technology should never be underestimated. And the tasks of understanding, reflecting and guiding, which are key in mediation have to be handled more slowly and carefully online. Accordingly, the draft Mediation Protocol contains some more detailed proposals for handling possible complications in online processes.
(6) The conduct of remote hearings
This is perhaps the most obvious practical problem arising in current circumstances. And the following observations are intended to stimulate further thinking and discussion about it. As a starting point, it is suggested that the overriding aim underpinning any remote hearing should be (a) to emulate the substantive elements of a traditional physical hearing in so far as it is possible to do so; and (b) to ensure that the hearing meets the essential requirements of fairness and equality and, so far as it is possible to do so, to ensure that the participants, particularly athletes, identify the hearing as being fair and equal.


The remote setting will necessitate reasonable adjustments being made from the traditional setting and key words to ensure maximisation of conduct of a remote hearing include 'flexibility', 'consultation' and 'cooperation', and active management of the proceedings by the tribunal, which should be the culture of the hearing as between the Tribunal members, counsel, solicitors and any others taking part.


Technological issues must be addressed against the background of inevitable variance in technological proficiency between the participants as well as potentially significant variance in the availability of hardware.


There seems to be a consensus that a 'test' hearing should be conducted in all cases. Whilst the issue of access to and availability of hardware should have been addressed at the directions stage, it is suggested that the test session should not simply be a few minutes ensuring that everyone is able to log on to the software. Rather, as standard features:
The 'test' session should be scheduled earlier but at the same time as the hearing itself, allowing a time proportionate to the length of the substantive hearing, complexity and number of issues


The 'test' session should be used by the Tribunal as a trial run of the software, including, as appropriate, ensuring that all participants can navigate the e-bundle; share documents and utilise the basic functionality of the software platform allied, especially if any of the participants, most notably the parties, are unfamiliar with regulatory or disciplinary hearings and/or remote hearings. All reasonable questions and queries should be answered


The 'test' session should also be used to ensure that the confidentiality provisions put in place at the directions stage, such as the use of individual passwords, are all functioning correctly


The 'test' session should be used by the tribunal to ensure that issues of the conduct of the substantive hearing, such as the speaking protocol (referred to below) are rehearsed


The 'test' session should also be used, as far as possible, as a means of resolving all 'housekeeping' issues and, if appropriate, any pending procedural applications so that the substantive hearing can start without interruption at the allotted time (although witnesses should not ordinarily be part of this aspect of the session)


Accordingly, it may be appropriate that rather than referring to the session as a 'test' session to formally recognise it is part of the final hearing and adopt appropriate terminology, such as 'Part 1' of the hearing. Whether the 'test' forms part of the formal hearing is for the relevant body to decide.
In a 'traditional' hearing communication it is essential for the proper conduct of the hearing, not simply between whoever may be speaking and the Tribunal, but within the groups in the room, for example, between the Tribunal members and a party or their representatives, between a party and his or her representatives and between the representatives of each party.


There appears to be consensus that a virtual equivalent of the scribbled note or whispered comment should be put in place. It will be a matter for each group to ensure they have a suitable means of private communication, whether that be by WhatsApp, text, a break out room on the platform used or other suitable means.


The Tribunal itself should only be concerned with ensuring that (a) the Tribunal members can communicate with each other and any clerk during the hearing, (b) each set of representatives can communicate with each other, and (c) the Tribunal can communicate with the representatives.


To reflect the potential for technological difficulty, reflecting, for example, the real world of varying broadband strengths, the Tribunal should ensure that the Tribunal administrator/clerk, or another suitable person, is identified as an Organiser for whom all participants have an e-mail and mobile phone number to be able to contact if they experience technological difficulty, including, of course, being cut off. The Organiser should be able to communicate the difficulty to the members of the Tribunal without delay. It may also make sense to have a messaging app group arranged for the Tribunal and the representatives to ensure efficient communications in the event of technical difficulties with the platform.


During a traditional hearing in one room, the smooth conduct of the hearing relies upon the fact that if someone who is not speaking wishes properly to interject and be heard that is easily resolved using, to some degree, body language (whether that be standing up, raising a hand or even shifting position to indicate speech is imminent).There is consensus that for the smooth running of a remote hearing there should be clear guidance on when people can speak and also how they can indicate when they wish to speak other than when expected.


Accordingly, it is recommended that every Tribunal chair establishes a clear speaking procedure for the hearing, which should be emphasised during the Stage 1 hearing or in the order for directions. The speaking procedure, once established and disseminated, should be adhered to at all times and should:
Deal with the timetable for the actual hearing
Require anyone not speaking to have their microphone on mute
Deal with who may make a point otherwise than in their allotted slot (which, so far as possible should be the principal representative of each party, who can make points of substance of pass on points relating, for example, to the need of a party for a break)
Identify how that person(s) is able to indicate a desire to speak to the Tribunal, whether that be through the simple expedient of raising a hand or by using the facilities in the chosen platform, whether that be a Q&A or 'raise hand' function.
A different aspect of speaking relates to witnesses. If a hearing includes witness evidence, whether factual or expert, the witness must be asked by the Tribunal chair to confirm that there is no one else present in the room; that there will not be anyone else present in the room whilst they give their evidence, but that if someone comes in the witness will identify that immediately. Familiarisation of witnesses with remote procedure before any hearing should be encouraged and if (social distancing allowing) someone is going to assist with documents, that should be specified in advance. All party representatives and parties should be admonished to avoid witness communications during testimony other than as specifically permitted by the Tribunal.


Another aspect of remote hearings which is important to consider is timing. Anecdotally a view, but not the universal view, is that remote hearings are more tiring than a traditional hearing. In addition to this having been considered when determining the length of the hearing, as to the conduct of the actual hearing whilst it will be a matter for the Tribunal chair to act fairly and proportionately in any given instance, all involved should be aware of:
The need for shorter sessions during the day to avoid fatigue, not simply from the lawyers' perspective but especially for witnesses, the parties and any other essential personnel such as interpreters and clerks


The sensitivities of any participants: purely by way of example if, during the current pandemic, a participant has care responsibilities which cannot be covered by external sources because of lockdown or social distancing requirements, the Tribunal chair should take account of any reasonable request for longer breaks or shorter days, including in circumstances where the difficulty arises between the directions and hearing stage or during the hearing itself


Time differences in any international tribunal, or indeed where any participant is in a different time zone.
Whilst it must be recognised that matters such as fatigue or particular circumstances could be used as a pretext, it is suggested the Tribunal chair should encourage participants to identify any issues arising not only at the directions stage but also during the hearing itself, by appropriate use of the Speaking Protocol. The burden will then fall on the Tribunal to respond appropriately and proportionately in all the circumstances to any issue raised.


Fairness and equality are essential requirements for any remote hearing. Any Tribunal should be willing to make any reasonable adjustments to the procedure during the hearing to ensure that these essential requirements are met.


It is recommended that, especially with parties unfamiliar with regulatory or disciplinary hearings, for whom the experience of a remote hearing will remain a daunting one, the Tribunal chair should readily check directly with the parties, as many times as the chair deems appropriate, that the parties understand and are following the process.


Furthermore, at the end of the hearing the Tribunal chair should, as a matter of course, invite the parties to make any observations they wish to make and to ask any questions they wish to ask and react to such observations and questions proportionality, but fully.
(7) Proposals
We have given much thought to how necessary, appropriate or helpful it would be to develop guidelines for best practice when dealing with Dispute Resolution in Sport during the COVID-19 Pandemic. The AWDRES-CV19 group recognised that each jurisdiction, sport and dispute resolution forum has its own regulations and procedures that would make a uniform approach near-impossible. Some institutions do not wish comparisons to be made, and expertise in one system to be used more generally: there is occasionally proprietorship, rivalry and innate conservatism among those most established in the field.


Moreover, there are a host of points which have not been addressed in any detail in this report ranging, for example, from witness familiarisation in the age of remote hearings, to the different ways in which bodies approach disciplinary proceedings (whether internal decisions of organisations or awards by independent tribunals) and how to reconcile different rules which may govern particular parties or disputes.


However, we also recognise that there are points of best practice now identified which can find a consensus and which, if shared, may assist with the fair, safe, efficient and speedy resolution of sports disciplinary and arbitral proceedings during this period, if possible by consent. To that end, we propose that consideration be given to the draft Protocols in Appendices 4 and 5 for dispute resolution and mediation respectively.


These draft Protocols are intended to serve as a guide to best practice as we variously see it in the current near-universal pandemic conditions, subject to adaptation and further consultation as experience increases. They are not intended to be incorporated into, nor supersede, any rules or procedures that govern the proceedings. Parties, mediators, tribunals and sports bodies are invited to adopt as much or as little or none of these draft Protocols as they wish. They are suggestive and should have no bearing on the binding nature of any decision or award.. Rather, we ask that sports participants and lawyers view them as indicative points of reference when preparing for the resolution of a dispute.


In proposing these draft Protocols, we have used our collective experience of how parties, lawyers, mediators and tribunals behave, and what works best for all parties, as well as extensive feedback received from interested parties and the guidance issued by other bodies and groups, including but not limited to that listed in Appendix 3.


We have also referred above to the psychological and educational ramifications of the COVID-19 pandemic as it has affected sport disputes resolution. In that regard, we urge not only that consistent procedural guidelines be available for consideration in and before all sports dispute proceedings, but also informal guidance by associations to all their members.


A particular tool which may help is a video of the process of hearings to be available generally online or at least to concerned parties prior to or at the latest by commencement of proceedings. Depending on the resources of the body, a video could demonstrate each stage of the process with role play, and accompanied by written and diagrammatic explanations.


Such a video could demonstrate also, for example, how mediation can result in successful outcomes to help to break down barriers to encourage its use. It is recommended that such a video include short excerpts of the key people involved in the hearings such as a panel member speaking, parties representing athletes, parties representing governing bodies, athletes and witnesses. As each sport has its own identity and culture there should be sport specific examples to illustrate the process allowing the athlete to directly relate and for the information to become meaningful to them.


Many National Governing Bodies, and International Federations require a better understanding of the principles of dispute resolution and how to interact with the processes appropriately. If equal treatment and fairness are at the core, the dynamics of the proceedings and hearing will improve and follow a more efficient path to resolution, benefitting all parties and sport generally. Best practice guides should be internationally available with the aim of standardising at least some procedures, at least in structure, and encouraging similar delivery and experiences, rather than confronting and tending to confuse participants with infinitely variable practices.


It is paramount that all formal rules and guidelines are clear, simple and succinct. All parties should be able to understand the procedures with an emphasis on clear and effective communication and language. Transparency, linked to equal treatment and fairness in proceedings, should be promoted at every turn to ensure that all parties fully understand the process in which they must take part.


For remote arbitration and mediation to be fair and efficient, education for all is significant, meaning that we must both contribute to the process of education and remain receptive to learning. Education will lessen the stress and empower those who might feel disenfranchised, for example athletes without legal representation. If all parties are so far as practicably educated with the same information, highlighting not only best methods but practical support, (for example access to pro bono lawyers for athletes) it will better serve for a level (and safe) playing field.


A clear and succinct mental health guidance tool directly linked to each stage of the hearing process before, during and after, for all parties involved would also be beneficial. This could include advice, support and crisis interventions to cater for all needs effectively, spanning legal and moral duties of care.
(8) Conclusion
We conclude this report, before inviting attention to the Appendices, by asking that all those interested in the sports world register with LawInSport.com to follow the development of this project and/or to provide comments and suggestions by email to: This email address is being protected from spambots. You need JavaScript enabled to view it. and This email address is being protected from spambots. You need JavaScript enabled to view it. ensuring that "AWDRES-CV19" appears in the subject line. The next video conference will take place on 26 June 2020 starting at 14:00. Please register here to participate.


This Working Group hopes to continue its collaborative and 'open door' approach to issues in sport disputes resolution. By attracting and developing personal views from as many experts as possible, from whatever practices or institutions, the outlines of best practice as we adapt to changing and difficult conditions will hopefully be seen in clear view.


There has already been much debate within AWDRES-CV19 about the draft Protocols in Appendices 4 and 5. They do not address every possible point – for example, allowing multiple screen use and requiring participants to provide 360 degree camera displays of his or her room. It has also been argued that the draft DRS Protocol has too much specificity and that parts of the draft Mediation Protocol are too basic. On one view, this is not surprising: in the times of COVID-19, the sports dispute resolution world may need a framework of best practice for the making of determinations, but also encouraging flexible mediation methods - and with both covering disciplinary disputes and seeking to help as regards fair and efficient online communication. We encourage the continuation of such debates.


The impact of the COVID-19 pandemic has accelerated and to some extent confirmed changes in sports disputes resolution which need to be absorbed and assessed as experience develops and which require ongoing adaptation. It may be hoped that this leads to more collaboration and even some harmonisation of best practice. AWDRES-CV19 will continue its work if and to the extent that it assists the wider sports community.
Appendix 1 Members of working party
Appendix 2 Forthcoming list of consultees
Appendix 3 Other guidance already issued
Appendix 4 A draft DRS Protocol
Appendix 5 A draft Mediation Protocol
APPENDIX 1 - Members of the Working Party
Kwadjo Adjepong - Sport Resolutions arbitrator, Chair of FA National Discipline and Anti-Discrimination Panels, member Premier League Judicial Panel, UK Sport Eligibility Panel, LTA Discipline Panel, Solicitor
Roberto Barracco - Head of Research National DRC, Brazilian Soccer Federation
Michael Beloff QC - CAS arbitrator, Chair of ICC Code of Conduct Commission, Chair of the ICC dispute resolution commission, UFC doping appeal tribunal member, Member of Blackstone Chambers
Jeffrey Benz - CAS, JAMS and Sport Resolutions arbitrator and mediator, NCAA Infractions Referral Comm. Chair and Independent Resolution Panel member, World Athletics Disciplinary Tribunal member, Board member Sports Lawyers Association and National Sports Law Institute, member 4 New Square.
Jonathan Bray - National Sports Tribunal, Australia
Sir Stanley Burnton - Arbitrator, Premier League Judicial Panel member, former Appeal Judge, Member of One Essex Court Chambers
Massimo Coccia - CAS arbitrator, Professor at the University of Rome, Partner in Coccia De Angelis Vecchio & Associati
Sean Cottrell - Founder and CEO of LawInSport
Michele Colucci - FIFA DRC Member and scientific director of the Sports Law and Policy Centre
Nick De Marco QC - Barrister and Sport Resolutions arbitrator, member World Athletics Disciplinary Tribunal member, AIAC Sports Panel, Chair British Wrestling Judicial Panel, Director BASL, Member of Blackstone Chambers
Steven Flynn - Barrister and arbitrator, England Boxing Disciplinary Panel member, Visiting Fellow Centre for Sports Law Research, Member of Kings Chambers
Genevieve Gordon -Tactic Connect and De Montfort University, Centre for Sport, Technology and Law
Rafael Hagopjanian -Law Graduate, Pepperdine Law School
Sean Jones QC - Employment Judge, Employment Law Bar Association Management Committee, Bar Council member, Member of 11 KBW
Dr Despina Mavromati - Attorney, UEFA Appeals Body member, SportLegis Lausanne
Nicola McCalliog - Chartered Forensic Psychologist, HCPC Registered Psychologist, Associate Fellow British Psychological Society, Director MPWR Sports
John Mehrzad QC - CAS and Sport Resolutions arbitrator, Member of Littleton Chambers
Graeme McPherson QC - Premier League Judicial Panel member, FA Judicial Panel member, Sport Resolutions arbitrator, Chair of the Board of Appeal of Table Tennis England, Member of 4 New Square Chambers
Leanne O'Leary - CAS and Sport Resolutions arbitrator, Premier League Judicial Panel member, England Boxing Safeguarding Review Panel member. Senior Lecturer Centre for Sports Law Research, Edge Hill University
Raj Parker - Sport Resolutions arbitrator and mediator, Premier League Judicial Panel Deputy Chair, Basketball Arbitration Tribunal Vice President, , World Athletics Disciplinary Tribunal member, Grand Court Judge of the Cayman Islands Financial Services Division, Member of Matrix Chambers
Kendrah Potts - Sport Resolutions arbitrator and mediator, Union Cycliste Internationale Arbitral and Disciplinary Panel member, British Equestrian Federation arbitrator, Member of 4 New Square Chambers
Klaus Reichert SC - CAS, LCIA, ICC, ICDR, and UNCITRAL arbitrator, Executive member Institute of Transnational Arbitration (Dallas), Fellow College of Commercial Arbitration (USA), Advisory Board Member ICCA, Member of Brick Court Chambers
Liz Riley - General Counsel at International Paralympic Committee
Murray Rosen QC - CAS and Sport Resolutions arbitrator, mediator, Premier League Judicial Panel Chair, Deputy High Court Judge (Chancery), Member of 4 New Square Chambers
Tariq Sadiq - Sport Resolutions arbitrator, Chair of FA Anti-Discrimination Panel, Member of Parkland Plowden Chambers
Christopher Stoner QC - Barrister and arbitrator, Member of Serle Court and Guildhall Chambers
Jonathan Taylor QC - Sport Resolutions arbitrator, Head of Sports Group Bird & Bird
Henry Tufnell - Law Graduate, Pepperdine Law School
Bill Wood QC - CAS mediator, ADR Representative Civil Justice Council, Vice-Chair Judicial ADR Liaison Committee, Member of Brick Court Chambers
APPENDIX 2 - Consultees
Beverley Agbakoba-Onyejianya
Chirayato Banerjee
David Barnes
Rupert Beloff
Matthew Campbell-Hill
Chris Bond
Sebastian Bult
Aman Choudhary
Iseult Cody
George Coombs
Phil Draper
Lord John Dyson
Craig Harris
Fiona Heathcote
Clifford Hendel
Mark Hovell
Bohdan Kozar
Ian Laing
Alys Lewis
Ryan Locke
Paolo Lombardi
Ali Masoudi Lamraski
Francesco Macri
Kachi Okezie
Mark O'Neill
Dev Kumar Parmar
Luca Pastore
David Seligman
James Severn
David Stern
Anna Smirnova
Saksham Samarth
Michele Verroken
Prof. Maureen Weston
Sir Wyn Williams
James Willoughby
And many others whose private conversations cannot be acknowledge yet – please notify us if you wish to be added.
APPENDIX 3 - Some of the Guidance issued during the COVID-19 pandemic
Administrative Law Bar Association Guidance to Advocates on Remote Hearings - May 2020:
APPENDIX 4 - A draft DRS PROTOCOL
(with explanatory notes in blue italics)
1. Cooperation
1.1 The Parties should cooperate with the Tribunal and the Organiser of the hearing, as well as each other, in making the arrangements for a hearing. The Parties should not seek to use the difficulties caused by COVID-19 to try to gain a tactical advantage.
We consider that cooperation between the Parties, the Tribunal and the Organiser is essential at all times but particularly during this period of the COVID-19 Pandemic. We believe that the expectation for a high degree of cooperation should be emphasised.
1.2 The Parties should seek to narrow the issues in dispute as far as is possible and should be encouraged to consider the use of mediation to facilitate settlement if possible.
We believe that a Tribunal should only be called upon to determine a dispute if the Parties are unable to resolve it amicably. We would encourage an open dialogue at all stages in the hope that matters can be resolved, or if not, then narrowed. Mediation is an underused procedure in sports disputes. Its use can lead to the early resolution of a dispute; thereby reducing the costs to be incurred by the Parties.
2. Case Management
2.1 A Chair of the tribunal (that being a person or persons with power to issue procedural orders) should be appointed as soon as it is apparent that it will be necessary for a Tribunal to assist with the resolution of a dispute.
The COVID-19 pandemic has caused difficulties for all aspects of life, including for those involved in sport who seek to have their disputes resolved. These difficulties can be overcome through effective collaboration by all those involved. The early appointment of a Chair will allow for one person to oversee and manage the process. We believe that this will assist with the effective, fair, safe and speedy resolution of the dispute between the Parties.
2.2 The Chair should undertake early and active case management of the Proceedings. Proceedings in this context shall be arbitrations and, in jurisdictions where disciplinary hearings are not considered to be arbitrations, such disciplinary hearings.
We believe that the Chair should adopt an active, as opposed to passive, role in case managing the Proceedings. The Chair will be able to assist the Parties to identify potential difficulties and take steps to avoid the same.
2.3 The overriding objective for the Tribunal should be the effective, fair, safe and speedy resolution of the Proceedings, as well as to render a binding award in arbitral proceedings. The Chair should issue such procedural orders as are necessary to achieve this objective.
The interests of justice require the Tribunal to have regard to what is effective and fair, whilst also ensuring the safety of all those involved in Proceedings. Whilst the safety of all participants is paramount, we consider that the interests of justice are not served by delaying all hearings until they can be conducted in person. The ability to have disputes resolved in a timely manner is essential to the administration of sport. A Chair who engages in early and active management of the Proceedings will be able to issue procedural orders to ensure that this overriding objective is served. The provisions of this Protocol are not intended to be prescriptive so as to constrain the ability of the Tribunal to issue procedural orders that help ensure that this overriding objective is adhered to. Instead, this Protocol is intended to be a reference point that can be departed from if doing so furthers these objectives.
3. Format for hearings
3.1 Until the impact of COVID-19 has been reduced to the extent that it is considered safe for all hearings to be held in person, the presumption will be that all final hearings and substantive interim applications will be conducted via video conferencing.
The safety of all participants must be paramount. The rebuttable presumption for substantive hearings has been almost universally adopted across all jurisdictions and we agree that it is appropriate. Video conferencing provides for greater interaction between the Tribunal, the Parties and any Witnesses. Being able to view a Witness also provides the Tribunal with more tools to assess the credibility of what is being advanced.
3.2 Only where it is demonstrably not possible for a Party or Witness to attend a final hearing or substantive interim application via video conferencing will attendance via telephone be permitted.
Parties should make every effort to ensure that substantive hearings can be conducted via video conferencing. However, we recognise that this is not always possible. If a Party or Witness is unable to attend via video conferencing, then we would expect them to evidence this to the Tribunal. In such circumstances, the Tribunal, Parties and Organiser should work together to make arrangements to accommodate them by different means. We anticipate that this will likely be by way of telephone.
3.3 Case management hearings will be dealt with via video conferencing and/or telephone. The format will be determined by the Chair following consultation with the Parties.
The ability for the Tribunal to observe the Parties, and vice versa, is less important for case management hearings. Prior to the COVID-19 Pandemic, case management hearings were regularly conducted via telephone rather than in-person. We see no reason to depart from this practice. However, the Chair should consult with the Parties to ensure that the most appropriate method is adopted.
3.4 If a Party considers that it is necessary in the interests of justice for a hearing to be conducted in-person, then it should make an application to the Chair detailing the reasons why this is thought to be the case. Such an application should be supported by evidence detailing why it is considered necessary; what the likely timescale for such a hearing is said to be; and what arrangements are proposed to ensure the safety of those attending such a hearing.
We recognise that the interests of justice may require a hearing to be conducted in-person. If a Party considers this to be a necessity, then it should make an application to the Chair. Such an application should be supported by evidence. The Chair cannot determine such an issue in a vacuum; therefore it will be necessary for the Party making the application to provide details of why this is considered necessary; the delay it is likely to cause (if any); and what is being suggested to ensure the safety of all those who will attend the hearing. The provision of this information will allow the Chair to determine if the interests of justice are best served by arranging an in-person hearing. For the avoidance of doubt, we do not seek to suggest that it should fall to one Party to make arrangements for an in-person hearing if one is ordered. Instead, we would expect the Tribunal and the Parties to collaborate to facilitate this.
4. Preparation for the hearing
24.1 Parties should cooperate in order to agree to the content of the bundle.
4.2 Hearing bundles should be ordered in a logical manner and paginated consecutively and continuously, with any necessary translations immediately following the document concerned.
4.3 The Parties may wish to adopt the following order:
4.3.1 Statements of case (note that these should be ordered in a logical order rather than in strict chronological order)
4.3.2 Procedural orders
4.3.3 Witness statements
4.3.4 Experts' reports
4.3.5 Key inter-party correspondence
4.3.6 Other relevant documents in chronological order (starting from the earliest in time and working towards the most recent).
The logical ordering of hearing bundles is essential to the effective and speedy determination of a dispute. The format suggested herein is not intended to be prescriptive but rather as a point of reference for the Parties. The format and content of the bundle should be considered early in Proceedings and should form part of the case management discussions between the Parties and the Chair.
4.4 The content and organisation of the hearing bundle should be approved by the hearing advocates.
This is intended to ensure that only relevant material is included in the bundle and that it is presented in a logical manner. The hearing advocates are well-placed to know what should be included and the order it should be in, as they will be responsible for drawing said documents to the attention of the Tribunal.
4.5 The presumption will be that the Tribunal, Parties and Witnesses will all use electronic bundles.
In the time of COVID-19, the production of hardcopy bundles represents a health risk to those tasked with their production, as well as to those provided with a copy. Absent good reason, the presumption must be that the Tribunal, Parties and Witnesses will use E-bundles.
4.6 Where practical, the hearing bundle should:
4.6.1 Be prepared in a searchable PDF format
4.6.2 Contain computer generated pagination
4.6.3 Be paginated such that the reader can use the scroll facility to move to a specific page e.g. page 45 of the internal bundle numbering should correlate to page 45 of the overall bundle. To that end, the use of eg pages 45 (a), (b), (c) etc. is discouraged
4.6.4 Contain an index with hyperlinks to each document within the bundle
4.6.5 Contain bookmarks for each section of the bundle and each individual document.
We believe that the preparation of a hearing bundle in this format will assist the Tribunal, the Parties and the Witnesses. However, we recognise that the technology available to a Party may not allow this. We also recognise that time may not allow for the preparation of the hearing bundle in this format, particularly where a Party is seeking emergency interim relief. However, where possible, the above format should be adopted. We have also considered whether a format other than PDF should be used. PDF readers are almost universally available to those with a computer. We consider that the use of PDF, as opposed to some other format, will avoid the need for the recipient of the bundle to download additional software in order to view the content. We believe that this is preferable.
4.7 All documents should be copied to the E-bundle in a form that is legible.
This is essential. The Parties should ensure that all documents within the E-bundle are legible.
4.8 E-bundles should be finalised, and copies provided to the Tribunal and each Party, sufficiently in advance of any hearing so as to allow for adequate preparation time.
The delivery of the E-bundle should be discussed at an early stage during the case management process. The Parties should seek to avoid the late insertion of documents as some recipients of the bundle may not have the software or technological expertise to add documents to an E-bundle that they have already started to annotate.
4.9 The Parties should endeavour to agree in advance a list of documents to which a Witness is likely to be referred. An E-bundle of such documents should be prepared in advance of the hearing. The Parties should agree who will be responsible for sending a copy of this bundle to the Witness.
It is essential that a Witness has access to the documents that they are likely to be referred to. Anecdotally, we are aware that a significant amount of hearing time has been lost by Witnesses not having access to documents that the hearing advocate and/or Tribunal wish to refer the Witness to. This should be avoided by all relevant documents being provided to the Witness prior to the hearing. We have considered whether a full copy of the E-bundle should be provided to the Witness (with redactions as appropriate). In some cases, this may be appropriate. However, in others, the E-Bundle may be of significant size, whereas the Witness will only be asked questions about one page. In such circumstances, it would be disproportionate to provide the Witness with the entire bundle, particularly if doing so necessitated an extensive redaction exercise.
4.10 Any relevant video or audio recordings should be provided to the Tribunal, all Parties and all Witnesses who may be referred to it, in advance of the hearing. This is to ensure that they have a local copy that can be viewed in the event that the platform or bandwidth does not allow for collective viewing/listening.
Platforms that allow for screen-sharing are a useful resource in that they allow all participants to view/hear a recording at the same time. However, bandwidth or other technological restrictions may not allow this to happen. We are aware of hearing time having been lost because a Witness was unable to view/hear a recording that a Party wished to refer them to. The provision of a local copy that can be trialled before the hearing and made available if necessary, will avoid the possibility of significant hearing time being lost.
4.11 Skeleton arguments, chronologies, list of persons involved, and list of issues should be sent to the Tribunal in both PDF and Word format.
Documents provided for the assistance of the Tribunal should be in an accessible format. Having consulted on this issue, we consider that PDF and Word format are the formats most widely available; therefore, we suggest that they should be used. Other formats may be preferable in certain cases. If it is proposed that another format will be used, then this should be raised with the Tribunal at an early stage.
4.12 In preparation for a hearing (whether via video conferencing or telephone), the Parties should provide the Organiser with the following details for all those who will be attending:
4.12.1 Their email address
4.12.2 Ideally, two contact telephone numbers.
The provision of this information will allow the Organiser to arrange the hearing, as well as providing contact information in the event that the remote hearing is disrupted.
4.13 A rehearsal session involving the Tribunal, the advocates and any Witness should be conducted. Any such rehearsal should take place at least 24-hours before the scheduled start time of any final or substantive interim hearing. This is to ensure that all parties are familiar with the equipment and platform to be used. It will also allow any problems to be identified in advance.
A rehearsal session is strongly recommended. For a hearing lasting more than 2 or 3 days, more than one rehearsal may be necessary. The purpose of the rehearsal is to ensure that the Tribunal, Parties, advocates and Witnesses are familiar with the platform being used and the format to be adopted. One person should be responsible for liaising with all those who will be attending the hearing to ensure that they are available to attend a rehearsal sufficiently in advance of the final or substantive hearing so as to allow for any problems to be identified and resolved.
4.14 Before commencement of the hearing, the Organiser shall inform the participants of any backup plans in case of communication or technological breakdowns.
The Tribunal, parties, advocates and witnesses need to be aware of what to do in the event that there is some communication or technological issue.
5. Conduct of hearing
5.1 Those attending a hearing via video conferencing should be reminded that they are formal proceedings such that that they should dress and act accordingly.
The use of video conferencing may lead to a perception that the dispute resolution hearing is informal. Whilst they are not court hearings, they are formal hearings intended to resolve an issue of significance between two or more parties. All attendees should be aware of this and ensure that they act accordingly.
5.2 Hearings may be recorded with the permission of the Tribunal. The production of a recording will allow for a record to be available in the event that an attendee's connection to the hearing is interrupted. The parties and the Tribunal should agree on a protocol for recording (or stenographically transcribing) the hearing in advance. If a record is produced and is to be made available to a Party, then it should be distributed to all Parties.
We are aware that arbitral and disciplinary rules of procedure often contain confidentiality provisions. These must be adhered to. However, we consider it useful for hearings to be recorded. The connection to a video-conference may be interrupted at an inopportune time. A Party should not be prejudiced by not being able to hear what the Tribunal, a Witness or another Party has said. Access to the recording would reduce the possibility of an injustice occurring. We have given consideration to whether contemporaneous transcripts should be made available but considers that the complexity and cost of ensuring that such a service is available is often likely to be disproportionate. If such a service is available, the Parties may wish to avail of it after having consulted with the Tribunal.
5.3 All attendees should mute their microphone when not speaking. This will limit the bandwidth required to conduct a hearing and avoid unnecessary distractions.
5.4 The Organiser should ensure that the Tribunal is able to mute attendees.
We believe that this is essential to the effective management of proceedings. The Tribunal must be able to ensure that all Parties can observe what is happening, without disruption.
5.5 During a hearing conducted via video conferencing, all those whose attendance is required should have their camera on at all times. This will allow the Tribunal to observe if a connection has dropped.
Individuals who are merely in attendance as observers need not have their cameras on.
5.6 During a hearing conducted via video conferencing, any person whose ability to hear has been interrupted should indicate this by raising their hand. This will allow the Tribunal to observe that there is a problem. If said person is concerned that the Tribunal may not be able to observe their raised hand, then they should use the platforms chat facility to let it be known that there is an issue.
5.7 Witnesses should be reminded that the evidence that they are to give should be their own. To that end, all Witnesses will be asked to identify anyone present with them when they come to give evidence.
We have considered whether Witnesses should be required to be in a room on their own, or whether 360-degree cameras should be required. We consider that such requirements would likely be impractical. During the COVID-19 pandemic, many people are working from home and may not have access to an isolated space. Similarly, they may not have access to a 360-degree camera. Of greater significance is that the Witness is able to give their evidence without distraction or interference.
5.8 Parties and party representatives should be reminded that they are not to contact a Witness, whether directly or indirectly, whilst they are giving their evidence.
We are aware that many Parties are using WhatsApp or similar social media applications to communicate during hearings. We welcome this but would remind Parties that a Witness's evidence should be their own. Parties should not contact a Witness whilst they are giving their evidence as this will undermine the credibility of what is being said.
5.9 The Organiser should ensure that the platform adopted allows for break-out rooms so that members of the Tribunal can speak privately. Ideally similar break-out rooms will be available to the Parties.
Tribunal members need to be able to converse in private. Similarly, Parties often need to be able to discuss matters without risk of being overheard. The use of break-out rooms allows for this to take place without disconnecting from the video conference. We consider these break-out rooms to be extremely useful such that they should be made available whenever possible.
6. Interpretation
6.1 The Parties shall ensure that interpretation services are made available if necessary.
Some arbitral and disciplinary rules of procedure provide that the Tribunal will appoint an interpreter. Even in such circumstances, it is incumbent upon the Parties to ensure that the Tribunal is aware of the need for an interpreter and that arrangements are in place before the hearing. Too many hearings are lost because arrangements have not been made for appropriately skilled interpreters to be available.
6.2 Where an interpreter is required during the hearing, the interpreter shall be briefed by the appointing Party beforehand. Such a briefing should include reference to the format of the hearing, the role the interpreter is expected to play, and the arrangements for the video conference. The interpreter should be made aware of the requirements of this Protocol and any relevant procedural orders made by the Chair.
Interpreters need to be aware of what is expected of them. They may be unfamiliar with conducting a hearing via video conferencing or the particular format to be adopted. The appointing Party should liaise with the interpreter(s) to ensure that they are willing and able to provide the service required.
6.3 Simultaneous or sentence-consecutive interpretations are both acceptable so long as consistent throughout the hearing and agreed or directed in advance having regard to the circumstances of the remote hearing.
Simultaneous interpretation allows a hearing to proceed at a faster pace but the rhythm of waiting while each sentence is translated is easily accommodated, is simpler and does not require the complexity of multiple audio lines to be available for the interpreter to hear proceedings and separately communicate with those requiring interpretation services. The interests of justice, and advance consultation on all practical issues, must remain the priority.
APPENDIX 5 - A draft Mediation Protocol
1. Commencing a Mediation
1.1 This Protocol suggests a process for organising and conducting a Mediation once the parties have agreed, in principle, to attempt to resolve their Dispute by such consensual means. The parties first have to reach agreement on the identity of the Mediator to be appointed, if necessary after seeking recommendations from an appropriate sports, arbitration or mediation body or tribunal.
1.2 In sports cases, the participants are often not sophisticated, nor repeat users of mediation, so sufficient time and opportunity has to be allowed for the Mediator and the party representatives to ensure that all participants are sufficiently comfortable with the process and, as is likely during CV-19 times and social isolation, conducting the process online. Proposals as to the management of that process in more detail are collected in section 7 below.
2. The Mediation Agreement
2.1 Prior to the Mediation session each of the parties and their representatives and the Mediator should execute a Mediation Agreement in terms to be agreed between the parties and the Mediator, including at least
2.1.1 a concise summary of the nature of the Dispute and the voluntary nature of the mediation process
2.1.2 the terms of the Mediator's appointment, including as to his/her fees for the mediation and the liability of the parties for such fees
2.1.3 the authority of the parties and their representatives attending the mediation to settle the dispute and
2.1.4 that no settlement reached at the mediation will be binding unless set out in writing and signed by the parties or otherwise executed in a legally binding manner.
2.2 Confidentiality of mediation is a defining characteristic and should be emphasised in all aspects of the process including any online process. The mediation agreement should, as an express condition of participating in the mediation, prohibit recording of the online mediation session(s) by anyone, whether party, party representative or Mediator.
2.3 The Login credentials for the mediation session must be protected from disclosure beyond the participants and passwords should be required and a waiting room feature should be enabled so that only those who should be in the mediation are in it. Each layer of Login credential for the mediation session should be sent to the parties by separate email. The mediation agreement should outline this process and make it a condition of participation that the online Login credentials are kept confidential.
2.4 Participants should be advised, and the mediation agreement should confirm, that they should participate in the mediation in a confidential space, avoiding public areas and publicly accessible Wifi.
3. The Mediator:
3.1 Will be and remain at all times neutral and independent of the parties and will not accept an appointment to act or will cease to act if any circumstances exist which may constitute an actual or potential conflict of interest or if he has any material interest in the outcome of the mediation and will conduct the mediation process in a manner that is fair to all parties.
3.2 Will keep confidential all information imparted to him by any party during the course of the mediation unless that party expressly agrees to that information being disclosed to another party or other parties.
3.3 Will have in place and maintain appropriate professional indemnity insurance and will have no liability to any party in respect of his conduct of or at the mediation or in respect of any act or omission in connection with the services provided in connection with the mediation, save in the case of fraud or wilful misconduct.
3.4 Will not seek to offer legal advice or act as legal adviser to any party or impose any settlement on the parties, or analyse any party's legal position or rights unless invited by the party to do so.
3.5 Will not give evidence to or for any judicial, arbitral, disciplinary or other legal tribunal which may have been or come to be appointed to determine the Dispute (whether such appointment pre-dates or post-dates the mediation).
4. The Mediation session
4.1 The Mediation session is for the purpose of attempting to achieve a negotiated settlement of the Dispute and may be in person or (as is likely to be commonplace during the CV-19 pandemic) by a video or telephone conference or series of the same. No recording or transcript of the mediation will be made.
4.2 The Mediation session may begin with or include a plenary or plenaries at which all parties who wish to do so shall have the opportunity to speak and private discussions of parties and/or their representatives and/or the Mediator, so long as those participating in such discussions always agree to the attendance there.
4.3 The parties and their representatives shall behave courteously and reasonably at all times and are free to consult in private at any time.
5. In advance of the Mediation session:
5.1 The parties will agree to the date and start time for the mediation, the intended finish time and the venue for the mediation, and will notify the Mediator and other parties involved in the mediation of the names and emails of those individuals intending to attend on behalf of that party (and if social isolation and remote conferencing is still in effect, the Mediator and the parties and their representatives should endeavour to establish some relationships and rapport before the Mediation session).
5.2 Each party will prepare and deliver to the Mediator by an agreed date (or in default of agreement, by a date identified by the Mediator) a concise Position Statement regarding the Dispute, the issues in the Dispute and the costs and other financial aspects, and a bundle of copy documents relevant to the Dispute to which that party proposes to refer at the Mediation session. Particularly during the pandemic, documents will probably have to be provided in electronic form.
5.3 The parties may also exchange with each other their Position Statements and document bundles, or part of the same, if they wish, and shall inform the Mediator as to that. Position Statements are for use only in the mediation and will not be disclosed by the parties or the Mediator to any other third party unless expressly authorised by the providing party.
5.4 The Mediator will assist the parties to arrange and organise the mediation session and plan its timetable as far as possible, ensure that they have a draft Mediation Agreement to be executed in a manner that is legally binding before the session starts, and familiarise himself with each party's Position Statement and documents.
5.5 The Mediator and the parties will discuss and agree to protocols for any remote mediation session to reflect issues which may arise – for example, the ability of all parties and their representatives to use the relevant video platform, how parties are to conduct themselves in the presence of other parties, when cameras and microphones are to be switched on and off, how parties are to attract attention without interrupting others, the remote facilities that are to be made available for plenary session and private discussion, how the mediator is to announce his intended arrival in remote meetings so as to avoid unwelcome interruption of ongoing private discussions, and how any technical issues that might arise are to be dealt with.
5.6 The Mediator should endeavour to conduct a pre-mediation session practice session with parties or their representatives to ensure everyone has familiarity with the online platform and mediation process, to ensure that all participants have sufficient Internet connectivity at the location where they will participate in the mediation and iron out any technical glitches, and for the parties to be given confidence in the use of the remote format, so that the mediation session can be as productive as possible.
6. At the Mediation session, the Mediator will:
6.1 Communicate with the parties as he or she considers it appropriate or useful and attend meetings individually or collectively, if requested to do so or if the Mediator decides it is useful to do so
6.2 Take such steps as he or she considers appropriate and useful to facilitate progress towards a settlement of the Dispute, suggesting possible solutions to issues arising in connection with the Dispute and encouraging the parties to explore possible settlement outcomes to resolve the Dispute
6.3 Assist the parties in relation to any issues in connection with any proposed written settlement agreement, without the Mediator having to draft the same unless he or she considers that necessary.
7. Management of online processes
7.1 If and to the extent that it is agreed that the Mediation will take place online, the parties and the Mediator should seek to ensure that a suitable online platform has been selected for mediation which enables the online mediation experience to compare as favourably or closely as possible to an in-person mediation experience.
7.2 The selected platform should meet data privacy requirements and provide a safe, confidential place in which to conduct the Mediation and a mechanism to limit participants to those who are legitimately to be in the Mediation, so as to permit:
7.2.1 virtual, but confidential, breakout rooms to permit the mediator to speak with the parties and their representatives confidentially
7.2.2 a virtual, but confidential, joint session room where the mediator can communicate with all parties and their representatives collectively
7.2.3 confidential text or 'chat' communications between the mediator and the party representatives
7.2.4 document sharing in each of the rooms
7.2.5 video and audio transmission in real time of the faces and voices of each participant in each room
7.3 The Mediator should usually
7.3.1 be the host of any online mediation session, and able to control the various aspects to ensure confidentiality and to see all necessary individuals for any conversation being undertaken, whether in general session or private caucus
7.3.2 seek to ensure that recording using the platform's recording service, if any, is turned off, and that all participants in joint sessions, or in private sessions with many individual participants, mute their microphones except when speaking.
7.4 In sports cases, it is important that a provision be made to permit parties who often have to work with each other again, have the opportunity to speak with each other directly, at the right time, about some of the issues, using various combinations of virtual breakout rooms (although if possible that should be best be managed by the Mediator unless or until significant differences are resolved).
7.5 All participants in the mediation should be able to clearly see and hear each other throughout the process. The video arrangements for each participant should be arranged for maximum effectiveness. In other words, the participants should not be backlit, their faces should be clearly visible, the video frame should primarily include their upper torso and face with minimal presentation of ceiling or background images, and the video camera should be set at eye level, not above or below.
7.6 The mediator should arrange with the parties in advance the method (such as separate texting) by which the Mediator will announce his or her intention
7.6.1 to enter a virtual room so as not to disturb confidential communication between a party and their representative or
7.6.2 to take the sides from their private rooms into a joint session or a session with others:
the participants need to know exactly who can hear them at any given time.
7.7 To prepare for the possibility that the online platform or the participants' Internet access may suffer technical difficulties
7.7.1 the Mediator should have access to the party and party representative mobile phone numbers so that the problem may be resolved
7.7.2 if possible, an alternate telephone-only platform may be identified, many of which offer virtual room functions and standby operators, to permit the mediation to continue successfully and
7.7.3 failing that, the participants and the mediator may choose to proceed by individual and joint telephone calls. Backup plans are vitally important in sports mediations, where timing of a resolution is often a paramount consideration of the dispute itself.
8. Termination of the Mediation
8.1. Any party may withdraw from the mediation at any time and shall immediately inform the Mediator and the other representatives either orally or in writing if he forms an intention to do so. But before leaving a Mediation session, the party must allow the Mediator to discuss that decision with the party for at least 10 minutes.
8.2 The mediation will also terminate
8.2.1 if a written settlement agreement is concluded, or
8.2.2 if the mediator concludes, in his sole discretion, that continuing the mediation is unlikely to result in a settlement, or that he is obliged to retire from the mediation for any professional reason or
8.2.3 at the agreed finish time of the mediation session, unless the parties and the Mediator agree to the mediation session continuing.
8.3 If the parties are unable to reach a settlement during the mediation session, the Mediator may, if requested to do so, continue to communicate with the parties after the mediation so as to attempt to facilitate further negotiation and possible settlement of the Dispute between the parties.
8.4 To the extent that an agreement is reached during the mediation, the parties and their representatives should endeavour to finalise an agreement before leaving the mediation session, which may require party representatives and the mediator to engage in various aspects of drafting, perhaps out of the presence of each other or their clients, or in the presence of only the party representatives and the mediator.
8.5 To prepare for these exigencies and to focus the parties on the real issues and simplify and speed up drafting and avoid further disputes over wording.
8.5.1 the mediator should discuss these possibilities with all participants before or at the start of the mediation session and
8.5.2 in appropriate cases, the parties should be recommended to come prepared with as much of a possible settlement agreement as possible.
8.6 To the extent the mediation does not resolve the dispute fully, but some issues are resolved, the mediator should have the parties confirm those resolved issues in writing before the mediation session concludes.
8.7 The Mediator may retain a copy of the signed Mediation Agreement for a period of not less than 6 years from the date of the Mediation agreement. All other documents provided to him in connection with mediation, including Position Statements, and any notes made by the mediator should be destroyed 28 days after the mediation session, unless the Mediator has been requested by the parties to continue to attempt to facilitate further negotiation and possible settlement of the Dispute between the parties.
9. Legal proceedings
9.1 All and any persons involved in the Mediation and attending the mediation session will keep confidential and not use for any collateral or ulterior purpose including in any legal proceedings the fact that the mediation is to take place or has taken place and all information (whether given orally or in writing or otherwise), prepared or produced for, or arising pursuant to, the mediation
9.2 unless all other parties and the Mediator consent to the disclosure of such matters and to the nature and extent of the proposed disclosure, or disclosure is necessary to implement and/or enforce any settlement agreement reached at the Mediation or is required by law
9.3 Neither an agreement by the parties to mediate the Dispute nor the commencement or continuation of any step in the Mediation of itself prevents either party from commencing or pursuing judicial, arbitral, disciplinary or other legal proceedings against any other party unless all parties expressly agree that the agreement to mediate the Dispute shall have the effect of preventing the commencement of such proceedings, or of staying such proceedings, until the conclusion of the mediation process
9.4 Any information or documentation prepared or provided by any party (to the Mediator or to any other party) for the dominant purpose of the Mediation is confidential, without prejudice and inadmissible in any legal proceedings, whether relating to the Dispute or otherwise and for the avoidance of any doubt, evidence or documents which are otherwise admissible in legal proceedings (whether to determine the Dispute or otherwise) shall not be rendered inadmissible merely as a result of them having been used in the mediation session or otherwise during the mediation process
9.5 No party may seek to compel or otherwise require the Mediator or any other person attending the mediation to give evidence in any legal proceedings between the parties (whether relating to the Dispute or otherwise), or to produce records, notes or any other information or material whatsoever (whether relating to the Dispute or otherwise)
Related Articles
Working Group