A guide to the key legal issues in the football transfer window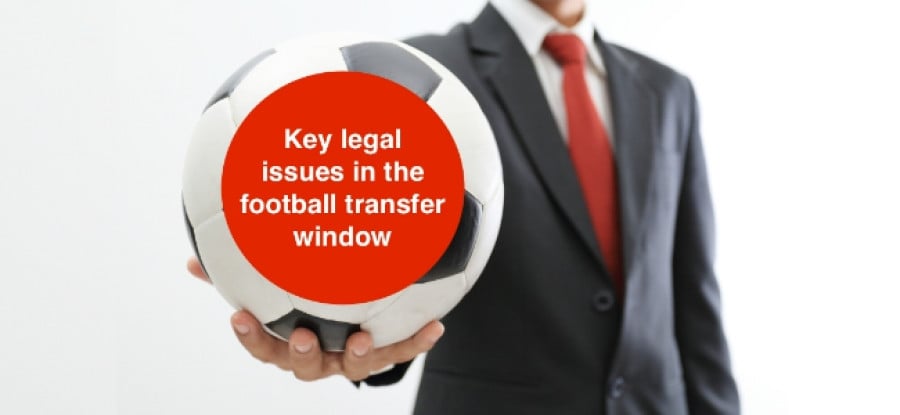 Monday, 10 August 2015

The football transfer market is, by its very nature, rife with speculation, and often the general public is left in the dark about the finer legal considerations that help shape the deals.

To help shed light on this, I put questions to a number of football's top lawyers and agents to gain their insights into some of the prominent legal issues at play during England's transfer window.

I hope this article will prove a useful guide for both professionals and fans looking to learn more about the business and legalities of the sport. If you have any related questions, I encourage you to leave a comment at the bottom of the article.
How important are image rights clauses to a high-profile player when signing with a new club?
What steps can players take to ensure that they achieve the maximum possible benefit from image rights as part of the transfer deal?
CAROL COUSE, CONSULTANT, MILLS & REEVE
Image rights provisions tend to form an increasingly crucial part of high profile football deals, given the importance of generating commercial off field revenue (particularly for those clubs competing in UEFA club competitions, where compliance with UEFA's Financial Fair Play requirements is paramount). Domestically, whilst clause 4 of the Standard Premier League Professional Playing Contract provides a player's club, its sponsors, the Premier League and its main sponsors with a bundle of rights regarding the exploitation of a player's image rights, in the case of high profile players with a genuine commercial value in their image, a separate image rights deal tends to be entered into between the club and the company to which the player's image has been assigned.
Points which often form the crux of negotiations on an image rights contract tend to turn on the extent of the rights already granted by a player in his personal capacity and the impact that this will have on the club's use of his image. Some clubs elect to ring fence certain product and service categories where the player has a pre-existing deal and accept that they will not seek to exploit the player's image in a club context in conjunction with their sponsors who compete with the player's own sponsors; other clubs will still look to exploit the player's image in a club context in conjunction with competitor brands within the parameters of the existing player deal (e.g. in territories where the player has not already granted rights exclusively) and some clubs will look to grant matching rights to their own sponsors in the event that the player's own personal deal expires or is terminated prematurely. Advisors should be very clear in their strategic planning of personal endorsement deals and upon signing for a new club, should be mindful of the likely conflicts or opportunities that club's sponsors may present to the player (and his image rights company) in both a club and a personal capacity.
Another contentious point will be grounds for termination or reduction in fees, with clubs seeking protection and remedy whenever they may feel that the club, player or sport has been brought into disrepute and the commercial value of the player's image has diminished. Players' advisers will inevitably look to tighten the wording of these provisions as much as possible (e.g. termination only in the event of the player's custodial sentence rather than an arrest or any criminal sentence or a sporting sanction only where all other avenues of redress or appeal have been exhausted).
Tax indemnities are another area where clubs' positions vary greatly, with some seeking an indemnity from the player in the event of HMRC determining that further taxes are due (likely if HMRC considers this to be 'disguised remuneration' rather than genuine commercial payments for the exploitation of image rights) whereas other clubs take a more pragmatic approach and agree to share the financial liability in the event that further taxes and National Insurance payments are due. In the context of a transfer, the commercial and tax position often turns on the player's bargaining strength and how much the club require his on field services this will often dictate how far the club is prepared to 'bend' when negotiating the image rights contract.
It is difficult to provide blanket guidance to a player's adviser in respect of image rights negotiations as the position of each club, and player for that matter, will be very different, but hopefully the above gives a flavour of the types of issues we often tackle in negotiations of this nature.
Buy-out and release clauses are frequently referenced in transfers (most recently with Fabian Delph and Christian Benteke). What are the key differences between a "buy-out" clause and a "release" clause?
Additionally, what are some of the key issues to consider when a club chooses to exercise either clause?
PAUL SHAPIRO, ASSOCIATE, CHARLES RUSSELL SPEECHLYS
The transfers of Fabian Delph and Christian Benteke this summer have both included notable references to the bids from Manchester City and Liverpool respectively triggering 'buy out' or 'release' clauses in their player contracts. These terms are used interchangeably and they are similar in the sense that they both are contractual provisions which act as exceptions to the general rule that a club can prevent a player registered with them moving during the term of his contact regardless of the financial incentive offered. However, they have important differences:
A buy-out clause is a provision stipulating the amount that a player must pay to his club as compensation in order to terminate his contract.
A release clause, on the other hand, is an undertaking from a club to accept an offer for the player if they receive a bid over a certain amount (potentially with additional conditions such as the club having failed to qualify for the Champions League or being relegated).
Release clauses can operate in different ways. For example, Benteke's release clause of £32.5m appears to be realistic estimate of his open market value. Delph's, on the other hand, looks much more like a marriage of convenience. His release clause was apparently only included in his new contract agreed in January 20151 and the figure of £8m (potentially well below his open market value) may well have been a condition for Delph to sign as it gives him an easy exit route (whilst the club also benefit from him not being able to leave for free in the summer).
When it was disclosed that Benteke's player contract contained a release clause, Tim Sherwood was on record as saying "everyone has [one]."2 There is a trend for these clauses to be used more regularly, but our experience is that they are still very much the exception rather than the norm.
Buy-out clauses are rarely used in Premier League contracts (in fact, we have not come across a contract where one is used). Much of the coverage in the press on buy-out clauses relates to Spanish player contracts, where a player's right to buy-out his contract (whether at a price stipulated in a buy-out clause in his contract or set by a court) is codified in Spanish law.
On the continent, buy-out clauses are often set at thresholds far in excess of market value so as to act as a deterrent to any club on a spending spree, for example Cristiano Ronaldo's is rumoured to be set at €1billion. There is no reason why a Premier League player contract could not contain a buy-out clause, but as the contract would be governed by English law, it would have to be drafted carefully so as to not fall foul of the prohibition on contractual penalties. This, coupled with the less efficient tax treatment of a transfer activated by a buyout clause (it involves two potentially taxable transactions - the transfer of funds from the buying club to the player and then the player to the selling club), means we do not expect to see their use increase in the near future.
What are the current trends in player contract negotiations with regards to performance-based pay? What are the key (and I assume competing) objectives for players and clubs?
JONNY MADILL, ASSOCIATE, SHERIDANS
The increasing presence of performance-related pay in player contracts negotiated by Europe's leading clubs, including those in England's Premier League, constitutes a fascinating trend in the business of football. The shift by some clubs towards more flexible and variable pay structures, in contrast to the traditional, more simplistic approach built around fixed amounts and limited scope for variation, can be explained by a number of underlying objectives.
Objectives of clubs:
First and foremost, from a commercial perspective, a club's ability to protect its interests by introducing performance-based pay into player contract negotiations at the outset is a key rationale. Secondly, the potential for clubs to increase levels of player motivation and incentives by offering them opportunities to essentially take control of their earnings can, in turn, improve the culture and atmosphere within a team environment; this can have a positive impact on individual and team performance, and ultimately results. Thirdly, the increasing sophistication of clubs' performance analysis methods, and the growth of data analytics in football in general, has allowed clubs to more easily, more readily, and with greater levels of accuracy, measure and analyse players' performance and scope for improvement. This has facilitated the transition to performance-related pay structures, as well as help clubs' recruitment strategies and assessment of transfer targets.
Objectives of players and their representatives:
It is anticipated by some that players and their representatives' response to the recent trend will be that of resistance, due to the perceived risk and uncertainty associated with a payment structure consisting of a much lower guaranteed pay and greater scope for variation based on performance. There is growing belief, however, that players and agents will be open and welcoming to the concept, due to the clear opportunity presented by it to significantly increase individual earnings through greater levels of performance, both on an individual and team scale.
Challenges for both sets of stakeholders:
The challenge for a club intending to use performance-related pay as part of its remuneration strategy will be to ensure that an appropriate balance is struck between a player's opportunity to trigger bonuses through individual success (e.g. goals or assists) and through team success (e.g. promotion or qualification for European competition), and also to ensure that performance goals are both realistic and proportionate. In doing so, clubs will need to keep up with the rapidly developing methods of data analytics used by Europe's elite in assessing and analysing player's current and potential performance. For players and their representatives, the challenge will be to ensure that any drafting around performance-related pay in a contract appropriately balances the commercial interests of the player with those of his/her prospective employer, and also that the arrangement sufficiently incentivises and motivates the player.
FIFA TMS is now mandatory for all international transfers. How are clubs adjusting, and what, if any, impact has this uniform reporting system had on the global football landscape?
What has been the feedback from KNVB's adoption of the domestic transfer matching system (DTMS) last season? Could other major domestic football leagues in Europe follow suit and adopt the DTMS?
KIMBERLY MORRIS, HEAD OF INTEGRITY AND COMPLIANCE, FIFA TMS GmbH
Clubs and Associations have been using the FIFA ITMS system for almost 5 years (since October 2010). Over 7,000 clubs and 209 associations worldwide use ITMS which is described in Annexe 3 of the FIFA Regulations on the Status and Transfer of Players3 (the "Regulations") as "a web based data information system designed to administer and monitor international transfers". In terms of the administration of international transfers different clubs and different associations must work together to ensure that a transfer is processed correctly in ITMS. As its name implies, the transfer matching system, matches data entered by clubs. This means that if the clubs do not agree on key fields, including the type of transfer and the money that must exchange hands, when processing their transfer, the transfer will not proceed and they will not be able to engage a player. The associations (both the engaging and releasing associations) also play a role in each transfer, as they are responsible for confirming the player and processing the request, delivery and confirmation of receipt of the International Transfer Certificate, all within the appropriate transfer window and in accordance with the provisions of the Regulations.
Annexe 3 of the Regulations is the governing framework under which clubs and associations must register and process their international transfers. Annexe 2 of the Regulations is the governing framework with respect to the procedure governing the applications for the first registration and international transfer of minors.
The key for clubs and associations when processing their transfers in ITMS are the TMS managers – those men and women who are TMS users and who act on behalf of their club or association to ensure that the transfer is processed correctly. Some clubs and associations have knowledgeable TMS managers who operate well in the ITMS system and who are well-versed in the Regulations. The level and experience of TMS managers varies worldwide and this can create conflict and challenges between the clubs and associations when processing their transfers.
All clubs that are involved in professional transfers are required to have a TMS manager and the role of TMS manager must be fulfilled by an employee of the club. With regards to training, the club's outgoing TMS manager will usually train the new manager, but in cases where a club is new to professional transfers, the responsibility lies with the club's national association (which all have TMS managers) to provide training.
Member associations are required to have at least two TMS managers and clubs are encouraged to have more than one TMS manager. A larger club or association will often have several TMS managers.
All TMS managers are required to sign a data protection agreement, which states that they will keep all data obtained based on their access to ITMS strictly confidential and will take all reasonable measures and apply the highest degree of care in order to guarantee complete confidentiality at all times. Member associations and clubs must select, instruct and control their authorised users with the highest possible care. In the event of a breach of confidentiality, both the clubs (and the association) and the individual tasked as TMS manager are liable.
The ITMS impact on the global football landscape - Accountability, Transparency and Compliant Behaviour - a more level and fair transfer process.
Whether you are a category 1 club in England, a category 2 club in Nigeria or a category 3 club in the Argentina, if you want to transfer a player internationally, either engage him or release him, you must use ITMS. The Regulations require that all users of ITMS follow the same rules –we work to ensure compliance with those rules – all over the world. Our department monitors the transfers processed in ITMS. Where we detect breaches of the Regulations we contact the clubs and associations and request compliance. Where they fail to comply we impose sanctions. The compliance element, the risk of a sanction, has had the effect of adjusting club and member association behaviour. FIFA TMS has made transfer business smoother and faster. We continually work to ensure that the transfer business is more compliant.
In addition, over the past 5 years we have seen more collaboration amongst clubs and member associations, in particular the TMS managers, who must work together to ensure their transfers are processed in time.
On the topic of the domestic transfer matching system, the feedback from the KNVB has been very positive. They are very happy with the system, as it's given the member association a lot more transparency in terms of what's happening with their clubs. We think that other member associations will be interested in enjoying these benefits as well.
What are some of the key issues when a player's former club or clubs are owed training compensation and/or solidarity payments following that player's transfer?
With frequent collection issues, could a FIFA TMS-style system be implemented where automated payments become a mandated part of the player registration process?
ANDREW SMITH, BARRISTER, MATRIX CHAMBERS
From the perspective of the 'new' (i.e. buying) club, it can often be difficult to establish, with any reasonable degree of certainty: (a) the identity of all those clubs that were responsible for the player's training and education; and (b) over what period of time this took place.Although the 'Player Passport' will generally provide useful information for this purpose, it remains an imperfect tool.
From the perspective of those clubs that are entitled to receive a portion of the relevant training compensation / solidarity payments, there is often a lack of awareness regarding: (a) the circumstances in which they become entitled to receive such payments; and (b) the process by which such claims may be pursued.
It would in principle be possible to set up a system whereby clubs are required to pay the appropriate training compensation / solidarity payments into a form of centralised 'escrow' account, as a mandatory part of the player registration process (which payments could then be distributed, from that central fund, to eligible clubs). In my view, however, it seems relatively unlikely that FIFA would be keen to implement such a system, principally on the basis that the very substantial administrative burden of distributing such payments (to eligible recipients) would be transferred from individual clubs to FIFA itself. In addition, the operation of a centralised system would not, by itself, resolve all of the practical problems outlined above.
Another option open to FIFA is to commit greater resources to the task of investigating and sanctioning wilful non-compliance with the existing training compensation and solidarity payments regimes.
What are some of the common questions and misunderstandings about UEFA's Financial Fair Play requirements?
DANIEL GEEY, SENIOR ASSOCIATE, FIELDFISHER
Will clubs be actually sanctioned?
As can be seen from the two sets of settlement decisions undertaken by UEFA's Club Finance Control Body (CFCB) and the recent Dynamo Moscow decision, the sanctions that have been imposed on clubs have been substantive. Not only have some fines been large but sporting sanctions like transfer restrictions and squad size limitations have demonstrated that the regulations have teeth. In addition, the Football League demonstrated the strength of its own rules when it sanctioned three clubs with embargos at the turn of the year. The upcoming QPR FFP arbitration decision will be a fascinating next step in FFP's evolution.
Sponsorship agreements won't be investigated?
The common concern was that owners would sponsor their club through a related company, thus potentially inflating the price of the deal so as to benefit from greater revenues to comply with the FFP requirements. Although previous settlement decisions were not made public, it appears that a number of sponsorship deals with related parties were investigated in some detail and in some cases the value of such deals was reduced for FFP compliance purposes.
What is settlement?
Many clubs were relatively unaware of the CFCB procedural changes in the winter of 2014 when settlement (as a type of plea-bargain) was added as a potential avenue for clubs to use if the CFCB believed they were in FFP breach. Since the first sanctioning decisions, settlement has been far and away the preferred route for both clubs and UEFA to use in order to resolve compliance issues whilst alleviating the complications of clubs going to CAS to challenge the FP sanction imposed. Whilst some have criticised the process because clubs that may have been in breach have not been expelled from UEFA competition, the sanctions imposed have still been relatively substantive.
Beyond negotiating contracts, what is the role of a footballer's agent in 2015, especially with the FA's new regulations on working with intermediaries?
How involved are agents in assisting players with financial management, national and global branding, business development, and public relations?
ADAM MCCARTNEY, PRINCIPAL, CANFORD SPORTS, MEDIA, AND ENTERTAINMENT
With the introduction of the new Intermediary Regulations4 in April 2015, and the potential for an increasingly crowded agent market, it is more important than ever for agents to set themselves apart by offering a complete management service to current and potential clients. Providing a complete management service will often require the involvement of experienced third party professionals to complement the agent's service offering.
In addition to demonstrating their experience and knowledge of the game, track-record of acting in their clients' best interests and ability to secure the very best playing and endorsement contracts, agents should also be in position to provide, or assist their clients in accessing, reliable advice on areas including legal and business affairs, tax, wealth management, brand and web design, social media and PR.
Increasingly, for instance, we are seeing brands offering equity in their businesses to athletes in return for the use of their image rights and endorsement - completing these types of deals correctly and to the client's long-term benefit will invariably require detailed advice on legal and business affairs, tax and wealth management.
What impact will the FA's new regulations on agents (now called "intermediaries") have on the transfer window and how agents conduct business?
JOHN MEHRZAD, BARRISTER, LITTLETON CHAMBERS
The new Intermediaries Regulations5 will not herald the "Wild West" with a free-for-all in terms of player transfers. Anyone who is already involved in those transfers will tell you that is already the case, especially when there is an international element to the transfer.
There are numerous licensed agents who have "consultants," who are unlicensed, involved in the transfers. Now, "intermediaries" will essentially continue to operate on the same basis.It is fanciful to suggest that the market will suddenly change overnight.
Ultimately, as I have spoken and written previously, I believe the scope of disputes will remain the same - who was the effective cause of the transfer and who, therefore, is entitled to the fee, but the numbers of disputes may increase.
As for how intermediaries conduct business, a few thoughts below:
Representation contracts are likely to have tight exclusivity clauses, guaranteeing fees even if another person conducts the transfer negotiations.
There may be more arguments about whether the intermediary has breached the terms of that representation contract as a tactical ruse for another intermediary to take over representing the player.
Despite all the talk about the 3% fee, it has not been put into the FA standard form representation contract and I know intermediaries are simply agreeing whatever percentage fee they can secure, which is often higher than 3% - more like at least 5%.
As for the transfer window itself, I don't foresee any change to it unless UEFA/FIFA view transfers as becoming too complicated and clubs/players need longer to conclude them. I doubt that will happen, as transfers will always happen if the participants want the deal secured.
What are the main legal issues to consider when dealing with international transfers?
ARIEL RECK, PRINCIPAL, RECK SPORTS LAW
The first legal issue to consider is to be sure that the player is eligible to play in his new country. In many countries, there is a quota for foreign players; and in some countries, like the United Kingdom, additional limits are imposed by the government.
The second issue to consider is the tax burden. In order to know how much the player will effectively earn it is essential to understand the local tax regime. Not only do you need to understand the tax rate in the player's new country, but also if there are ways to reduce it and the risks involved (for example, the image rights agreement and/or any signing-on fee the player receives before he becomes a resident in his new country).
Finally, knowledge of the employment regulations in the new country is essential in order to be able to clearly understand the possible consequences of a termination or other contractual breaches. In this regard, the safest option is to designate the FIFA rules and the FIFA dispute resolution bodies, which provide a "universal" solution, although this is not always possible.
References|closed
'Fabian Delph: Aston Villa midfielder extends contract', BBC.com, 25 January 2015, last viewed 10 August 2015, https://www.bbc.co.uk/sport/0/football/30974613
'Christian Benteke's £32.5m buy-out clause could lead to Aston Villa sale', Skysports.com, 29 May 2015, last viewed 10 August 2015, https://www.skysports.com/football/news/11677/9868236/christian-benteke-has-buy-out-clause-in-contract-tim-sherwood-reveals
FIFA Regulations on the Status and Transfer of Players, https://resources.fifa.com/mm/document/affederation/administration/02/55/56/41/regulationsonthestatusandtransferofplayersapril2015e_neutral.pdf
FA Regulations on working with Intermediaries, available to download at, https://www.thefa.com/football-rules-governance/more/intermediaries/intermediaries-regulations (last checked 10 August 2015)
Ibid at 4