Football Law - What to watch in 2014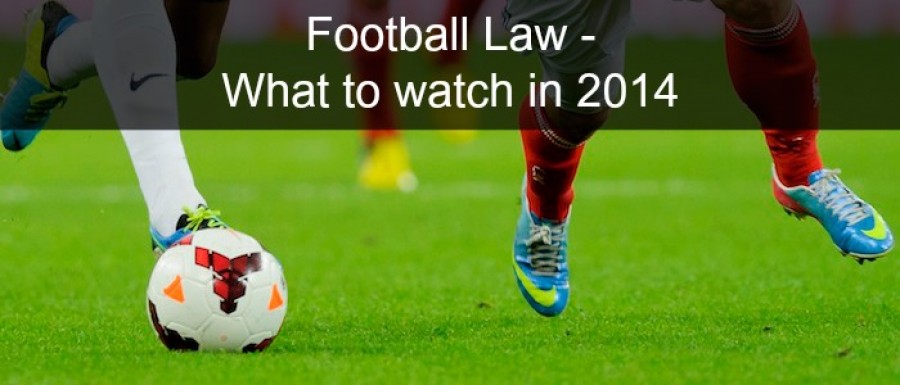 Tuesday, 30 September 2014

As football continues to grow in popularity and commercial value, it is more important than ever to have good governance and effective regulations to ensure the rights of all stakeholders are protected and the sport is developed at all levels.

In this article, Sean Cottrell, CEO for LawInSport, asks some of the LawInSport Editorial Board to share their thoughts on the key legal topics delegates should be aware of in 2014 and beyond.
Asian Football, Takuya Yamazaki, Field R Law Offices, Japan
Recently, Asian football has seen FIFA visit countries to check the regulations of national Football Associations (FA), and oversee reform activities.
For example, in Japan, under FIFA's direction, the Japanese FA has made its 'judicial committee' independent from its Executive Committee (ExCo), introduced an appeals body, and introduced elections to decide the chairman and ExCo members. Pertinent reforms are also being implemented in other Asian countries under FIFA's guidance.
The positive actions embarked upon by FIFA towards reforming governance problems marks a promising first step towards realising good governance in Asian football.
Players' Agents Regulations, Ariel Reck, Sports Lawyer, Argentina
The proposed deregulation of FIFA's Agents Regulations suggests that Licensed Agents be replaced by Intermediaries. FIFA will only define the minimum standards, and each national association will be responsible for the implementation and enforcement of the system.
The most controversial issue will be FIFA's proposed "benchmark" for fees: a 3% cap of the player´s gross salary or transfer price depending whether the Intermediary acts for the player or club. The cap is presented as a "recommendation", but if national associations establish a dispute resolution system to deal with agents' conflicts, its jurisdiction will be limited to claims up to 3%.
Investment, Benoît Keane, Keane Legal, Belgium
There has been a notable increase in the enforcement of EU competition rules prohibiting unlawful state aid subsidies to European football clubs. In the last year alone, the EU Commission confirmed investigations into a property deal concerning Real Madrid, aid to prominent Dutch football clubs, and a tax scheme benefiting certain Spanish clubs (including Real Madrid and Barcelona). However, the EU Commission has shown itself willing to approve state aid that benefits society as a whole, such as the construction of new stadium facilities with multi-functional purposes (e.g. the stadiums for EURO 2016).
For current and new investors in European football, strong state aid enforcement means greater due diligence is required but it also provides an assurance that competitors will not be able to benefit from an unfair advantage. Fair competition in the funding of European football just got serious.
Sponsorship, Gen Gordon, Tactic Counsel, UK
The increased interest the World Cup brings to football brings greater scrutiny over the ethics of the business of football. The increasing pressure from fans and players on clubs to choose ethical sponsors (Newcastle FC and Wongo, the pay day loan company, being one example) is something that sponsors, national associations, leagues and clubs will need to be mindful of going forward.
Match-fixing, Kevin Carpenter, LawInSport & Hill Dickinson, UK
Match-fixing is the biggest threat to football worldwide. FIFA and INTERPOL are implementing a 10 year commitment to fight it. This threat to global football, and its associated commercial revenues, is principally driven by organised criminals that seek to make illegal gains from manipulating global betting markets.
Asia is central to this. Many of the known crime syndicates have originated from Asia, and the "Asiagate" match-fixing scandal (still on-going) is synonymous with the region. There have been, and continue to be, both sporting and criminal match-fixing cases throughout Asia: South Korea, China, Singapore, Bahrain and Malaysia. These cases are being followed by global stakeholders, and are expected to shape sporting, judicial and public policy on match-fixing both inside and outside of Asia.
Brand Protection, Prof Mark James, Northumbria University, UK
One of the biggest issues to confront football this year will be how the commercial rights of the official sponsors of the World Cup can be protected from ambush marketing. One of sports marketing's biggest rivalries, Coke -v- Pepsi, has already started with the release of both companies' World Cup advertising campaigns and this will soon be followed by the on-going battle for supremacy between Adidas and Nike.
At each edition of the World Cup, the legislative protections provided to the tournament's official sponsors are increased in order to ensure that only they can be associated with the event, so far as is possible. However, the tighter the laws are drafted, the more creative the ambushers become in avoiding them.
Financial Regulation, Daniel Geey, Field Fisher Waterhouse, UK
Spring 2014 will be significant for all clubs wishing to play in the UEFA Champions League and Europa League, as the UEFA club financial control body (CFCB) will issue its first break-even settlement proceedings and infringements decisions.
Clubs that make losses over €45m over a number of seasons may be banned from playing in future competitions. The initial CFCB decisions will be instructive in assessing how the range of sanctions will be determined and the grounds for challenging. There is likely to be high-profile appeals by clubs to the Court of Arbitration for Sport (CAS).
European football awaits the first decisions to examine who will be allowed to play in next season's competition.
Third Party Ownership, Andrew Nixon, Sheridans, UK
The ownership of economic rights is an incredibly controversial area, already leading to high profile regulatory prosecutions, most significantly the Premier League's prosecution of West Ham United over the 2007 transfer of Carlos Tevez.
However, it is also quite possible that the basis for legal disputes going forward will arise from the current, countervailing pressures towards a complete, global ban on third party ownership, and on the other hand, the increasing need of many football clubs to use the third party ownership model to raise funds and ease financial pressure.
Court of Arbitration for Sport, Mark Hovell, Mills & Reeve, UK
2014/15 will be an interesting "season" at the CAS as we'll see the governors of the sport flex their muscles against some of the biggest football clubs in Europe and the World.
One example being that UEFA announced that 76 clubs were being required to provide further information to ensure those clubs have not breached UEFA's Club Licensing and Financial FairPlay tests. By May, we'll know which of those are in breach and what sanctions UEFA will hand out.
The reevaluation of sponsorship deals and potential breaches of EU law this will bring will see the these regulations tested at the Court.
New WADA Code, Mike Morgan, Morgan Sports Law, UK
With new World Anti-Doping Code (WADA Code) coming into effect in 2015 the consequences of committing an anti-doping rule violation, even if inadvertent, are far more severe under than under the previous WADA Code.
Therefore it is essential that players and player support personnel are given as much support and education as possible. It is also critical for the integrity of the entire system that those enforcing the rules are held to the same exacting standards.
Biological Passport, Jeffrey Benz, Benz Law & 4 New Square Chambers, USA & UK
WADA has pressured FIFA to incorporate biological passports into one interconnected system where all organizations share information leading up to the Brazil World Cup where all players will be required to have a personal biological profile. We will have to wait to see if the biological passport will throw up any previously undetected doping practices within football.
Governance, Prof. Jack Anderson, Queen's University Belfast, UK
In March, the Football League in England blocked the takeover of Championship side, Leeds United, by Italian businessman, Massimo Cellino. The League vetoed the takeover because Cellino had been convicted in Sardinia of tax evasion for not paying import duty on a yacht. This was the first time that a prospective owner had failed the League's owners' and directors' "fit and proper" person test. In April, Cellino successfully appealed his disqualification.
Foreign investors will certainly be following this case closely. One ponders how might the situation be complicated by the fact that Cellino has already begun to invest heavily in the club?
The article was written for and published in the Soccerex Asian Forum 2014, 13-14 May 2014, Delegate Guide.
Sean Cottrell