How technology is improving the fan experience – and creating legal challenges for clubs and leagues
Published 22 February 2019 By: Douglas N. Masters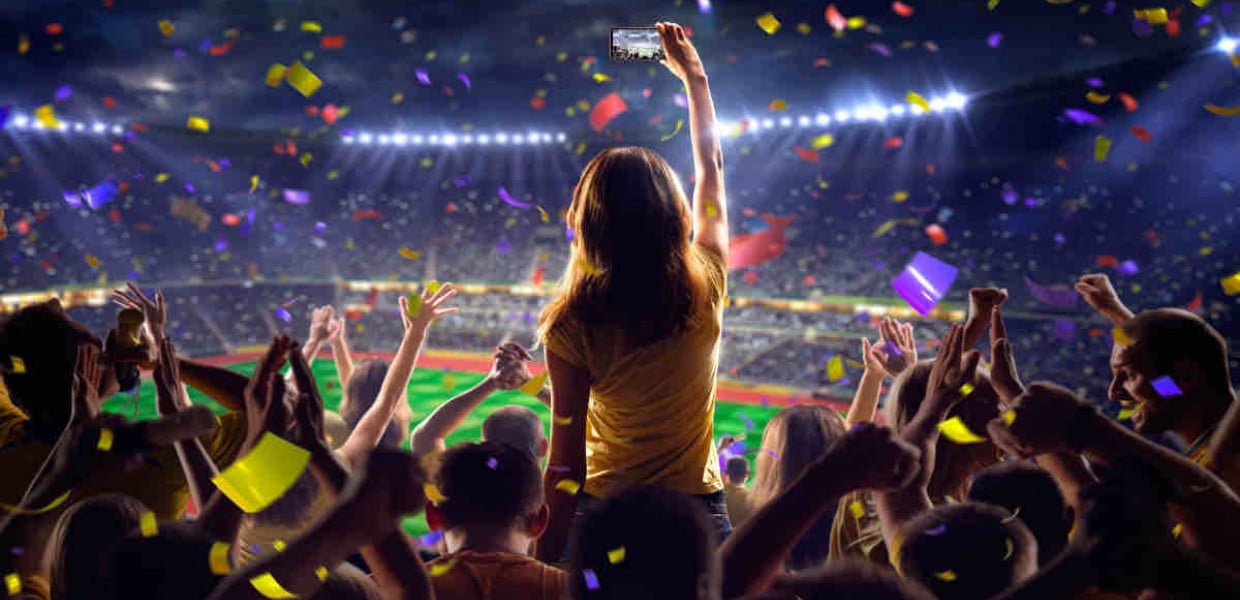 Sports organizations are leveraging tech innovations to engage fans in new ways to drive the industry forward, connecting and involving sports fans more than ever with their favorite players, teams and leagues.
Being a fan was once a fairly passive activity that involved going to games or watching them on television, reading up on players and teams, and buying related merchandise. Now sports fandom is a whole new ballgame, with the development and use of interactive content, social media platforms, wearable tech, connected venues and even a new football league controlled by fans.
Technology is being used to not only push the boundaries of sports fan engagement but also to redefine the nature of fan participation. But the new level of fan involvement brings questions about how the personal information collected by sports organizations and third parties should be used and legally protected. Accordingly, this article examines:
Why fan engagement is so important;

The latest innovations in tech and media;

The new legal challenges facing clubs and leagues.
Why Fan Engagement Is So Important
Players come and go, teams move, fortunes rise and fall, and rules change, but fans remain the lifeblood of the sports industry. Engaging fans is vital to teams and leagues for a number of reasons:
Attract new followers and retain current fans
Sports organizations are always looking for the most effective ways to attract and keep a passionate, dedicated following—especially younger, tech- and social media-savvy fans that will embrace innovations based on the latest technology and spend their disposable income on tickets, experiences, and merchandise.
Wimbledon became a surprise early adopter of voice-activated digital assistants, also known as chatbots, to interact with tennis fans. The organizers behind the oldest tennis championship in the world introduced Fred, a chatbot named after late British tennis legend Fred Perry, in 2017 to interact with fans by answering questions about the players and the facility.1 Built into a messaging app, Fred is helping Wimbledon organizers boost its digital presence to appeal to younger audiences that prefer to get their information from mobile devices.
Fight declining in-person attendance
Live attendance has been falling across sports in recent years – and no definitive answer seems to exist as to why or about how to reverse the troubling trend.
National Football League (NFL) attendance, for example, has been declining for years and averaged 67,404 fans per game in the 2017 regular season, the lowest since 2011.2 Attendance at Major League Baseball (MLB) games is also an ongoing concern, with the league seeing its lowest attendance numbers in the past two years since 2003, when the average attendance figure dropped to 28,013.3
The expense of attending a game in person, from ticket prices to parking, and new technology that creates a superior at-home experience for fans, are the most cited and most general reasons for the falling attendance.
According to the Team Marketing Report Fan Cost Index®, it cost a family of four an average of $536.04 to attend an NFL game in 2017, which includes the price of four tickets for non-premium seats, four sodas, four hot dogs, two beers, two souvenir caps and parking.4 An MLB game is also a pricey family outing at $230.64, which gets a family of four tickets, soft drinks, hot dogs, beer, a program and a hat, and parking.5
Ironically, tech innovations and media deals make watching a game at home the comfort and convenience of fans' own couches—or anywhere but the actual venue— a lot more attractive these days. Twitter grabbed an early lead over its over-the-top streaming competitors when it paid approximately $10 million to the NFL in 2016 for the rights to stream 10 games.6 This meant fans around the world could watch the games via Twitter on their smartphones, tablets, laptops and connected televisions. The partnership also included game highlights and pregame broadcasts from players and teams.
Staying ahead of competitors
Embracing innovation – whether mining performance data in new ways, offering unparalleled access to players or building new fan communities – is another way to captivate younger, tech-loving sports fans who have myriad entertainment options. Being first to make the most of the latest and coolest tech is one way to make a forward-thinking impression in an increasingly competitive market.
The MLB and the NFL Players Association (NFLPA) recently launched ground-breaking cryptocurrency ventures. The MLB is partnering with a gaming company Lucid Sight on MLB Crypto Baseball, the first blockchain game based on a major professional sports league.7 MLB Crypto Baseball will link officially licensed digital, limited edition sports collectibles designed by Lucid Sight to the Ethereum blockchain. Fans will exchange Ether, Ethereum's native cryptocurrency, for blockchain-secured MLB Cryptos to buy collectibles such as interactive avatar figures and digital commemorations of special moments.
The NFLPA got into the cryptocurrency game by investing in the live video platform SportsCastr, which is launching a cryptocurrency start-up called FanChain.8 With FanChain, fans will get new way to participate on the SportsCastr platform by using cryptocurrency to unlock NFL player content, access back stage videos, purchase event tickets, and engage with players.
Transformative Innovation in Tech and Media
With so many different ways to get close to the action, it's a great time to be a sports fan. Partnerships involving the biggest names in sports, tech and media are transforming the way people view and enjoy sports.
From putting a new spin on player and team stats to exploring new ways to use virtual and augmented reality (VR/AR), sports organizations are pushing the boundaries of fan engagement. Different types of initiatives offer experiences with varying levels and perspectives of fan participation:
Content creation
Giving fans historical and real-time facts and statistics is a relatively simple way for teams and leagues to connect with fans, whether they are at the venue or not. Sports organizations, like the National Basketball Association,9 have developed their own digital platforms that manage and disseminate curated articles, photos, videos, and tweets for media partners to distribute through traditional and social media.
To wrangle the vast amount of athlete and team performance data that colleges and universities collect, National Collegiate Athletic Association (NCAA) is partnering with Google Cloud to create detailed databases.10 The partnership gives team and league stakeholders, as well as stats-obsessed fans, the ability to search and analyze data to their heart's desire.
Wearable technology
Connected devices, clothing and shoes have been used for some time to track athletes' work-outs and in-game performance and collect health data to improve their form and output, and avoid injuries. The future of wearables includes injectable, ingestible and implantable technology to collect health and performance data from athletes and is already on the horizon.11
But wearables are no longer just for athletes, coaches and trainers. Smart wristbands serve multiple purposes for Manchester City soccer fans by providing game updates, acting as an electronic ticket for access to an event, allowing fans to pay for concessions, and pointing out other fans nearby.12
Other types of wearables bring fans closer than ever to the action. A jersey embedded with sensors that lets fans feel what the players feel. Made by Wearable X, Jersey X wirelessly receives and converts real-time data into haptic vibrations that let fans feel the simulated sensation of on-field action such as an interception, touchdown or fumble during a football game.13
Connected venues
What started as WiFi-enabled stadiums and electronic ticketing has morphed into deploying a variety of technology to create better fan experiences. Virtual reality (VR) and augmented reality (AR) tech posted on-field and on-court enables the broadcast of highlights and other content in VR and AR, and entire games in VR.
Other connected innovations give the fans more control than ever. BriziCam recently debuted a system that lets fans take photos of themselves by using their smartphones to control cameras posted around the venues. Fans can then post theses unique selfies to social media.14 BriziCam has already appeared at NBA games and Grand Slam tennis tournaments.
Major League Baseball has also started using biometrics to identify fans by their fingerprints at ballparks. In partnership with CLEAR, the biometric identity platform, fans with a CLEAR account can now swipe or tap a finger to enter the stadium instead of presenting a paper or mobile ticket and buy concessions instead of pulling out cash or plastic. MLB is the first major sports organization to embrace biometrics, but businesses have been using the technology for years as a security measure. The regulation of the collection and use of biometric data is still evolving, however.15
Fan-controlled action
In what may be the ultimate in fan involvement, the Fan-Controlled Football League (FCFL) will launch in 2019.16 A combination of real-life sports and fantasy sports-style fan participation, the FCFL will have fans calling all of the plays for eight teams and making general manager decisions as such as naming the team coach and player roster. Fans will vote on plays via the Twitch platform or the FCFL's mobile app, which will then be relayed to the players in real time. The FCFL will also be a veritable tech playground, using helmet cams, biometrics, and drones to put fans inside the game.
Legal Issues
With new technology and innovation comes a variety of legal issues—some predictable, others still speculative.
Privacy, ownership and the monetization of data
The monetization of athlete, team and league data is big business.
All four of the major professional sports leagues—the NFL, MLB, NBA and NHL—collect and analyze huge amounts of player performance data via wearable technology that tracks player performance and generates a mountain of player, team and league statistics. The NBA, for example, partnered with Sportradar US, a sports data and integrity service provider, to package and distribute league stats to fans and media worldwide. At the same time, the league named Second Spectrum its provider of player tracking systems in all NBA venues.17
The NFL broke new ground in 2017 when its players union, the National Football League Players Association (NFLPA), took the lead and partnered with a wearable technology company. The NFLPA named fitness tracker maker WHOOP its official licensed recovery wearable in a deal that gave players access to and ownership of their own health and performance data, as well as the opportunity to commercialize their data.18
The collection and use of personal information from athletes is fraught with – by now well known – legal issues. Legally, it's controlled a number of different ways – from collective bargaining agreements between players associations and leagues to media rights agreements between sports organizations and their media partners. Collecting and using data from fans – from venues, apps and digital interactions, including social media – adds another layer to existing legal considerations.
Fans do not have the same protections as athletes, and as the collection and use if data for fan engagement becomes a more entrenched part of sports, the time may come, sooner rather than later, that fans want a cut of profits generated using their personal information.
Biometric data is also both a unique and fixed identifier, which makes it use for security purposes highly effective but increases the risk for identity theft. Three states in the U.S. have passed laws to protect biometric information, but there is no federal legislation. Only one state—Illinois— has enacted a law that provides a private right of action. The Illinois Biometric Information Privacy Act (BIPA) bars the collection, use and storage of a person's biometric information without his or her written consent.
Until recently, it was unclear whether violation of BIPA's notice and consent provisions, without an individual suffering any actual harm, was sufficient to bring a claim. In January, the Illinois Supreme Court concluded that an individual "aggrieved" by a violation of BIPA does not need to allege "some actual harm."19 This clarification is expected to result in more BIPA litigation, as well as more questions. It remains to be seen how sports organizations operating in multiple states considering the use of fan biometrics for ticketing and concessions might address privacy concerns.
Intellectual property issues
Personal information can include individuals' images and likenesses. In the age of social media, sports organizations and athletes must be increasingly vigilant to protect their intellectual property. Two recent court cases over the publication of photos of public figures highlight the nuanced interpretations of the Copyright Act underlying the rulings that may be applied to athletes as well.
When President Donald Trump surprised guests at a wedding held at his Trump National Golf Club, Esquire magazine reported on his appearance and posted a photo of the president and the bride taken by one of the guests and uploaded to his Instagram account. The wedding guest sued Esquire for copyright infringement. The federal court ruled in favor of the plaintiff20, pointing out that both the magazine and the plaintiff posted the photo online to document Trump's appearance at the event. It rejected the Esquire's fair use defense, holding that the magazine's use was not sufficiently transformative. Most of the information reported with the photo could be obtained from the photo itself, the court said.
In another case, a website that published an article about celebrities' political views included an unlicensed photo of country music star Kenny Chesney, and an article about Kid Rock's plans to run for office, and a photo of Kid Rock. The photographer sued the website for using his photos without giving him credit, as required by the Wikimedia creative commons license.
Here, a federal court concluded the website's use of the photos was sufficiently transformative because the photographer's purpose in taking the photos was completely different from the website's purpose in publishing the photos.21 The photographer's goal was to document the singers performing while the website's goal was to comment on issues of public interest.
Athletes have always been protective of their rights of publicity – after all, it's a lucrative source of revenue. Technology has upped the ante – as three key lawsuits in recent years show:
Former University of Illinois football players sued Draft Kings and FanDuel over the fantasy football giants' use of athletes' names, likenesses and statistics without their permission.22 A federal Indiana court dismissed the athletes' claims, concluding that the state's publicity rights statute allows the companies to use their names, images and performance information because that information is considered newsworthy. On appeal, the Seventh Circuit U.S. Court of Appeals asked the Indiana Supreme Court to weigh in. It agreed that, under the state's publicity rights statute, Draft Kings and FanDuel had the right to use college athletes' information and images because the data is considered newsworthy. On remand, the Seventh Circuit rejected Draft Kings and FanDuel's remaining arguments.
Two former college basketball players accused T3 Media of illegally selling non-exclusive licenses that allowed license holders to download photographs of the athletes from the NCAA's photo library for non-commercial use. The California court concluded the Copyright Act preempts the former athletes' claims. The Ninth Circuit upheld the ruling in 2017, explaining that a publicity right claim may proceed when a likeness is used without consent on merchandise or in advertising. But in situations where a likeness has been captured in a copyrighted artistic visual work and the work itself is being distributed for personal use, a publicity right claim "is little more than a thinly disguised copyright claim because it seeks to hold a copyright holder liable for exercising his exclusive rights under the Copyright Act," said the Ninth Circuit. 23
The U.S. Supreme Court refused in 2016 to consider whether Electronic Arts Inc. had the right to use the images of retired players in its Madden NFL video games. Former NFL players sued Electronic Arts alleging that its use of their likenesses in the videogame series violated their right of publicity under California Civil Code 3344 and California common law. The high court let stand a Ninth Circuit ruling that that EA could not cite the First Amendment to avoid a class action filed by retired NFL players who argued that EA violated their state-law rights of publicity by including them without permission on Madden NFL "historic teams."24
The right of publicity and privacy does not belong exclusively to celebrities. Sports fans can bring claims in state and federal courts after the fact, but as yet they have no voice in the development of fan engagement initiatives that collect and use their personal information. It's possible that back-of-ticket contracts could limit specific rights, but as technology extends the game audience in new and more interactive ways, it's unclear what rights fans who are not at the venue would have.
Sports betting
On May 14, 2018, the U.S. Supreme Court overturned the Professional and Amateur Sports Protection Act (PASPA),25 enacted in 1992 to bar betting on amateur or professional sports in most states. This has opened a pandora's box of legal issues for sports organizations – from maintaining the integrity of the games, to how much of the revenue, if anything, teams, leagues and players should receive, to protecting the privacy of those placing the bets.
A second decision could have broad implications for sports betting, as well. The U.S. Department of Justice (DOJ) determined in late 2018 that the Federal Wire Act applies to both sports betting and non-sports betting, raising questions about the future of online gambling.26 The DOJ decision, made public in January 2019, reversed its 2011 opinion that the Wire Act only applied to sports betting.
The reversal will likely lead to lawsuits challenging the DOJ's decision and could have implications for online sports betting. Only a handful of states have implemented online sports betting so far and the debate over the DOJ's ruling could hinder other states in setting up online sports betting, particularly across state lines.
These days, sports wagering is heavily technology and data-driven. And with more technology and data, come the need for more monitoring and oversight.
Players unions for the Big Four leagues said they will work to ensure their players' privacy and publicity rights are adequately protected as sports wagering takes off.
But will sports organizations need to consider fans' rights as well?
For example, as fans get more involved in games, for example with the FCFL, using their data and participation could have legal implications.
Legalized gambling will also have an impact on fantasy sports, with industry giant DraftKings set to launch its own mobile sports betting platform. Assuming that gambling is permitted on FCFL games, where fans will call the shots, the new league could ban participants from placing bets.
What's Next?
Issues presented by technology in sports is an evolving area of sports law for all parties involved, but especially for fans as fan engagement becomes a more important part of the sports industry. While fans are a crucial part of the sport ecosystem, they have little official, collective power or protection.
Groups dedicated to protecting fans' rights, such as the Sports Fans Coalition (SFC), could take up privacy and monetization issues on fans' behalf; the SFC is already championing fans' rights in sports betting and has developed the Sports Bettors' Bill of Rights. Consumer privacy protection groups could also potentially get involved.
In developing and/or adopting fan engagement initiatives, sports organizations would do well to learn from experience—for example, data breaches that exposed the personal information of millions of consumers, and litigation brought by individuals seeking compensation for the use of their images and likenesses. The future of tech innovations in sports that will affect fans may be difficult to foresee, but the legal issues involved are not entirely unpredictable.
Related Articles
Author
Loeb & Loeb, Managing Partner, Chicago Office
Douglas Masters litigates and counsels clients primarily in the areas of intellectual property, advertising and unfair competition. He helps brand owners, sports leagues, athletes and advertisers protect and leverage their branding, marketing and other IP assets. Notably, he has worked with the National Collegiate Athletic Association for nearly 20 years on brand protection strategy, helping strengthen the organization's brands, which support college athletics.
This email address is being protected from spambots. You need JavaScript enabled to view it.