An overview of key case law relating to negligent liability for sports injuries (Part 1)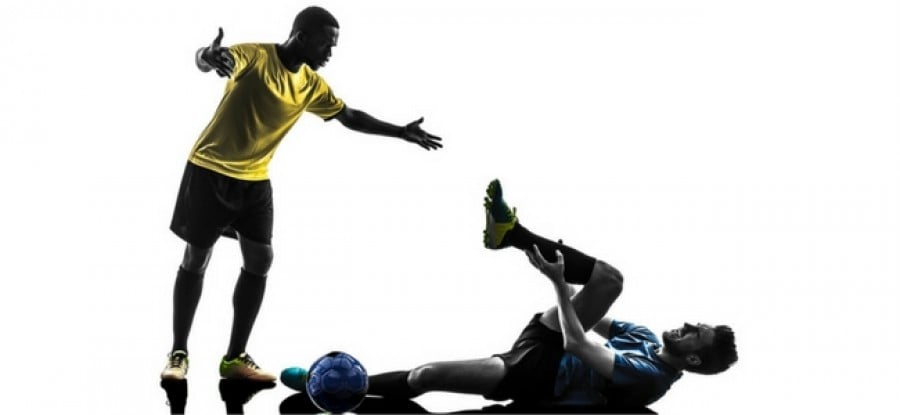 Friday, 07 October 2016 By Laura McCallum

"Games might be and are the serious business of life to many people. It would be extraordinary to say that people could not recover from injuries sustained in the business of life, whether that was football, or motor racing, or any other of those pursuits which are instinctively classed as games but which everyone knew quite well to be serious business transactions for the persons engaged therein." (Cleghorn v Oldham1 (1927))

To succeed in an action of negligence, the victim must be able to prove three things:
That he was owed a duty of care
That that duty of care was breached
The damage suffered was caused by that breach
In contact sports, such as football or rugby, all participants owe a duty of care to one another. In order to show a breach of that duty, conduct must be reckless and fall below the standard required of a reasonably skilful and competent professional player. It must be an act that is more serious than an error of judgement. Thereafter, the injury suffered must be foreseeable. For example, it must be the type of injury that one would expect from a foul or tackle. Given that, the test for negligence in the sporting world is a high threshold to meet.
In sport, it is not always the assailant who is open to be sued – players, clubs, governing bodies and referees can also find themselves subject to legal action, which will be explored in the case law discussed. This two-part article examines the extent of liability in negligence for sporting injuries arising in eight different sports:
Part 1 (below) looks at:
Football

The test for negligence

Condon v Basi
Pitcher v Huddesfield Town FC
Vicarious Liability and Likely Damages in Football – The Cases

Ben Collett (Manchester United FC) v Gary Smith & Middlesborough FC

Deliberate intention to injure

Alf Inge Haaland v Roy Keane & Manchester United FC
GB v Stoke City Football Club Ltd and another

The reasonable standard – reckless play

Paul Elliot (Chelsea FC) v Dean Saunders & Liverpool FC

Reasonable foreseeability

McCord v Swansea FC
Watson v Gray and Another

The extent of liability post Mohamud

AM Mohamud v WM Morrison Supermarkets Plc

Employer Liability and the "Master's Indemnity"
Concussion in football
Part 2 (available here) continues to look at rugby, American football, motor racing, swimming, simulated rock climbing, skiing and boxing.
Football
In the glamorous, big money world of football, players are considered as assets on the club's financial books and their fitness can not only affect the club's balance sheets but it can also cost the player personally.
The test for negligence
The defendant, in this case, broke the claimant's leg in what was described as a "vicious" tackle. It was held that the care afforded to the pursuer fell below the required standard of care and therefore the defendant was held liable. The Court stated that what is required for there to be liability is not necessarily a criminal reckless disregard for the safety of the victim but rather there must be something more serious than a mere error of judgement.
It was alleged, in this case, that the injury sustained to P was as a result of a negligent tackle. However, the claim failed. The Court stated that although the tackle was clearly a foul, it was nothing more than an "error of judgement" in the context of a fast moving game. The defendant had only split seconds to react to events and it was the kind of tackle you would see in the course of the game, every week. The claimant cannot succeed if he cannot show anything more than an error of judgement.
Vicarious Liability and Likely Damages in Football – The Cases
18 year old Collett was playing for Manchester United in a match against Middlesborough FC. In the course of the game, he was tackled by the first defendant. The tackle was high and over the ball and, as a result, Collett sustained a fracture of the tibia and fibula of his right leg.
Collett pursued damages for injury, loss and damage caused by the negligence of Smith. Collett chose to pursue Middlesborough FC (rather than Smith himself) arguing that they were liable for their employee's actions, given that he was connected to the club and acting in the course of his employment, as a professional footballer. In particular, Collett claimed for future loss of earnings as a result of not being able to pursue a successful career as a professional footballer and thereafter, as a football manager or coach.
Middlesborough FC admitted liability and it was for the Court to determine the final settlement figure.
Held:
Award in excess of £4.3 million including:
General Damages: £35,000
Past Loss of Earnings: £456,095
Future Loss of Earnings: £3,854,328
Deliberate Intention to Injure
Already a member? Sign in
Get access to all of the expert analysis and commentary at LawInSport including articles, webinars, conference videos and podcast transcripts. Find out more here.
Related Articles
Written by

Solicitor, Lombardi Associates
Laura is a Scottish solicitor, having qualified in 2013. She obtained her LLB degree at the University of Strathclyde. Prior to joining Lombardi Associates, Laura was a solicitor at two major city law firms in Glasgow. Her legal experience to date spans a variety of practice areas including general dispute resolution, housing law, medical law, personal injury, professional negligence and sports law.
This email address is being protected from spambots. You need JavaScript enabled to view it.