Key sports law cases and developments of 2020 - Europe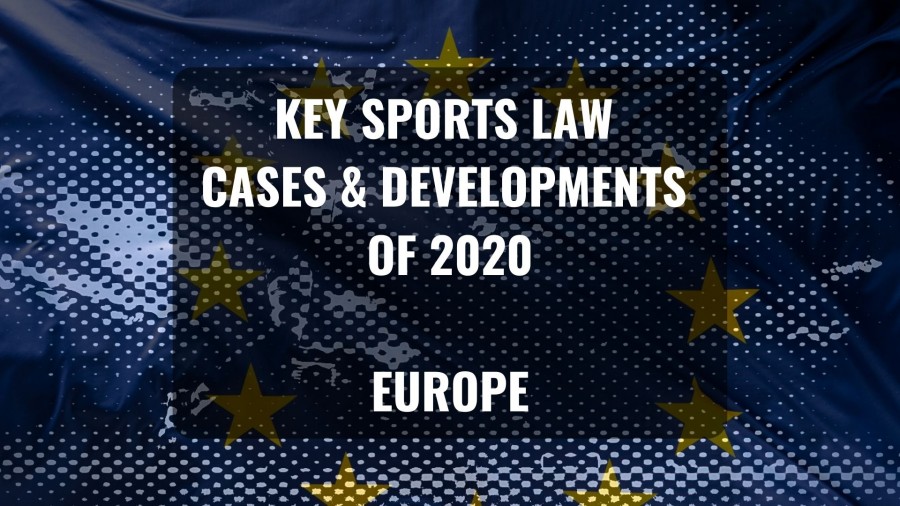 Wednesday, 23 December 2020 By Chris Bond

As we come to the end of a turbulent and challenging year, we wanted to take the opportunity to reflect on what we think have been some of the key sports law issues of 2020.

We therefore invited each member of our Editorial Board to write a short summary of their highlights. Below are the responses from our European members. We hope this proves useful not only in identifying specific cases and issues, but also in detecting broader global themes when read in conjunction with the contributions from other jurisdictions.

We would like to thank each member of our Editorial Board for taking the time out of their busy schedules to share their views with us, and also more broadly for their significant input into LawInSport over the course of the year. Thank you.

Contributors:
Despina Mavromati - Major decisions at CAS and Swiss Federal Tribunal; notable regulatory reforms.
Marc Peltier - Covid-19's impact on competitions in France.
Maciej Bałaziński - Reforms to the Polish Football Association's dispute resolution procedures.
Michael Savva - UEFA's relaxation of FFP rules.
Sven Demeulemeester - Challenges to SGB Covid-19 decisions and financial troubles in Belgian football.
Peter Rippel-Szabo - Introduction of special laws in Hungary to deal with Covid-19.
Carlos Carnero - Tax policy and tax disputes in Spain (Xabi Alonso and Gerard Piqué).
Jiří Janák - Covid-19 fallout, the new Czech Sports Agency, and match fixing and liability to third-persons.
Jan Kleiner - New Swiss Data Protection Act and SFT decisions.
Emin Özkurt - Ali Rıza v. Turkey (human rights), and a Supreme Court ruling on the ability to appeal contractual sports disputes to the courts.
Marie-Anne Lindhardt - Fallout from Covid-19, and first prosecution under Swedish Gambling Act.
Josep Vandellos - Collective bargaining for women's football in Spain, and Leo Messi's request to end his employment contract.
Already a member? Sign in
Get access to all of the expert analysis and commentary at LawInSport including articles, webinars, conference videos and podcast transcripts. Find out more here.
Written by

Chris is the Editor at LawInSport, and takes responsibility for the review of content in conjunction with the Editorial Board. Prior to joining LawInSport, Chris graduated from Nottingham University, and trained and worked as a litigation lawyer at King & Wood & Mallesons SJ Berwin.
This email address is being protected from spambots. You need JavaScript enabled to view it.