Political protest in football – is it time for a (legal) debate? Analysing FIFA's regulations and recent actions in the Bundesliga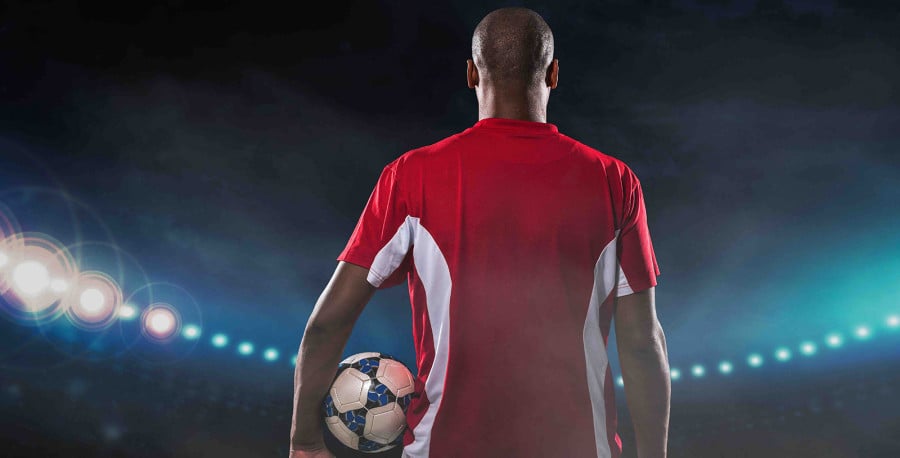 Friday, 26 June 2020 By Maximilian Wegge, David Menz

The violent killing of the black US-American George Floyd by the police in Minneapolis has caused worldwide uproar and numerous protests against racism and police violence.[1]

On 30 and 31 May 2020, this movement also reached the Bundesliga, Germany's first-tier football league. Two Borussia Dortmund players (Jadon Sancho and Achraf Hakimi) wore T-shirts under their jerseys with the words "justice for George Floyd"[2] written on them, Weston McKennie (FC Schalke 04) displayed a bandage with the same words. Marcus Thuram (Borussia Mönchengaldbach) opted for a different kind of protest and expressed his opinion by kneeling down after scoring.[3] The German Football Federation (DFB) reacted by announcing that its prosecuting body (whose German name translates into DFB Control Committee) would examine the players' actions, referring to Law 04, no. 5 of the Laws of the Game issued by the International Football Association Board (the IFAB Laws of the Game)[4], which provides for a ban on equipment or undergarments with "political, religious or personal slogans, statements or images".[5] This announcement received widespread criticism from officials, players, fans and a great part of the media.[6]

Even more interestingly, contrary to previous cases, the actions of the four players were also openly praised by DFB and FIFA officials. In a statement dated 1 June 2020, Fritz Keller, the current DFB president, opined that he had great respect for the players, could understand their actions from a moral point of view and was proud of them.[7] On 2 June 2020, Gianni Infantino, current FIFA president, called on the organisers of football competitions to apply the Laws of the Game using "common sense". With reference to the Bundesliga, Infantino said that

"in a FIFA competition the recent demonstrations of players in Bundesliga matches would deserve an applause and not a punishment."[8]

In the meantime, the DFB has declared that no proceedings will be instigated against the players, meaning that they will not face any consequences.[9] Furthermore, the DFB has stated that it will maintain this stance also with regard to future anti-racism actions in connection with the death of George Floyd. It is therefore not surprising that, already on the following matchday of the Bundesliga, numerous clubs followed the example of the four players and took a clear stand against racism, in particular by means of displaying special warm-up shirts with anti-racist slogans or taking a knee before the start of the match.[10]

Of course, athletes expressing themselves on social or political matters is not a new phenomenon. In this respect, one might recall Tommie Smith's and John Carlos' "Black Power Salute" at the 1968 Olympics, Colin Kaepernick's kneeling in the NFL[11] or the military salute of some football players of the Turkish national team[12]. However, the actions of the four football players during the Bundesliga matches on 30 and 31 May 2020 have sparked a new debate in German football on how to deal with such actions.

While from a moral perspective there is a lot to be said for the DFB's decision not to instigate proceedings, from a purely legal perspective such decision came as a surprise to many considering that at least the actions of McKennie, Sancho and Hakimi, at first sight, seem to be quite a clear violation of Law 04, no. 5 of the Laws of the Game.[13] Therefore, this article takes the recent events in the Bundesliga as an opportunity to:
examine FIFA's regulations on political statements in football by analysing them in the context of the recent actions of the four Bundesliga players; and
assess whether FIFA's regulations could be improved upon and/or clarified to better reflect modern progressive societal attitudes.
Already a member? Sign in
Get access to all of the expert analysis and commentary at LawInSport including articles, webinars, conference videos and podcast transcripts. Find out more here.
Related Articles
Written by
Associate, Martens Lawyers

At the beginning of his legal career, Maximilian Wegge worked at a German commercial law firm in the field of media and entertainment and therefore gained vast experience in the areas of IT, media law and digital business. Since joining the sports law firm Martens Lawyers, Maximilian Wegge has been regularly involved in supporting associations and clubs in sports law matters. In addition, he advises clients in connection with ordinary court and arbitration proceedings in the fields of general civil law as well as corporate and association law.

David Menz is a Salary Partner at Martens Lawyers. He advises numerous international and national sports federations, clubs and athletes in various sports matters.